NCAA says Penn State got away with illegal play at Northwestern
The NCAA has stated its belief that Penn State benefitted from an illegal play last week against Northwestern.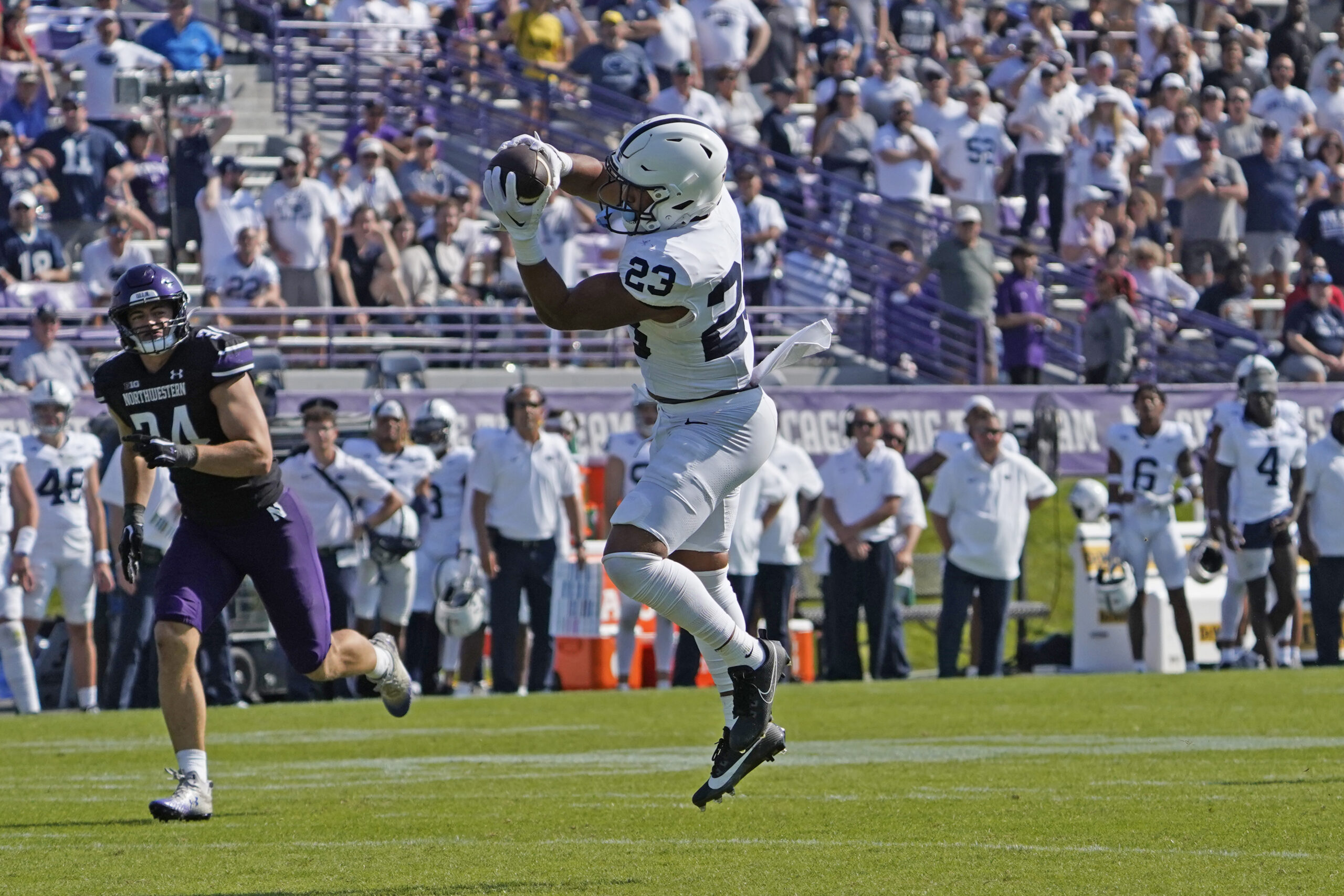 For many, the bye week is an opportunity to look ahead at the upcoming opponents for Penn State football. However, there's still some news and notes coming out of last week's matchup at Northwestern. James Franklin and the Nittany Lions were embroiled in a social media controversy after what was called a "classless" touchdown at the end of a 41-13 win last weekend. Although it worked its way through the news cycle, the play is back in the headlines after NCAA officials said yesterday that the illegal play should have been blown dead.
James Franklin called "classless" for final score at Northwestern
James Franklin has made his thoughts on late-game blowout situations well known. The Penn State football coach has stated his belief in a full 60 minutes of competition, regardless of the score. Rather than taking knees to run out the clock, Franklin believes that "garbage time" presents a valuable opportunity for his backups to get in-game reps.
However, this philosophy has been called out several times this year as Penn State has put up late-game scores to cover the spread. This was the case last week at Northwestern, when backup QB Beau Pribula hit RB Trey Potts for a 30-yard touchdown pass up 21 with 2:20 remaining.
This was such a well executed touchdown pass to Trey Potts from Beau Pribula 🎯#WeAre 🦁

— State Media (@StateMediaPSU) October 1, 2023
There was a little added fodder in this particular score. While the live camera angle makes it seem pretty obvious that Pribula was faking a QB draw, some believed that the Penn State QB was faking a kneel-down. This includes the Big Ten Network's replay officials, who said on-air that the play should have been called dead. These comments only fueled the fire on social media, leading some to call Franklin "classless" for a cheap play in a blowout situation.
NCAA officials say Penn State touchdown should have been called dead
Just when we thought this ridiculous story had left the headlines, it emerged again this weekend. In a video posted on social media Friday, NCAA national coordinator of officials Steve Shaw took a closer look at the Penn State score, as well as several other "missed" calls from last week's action.
Regarding Pribula's simulation at the start of the play, Shaw stated that the motion warranted a whistle.
"The QB is back in shotgun formation. He's going to take the snap. He fakes forward. The right knee is dangerously close to the ground," Shaw said. "But then he's going to step back, and he throws a pass downfield for, which is caught for an apparent touchdown. Now, there are many ways that a live ball can be declared dead. But, by rule, when a ball carrier simulates placing their knee on the ground, the ball becomes dead."
Obviously, Shaw is correct on the rule itself. But as for if Pribula was actually faking a kneel-down, we'll just have to agree to disagree. At any rate, the touchdown will not be retroactively removed from the scoreboard. And if you made money on the Penn State cover, that'll stay in your bank account, too.
Penn State football returns to action next weekend against UMass.
---
---
Thank you for reading Basic Blues Nation. Please follow us on Facebook and Twitter for the latest news and insights on your favorite Penn State athletics. For feedback, questions, concerns, or to apply for a writing position, please email us at [email protected] or direct message us on our social media. Also, be sure to check out our new site shop. It's due to your support that we can become one of the market's fastest-growing Penn State sports outlets!