Drew Allar has fiery message for doubters of Penn State offense
QB Drew Allar has a strong response for those doubting the Penn State offense this season.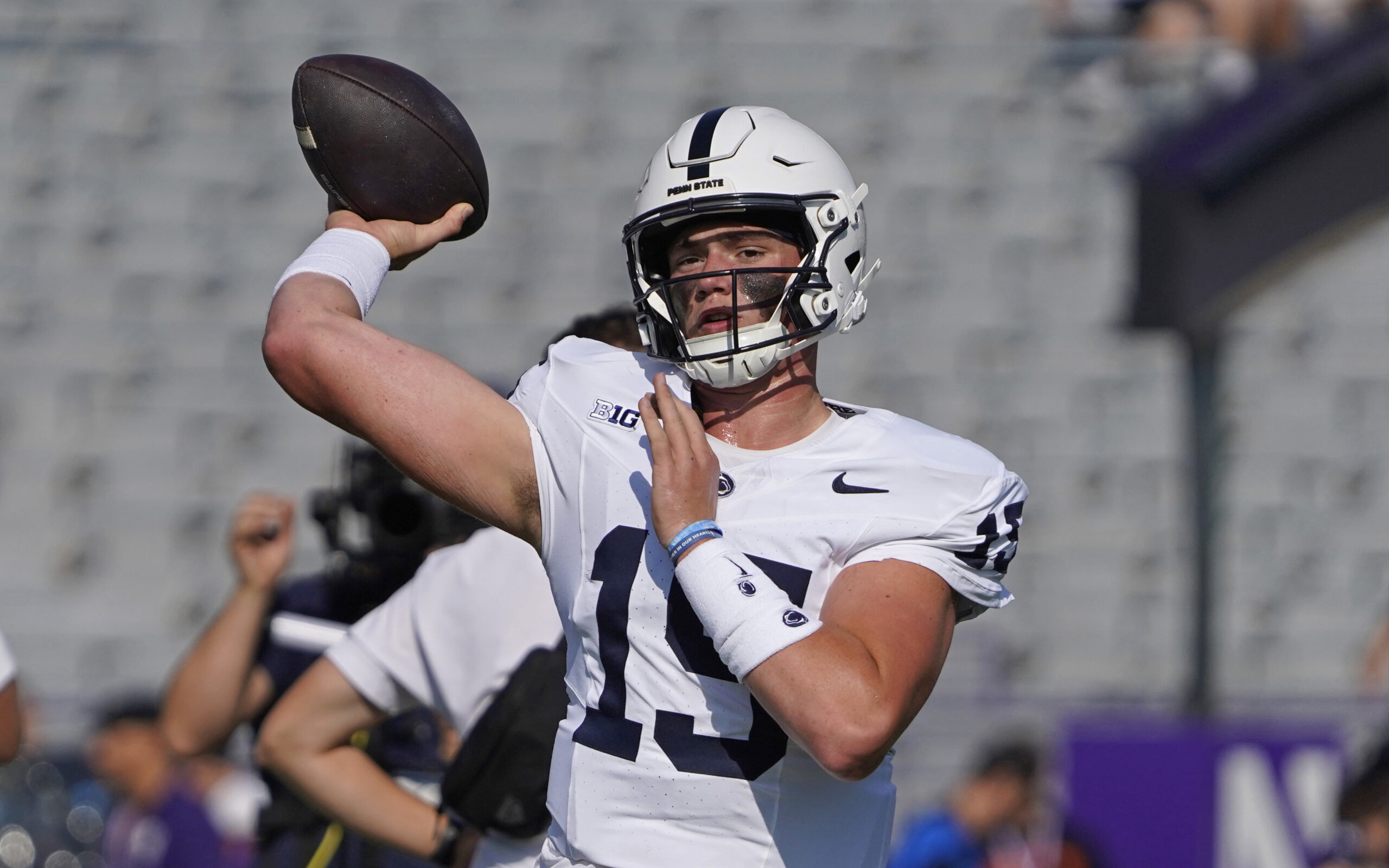 Under new QB Drew Allar, Penn State football has put together several impressive performances so far this season. However, the Nittany Lions offense has also looked shaky in its only two road games. Going into the bye week, there are starting to be rumblings that the unit isn't what Penn State fans hoped it would be coming into the year.
But one person who hasn't lost faith is the Nittany Lions' signal caller. After Saturday's win at Northwestern, Drew Allar has a strong and direct message for those doubting the Penn State offense.
After hot start, Penn State football still looking for explosive plays on offense
In the season opener against West Virginia, Drew Allar connected with KeAndre Lambert-Smith for a 72-yard bomb on the fourth offensive play from scrimmage. The Nittany Lions finished with 13 explosive plays (runs of 10+, passes of 15+ yards) on the night, setting the tone for what many expected to be the new-look Penn State offense. 
However, things now look different through five games. Penn State football went into last week ranked 118th in the nation in offensive explosive play percentage. Saturday's game at Northwestern didn't help in that department. The Nittany Lions totaled 8 explosive plays on the day while grinding out a 41-13 win over the Wildcats.
The individual numbers for Allar are by no means terrible. The sophomore QB touts a 65% completion rate on the year with 1,092 yards passing and nine touchdowns. The Nittany Lions lead the nation in time of possession, consecutive 30-point scoring games, and successive 14+ point wins. All of those metrics point to an offense that is suffocating opponents.
However, despite ranking 15th in rushing nationally, the Penn State offense falls to 63rd in passing offense and 32nd in total offense. While it has gotten the job done, the offensive has looked out-of-sync in two road starts this season. Overall, there is just the sense in Happy Valley that the offense needs to do more.
Drew Allar responds to critics of the Penn State offense
Following Saturday's win at Northwestern, QB Drew Allar fielded questions about the effectiveness of the Penn State offense. Although the Nittany Lions ultimately won by 28 points, the offense again looked out of sorts through the first 30 minutes of play.
While he agrees that the offense needs to be better, Allar slapped down the notion that it's time to start sounding the alarm in Happy Valley.
"We want to be as explosive as we can as an offense; that's always the goal," Allar said. "I missed some explosive opportunities. You can say all you want about not being explosive, but people don't know how close we are to breaking a lot of things off. It's one missed block here, or one missed assignment there. It's missed throws by me, and I had plenty of them today. It's all things we can clean up. It all comes down to timing."
Lots to work on during the bye week
Although Penn State football doesn't take the field this week, there's little time off for the Nittany Lions. Penn State may be 5-0 and the No. 6 team in the country, but there's plenty to work on for the upcoming make-or-break portion of the season.
According to Drew Allar, the bye week will allow the offense to review the tape it's already put out while gearing up for what's to come.
"There will be a lot of film work," Allar said after the Northwestern game. "It'll be different because I can watch previous games. I'll be able to bounce back and forth between watching us and watching our next opponent. It'll be good learning for me and the entire offense. It is going to be a huge bye week for us. We can only get better. We have to take that mindset into next week. Even though we don't have a game next week, there's a lot to improve on and a lot of work to do. We'll come out of the bye week better and hit the ground running."
Penn State football returns to action against UMass on October 14.
---
---
Thank you for reading Basic Blues Nation. Please follow us on Facebook and Twitter for the latest news and insights on your favorite Penn State athletics. For feedback, questions, concerns, or to apply for a writing position, please email us at [email protected] or direct message us on our social media. Also, be sure to check out our new site shop. It's due to your support that we can become one of the market's fastest-growing Penn State sports outlets!