Analyst says Penn State football fans duped by the 'big lie of college football' with James Franklin
Even with Mike Yurcich fired, fans have continued to voice frustrations with Penn State football this week. But one analyst argues that some may be falling victim to the "big lie of college football" with the Nittany Lions and James Franklin.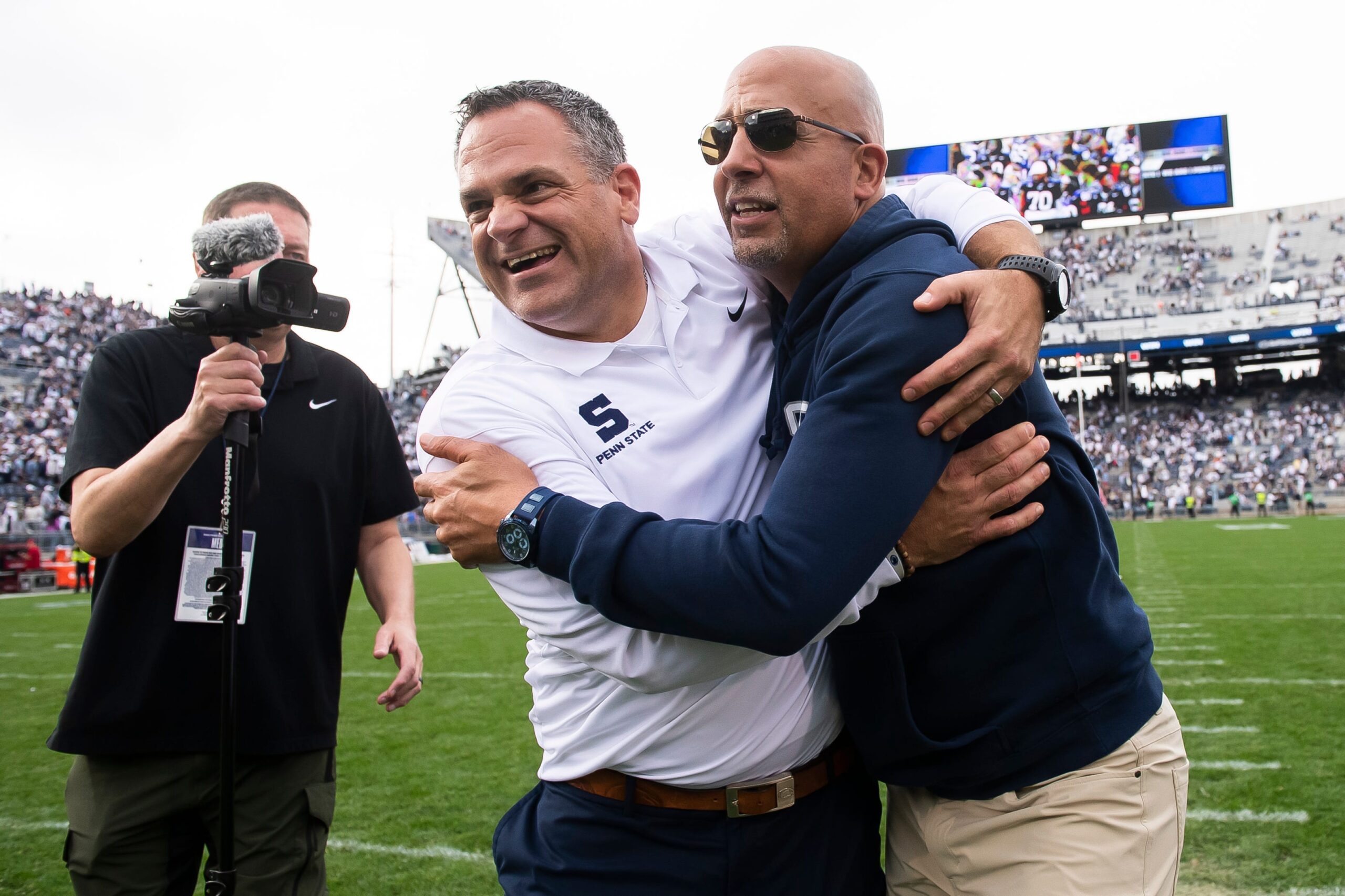 It's been a rocky week in Happy Valley. After having its Big Ten title and Playoff hopes dashed last week against Michigan, Penn State football hopes to correct course Saturday against Rutgers. The Nittany Lions will do so without offensive coordinator Mike Yurcich, who was fired Sunday after another inept offensive showing versus the Wolverines. Yurcich has become the sacrificial lamb to a fanbase wanting its pound of flesh. However, many are still dissatisfied with the performance at the top, starting with James Franklin. But one 247Sports analyst cautioned against any rash decisions this week, noting that Penn State donors and fans may be falling victim to the "big lie of college football."
247Sports analyst says Penn State donors and fans may be victims of the "big lie of college football" following the Mike Yurcich firing
Tensions around the Penn State football program have been high since its 24-15 loss to Michigan last week. Nittany Lions fans booed head coach James Franklin off the field, and criticism has continued in the days since. Even after firing Mike Yurcich on Sunday, frustrations with Franklin have continued to mount.
But are these outcries justified or a symptom of misguided expectations? For 247Sports analyst Bud Elliot, Nittany Lions supports may just be getting duped by what he called the "big lie of college football" after firing Mike Yurcich this week.
"Part of this is, we talk about the big lie in football and what ADs have to sell to donors," Elliot said on the Cover 3 podcast this week. "And ADs need to run the business kind of like a business. 10-2 is a great year for Penn State. The reason why James Franklin got the huge contract extension he did is because he brings great stability — high-level stability — to that program. He's one of the best coaches they've ever had. But if you're a big-time booster, you want that sexy moonshot stock. You want to really believe that if we do it right, we're winning the natty, we're winning the league."
"So that's why Franklin gets booed going down the tunnel," Elliot continued. "Because fans don't root for balance sheets, right? If fans ran programs, they'd be running off good coaches all the time. Because they all see what Georgia did with Kirby Smart, which is the outlier, not the norm. Usually, when you fire a guy who does a really good job to try to chase greatness, it usually doesn't work. It's your money, you can do what you want. But I'm sure some of these boosters want a pound of flesh for yet another non-competitive effort in a big game."
James Franklin has a message for dissatisfied Nittany Lions fans
It's certainly fair to view 2023 as a "wasted" season, given the level of talent on the Penn State football roster. But, it also has to be recognized that this failure is viewed as such because of the level of success that James Franklin and the Nittany Lions have experienced over the last decade.
While Franklin says he feels and understands the frustration of Penn State football fans, he also acknowledged the optimism he has for the future.
"I think me saying something here is one thing. At the end of the day, it's about actions, and it's about production," Franklin said this week. "It's about playing well. We have lost to two of the best teams in college football, who also happen to be in the same side of our conference. We understand that. We recognize that. So, I get it. Me sitting here saying things is fine, but I think at the end of the day, it's about actions."
"I also believe we're better positioned now, like I've talked to you guys about before, than ever before, based on the alignment we have for the first time," he continued. "I think I said that to you guys this summer. I think that is probably the reason I'm as hopeful and excited as I have ever been, and I've also stated that before."
"But it's not like these people get in those positions and six months later snap their fingers and things are fixed or moving. It takes time. It takes time. I think we're in a position to do that."
---
---
Thank you for reading Basic Blues Nation. Please follow us on Facebook and Twitter for the latest news and insights on your favorite Penn State athletics. For feedback, questions, concerns, or to apply for a writing position, please email us at [email protected] or direct message us on our social media. Also, be sure to check out our new site shop. It's due to your support that we can become one of the market's fastest-growing Penn State sports outlets!