OPINION: Lacking identity, James Franklin must find himself in new OC hire
To find a path forward, James Franklin must look inward at his program to find what Penn State football lost under Mike Yurcich.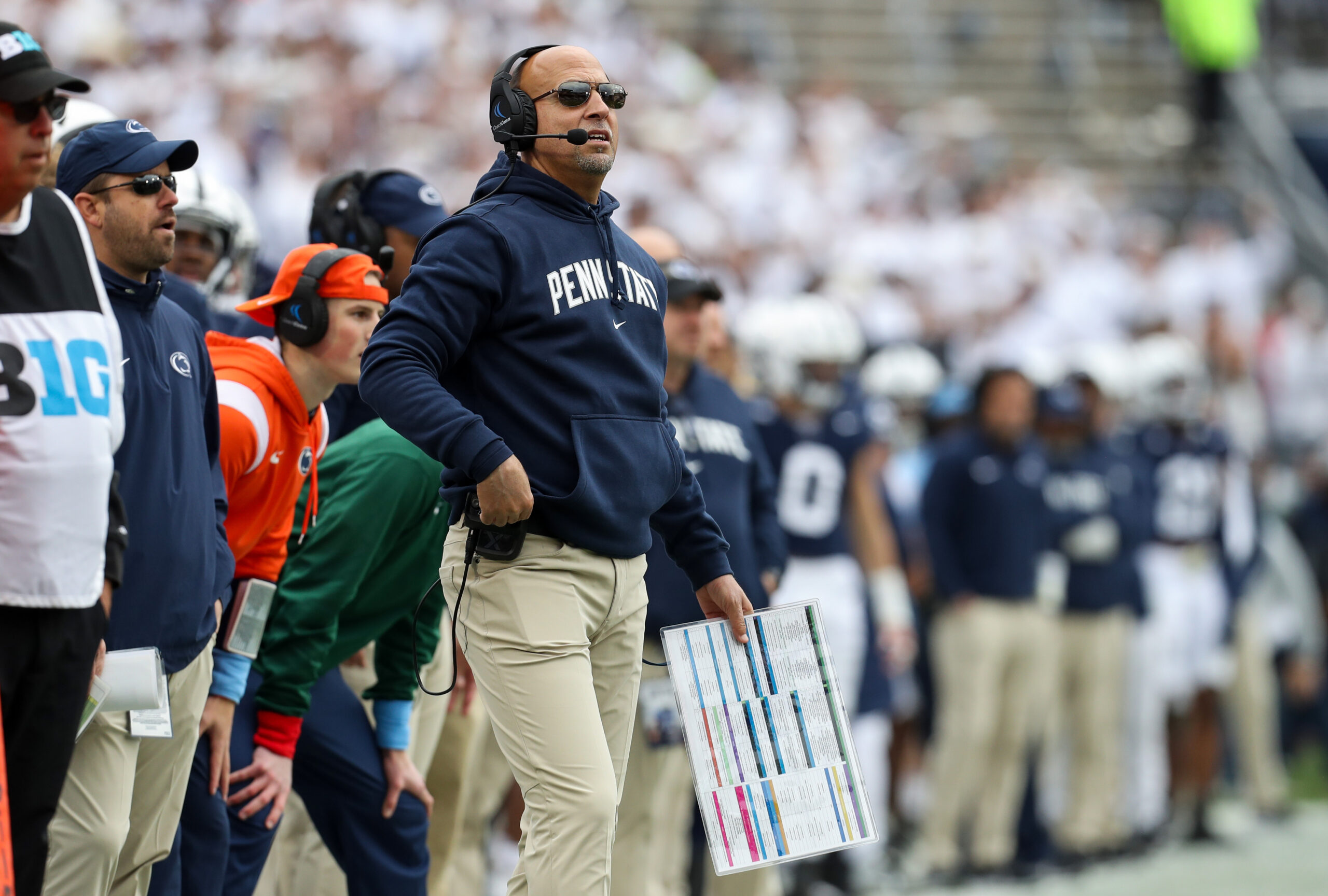 It's been a little less than a week since Penn State football coach James Franklin fired offensive coordinator Mike Yurcich. A move than seemed inevitable, the decision further highlighted the flaws that the Nittany Lions offense had all year long. Penn State now must find a path forward through the final two games of the season and into 2024. But without even truly knowing what the Nittany Lions offense was in 2023, Franklin must now look inward at his program to find a way forward.
Nowhere left to hide for the Nittany Lions offense
As we all know by now, Penn State football lost to Michigan this past Saturday 24-15. The game was not even as close as the final score indicated. At no time in the second half after Drew Allar's fumble did it feel like the Nittany Lions could come back. Even with Michigan only up 17-9 until there were less than five minutes left in the game, it seemed futile.
The offense just did not have it in this game. Like the Ohio State game three weeks before, the Nittany Lions looked completely lost at times and without any kind of plan of attack. It was so bad Michigan chose to run the ball 32 consecutive plays, choosing to burn clock and not be concerned with Penn State scoring when it did have the ball.
In hindsight, we probably should have seen the lack of explosiveness and cohesion coming. The games against Northwestern and Illinois were very telling. But because the Nittany Lions still scored over 30 points in those games and the defense was excellent, us fans choose to gloss over it.
So what is behind the lack of offense, especially in Penn State's biggest games this season? Let's take a look.
Penn State offense lacked identity under Mike Yurcich
For most of this season, Penn State football has lacked an identity on offense. The Nittany Lions have two great running backs in Nick Singleton and Kaytron Allen, but both are well off pace of their stats from a season ago.
Drew Allar, a former five star recruit, was supposed to be the missing piece for the offense. At times he has looked great, but for most of the season, he has not looked good with inaccurate throws, displaying a lack of confidence and playing not to make a mistake.
The wide receivers have been terribly inconsistent besides KeAndre Lambert-Smith. But even he would probably not be a number one receiver on most other teams. The tight ends have been under utilized, especially in the games against Ohio State and Michigan.
Finally, while the offensive line has been ok it does seem like it has taken a step back from a season ago.
The poor play calling combined with poor execution for a lot of this season came to a head after the loss to Michigan, with the firing of offensive coordinator Mike Yurcich on Sunday. Of course, not all of the woes fall on Yurcich's shoulders, but he certainly took the fall.
One of the major problems for the Penn State offense this year is not game planning to utilize the players' strengths. Fox Sports' Joel Klatt went in depth on this on his show this week and it is worth a watch. If you want to jump ahead, it starts at around the 11 minute mark.
How does James Franklin move forward on with OC hire?
So with Mike Yurcich gone, James Franklin now will be searching for his sixth offensive coordinator in 10 seasons. Running backs coach Ja'Juan Seider and tight ends coach Ty Howle will take over on an interim basis.
If things go right, either Seider or Howle could be in line for a promotion. However, it seems likely that Franklin will look outside the program for the next OC. A lot of names have been thrown out there. Despite his offense being the best one under Franklin, I'm not in favor in hiring a retread like Joe Moorhead.
Sean Lewis at Colorado seems like a great offensive mind. He was inexplicably stripped of his play calling duties by Deion Sanders, so Lewis seems destined to go elsewhere. Brennan Marion at UNLV is another up and coming star in the college ranks. Even Dan Mullen, the former Florida head coach, had a solid stint as offensive coordinator and could be an interesting choice.
Whoever the new coordinator is, this has to be a home run hire for James Franklin. His future with the Penn State football program seems tied now to getting this right. Franklin must find a coach who can reestablish an identity for the Nittany Lions on offense, utilize the strengths of players on the current roster, and rebuild the cohesion in game planning and play calling.
---
---
Thank you for reading Basic Blues Nation. Please follow us on Facebook and Twitter for the latest news and insights on your favorite Penn State athletics. For feedback, questions, concerns, or to apply for a writing position, please email us at [email protected] or direct message us on our social media. Also, be sure to check out our new site shop. It's due to your support that we can become one of the market's fastest-growing Penn State sports outlets!