James Franklin reveals how Drew Allar reacted to Mike Yurcich firing
Mike Yurcich's legacy at Penn State is defined by brining Drew Allar into the Nittany Lions program. Today, James Franklin revealed how the former five-star quarterback reacted to Yurcich's firing yesterday.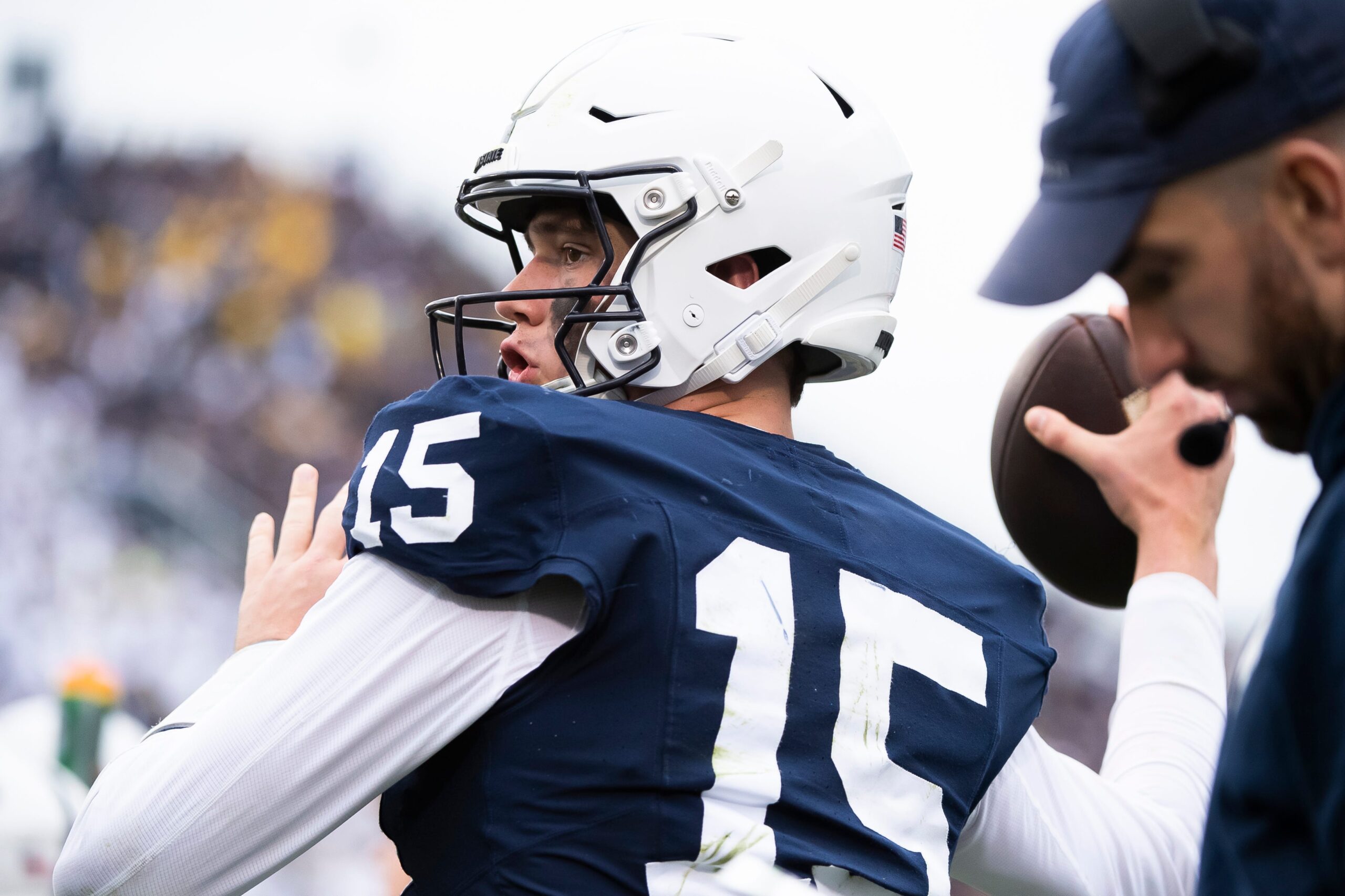 On Sunday, Penn State football coach James Franklin fired offensive coordinator Mike Yurcich after a disappointing 24-15 loss to Michigan. A relatively unremarkable two and a half years in Happy Valley, by far Yurcich's most significant accomplishment was bringing former five-star quarterback Drew Allar into the Nittany Lions program. Now, Franklin sets out to make the most important hire of his tenure at Penn State, which will dramatically impact the most coveted quarterback recruit to ever step foot in State College. Today at his weekly press conference, Franklin discussed how Allar and the entire quarterback room have reacted in the 24 hours since Yurcich's firing.
The quarterbacks were the first to know about the firing of Mike Yurcich
Offensive coordinator Mike Yurcich appeared to be on the hot seat since Penn State's poor offensive showing in October's 20-12 loss to Ohio State. That indeed was the case, as Yurcich was fired Sunday afternoon after the Nittany Lions offense struggled again against a top-10 opponent.
The first time James Franklin has fired an assistant coach mid-season, there is considerable concern for how the entire offense will react to the decision. This is further amplified for the quarterbacks, the position Yurcich coached.
When asked how starting quarterback Drew Allar responded to the firing, Franklin explained that he made sure all the quarterbacks were the first to know.
"With Drew, I met with all of the quarterbacks first. They were the first to know," Franklin said. "I met with them before the team meeting. Then, I addressed it with the team. Then the plan was for them [the quarterbacks] to call their parents after practice and let them know. And then after practice, I was going to call them [the parents] and talk through any questions or concerns that they had. And that plan went according to plan, except for while we were at practice, it leaked out, and then the parents found out before I was able to get to them. But besides that, the quarterbacks heard from me. The players heard from me."
"I think the discussion was good," Franklin said of the conversation with Allar and the quarterbacks. "Met with them before practice, like I mentioned. Then, I met with them right after practice ended to see if they had any more questions or concerns. And, again, tough conversations, tough decisions. But I think [it was] handled as well as you can under tough circumstances."
Is Franklin concerned about damaging the relationship with Drew Allar?
James Franklin now begins the task of rallying support in the program around his decision to fire Mike Yurcich. But perhaps no other heart and mind is more important to win over than that of Drew Allar.
Allar's relationship with Yurcich predates the now ex-offensive coordinator's arrival in Happy Valley. Yurcich was in on Allar before the sophomore's commitment and meteoric rise to become the No.1 quarterback in the nation.
While Franklin acknowledged the importance of the relationship between Allar and Yurcich, he indicated that he feels good about where things stand with all his quarterbacks.
"I had really good conversations with them, had really good conversations with their families," Franklin said. "And I feel good about that. I mean, obviously, we'd love to finish on a really, really high note this year, as a team, and then specifically as an offense, and then at the quarterback position. There's no doubt about it."
"I feel good about that moving forward in terms of the relationships in the building," he continued. "Again, that doesn't say anything about those other relationships. Those were important as well, but I feel good about the relationships we have in our building and playing well to end the season, and then obviously making sure that the hire complements what we have in the building and what we have in the locker room."
How involved will Allar be in the next Penn State offensive coordinator hire?
Given his talent and potential, the next offensive coordinator for Penn State football will need to be able to shape an offense around Drew Allar. But James Franklin needs to be careful not to make a hire solely engineered around components that are transitory.
"In terms of being involved in the hiring process, no. But in terms of are they a part of that decision, yes," Franklin said of the balance of giving Drew Allar and the other quarterbacks a say in the next offensive coordinator hire. "In terms of who I'm bringing in, why I'm bringing them in, do they fit. The person that I'm bringing in, do they fit with them. Does everybody understand what they're signing up for. All those things? Yes."
It will certainly be an interesting few weeks in Happy Valley, as Franklin indicated that he would like to make a hire by the end of the calendar year. Penn State football closes out the regular season with Rutgers and Michigan State.
---
---
Thank you for reading Basic Blues Nation. Please follow us on Facebook and Twitter for the latest news and insights on your favorite Penn State athletics. For feedback, questions, concerns, or to apply for a writing position, please email us at [email protected] or direct message us on our social media. Also, be sure to check out our new site shop. It's due to your support that we can become one of the market's fastest-growing Penn State sports outlets!