James Franklin isn't ready to evaluate Penn State OC Mike Yurcich
Increased scrutiny has been casted upon Mike Yurcich in recent weeks. However, Penn State football coach James Franklin isn't ready to publicly evaluate the performance of his offensive coordinator.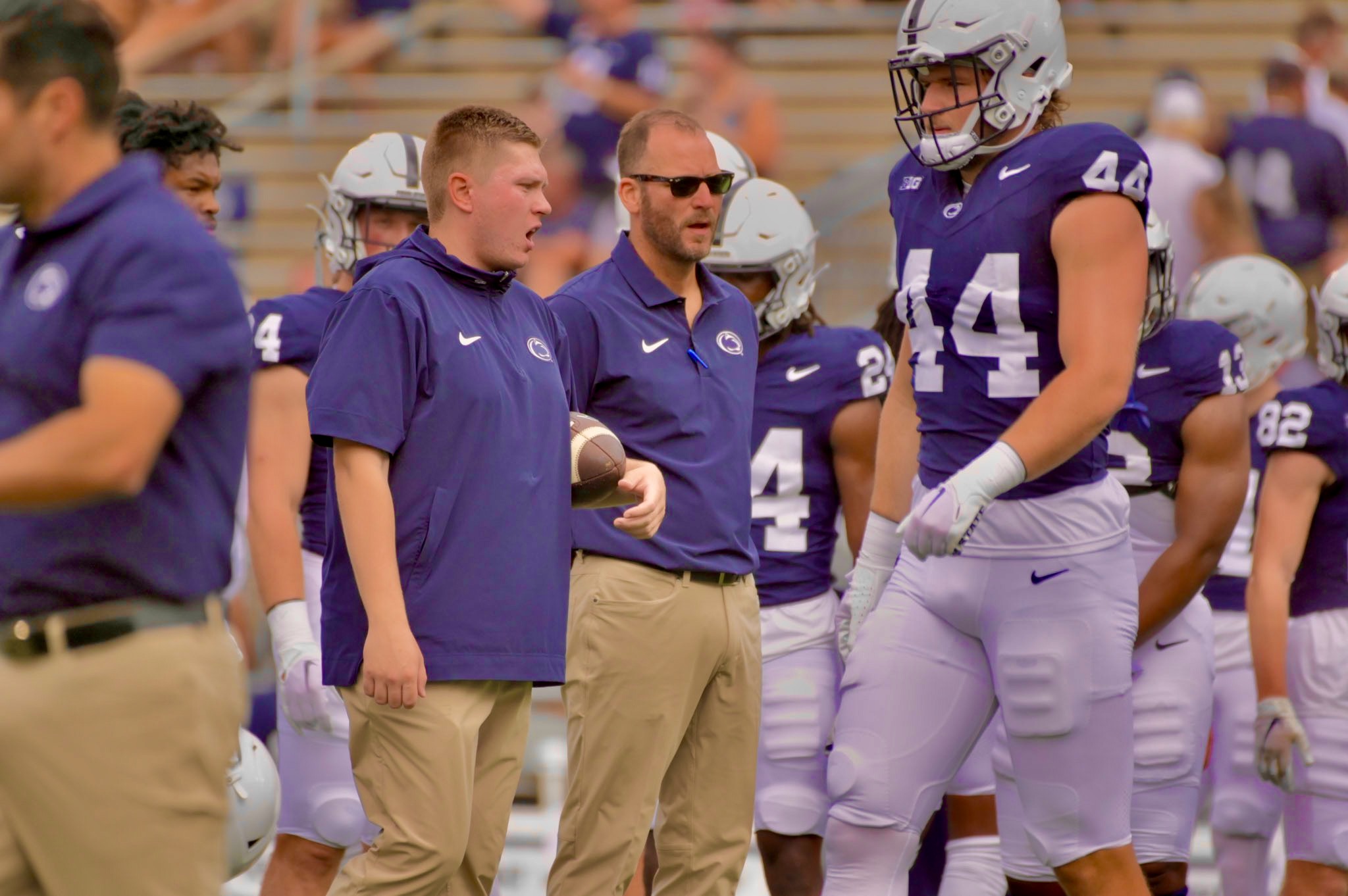 As Penn State football enters November, it's clear that the offense hasn't lived up to expectations this season. Although the talent at multiple positions was highly touted coming into the year, the Nittany Lions have struggled to find the fireworks that many expected to see this fall. The man at the center of it all, offensive coordinator Mike Yurcich, has faced increased scrutiny in recent weeks after a difficult showing at Ohio State followed by a near upset against Indiana. But is James Franklin ready to offer an evaluation of Yurcich's performance this season? 
Until recently, the Penn State offense has managed its deficiencies well
The excitement around the potential of the 2023 Penn State offense was palpable all offseason.
The Nittany Lions returned two of the most productive tailbacks in the nation, running behind an offensive line expected to be the best of the James Franklin era. Wide receivers were a question, but Penn State football has turned itself into an assembly line of tight ends recently. Most importantly, former five-star Drew Allar was ready to take over as starting quarterback.
The Nittany Lions fulfilled that optimism early, leading the nation in consecutive 30+ point scoring outings. Penn State still ranks in the top 10 in scoring, which, in reality, is the only purpose of the offense.
Now, it seems as if the dominant first half of the year was a red herring. Opposing defenses have locked in on the running game, baiting the Nittany Lions to beat them through the air. Production at wide receiver hasn't materialized, and Drew Allar has looked unsteady as defenses have started pinning their ears back. The result is a passing offense that ranks in the bottom half nationally.
But handing it off doesn't seem to be a viable option, either. While Penn State has a top-three rushing offense in the Big Ten, a crowded box makes it difficult for Nick Singleton or Kaytron Allen to break off big plays. Add in the Nittany Lions' passing woes, and it creates an offense that ranks 119th in explosive play rate.
James Franklin evaluates his offense
While the Penn State offense was able to get by through six games, it's been exposed in recent weeks. The Nittany Lions put up six points through the first 59 minutes of a lackluster showing in Columbus two weeks ago.
Returning home as 31-point favorites over Indiana, Penn State football went scoreless in six of its first seven drives. It took late-game heroics from Drew Allar and KeAndre Lambert-Smith for Penn State to get past the two-win Hoosiers with a nine-point victory.
With eight games now on film, it seems like the Penn State offense is what it is in 2023. But for the Nittany Lions to make the most of its defining stretch of the season, James Franklin and Mike Yurcich will have to figure out how to once again maximize the offense's strengths while minimizing its deficiencies.
Mike Yurcich is fired up pic.twitter.com/OsSgJG5uNd

— Surya Maddali (@maddali_surya) November 1, 2023
"I think there is a lot to evaluate, right?" Franklin said yesterday when asked how he felt his offense has played. "The depth and the consistency at wide receiver. How we're using our tight ends. The run game and where we're at, whether they're explosive runs or not. Where we're at from production in the Big Ten in terms of stats, production, whatever it may be. In terms of points, what are we doing from a points perspective? In terms of turnovers, as you know, we talked a ton about—turnovers and explosive plays."
"Again, when you take all the things into consideration, there are some metrics that we feel really good about and that you guys say nice things about," he continued. "And there are some metrics that aren't, that we have to continue to work on."
Franklin responds to questions about Mike Yurcich
The added element to this discussion is the increased pressure on Mike Yurcich recently. Outsiders always look for someone to blame, so the man who seemingly has done so little with so much this year seems like a logical target.
While the spotlight has found Yurcich from some outside the Lasch Building, is James Franklin willing to do the same? Franklin pushed back when asked to evaluate the job done by his offensive coordinator this year, noting that it isn't fair to grade his staff on an incomplete season.
"I think, for the most part, I feel good," Franklin said about the offense. "Obviously, we'll dig into all these things after the season. I'm not in the business of mid-season or three-quarters of the season getting into evaluations of the staff. I don't think that's appropriate. I don't think that's the right thing when we're focused on Maryland this week."
Penn State football will travel to College Park to take on the aforementioned Maryland Terrapins Saturday before home dates with No. 3 Michigan and Rutgers in the following weeks.
---
---
Thank you for reading Basic Blues Nation. Please follow us on Facebook and Twitter for the latest news and insights on your favorite Penn State athletics. For feedback, questions, concerns, or to apply for a writing position, please email us at [email protected] or direct message us on our social media. Also, be sure to check out our new site shop. It's due to your support that we can become one of the market's fastest-growing Penn State sports outlets!