CBS analyst says James Franklin, Penn State football 'wasted' 2023 season
CBS analyst Josh Pate didn't mince words when discussing the letdown for James Franklin and Penn State football in 2023.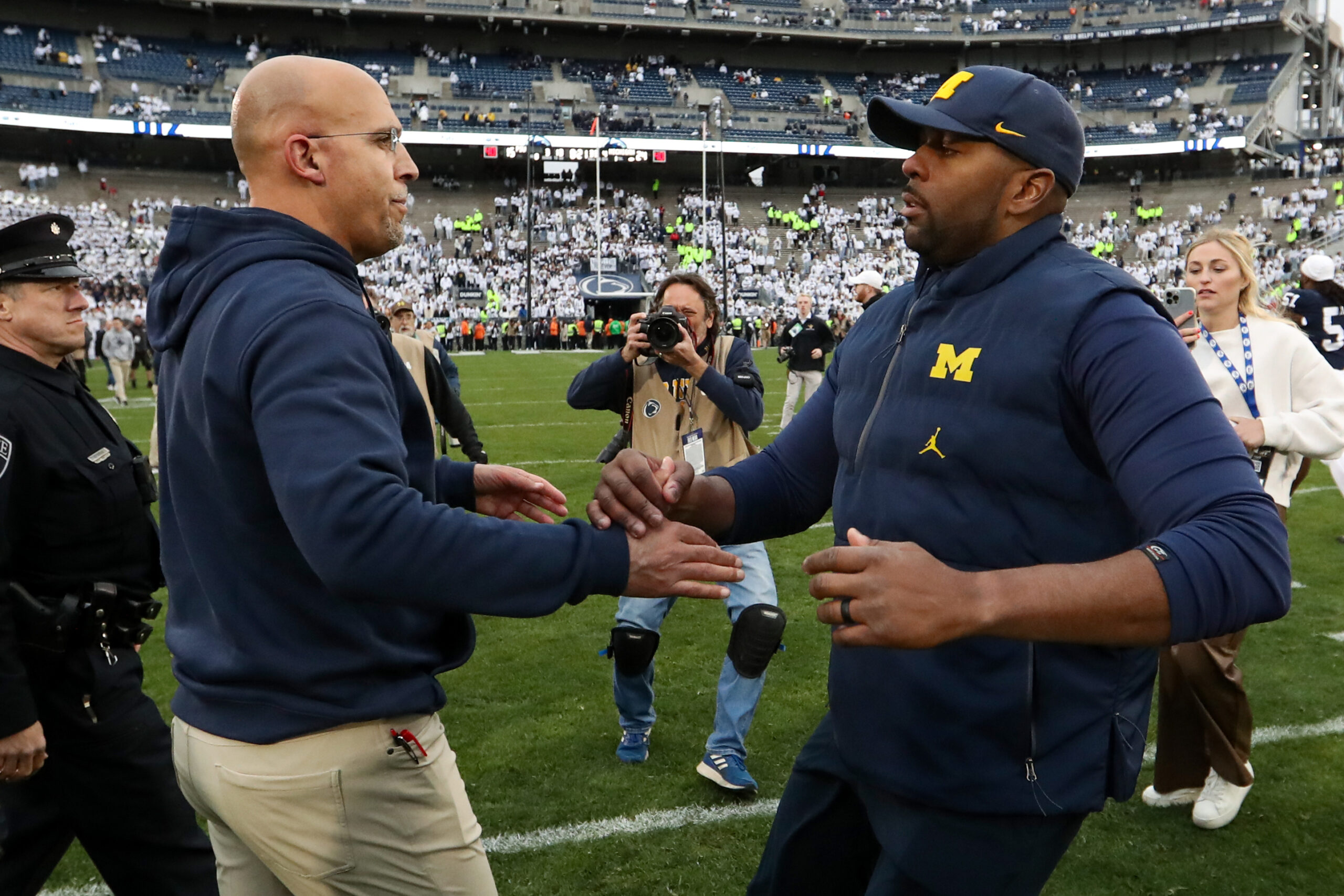 Penn State football watched its Big Ten title and College Football Playoff hopes slowly slip away with each failed offensive possession of a 24-15 loss to Michigan on Saturday. This certainly is familiar territory for the now two-loss Nittany Lions. Still, it does seem harder to stomach for a program that had sky-high expectations coming into the season. While the defeat has already led to change – James Franklin fired offensive coordinator Mike Yurcich Sunday afternoon – it merely feels like a band-aid on an open wound with two games left to go. Although there is still plenty to play for, one CBS analyst gave a poignant evaluation of what he watched Saturday, as Josh Pate explained how the Nittany Lions "wasted" the 2023 season.
CBS analyst Josh Pate says Penn State football "wasted" a championship-caliber defense
It was difficult to watch what can only be described as a lifeless offense for Penn State football in Saturday's loss to Michigan. While the deficit was only one possession for most of the game, it may as well have been a blowout. The Nittany Lions only had three possessions gain more than 25 yards, with one coming in essentially garbage time after Michigan went up 24-9.
Tensions have been high since the loss. Criticism has been hurled in many directions, especially at James Franklin and offensive coordinator Mike Yurcich. On Sunday, Franklin relieved Yurcich of his duties, effective immediately.
"I'm one who sits here and defends James Franklin," CBS analyst Josh Pate said of Penn State on his popular college football talk show Late Kick Sunday. "But if I'm a Penn State fan, there's no way that I'm sitting in the stands watching as horrific of an offensive performance as we saw and just stomaching that. I'd want change."
While acknowledging that change had come from firing Mike Yurcich, Pate insinuated that it is likely too little, too late. The CBS analyst, who was at the game Saturday, shared some harsh truths that Penn State football fans must stomach this offseason.
"But the current situation there – I hate to put it this way – is a championship-caliber defense is going to be wasted," said Pate, who predicted Penn State would go to the Playoff this year. "Not wasted in a sense that there's nothing gained this year. This could be a 10-win team. But it is a program that has produced a team this year that had goals and aspirations much higher than that…It was tough to stand there and watch that excuse for an offensive performance yesterday."
What is next for James Franklin?
Even beyond just the defense, it's a difficult reality that Nittany Lions fans will have to sit with this year — what could have been with the level of talent on this roster. Now, Penn State football looks to pick up the remaining pieces of this season before shifting focus to 2024.
While Josh Pate is still high in Penn State as a program, the CBS analyst also warned of how quickly windows of opportunity can close in college football.
"That program is not far away. You got to make minor changes to get major results," Pate said. "You'd be just shocked at what the right hire at offensive coordinator could do here. What's the right hire at defensive coordinator done for them? The problem is, you don't just get to maintain all that. You don't just get to keep Manny Diaz forever; you don't get to keep that caliber of defense forever, and just keep trying things offensively. That's why you've got to thread the needles when you have these windows, because they're not guaranteed."
Penn State football faces Rutgers and Michigan State to close out the 2023 regular season.
---
---
Thank you for reading Basic Blues Nation. Please follow us on Facebook and Twitter for the latest news and insights on your favorite Penn State athletics. For feedback, questions, concerns, or to apply for a writing position, please email us at [email protected] or direct message us on our social media. Also, be sure to check out our new site shop. It's due to your support that we can become one of the market's fastest-growing Penn State sports outlets!