Takeaways: Penn State football comes up short once again against Michigan
The Penn State football team is fell short against Michigan, what were the biggest takeaways following the loss?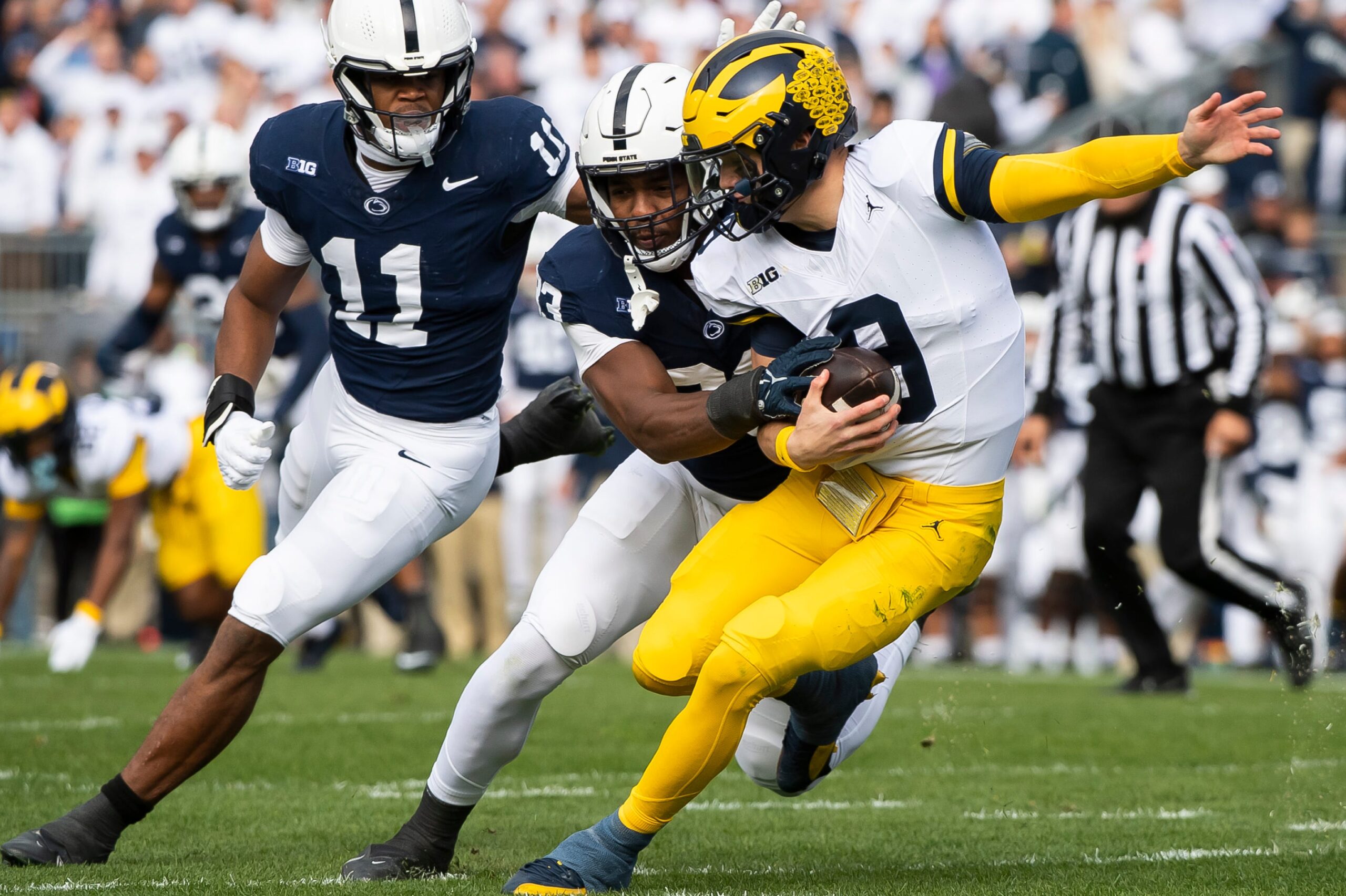 With the news of Mike Yurcich being fired this week, this shouldn't come as a surprise but the timing of play calls throughout the Michigan game was poor. On the second series of the game Penn State football was able to get down to 1st and goal from the three-yard line. Instead of running off guard with Nick Singleton, who had been successful throughout the drive, Mike Yurcich decided to run Kaytron Allen outside on 1st and throw a fade to Dante Cephas on third down. Both calls went against what had gotten Penn State down the field and it resulted in having to settle for a field goal.
Another notable miscue within the first half was on the third drive. On 1st down Kaytron Allen showed incredible vision cutting 3 different times to pick up 9 yards. The following play calls from Mike Yurcich included a screen to WR Malick Meiga, someone who hasn't exactly played a lot this season. Then on third down a designed QB run by Allar which ended up short. It was a drive that didn't need to end as soon as it did and kept momentum with Michigan who had just scored a touchdown on their previous drive.
The defense played well, but not great
The defense has been the strength of this team all season. They held the high-scoring Michigan offense to 24 points and just 287 total yards. A solid performance considering the level of competition. However, it was not great when compared to what this defense is capable of. The Wolverines rushed for 227 yards and ate up a lot of clock in this game. They threw the ball just once in the entire second half resulting in a pass interference call.
Both of Michigan's scores came after taking over in Penn State territory after a fumble and stop on 4th down. While the defense played well they didn't get some of the timely stops needed. Specifically on Michigan's second third drive of the game, JJ McCarthy was able to convert a 3rd and 10 and keep the drive alive. That drive would ultimately result in a TD and give Michigan the momentum in the game.
Overall, the defense just missed some key opportunities to get off the field where if they did, Michigan might not have scored. They say there are usually 4 or 5 plays that decide a game. Some of the 3rd down conversions by the Wolverines surely would be in that list of plays.
Couldn't Force Turnovers when Needed
The Penn State defense has been the best team in forcing turnovers in all of college football. Entering the Michigan game they had forced 20 turnovers in 8 games. The offense had only turned the ball over just 4 times resulting in a college football leading +15 in turnover margin. Against the Wolverines, that number was -1 with Allar fumbling in the second half on the opening drive and the defense only seeing one opportunity early in the 1st half with Abdul Carter stripping Blake Corrum only for Michigan to recover. This is a similar script to what we saw in the Ohio State game. It appears the Penn State defense is great forcing turnovers against inferior competition but haven't been able to do it against the top teams.
Allar off all-day
What has become a common theme in big games this season, Drew Allar struggled once again facing an elite defense. The sophomore QB finished 10/22 for 70 yards and 1 touchdown. He struggled all day with his accuracy and multiple times threw the ball behind his wide receivers. It is clear that while he has the arm talent, the decision-making and accuracy aren't always there. How much of the big game struggles have been impacted by the scheme, play calling or WR play is difficult to decipher. There isn't a question though that Drew Allar just isn't there yet. Maybe the new offensive coordinator will help the young quarterback progress and improve his decision-making, that is something we won't see until 2024.
Big Game Franklin strikes again
It is something that the national media has talked about for quite some time and now even the biggest James Franklin defenders have been jumping off the ship all week. The questionable two-point conversion calls to end the 1st half and at the end of the game are two of the biggest gripes that fans have. Going for it from your 30-yard line with 4:30 to play in the game and having two timeouts while your defense has been playing well is another criticism.
Overall though Franklin just doesn't win big games. Penn State isn't on the same tier as Michigan or Ohio State and the debate has begun of whether that is even a possibility under James Franklin. Winning against the top two in the conference is going to be difficult at home, but you have to be able to win some of these games at home. Franklin is now 4-16 against Ohio State and Michigan and hasn't beaten the Buckeyes since 2016 and the Wolverines since 2020.
Where does Penn State go from here? Most likely the best course is to try and land a home run hire at offensive coordinator after the firing of Mike Yurcich and replace Manny Diaz with a great coach after he inevitably leaves to take a head coaching job this offseason. Maybe having more quality teams in the Big Ten next year other than Ohio State and Michigan will help Franklin. Maybe the 12-team playoff will provide some more opportunities and change what is considered a successful season. As of now though, all the fanbase can do is just groan and look towards 2024.
---
---
Thank you for reading Basic Blues Nation. Please follow us on Facebook and Twitter for the latest news and insights on your favorite Penn State athletics. For feedback, questions, concerns, or to apply for a writing position, please email us at [email protected] or direct message us on our social media. Also, be sure to check out our new site shop. It's due to your support that we can become one of the market's fastest-growing Penn State sports outlets!