Penn State football: 3 thoughts heading into summer ball
Here are a few Penn State football thoughts ahead of summer ball.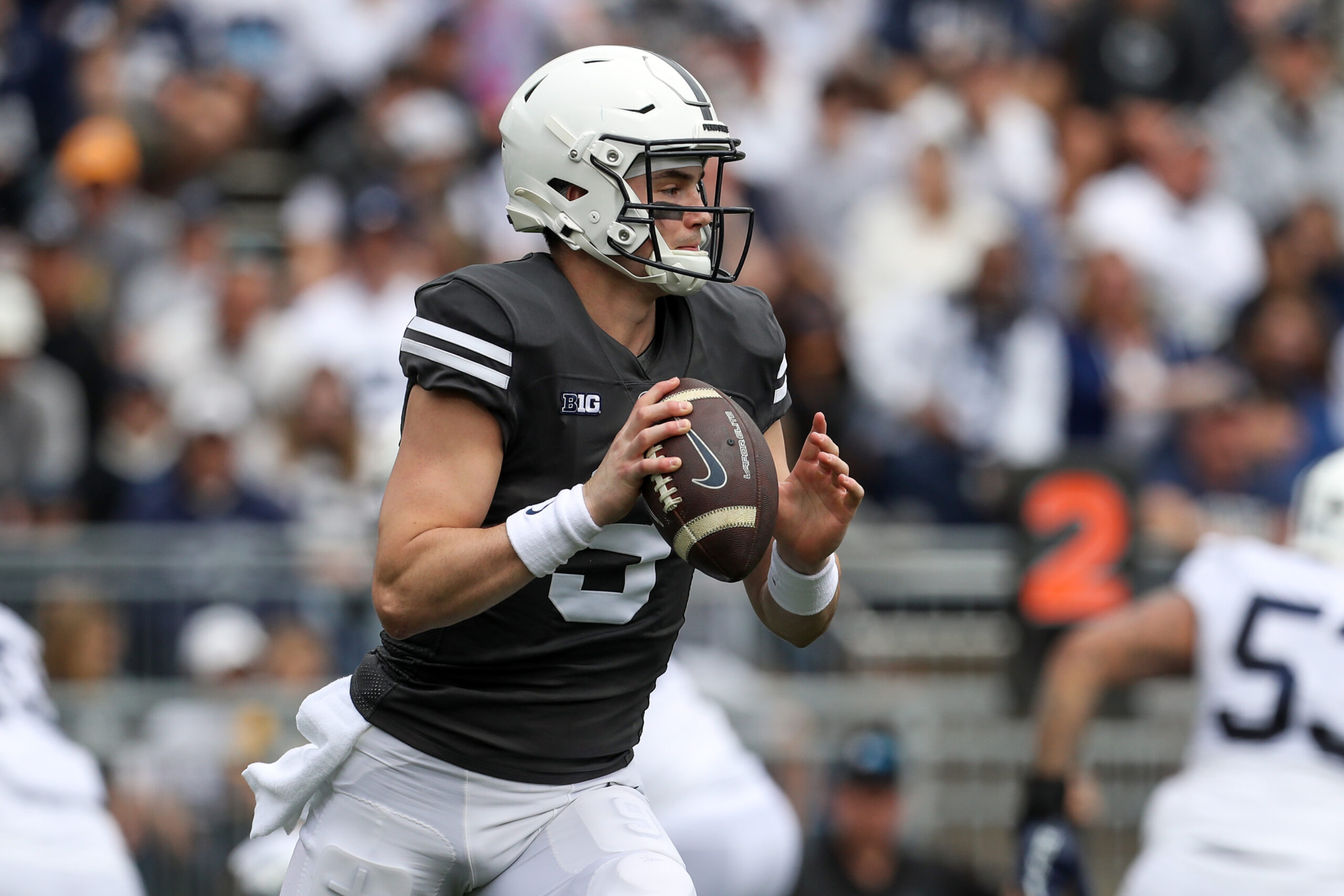 Sadly, last weekend was the last that we will see of the Nittany Lions ahead of summer ball in a few months. The Penn State football Blue/White game was a success on all fronts as the young Lions put on a show in front of over 63,000 fans at Beaver Stadium; now, attention has flipped to recruiting, summer ball, and the coming season. Here are three quick thoughts on the program ahead of Penn State summer ball
Pre-Penn State summer ball: Recruiting should be fun to watch in the coming months
Since Penn State football concluded its Blue/White game last weekend, the Nittany Lions have been getting dangerously hot on the recruiting trial. Penn State is hauling in some top talent in the 2024 and 2025 classes and is trending to land even more major recruits.
Over the past few years, James Franklin has frequently gone on major recruiting streaks throughout the summer, and I expect that to be the case again this year. Numerous top-ranked Penn State football targets are setting their commitment dates for this summer, many of which are right around a visit to State College. Highly sought-after recruits, such as major 2024 quarterback target Michael Van Buren, are expected to turn Blue and White this summer, which should be a fun sight to see for Penn State football fans.
According to the 247 Sports Composite rankings, Penn State football has the No. 7-ranked 2024 class and the No. 3-ranked 2025 class. There is a solid chance that these classes finish around (or higher) than where they are ranked right now, which is a great step for the program as a whole.
Zane Durant should be in for a breakout season in the Blue and White
Throughout spring practices and the Blue/White game, one name kept popping up when it came to defensive tackle depth: Zane Durant. Penn State football will likely need to hit the portal for another defensive tackle or two, but Durant — a rising sophomore — has impressed players and coaches alike thus far.
Let me put it like this, the fact that Durant's name was mentioned as many times as it was is quite telling about the kind of offseason that he has had thus far. From head coach James Franklin to running back Kaytron Allen (on multiple occasions), everyone has been impressed with Durant — Allen even claims that he has been making Penn State's offensive line much better throughout the spring. Again, the Nittany Lions probably still need some help via the portal, but having some in-house talent that can step up in the middle of the D-line will be massive; keep an eye on Zane Durant to be that guy.
Beau Pribula is going to see the field in some capacity
Everyone is obsessed with the massive rising sophomore sensation Drew Allar; frankly, I don't blame anyone one bit. Allar has the size, the talent, and the smarts to be one of the great Penn State football quarterbacks during his time in Happy Valley; however, don't count out the guy behind him either.
Beau Pribula — a Pennsylvania native — also has quite a bit of talent and brings a separate skillset to the table for the Nittany Lions. Despite adding some considerable weight, Pribula is moving as well as he ever has and could be a deadly weapon if used properly for the offense. Additionally, as fans got to see last weekend, Beau can sling it pretty well, too.
I wholeheartedly believe that Drew Allar will get the starting nod against West Virginia on September 2nd; however, Beau Pribula is far too talented to sit on the bench for the season. James Franklin has hinted at special packages that can utilize Beau, and quite honestly, I think it would be foolish not to use his unique skillset if it helps elevate the offense. While he may not be better than Drew Allar right now, keep an eye on Beau Pribula.
---
---
Thank you for reading Basic Blues Nation. Please follow us on Facebook and Twitter for the latest news and insights on your favorite Penn State athletics. For feedback, questions, concerns, or to apply for a writing position, please email us at [email protected] or direct message us on our social media. It's due to your support that we can become one of the market's fastest-growing Penn State sports outlets!