Scouting report on Penn State Basketball center Qudus Wahab
Learning more about Qudus Wahab.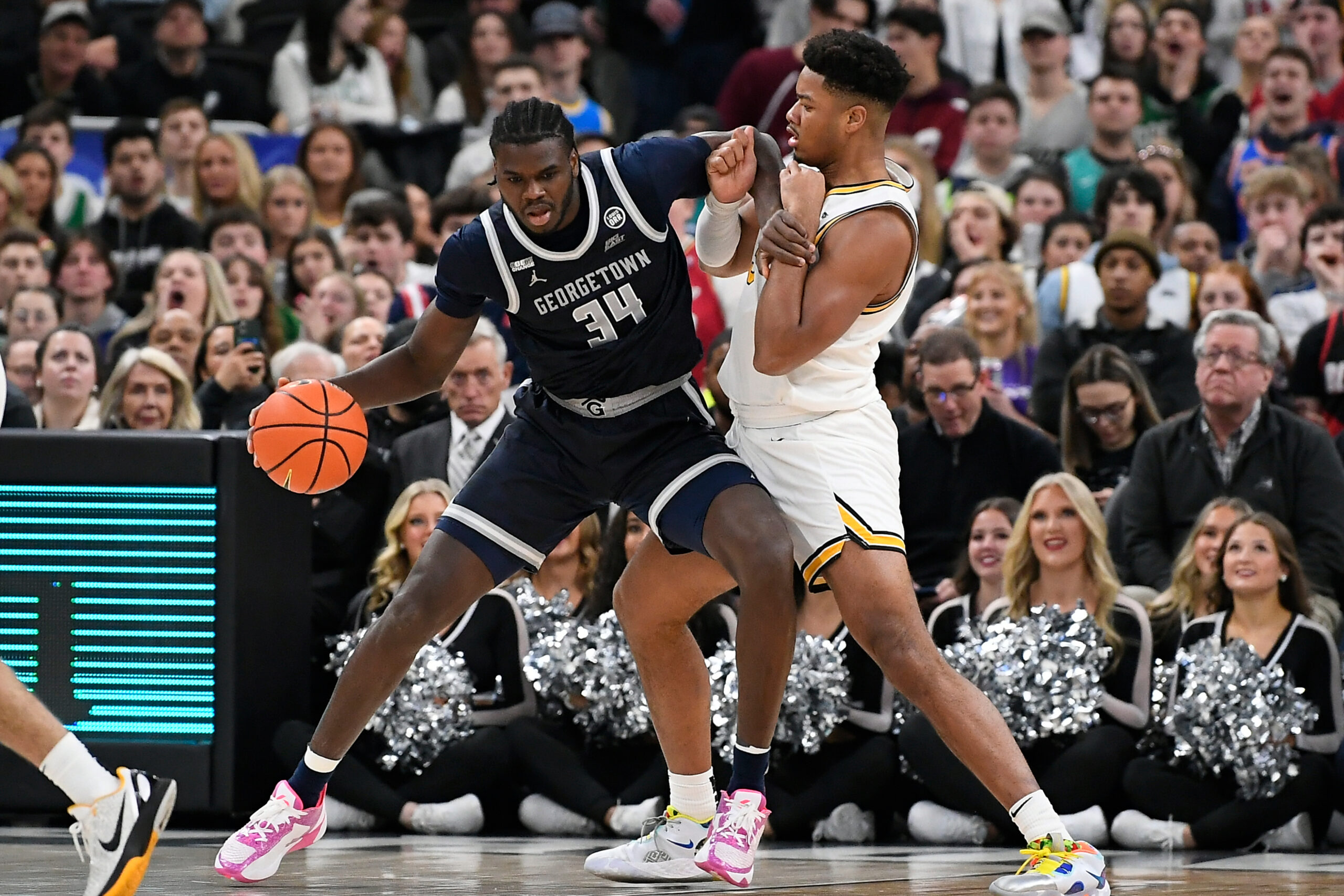 The second player I'm covering in the scouting series is the 5th-year senior from Georgetown Qudus Wahab. The projected starting center may be the deciding factor for which way the Penn State basketball season goes. With a lot of inexperience behind him and some good centers in the conference, Wahab's play is going to be crucial for the Nittany Lions.
Scouting report on Penn State Basketball center Qudus Wahab
Wahab comes to Penn State to close out what has been an up-and-down college ride so far. Qudus was a top 150 recruit back in the 2019 high school recruiting class and chose to play for Georgetown. After a big sophomore year where he averaged about 13 points and 8 rebounds, Wahab decided to enter the transfer portal looking for a better program. He transferred to Maryland, but after a disappointing season that saw him play just 19 minutes a game, he entered the portal again, this time heading back to Georgetown. In his 4th season, he bounced back from his bad year at Maryland, but still did not reach his sophomore-year level, averaging 9.6 points and 7.1 rebounds a game.
He got more post touches this year than he had in the past and his efficiency reflected that, dropping from a career 58% shooting mark to just 51.3%. The Georgetown team was bad with a record of 7-25. Their offense ran terribly and everyone suffered because of it. Wahab comes to Penn State with less of a burden offensively and some very talented guards to play with in Ace Baldwin and Kanye Clary which should help increase his efficiency. 
When you watch the highlights Wahab looks like your average traditional center. Often the biggest player on the floor he appears to be a physical presence down low on both ends. It looks like he loves to work in the post and he isn't the most athletic player. Highlights rarely show the full picture, however, so let's dig a little deeper and check out some full games. Again, shoutout to the amazing College Basketball Scouting channel for a good breakdown of the numbers of Wahab's senior season.
The first game I watched was a January 24th matchup against DePaul. Wahab played 22 minutes in this matchup finishing with 9 points on 2-6 shooting from the field and 5-6 shooting from the line. He also added 10 rebounds and a block to the box score. The main thing that jumps out of this game is the style that Georgetown was running last year. They ran a ton of iso-heavy plays and rarely used ball screen actions. Wahab seemed to spend the majority of the game in the dunker's spot or fighting for position inside. In the season Wahab operated in a post up 48% of the time resulting in 0.93 points per possession, or PPP, which is 67th percentile. He looks comfortable there but it is not the most efficient style of offense, which was evident in this game with his poor shooting from the field. He is in roll/pop action only 15% of the time resulting in 0.98 PPP which is 45th percentile.
That percentage should skyrocket playing in Rhoades' offense and, with the improved guard play around him in Ace and Kanye, that PPP will improve as well. The other thing that is really apparent here is his rebounding skills. He has a nose for the ball off the boards and he gets work done there on both ends. In this game, his 10 rebounds were evenly split, 5 defensive and 5 offensive. Wahab's offensive rebounding is gonna be a huge factor for a Penn State team that has had problems there in the past. He had a 13% offensive rebounding rate last year. Comparatively, Penn State as a team had a 17.7% rebounding rate last season. Wahab's defense was not the sharpest in this game. He looked lethargic and was out of position a number of times, but playing for a team as bad as Butler can take away your motivation to really try. This next game we are gonna look at provides some evidence that it is a motivation issue and not an ability issue. 
Game 2 was a matchup against the future champion UConn Huskies on February 4th. The game ended in a loss for Georgetown, but the Hoyas played a tough game, falling 68-62. The game is this close was in no small part thanks to Qudus Wahab. Matching up against arguably the best center rotation in the country of Adama Sanogo and Donovan Clingan, Wahab played 27 minutes scoring 10 points on 5-9 shooting from the field with 6 rebounds and 2 blocks. Wahab looked much more motivated and active in this game. He seemed to take pride in the matchup and really held his own on both ends. He could not get super far inside easily against Sanogo but he was able to get to his spot near the right elbow for a few smooth post hooks. The post hook is a solid weapon for Wahab. He goes to it near the right elbow for 14% of his shot attempts and he hits them at a respectable 50% from the field. That shot has the makings of a great low-shot clock bailout play to try and salvage some bad possessions. On defense, he was much more engaged. He defended his individual matchups well but also was an excellent team defender. He always seemed to be in the right position this game and was hustling around nonstop. His defense was the biggest reason why Georgetown was able to hold UConn to just 68 points. With the right motivation, Wahab showed he can rise to the occasion. 
What will Wahab's role be at Penn State?
With Penn State, it will be a wildly different role for Wahab on both ends. Playing with a guard like Ace Baldwin who operated in the pick-and-roll 48% of the time last season should give Wahab a lot of new looks on offense. Wahab seems to have a good feel for space and is crafty inside to finish at the rim despite his lack of athleticism. He already shot 69% of his shots at the rim on 54% efficiency, and, with a more PnR-heavy offense and better guards, we could see both those numbers improve at PSU. On defense, the transition is a bit more complicated. The Rhoades' defense uses a lot of pressure concepts that will be a new experience for Wahab. It is a very high-energy defense that requires a lot of hustle. Wahab has struggled with hustle at times, but with very little experience behind him, he is going to have to really buy into the system for the Penn State basketball team to be successful. 
Wahab is going to be one of the most important players for the Penn State basketball team this season, for better or worse. Last year for him was not great, but we have seen some fantastic play from Wahab at times throughout his 4-year career. With improved guard play and a more coherent system, Qudus could be in for a nice comeback in his final college season. 
---
---
Thank you for reading Basic Blues Nation. Please follow us on Facebook and Twitter for the latest news and insights on your favorite Penn State athletics. For feedback, questions, concerns, or to apply for a writing position, please email us at [email protected] or direct message us on our social media. Also, be sure to check out our new site shop. It's due to your support that we can become one of the market's fastest-growing Penn State sports outlets!