Penn State Basketball defeats University of Victoria 103-77
Kayne Clary's 22 points led the way for the Nittany Lions.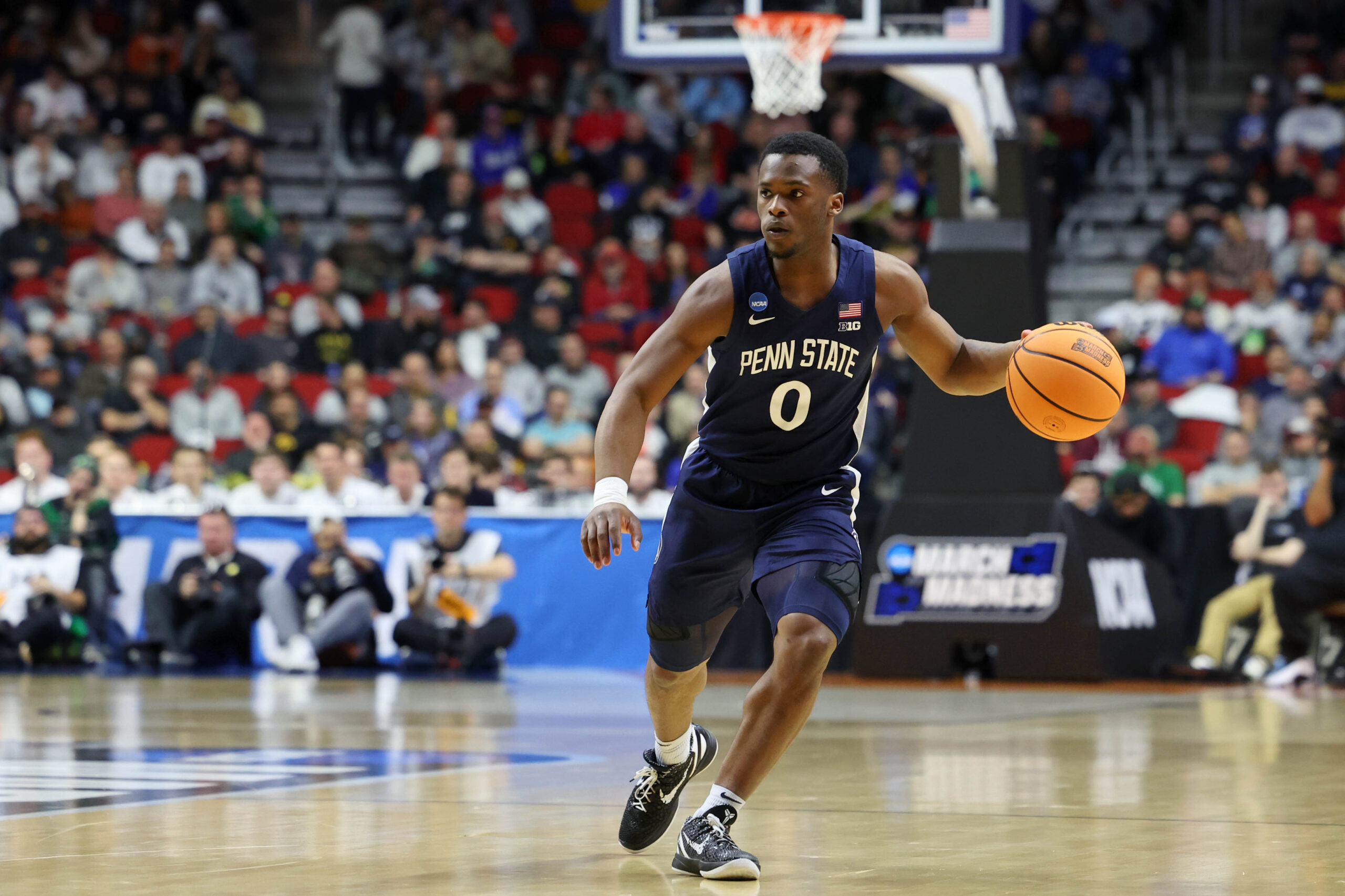 The Penn State basketball squad goes 2-0 during its week in the Bahamas, picking up a 103-77 win over the University of Victoria Thursday. Five Nittany Lions scored in double figures, as Kanye Clary led the way with 22 points.
Penn State basketball gets blowout win to wrap up international trip
While this game was still not at a Big Ten level, it was much more competitive than Tuesday's matchup at the Baha Mar Hoops Summer League. The Vikes actually had a center and played a much more organized style of basketball, leading to a much more standard game. Led by Canada West player of the year Diego Maffia, the Vikes were able to keep pace with Penn State for stretches on offense and throw a bunch of different looks at the Nittany Lions on defense. However, they were clearly overmatched by Penn State's pressuring defense, shooting just 35.1% from the field and turning it over 18 times.
The Penn State offense was hitting on all cylinders this game. The Nittany Lions shot 58.9% from the floor and a blazing 40.7% from downtown. While there are definitely chemistry issues to work out, the passing already looks like a strength of this team. The Lions pilled on 28 assists as a team in a selfless effort from everyone on the roster. Everyone on this team is moving well off the ball, and the guards are eager to hit the cutter toward the rim to score or dish it off to the low man. Leading the way were guards Kanye Clary and Ace Baldwin.
Kanye Clary leads the way for the Lions
Kanye Clary again started alongside Baldwin in the backcourt and showed he is ready for a second-year jump. Clary was an efficient scorer, shooting 10-13 from the field and 1-3 from deep to get 22 points. Clary also showed off the all-around game to go with the scoring, raking up 5 assists and 5 rebounds.
With his speed and handle, Clary can get to the rim on almost every possession, and tonight, he made the right reads to go with it. He had dazzling finishes and some absolute dimes at the rim as he directed the Vikes' defense. There will likely be some inconsistency with a second-year player. Still, Clary is looking to be a significant contributor this season after a solid end to his freshman year.
Baldwin flashes despite poor shooting night
Like last game, Ace Baldwin shot the ball poorly, going just 1-6 from the field in a 4-point performance. Despite this, he was still one of Penn State's best players. Baldwin carved up the Victoria defense all night, finishing with 10 assists. He also controlled the game on defense, acting as the main point of attack defender and picking up 4 steals. When Baldwin is on the floor, he instantly elevates the Nittany Lions on both ends of the court. It will be huge for Penn State basketball to have a player who can be an impact player even if the shot isn't falling.
Johnson and Hicks step up
Puff Johnson got a starting spot Thursday after a strong performance off the bench in the last game and did not disappoint. He filled the stat sheet with 15 points, 6 rebounds, 2 steals, and a block. Johnson was very effective as a finisher, shooting 6-8 from the field, including a strong 3-4 showing from deep. Johnson once again showed that he can play up and down the lineup with his skill and size. He has looked the part of an essential two-way player.
Joining Johnson in the forward spots was Zach Hicks, who had a huge bounce back from a disappointing first game. After making just 2 shots on Tuesday, Hicks knocked down 7 jumpers on 9 attempts, including 5 makes from deep for 19 points. Hicks's smooth jumper was on full display today as he fired up shots whenever he had a sliver of space, which is exactly what this Nittany Lions squad needs from him. There will be ups and downs, just like with every shooter, but Hicks looks ready to be Penn State's go-to three-point specialist this season.
Penn State gets solid contributions from the bench
Off the bench, it was a pair of good performances from Nick Kern Jr. and D'Marco Dunn. Kern and Baldwin showed off their VCU chemistry, with Kern getting hit on the back door cuts all game. He was incredible tonight at attacking space or finding the big inside, finishing with 16 points on 7-10 shooting, 6 rebounds, and 2 assists. Dunn continued to flash his scoring ability off the bench with several nice drives and a smooth jumper. He finished with 9 points on 4-8 shooting, including 1-3 from deep. He also flashed impressive defense with a huge block inside and perimeter pressure.
Watching this team, they are clearly a group of transfers learning as they go. We are still seeing a lot of miscommunication, especially on defense, as everyone attempts to adapt to Mike Rhoades's aggressive trap system. However, it is easy to get excited after these two matchups. The positions and roles seem to be falling into place, and the chemistry is already building up nicely. Penn State basketball will now head back home and start to prepare for the beginning of fall camp after a successful international trip.
---
---
Thank you for reading Basic Blues Nation. Please follow us on Facebook and Twitter for the latest news and insights on your favorite Penn State athletics. For feedback, questions, concerns, or to apply for a writing position, please email us at [email protected] or direct message us on our social media. Also, be sure to check out our new site shop. It's due to your support that we can become one of the market's fastest-growing Penn State sports outlets!