Penn State Basketball defeats the Bahamas National Team 113-65
Penn State basketball plays a clean first game of summer league.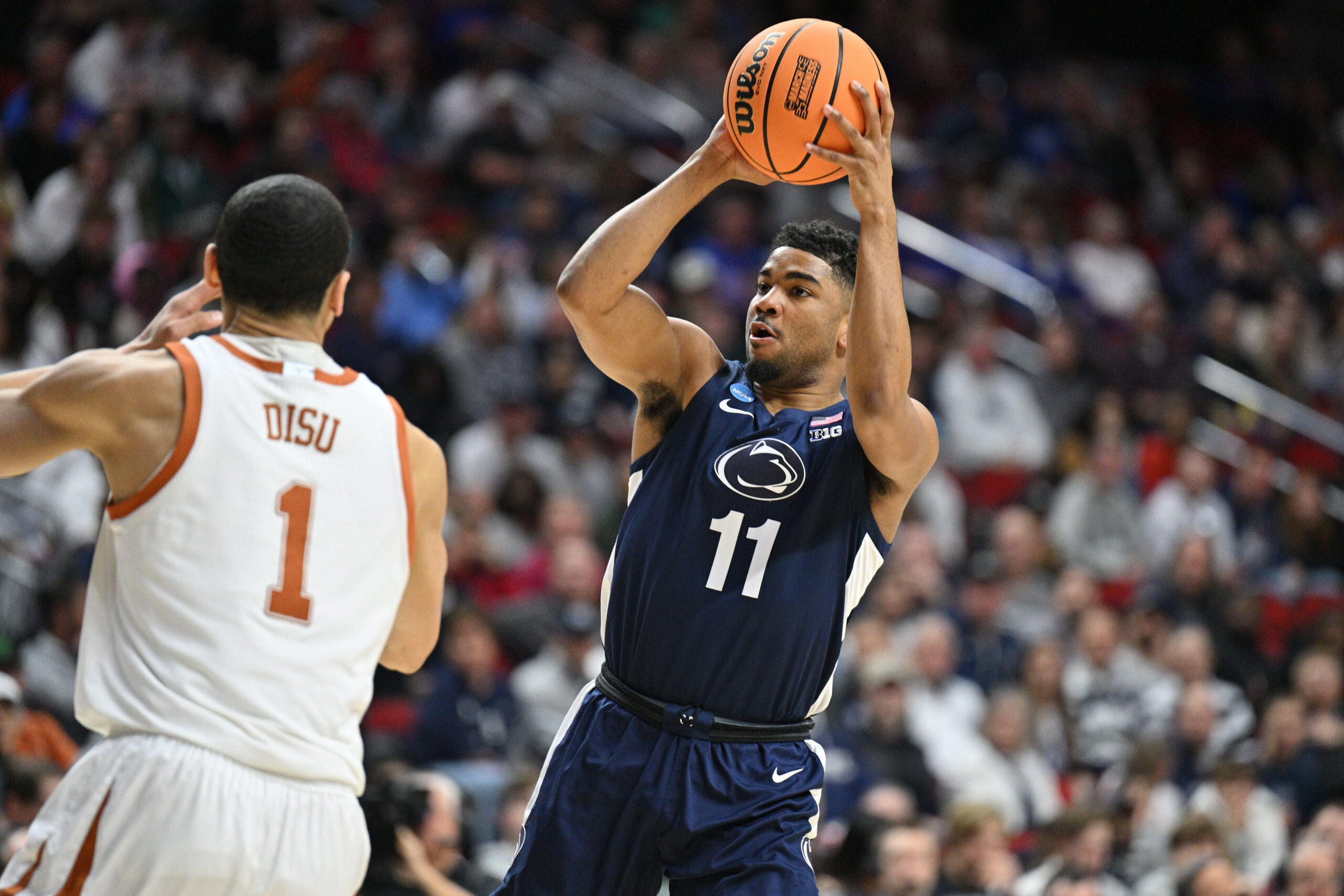 The Penn State basketball team got a big win against the Bahamas National Team 113-65. The lack of chemistry and rust was very apparent from this Nittany Lions team, but overall it was a good first showing from Mike Rhoades' squad. It was a soppy game from both sides that featured just one big between both teams. While this created a weird and more unrealistic playing setting, this game still gave us a peak behind the curtain at the current state of this Penn State team and its players.
Penn State Basketball defeats the Bahamas National Team 113-65
The starting lineup gave us our first look into how Mike Rhoades wants this Penn State team to operate. The biggest one is the backcourt mate with star point guard Ace Baldwin. Sophomore Kanye Clary got the nod, putting both lead guards in the lineup together. I believe Kanye is in for a big year after a nice finish to his freshman year and love the pairing of Ace and Kanye together. They can help take the pressure off each other to score and I am just a believer that talent wins out. Ace didn't light up the scoreboard tonight with just 4 points on 2-5 shooting from the field, but he was great orchestrating the offense finishing with 6 assists. The team just looked much better when he was out this which is evident from his +/- of +36 on the game. Kanye struggled at times to control the offense like Ace but still finished with an impressive 13 points on 5-11 shooting and 7 assists. The pair only shot 1 of three combined in this one which is going to have to change if the pairing is gonna be able to thrive together.
Slotting in at the starting small forward spot just like he did under Mike Rhoades' at VCU was Nick Kern Jr. He was fantastic this game with 17 points on 8-9 shooting and 7 rebounds in just 14 minutes of play. His athleticism immediately jumps out at you with his speed, change of pace, and vertical spacing. Every time he touches the floor it is just instant energy that the team will need on both ends. Joining him in the front court was temple transfer Zach Hicks who did not fare as well. He scored just 8 points on 2-11 from the field which included 2-9 shooting from deep. Hicks is on this team to be a shooter and he played his role exactly how he should, unfortunately, sometimes nights like this happen.
Down low the the starting spot went to returning sophomore Demetrius Lilley by default. It was announced during the broadcast that Penn State's two other centers, Qudus Wahab and Favour Aire, are both out for the two exhibition games in the Bahamas leaving Lilley as the sole active center. Lilley looked solid in his 13 minutes of playing time scoring 6 points on 2-5 shooting, grabbing 8 rebounds, and getting a block. However, it is hard to really judge what progress he has made, besides his obvious physical improvement, because he was easily the tallest guy on their court at all times. Because of the lack of bigs in this game, PSU spent a lot of time in small-ball lineups with UNC transfer Puff Johnson manning the five spot. Puff looked very solid in this one scoring 13 points on 4-6 shooting from the field and 1-3 shooting from deep with 7 rebounds, 2 assists, 2 steals, and a +/- of +35.
Off the bench, the biggest standout was fellow UNC transfer D'Marco Dunn. He showed off some of the scoring prowess he displayed as a top high school prospect with 16 points on 6-11 shooting from the field and 3-5 shooting from deep. He looked good attacking off the dribble and off the catch. He should add a nice scoring bunch wherever he plays and could be a nice compliment to either of the point guards on the team.
Mike Rhoades' identity on full display
The offense looked solid and definitely different than Rhoades' past offenses at VCU. There were a lot more dribble handoff sets which is a big difference from the pick-and-roll heavy offense Rhoades ran at VCU last year. The biggest difference was the amount of movement. There seemed to be someone cutting or setting a back screen for someone else at all times. With the lack of chemistry right now this led to some bad turnovers, but overall it looked much more inventive than the typical Rhoades's offense. However, take all of this with a grain of salt because as I said, the lack of bigs created an odd rhythm and look to the game. Overall the Nittany Lions shot 43.5% from the field and hit 9 threes on just 25.7% from deep
On defense, it was classic Rhoades. Tight and aggressive man-to-man defense and hounding the ball handler whenever possible. The Harcourt traps and press didn't look as great without the chemistry yet, but they were still able to generate 14 steals and 9 blocks and held the Bahamas team to just 31.8% from the field. Ace, Puff, and Nick Kern were the star on this end. They all have the athleticism and instincts to guard multiple positions and create havoc on that end of the floor.
The Nittany Lions will look to carry the momentum of this win and build on it in their next matchup against the University of Victoria at 4:30 p.m. on Thursday, August 10th. Just like this game, the matchup on Thursday will be available to watch at FloHoops.com with a subscription.
---
---
Thank you for reading Basic Blues Nation. Please follow us on Facebook and Twitter for the latest news and insights on your favorite Penn State athletics. For feedback, questions, concerns, or to apply for a writing position, please email us at [email protected] or direct message us on our social media. Also, be sure to check out our new site shop. It's due to your support that we can become one of the market's fastest-growing Penn State sports outlets!