Best, worst case scenarios outlined for 2023 Penn State football season
How high – or low – could Penn State go in 2023?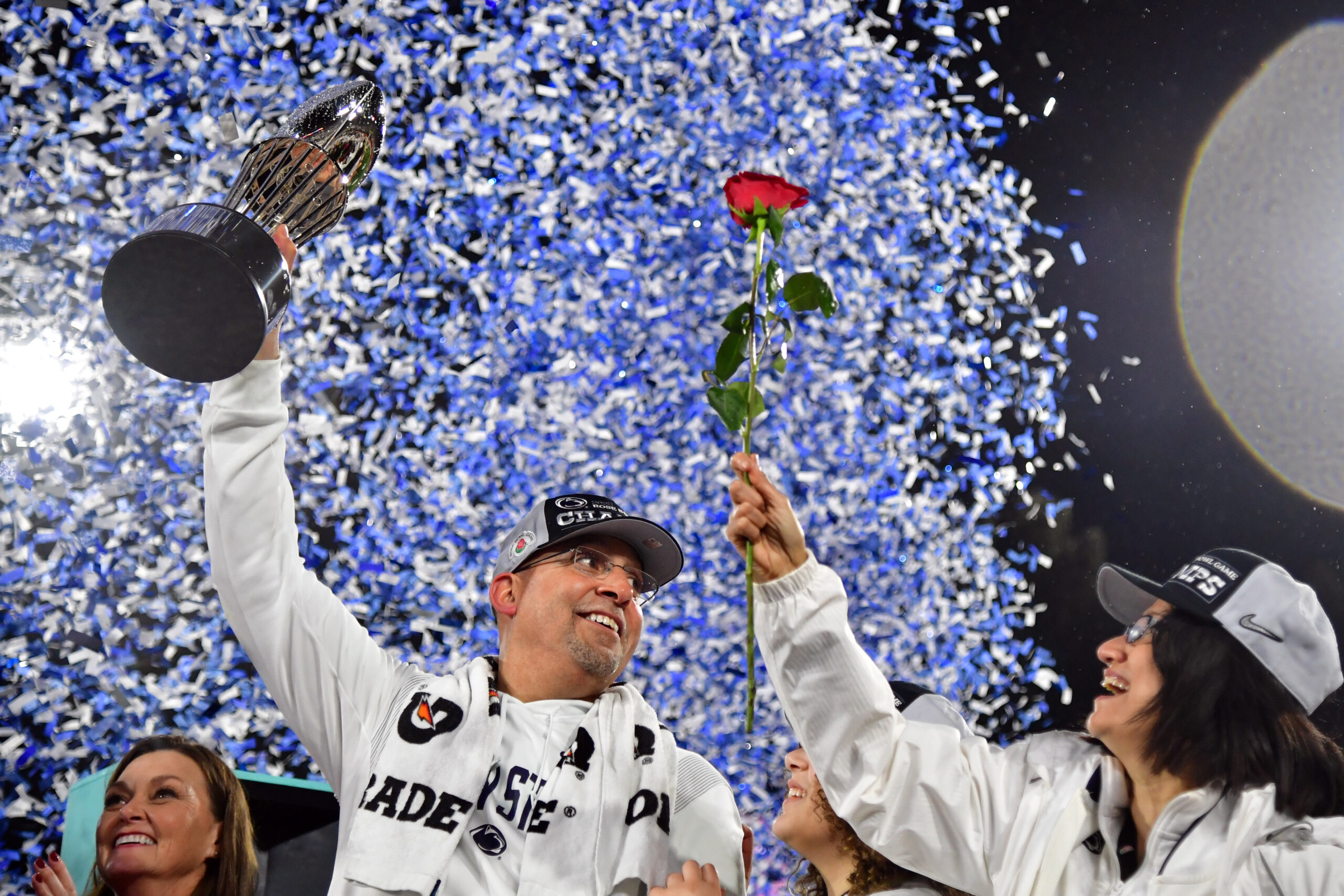 It feels as if the hype train for the 2023 Penn State football team left the station the moment the 2022 team returned home from a Rose Bowl victory in Pasadena. For the first time since before the COVID pandemic, it seems realistic to say the Nittany Lions have a chance to make the College Football Playoff. But can it actually happen? Conversely, what would happen if the train rolls off the tracks for James Franklin's squad? Recently, 247Sports tried to answer those questions, outlining the best and worst-case scenarios for Penn State in 2023.
Best case: Nittany Lions finally reach the mountaintop
This week, 247Sports' Brad Crawford wrote an article outlining the best and worst-case scenarios for each Big Ten team this season. For the Nittany Lions, the ceiling is about as high as possible. Penn State was listed as one of only four teams whose best-case scenario would be a 12-0 finish. Obviously, the Nittany Lions join Ohio State and Michigan in this regard, along with the new-look Wisconsin Badgers.
"James Franklin finished with 11 wins on four different occasions at Penn State, but 2023 will be the year he gets his opportunity at win No. 12," wrote Crawford of Penn State's path. "For this to happen, the Nittany Lions must — at worst — split their top-five showdowns against Ohio State and Michigan."
Of course, this path is pretty straightforward. We've noted several times already this offseason that the 2023 Penn State football season will likely be defined by these two games. Personally, I think this Penn State roster stacks up better against both Ohio State and Michigan than it has in quite some time. I think it can happen this year. I really want to say that I believe it will happen. But sometimes, seeing is believing.
Worst case: 2023 Penn State football underperforms despite hype
On the other end of the spectrum, the worst-case scenario for the Nittany Lions in 2023 was listed as 8-4. Crawford writes, "Four losses with this schedule don't seem possible, but worst case, the Nittany Lions fall against Iowa, Ohio State, Michigan, and Maryland."
From a talent perspective, Penn State's 2023 roster is among the best in college football. But something would have to go seriously wrong for this scenario to happen. In this case, some of the missteps could be predictable, like first-year starting quarterback Drew Allar performing not quite as advertised or a wide receiver corps that just can't take the next step. But for 8-4 to really come into play, I think there would need to be a decent amount of the unexpected as well, including key injuries or significant regression from some of the Nittany Lions' rising stars.
Depending on who you ask, Penn State's schedule is either relatively easy or filled with trap games. But much like Crawford, I also struggle to find four losses for the Nittany Lions in 2023. Obviously, losses to Ohio State or Michigan wouldn't be shocking. Iowa should be a difficult defense to face early in the season, but I think playing this game in the White Out is a significant advantage for Penn State. Maryland seems to be pulling itself out of the bottom of the Big Ten, but the Nittany Lions have played well in College Park in recent years.
To me, the most likely third loss could be Illinois. Penn State travels to Champaign in the third week of the season. This will be Drew Allar's first road test as a starter. You'd like Penn State to lean on the run, but Illinois will likely stack the box and force Allar to win the game through the air. On the opposite side of the ball, I would expect the Fightining Illini to try and win the game on the ground. That's what they did to Penn State in 2021, and that's what Michigan did to the Nittany Lions last year.
Somewhere in between?
In all reality, Penn State's 2023 record will likely fall somewhere in between these best and worst-case scenarios. The Nittany Lions have a talented team, but they will have to prove if they can get over the hump. And if James Franklin's team does fall somewhere between a playoff contender and a complete flop, I'm sure there will be plenty of debate over the "success" or "failure" of the 2023 campaign.
---
---
Thank you for reading Basic Blues Nation. Please follow us on Facebook and Twitter for the latest news and insights on your favorite Penn State athletics. For feedback, questions, concerns, or to apply for a writing position, please email us at [email protected] or direct message us on our social media. It's due to your support that we can become one of the market's fastest-growing Penn State sports outlets!