Wild rally pushes Penn State baseball past West Virginia
The Nittany Lions overcame a five-run deficit to win in dramatic fashion on Tuesday night.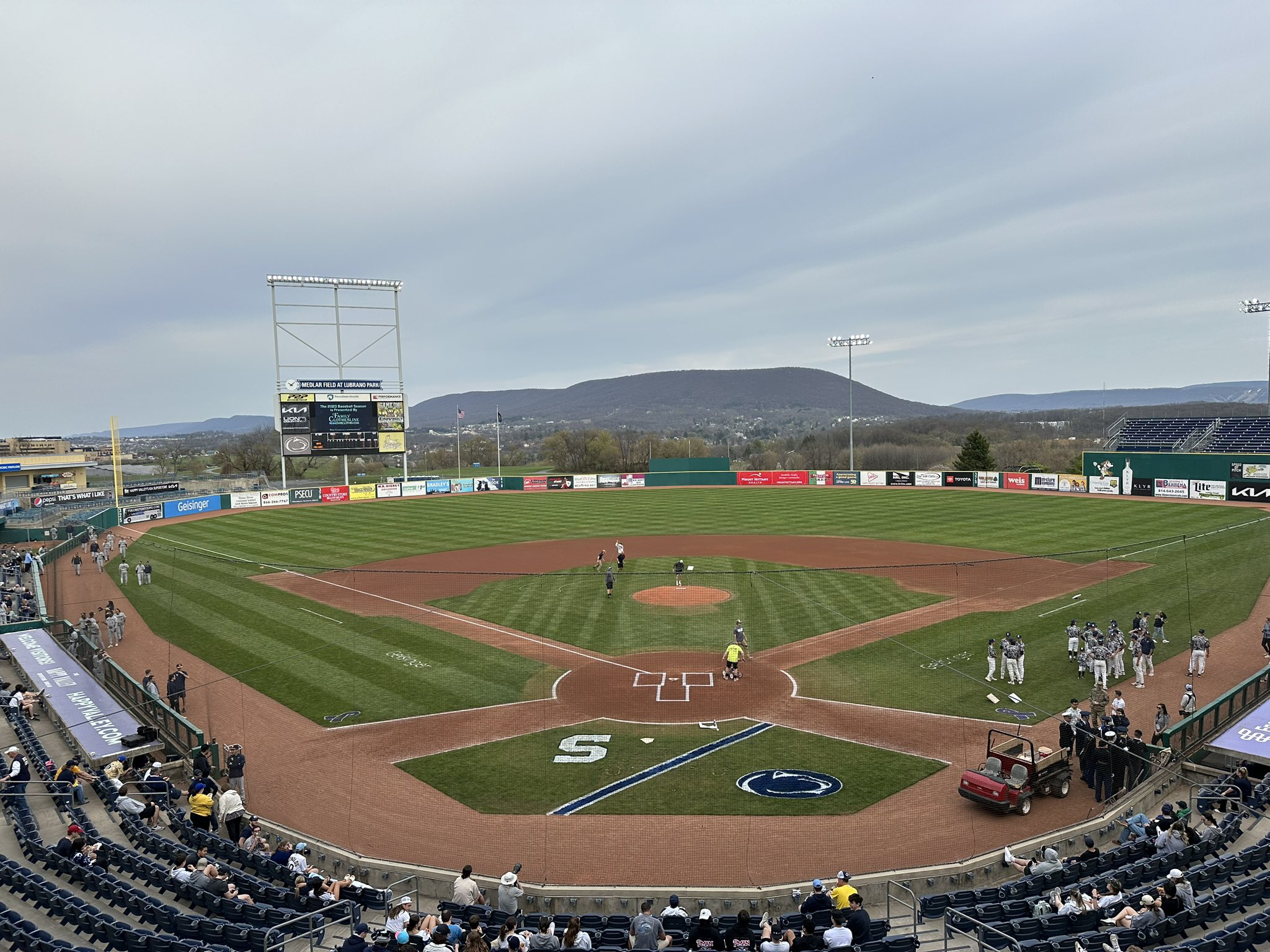 State College, PA — On Tuesday, the Penn State Nittany Lions took on the West Virginia Mountaineers on another Dollar Dog Night and military appreciation day. Medlar Field was packed, but for most of the game, it looked like the Lions would send the fans home disappointed. However, Penn State baseball fought back and used a wild rally to pull off the dramatic comeback, winning 11-6. 
Wild rally caps off Lions' dramatic comeback
West Virginia took a commanding lead early in this game. The Mountaineers scored a run in the top of the first inning, then added two more runs to take a 3-0 lead in the second. Penn State had early opportunities to score but couldn't capitalize as the hole was dug deeper. West Virginia added two more runs to expand the lead to five by the top of the fourth inning. 
Tayven Kelley goes a loooooong way to make this snag!

Bramley leads off the Bottom 4th.

M4 | PSU 0, WVU 5#WeAre pic.twitter.com/MwwpRJfFA4

— Penn State Baseball (@PennStateBASE) April 11, 2023
The Nittany Lions finally answered after Bobby Marsh roped a double to the right corner to put Penn State on the board in the bottom of the fourth. However, the Mountaineers added another run in the top of the sixth, pushing the lead back to 6-1. 
But then Penn State's bats got hot. With the bases loaded, Grant Norris doubled to cut the deficit to three runs. A walk brought another run, and the Lions trailed 6-4. Then, chaos broke loose. In what looked like a play straight from your local Little League field, a series of West Virginia miscues turned an easy Kyle Hannon groundout into an inside-the-park home run. The "Little League grand slam" scored four runners, giving Penn State the lead, 8-6. When asked about it after the game, Jay Harry stated that's what happens "when you put the ball in play."
LITTLE LEAGUE HOMER!!! Kyle Hannon with a grounder down the right line and errors bring home everyone!

B6 | PSU 8, WVU 6#WeAre pic.twitter.com/8QWNIFkeOu

— Penn State Baseball (@PennStateBASE) April 12, 2023
The Nittany Lions added to their lead in the seventh with a solo home run from Jay Harry to make the score 9-6. A Tyson Cooper single later scored two runs to make it an 11-6 ballgame. Pitcher Steven Miller silenced the West Virginia bats down the stretch, and Penn State won by an 11-6 final. 
Turning point for Penn State baseball?
We could look back on Tuesday's victory as the moment when everything changed for Penn State baseball. When asked what the win meant, coach Rob Cooper said his squad is "playing as a team," but the momentum is "only as good as your mindset." The crowd certainly played a role in Tuesday's momentum, as Jay Harry described the atmosphere as "electric." However, as reliever Tommy Molsky put it, Penn State's success will ultimately be earned behind the scenes. "[It's] just believing in yourself and knowing that you've got the guy next to you, and he's got your back as well," he said after the game. 
Penn State baseball will put its newfound swagger to the test this weekend when it travels to West Lafayette to take on Purdue. The first game of the three-game series starts Friday night at 6 p.m.
---
---
Thank you for reading Basic Blues Nation; we are proud to be a student and alumni-owned and operated media outlet covering all things Penn State athletics! Please follow us on Facebook and Twitter for the latest news and insights on your favorite Penn State teams. For feedback, questions, concerns, or to apply for a writing position, please email us at [email protected] or direct message us on our social media. It's due to your support that we can become one of the market's fastest-growing Penn State sports outlets!