Quinton Martin is already all-in on Penn State University
Growing up a fan, Penn State was a no-brainer for Quinton Martin, and he is already all-in on the program.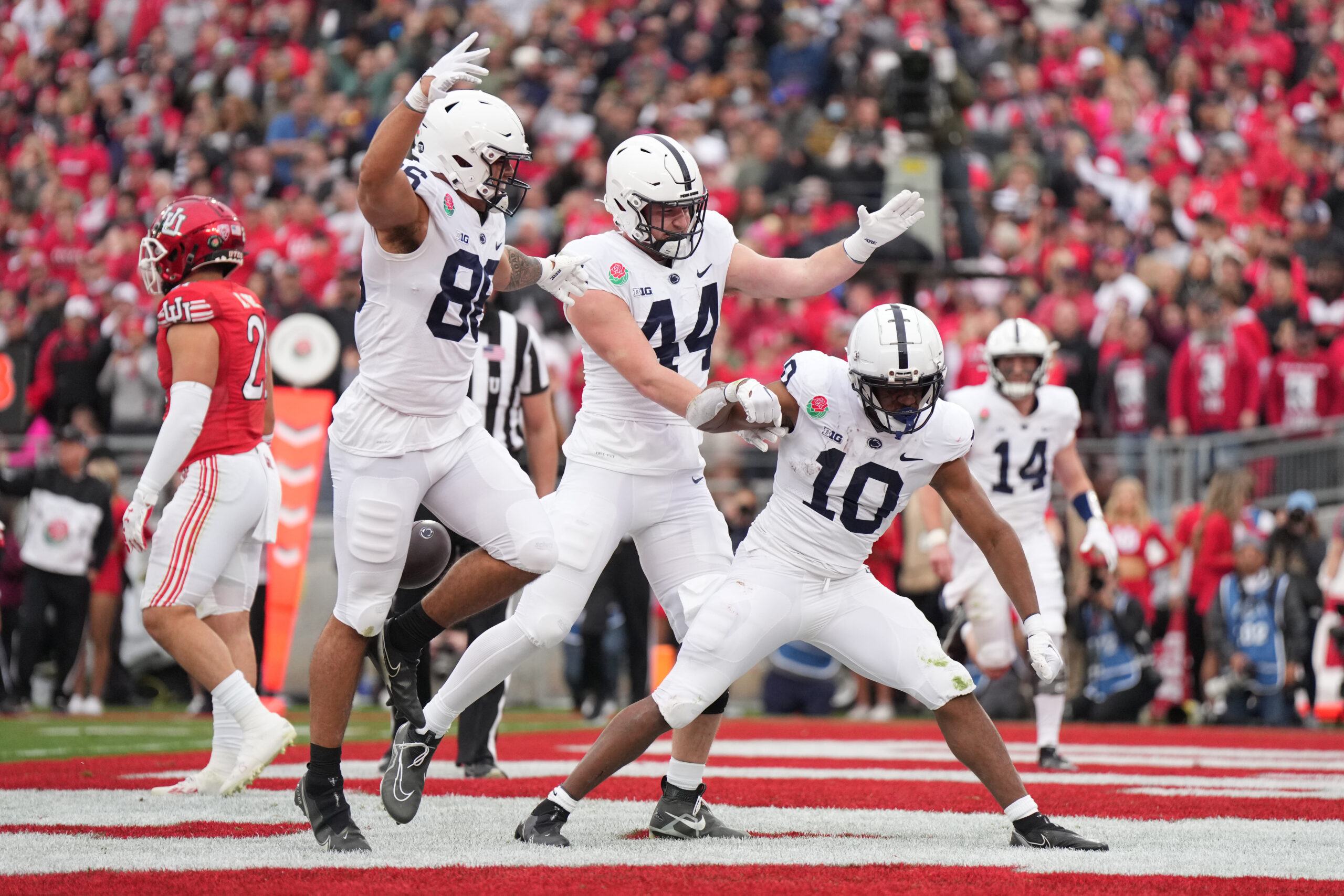 Yesterday evening, the Nittany Lions landed one of the most sought-after recruits in their 2024 recruiting class. Quinton Martin — the No. 1 ranked player in the state of Pennsylvania — has committed to Penn State football, which he calls his dream school. Here is more about the newest Nittany Lion commit.
Martin gives the Nittany Lion recruiting class a much-needed boost
Before four-star athlete Quinton Martin committed to Penn State football last night, the Nittany Lions' recruiting class was just in the top 15 on 247 Sports, with six committed players thus far. Last night, with Martin's commitment, Penn State's 2024 class shot up in the rankings to No. 9 overall — the Nittany Lions join the Michigan Wolverines (2) and the Ohio State Buckeyes (4) in the top 10; the Big Ten East is the only division in football with three teams' 2024 classes ranked in the top 10.
Martin is Penn State's seventh commit in the 2024 class and the 6th four-star recruit. The only recruit rated as a three-star or lower is three-star tight end Luke Reynolds, who is considered one of the underrated members of his recruiting cycle.
Heading into the Blue-White game next weekend (and throughout the summer), the Nittany Lions will undoubtedly have plenty more opportunities to pull some of the nation's top recruits, including ESPN five-star quarterback Michael Van Buren, who is currently favored to wind up in the Blue and White.
What does the new Penn State commit have to say about his new program and school?
Quinton Martin, the top-ranked player in the state for the 2024 recruiting class, grew up a Penn State football fan and is already in love with his new program. Here is some of what Martin had to say about the Nittany Lions.
"Penn State has always been my dream school ever since I was a little boy," Martin told Rivals. "Ever since they started recruiting me they've shown me nothing but how committed they are to me and my family and how they're going to do anything to help me thrive at their university."
Penn State football knows its priorities
Growing up in Pennsylvania and rooting for the Penn State Nittany Lions, Martin knows how much the team and the school mean to this state and its people. According to the new Penn State commit, the Lions' coaching staff was very persistent and made it known that he was a priority target.
"Coach Seider and coach Terry have been recruiting me ever since freshman year so I've created a great bond with them," he said. "We're all really tight. Me and (Anthony) Speca have been tight ever since fifth grade. Ta'mere (Robinson) and I started getting close my freshman year. The same thing with Lamont (Payne). I'm sure we're going to recruit a lot of the nation's top athletes.
"We're going up there next weekend for the spring game," said Martin. "I'll be going on my official visit June 9th-11th with my family."
With the recruitment of Quinton Martin locked down, the Penn State football coaching staff can now turn more attention to recruiting out-of-state targets and more as spring wraps up and the summer closes in.
---
---
Thank you for reading Basic Blues Nation; we are proud to be a student and alumni-owned and operated media outlet covering all things Penn State athletics! Please follow us on Facebook and Twitter for the latest news and insights on your favorite Penn State teams. For feedback, questions, concerns, or to apply for a writing position, please email us at [email protected] or direct message us on our social media. It's due to your support that we can become one of the market's fastest-growing Penn State sports outlets!