Penn State wrestling wins 7th Big Ten Championship
On Sunday, Penn State won its 7th Big Ten title at the Crisler Center in Ann Arbor, MI.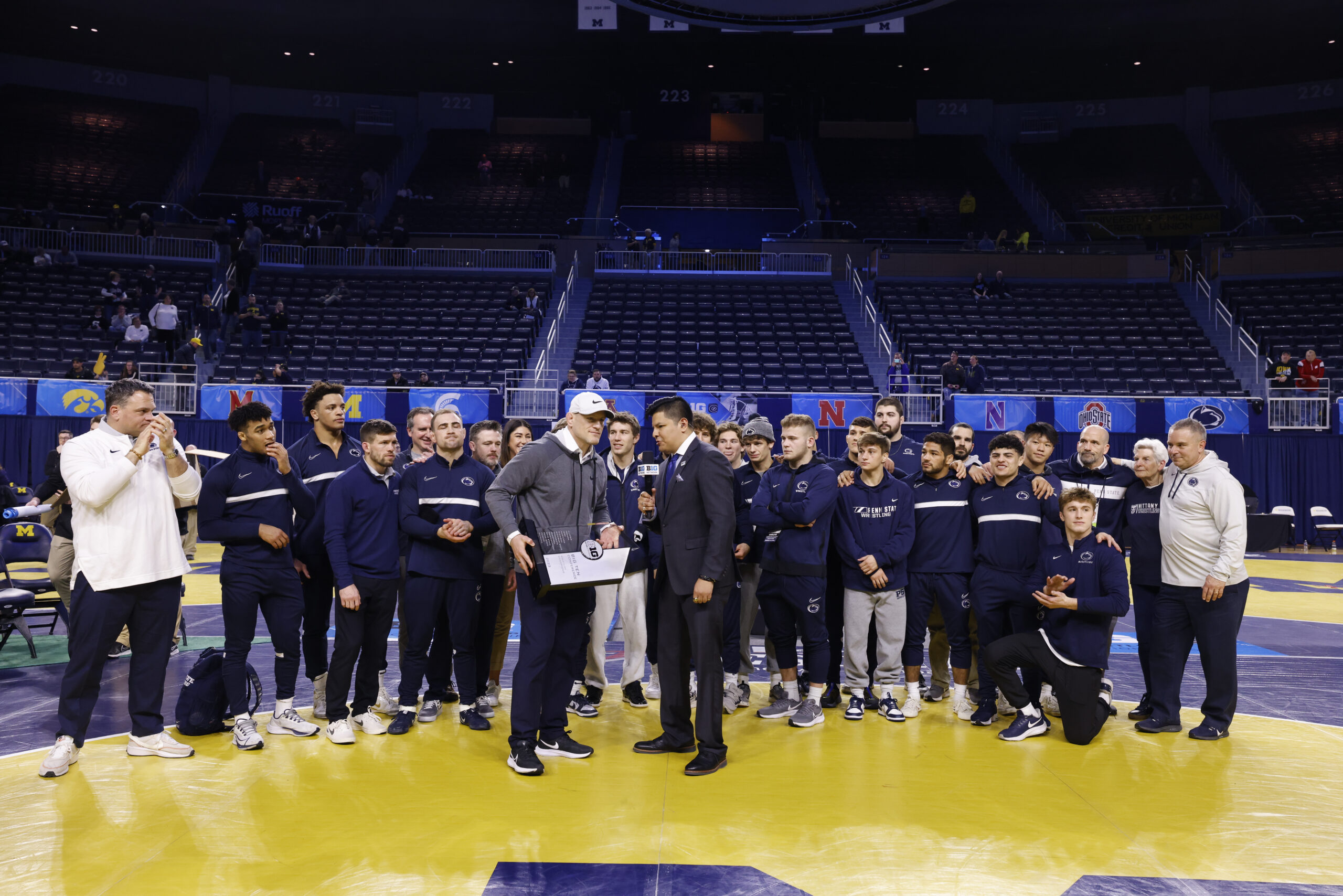 From March 4th (Saturday) through March 5th (Sunday), the Big Ten held its wrestling championships at the Crisler Center in Ann Arbor, MI. The undefeated Penn State wrestling team (16-0, 8-0 Big Ten) cruised its way to a team Big Ten title and four individual Big Ten titles as well.
PENN STATE WRESTLING //
2023 BIG TEN CHAMPIONS //
RBY, HAINES, STAROCCI, AB B1G CHAMPS //
SANDERSON COACH OF THE YEAR //
HAINES FRESHMAN OF THE YEAR //
9 AQs //#PSUwr
RECAP!https://t.co/zoHB5I8qyE pic.twitter.com/nZHmW4yiw1

— Penn State WRESTLING (@pennstateWREST) March 6, 2023
Penn State wrestling: Four Nittany Lions crowned Big Ten Champions
On Sunday, six Penn State wrestling Nittany Lions competed for Big Ten titles at their respective weight classes. Seeing as the Big Ten is the best wrestling conference (by a long shot), winning a team and individual Big Ten title is no small task, yet four Penn Staters did exactly that this afternoon/evening.
Roman Bravo-Young — 133
This year's Penn State wrestling team now has two three-time Big Ten champions, one of which is Roman Bravo-Young (133). On Sunday, RBY defeated No. 13 Aaron Nagao of Minnesota in the Big Ten title bout, earning his third conference title and punching his ticket to the NCAA championships with a 16-0 record.
Aaron Brooks — 184
The other Nittany Lion to become a three-time Big Ten champ is Aaron Brooks (184). Brooks battled No. 5 Kaleb Romero of Ohio State and defeated him 12-2 — Brooks' win makes him the 9th Penn State wrestling star to win three Big Ten individual titles. He also earned a spot in the NCAA championships with a 12-1 record this season.
Levi Haines — 157
Penn State wresting has a star in the making with true freshman Levi Haines, who defeated No. 1 Peyton Robb of Nebraska in the Big Ten championship round on Sunday. He went 3-0 this weekend and will head to the NCAA championships with a 22-1 record this season.
Carter Starocci — 174
On Sunday, Carter Starocci became the fourth Penn State wrestling star to be crowned a Big Ten champion this year. In the championship round, Carter Starocci met No. 2 Mike Labriola of Nebraska and won 6-1 — his 3-0 performance at the Big Tens this weekend earned him a spot in the NCAA tournament with a 19-0 record this season.
Penn State wrestling crowned Big Ten Champions
This weekend marked Penn State's seventh Big Ten title in wrestling — the Nittany Lions' 147.0 points put them quite far ahead of second place Iowa's 134.5. Additionally, nine Penn State wrestlers automatically qualified for the NCAA tournament: Bravo-Young (133), Bartlett (141), Van Ness (149), Haines (157), Facundo (165), Starocci (174), Brooks (184), Dean (197), Kerkvliet (285).
Penn State's 2023 Big Ten title is another incredible addition to the Cael Sanderson era in State College. The Lions' other six titles came in 2011, 2012, 2013, 2014, 2016 and 2019, making this year's title Penn State's first of the decade. Now, we will shift our focus to the NCAA tournament which is set to start on March 16th and run through March 18th in Tulas's BOK Center.
---
---
Thank you for reading Basic Blues Nation. Please follow us on Facebook and Twitter for the latest news and insights on your favorite Penn State athletics.
For feedback, questions, concerns, or to apply for a writing position, please email our Managing Editor at [email protected]. It's due to your support that we can become one of the market's fastest-growing Penn State sports outlets!