Penn State hockey faces Michigan with Frozen Four on the line
Can Penn State hockey overcome a familiar foe to reach the Frozen Four for the first time ever?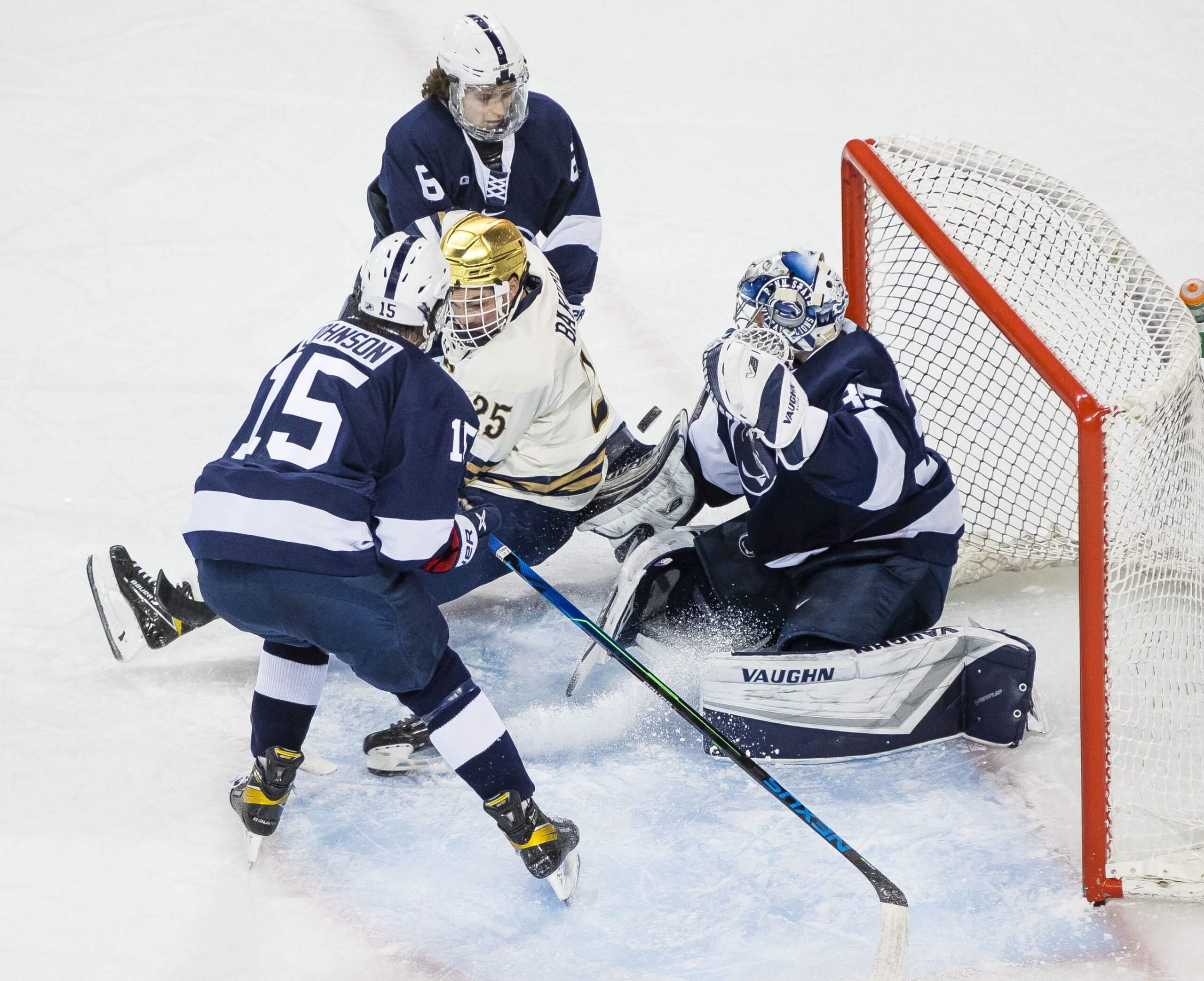 Allentown, PA — In March, the name of the game is "survive and advance." Penn State hockey won an NCAA tournament game Friday night for the first time since 2017 when they dominated Michigan Tech 8-0. It was the largest shutout margin of victory in NCAA tournament history. This was part of a more extensive domination by the Big Ten in the first round of the tournament, with the four teams from the conference who made the tournament winning by a combined score of 36-4. And now, the Nittany Lions face Michigan for the right to go to the Frozen Four. 
The Wolverines had one of the most impressive victories of Friday's action. They obliterated a hot Colgate team by a score of 11-1. Those 11 goals are the most scored in an NCAA tournament game since 1961. A top-five team in all major polls, Wolverines are one of the most dominant teams in the country. In short, Penn State hockey has its work cut out for it if it wants to make its first Frozen Four appearance in program history. 
University of Michigan Snapshot
Name: University of Michigan
Location: Ann Arbor, MI
Enrollment: 48,090
Acceptance Rate: 26%
Conference: Big Ten 
Men's Hockey National Titles: 9
Scouting the Wolverines
You are likely much more familiar with Michigan than Penn State's first-round opponent. This will be Penn State's fifth meeting with the Wolverines this season, with the Lions holding a 1-3 record in the prior meetings.
The teams first met in November when No. 1 ranked Michigan came to Pegula. Penn State beat Michigan 3-0 in the first game of that series, marking their first win over a No. 1 ranked team. The following night the Lions fell 4-3 in overtime. Still, they rallied from a three-goal deficit late in the third period to send it to overtime. 
But Michigan wasn't at full strength during that series. They were missing multiple key players due to a virus outbreak on the team that sent players to the hospital and nearly cost junior defenseman Steven Holtz his life. Michigan regained its health, rallied around that harrowing experience, and became a better hockey team. 
Penn State traveled to Michigan in mid-January, where the Lions were swept. In the first game, the Lions were blown out 7-3. The second game saw them lead 3-0 and 4-2 before falling 5-4. 
And even then, Michigan was not at full strength. Freshman forward Frank Nazar, a first-round selection in the 2022 NHL Draft, had yet to put on a Wolverines uniform due to injury. Now he has. He scored a goal in his NCAA tournament debut against Colgate Friday night. 
Michigan's roster received numerous awards. Freshman forward Adam Fantilli, who will be a lottery pick this year, was named Big Ten Freshman of the Year. He was also a First Team All-Big Ten Selection along with sophomore defenseman Luke Hughes. Hughes is so talented that the New Jersey Devils, who drafted him 4th overall, are anxiously awaiting Michigan's elimination so he can help the NHL club in their playoff race.
Outside of the stars, Michigan's depth can more than fill whatever role is needed to help their team win. That is one of the reasons they are such a dangerous team, one that has picked up wins over Harvard, Boston University, and Minnesota en route to a Big Ten championship.
Can Penn State hockey make the Frozen Four?
Michigan is nothing short of an offensive juggernaut. The Wolverines showcased it all year, but nothing was as impressive as Friday night's performance against a quality Colgate team. But they lack a bit in the defensive depth and goaltending department relative to their forwards. 
Penn State will have the crowd behind them again on Sunday, perhaps even more so than Friday, with a convenient early evening start time. However, Michigan is no stranger to these Penn State crowds, already having played at Pegula this season. 
The Nittany Lions have been competitive in three of the four games against Michigan this season. That shouldn't change Sunday, even if the talent gap has continued to grow since these teams last met. Penn State should be able to hang around into the third period. Still, Michigan's high-end talent will prevail and send the Wolverines back to the Frozen Four for the second straight year. 
Michigan-5, Penn State-3 
The winner of this game will go on to the Frozen Four, taking place in Tampa, FL, on April 6th and 8th. The matchup in the national semifinals will be against the Quinnipiac and Ohio State winner in the Bridgeport Regional Final on Saturday. 
---
---
Thank you for reading Basic Blues Nation. Please follow us on Facebook and Twitter for the latest news and insights on your favorite Penn State athletics.
For feedback, questions, concerns, or to apply for a writing position, please email our Managing Editor at [email protected]. It's due to your support that we can become one of the market's fastest-growing Penn State sports outlets!