Tailgate Talk Podcast: Penn State hires Mike Rhoades, spring football practice update
In this episode, the Tailgate Talk gang hits on the hiring of a favorite son and spring football practice highlights.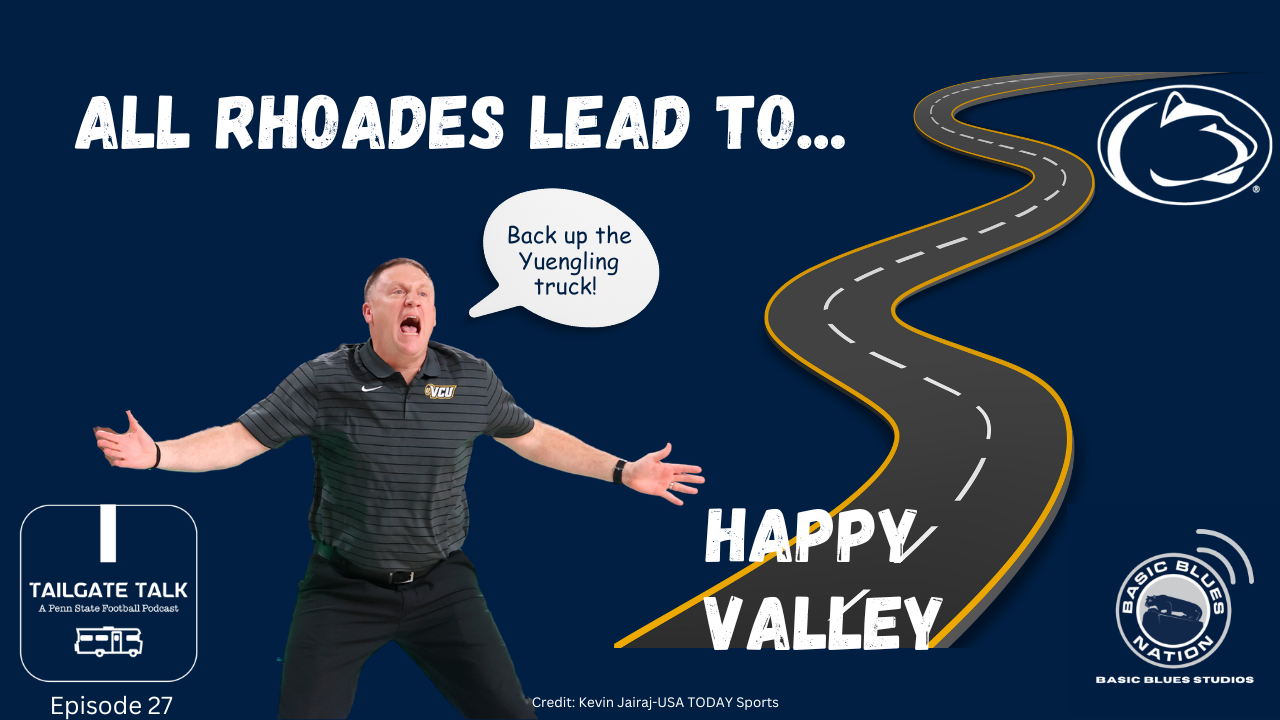 Introducing the newest edition to Basic Blues Nation — Basic Blues Studios! In the coming months, we plan to roll out a series of podcasts to bring you exciting coverage of all your favorite Penn State athletics. The first show to launch is Tailgate Talk: A Penn State Football Podcast, where four lifelong friends bring their unfiltered conversations from the tailgate lots around Beaver Stadium straight to your streaming device. In this episode, "All Rhoades Lead to Happy Valley," the guys discuss the hiring of new Penn State basketball coach (and fellow Schuylkill County native) Mike Rhoades. In addition, the guys provide a spring football practice update, including insights from open practice.
You can watch or listen to the latest episode on the following platforms:
Mike Rhoades hired as Penn State basketball head coach
After several days of speculation, Mike Rhoades was hired as Penn State basketball's head coach last week. The guys discuss the hire mere hours after Rhoades's introductory press conference on Thursday. As fellow Schuylkill County natives, Matt, Trent, and Koko highlight the significance that the hiring of Mike Rhoades has on their home. The trio discusses their interactions with the Rhoades family, as well as the fit for the State College community.
The gang also discusses how Mike Rhoades will begin to rebuild the basketball roster. They debate if the Nittany Lions have a realistic chance to return to the NCAA Tournament next season. Finally, the guys tackle whether or not Micah Shrewsberry left the basketball program in a better place.
Penn State spring football practice update
Only a few weeks away from the Blue-White game, spring football is definitely in the air. The guys give their takes on the storylines and breakout players to watch this spring. They also provide a spring football practice update from earlier in the week. Matt highlights the players that stood out during the open practice session, as well as conversations with James Franklin, Manny Diaz, Malick Meiga, and Johnny Dixon during media availability.
Last call
In the last call segment to close out the show, the guys go around the horn on topics like the Jay Paterno versus Michael Mauti NIL debate, the best and worst Beaver Stadium renovations, and the ideal conference opponents for Penn State football.
---
---
Thank you for reading Basic Blues Nation. Please follow us on Facebook and Twitter for the latest news and insights on your favorite Penn State athletics. For feedback, questions, concerns, or to apply for a writing position, please email us at [email protected] or direct message us on our social media. It's due to your support that we can become one of the market's fastest-growing Penn State sports outlets!