Rooting Guide: Which Week 10 games are most important for Penn State football?
Which Week 10 games will have the biggest impact on Penn State football?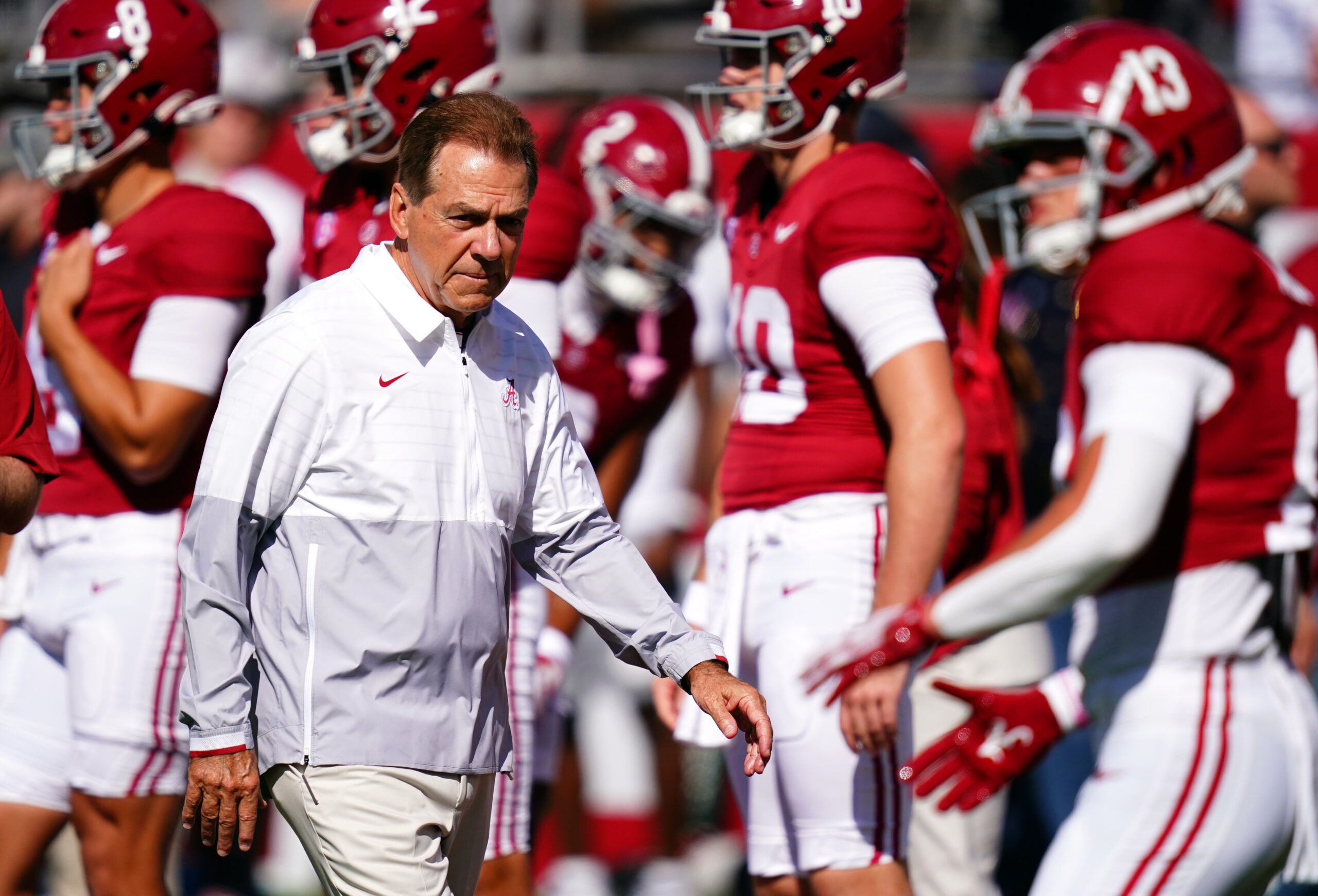 Penn State football escaped with a 33-24 win over Indiana last Saturday in Beaver Stadium. There were a few major shake-ups in the polls from Week 9 of college football, but for the most part, the top 10 stayed largely intact. The biggest win of the weekend that benefited the Nittany Lions was an unranked Kansas taking down No. 6 Oklahoma 38-33. It was the first loss of the season for the Sooners and gives them no room for era down the stretch.
Three one-loss teams behind the Nittany Lions in the AP poll lost over the weekend. During Week 9, No. 8 Oregon blew out No. 13 Utah, No. 17 North Carolina was upset by Georgia Tech, and No. 11 Oregon State was upset by Arizona.
No. 5 Washington had a close 42-33 win over Stanford. It was the second consecutive week the Huskies had a close win against a bottom-feeder PAC 12 team, something to keep an eye on moving forward.
Penn State football fans' rooting guide to college football Week 10
The College Football Playoff Committee released the initial rankings on Tuesday night, and Penn State football finds itself at No. 11 heading into its matchup against Maryland. The ranking impacts how to put together this rooting guide. If you think that Penn State is going to beat Michigan and have a chance to make the Playoff, then the logical thing is to continue rooting against the undefeated one-loss teams.
However, if the Nittany Lions lose to the Wolverines, then it would make sense to root for those same undefeated teams to take down the two-loss teams, ensuring Penn State makes a New Year's Six Bowl game.
As someone who is normally a pessimist, I don't think you can write off Penn State until it picks up that second loss. With that, I will continue to align the rooting guide with the Nittany Lions still in the College Football Playoff hunt heading down the stretch. If it backfires, book your tickets to Orlando, because the Nittany Lions are heading to the Citrus Bowl.
There are 5 teams ranked ahead of Penn State that are less than one touchdown favorites this week. Here are the games to keep an eye on throughout the Week 10 slate.
No. 23 Kansas State (6-2) @ No. 7 Texas (7-1) 12:00 pm ET FOX
Kansas State is coming off a dominant 41-0 shutout over Houston this past Saturday. The Wildcats are picking up steam in the Big 12 with three consecutive wins. Texas took care of BYU 35-6 last week at home behind backup quarterback Maalik Murphy. The Longhorns will continue to rely on Murphy this week and should benefit from playing at home. Texas enters as a 4-point home favorite.
Texas is the only one of these two teams that still has a chance to make the College Football Playoff. Although Kansas State is out of the Playoff hunt, it is still tied for first in the Big 12 title race and has an opportunity to return to a New Year's Six Bowl game. Penn State football fans should root for the Wildcats to pull off the upset and help the Nittany Lions move up in the rankings.
Wisconsin (5-3) @ Indiana (2-6) 12:00 pm ET BTN
Wisconsin fought hard last week, but ultimately lost 24-10 to Ohio State at home. Indiana had a similarly strong performance against Penn State on the road, losing 33-24. This game is only on the list because of a potential scenario in a 3-way tiebreaker to decide the Big Ten East. Ohio State has Wisconsin as one of its 3 Big Ten West opponents, so an upset here by the Hoosiers would help bring down its winning percentage. Wisconsin enters as an 8.5-point road favorite.
Texas A&M (5-3) @ No. 10 Ole Miss (7-1) 12:00 pm ET ESPN
Ole Miss has quietly put together a solid 7-1 season and is in contention to win the SEC West. Last week the Rebels picked up a 33-7 over Vanderbilt. Texas A&M finally got back into the win column with a 30-17 victory over South Carolina last weekend. The Aggies will look to pick up a signature win and bowl eligibility this week. Ole Miss enters as a 3-point home favorite.
Ole Miss sits one spot ahead of Penn State in the College Football Playoff rankings. A Rebels loss would help Penn State move into the top 10 with a win at Maryland. A second loss by Ole Miss would also effectively eliminate them from the College Football Playoff.
Nebraska (5-3) @ Michigan State (2-6) 12:00 pm ET FS1
Nebraska has been quietly climbing in the Big Ten West and has won three games in a row, including a 31-14 victory over Purdue last week. Michigan State is in the cellar and was handled 27-12 by Minnesota last week.
Michigan has Nebraska as one of its Big Ten West opponents, so Penn State fans should root for the Spartans to pull off the upset. Nebraska enters as a 3-point road favorite.
No. 15 Notre Dame (7-2) @ Clemson (4-4) 12:00 pm ET ABC
Notre Dame dismantled Pitt last week 58-7, a game at which every Penn State football fan couldn't help but crack a smile. Clemson shockingly lost 24-17 to a bad NC State team. The Tigers are now 4-4 on the season and have had quite the fall from the top these last few seasons. Notre Dame enters as a 3-point road favorite.
The Irish already have two losses on the season and are out of Playoff contention. But Notre Dame is still competing for a New Year's Six Bowl game, and a loss would certainly benefit Penn State. This isn't high on the priority of upsets this week for Nittany Lions fans, but pull for the Tigers regardless.
No. 12 Missouri (7-1) @ No. 2 Georgia (8-0) 3:30 pm ET CBS
Missouri has been having one of its best seasons in recent memory. The Tigers are coming off the bye and now face their biggest test of the season. Georgia is rolling once again and is coming off a 43-20 win over Florida in Jacksonville last Saturday. The winner of this game is in the driver's seat of the SEC East and on track for a conference championship game appearance. Georgia enters as a 15.5-point home favorite.
Penn State football fans should root for Missouri to pull off the upset over Georgia. If the Nittany Lions want to have a chance to make the Playoff, they will need to beat Michigan and have some chaos happen amongst the remaining undefeated teams.
No. 9 Oklahoma (7-1) @ No. 22 Oklahoma State (6-2) 3:30 pm ET ABC
Oklahoma lost to Kansas on Saturday 38-33 for its first of the season. Oklahoma State has won 4 consecutive games, including a 45-13 win over Cincinnati, and has a legitimate chance to make the Big 12 championship game. This will be the last Bedlam game for the foreseeable future, with the Sooners moving to the SEC and the Cowboys already stating they won't schedule them in the future nonconference. Oklahoma is a 5.5-point road favorite.
An Oklahoma State win would effectively eliminate Oklahoma from the College Football Playoff. It also would allow Penn State to move up with a win over Maryland this weekend. Savor this rivalry because we don't know when we are going to see it again.
Illinois (3-5) @ Minnesota (5-3) 3:30 pm ET BTN
Illinois was on bye last week but lost its last time out in heartbreaking fashion to Wisconsin, 25-21. Minnesota enters on a two-game win streak, including a 27-12 win over Michigan State last weekend.
Minnesota is a Big Ten West opponent for both Michigan and Ohio State. Penn State already beat Illinois this season. This is the most influential game of the weekend for those looking toward a potential 3-way tie for the Big Ten East. Root for the Illini to take down the Gophers in Minneapolis. Minnesota enters as a 1.5-point favorite.
Virginia Tech (4-4) @ No. 13 Louisville (7-1) 3:30 pm ET ACCN
Virginia Tech has quietly made moves in the ACC with a 3-1 conference record, and the only loss being to Florida State. The Hokies currently are tied for second in the conference, and a win over Louisville would put them in an excellent position to make the conference championship game. Louisville is coming off a dominating 23-0 win over No. 20 Duke last week. Similar to Virginia Tech, the Cardinals are hoping to establish themselves as second in the conference behind Florida State. Louisville enters as a 9.5-point home favorite.
This game is lower on priority for the weekend but still could have postseason implications for Penn State football. Louisville is currently behind Penn State in the rankings but is still a contender for the College Football Playoff and or New Year's Six Bowl. Root for former Penn State defensive coordinator Brent Pry and the Hokies to pull off the upset.
No. 5 Washington (8-0) @ No. 20 USC (7-2) 7:30 pm ET ABC
Washington has struggled in recent weeks, with a 9-point and 8-point win over PAC 12 bottom feeders Stanford and Arizona State. USC won a thrilling 50-49 win over Cal on Saturday as its defense continues to be an issue. The Huskies need to win this game to stay in contention for the Playoff and on track for the PAC 12 title game. The Trojans will be looking for its first ranked win of the season. Washington enters as a 3-point road favorite.
Washington is currently ranked 6 spots ahead of Penn State and most likely wouldn't fall behind the Nittany Lions with a loss. Relying on USC to stop this Washington offense is a tall task, but if Arizona State can do it, I guess anybody can. A loss by the Huskies would help the Nittany Lions if they take down Michigan in two weeks.
No. 14 LSU (6-2) @ No. 8 Alabama (7-1) 7:45 pm ET CBS
LSU is entering this rivalry off a bye but had won three straight games entering the off-week. Alabama has been grinding out wins since its loss to Texas and is also coming off a bye. This will be one of the best games of the day among an excellent slate. The Tigers need to win this game to stay alive in the SEC West race, while Alabama can all but wrap up the division title with a win. Alabama enters as a 3-point home favorite.
This is one of those games where you have to decide as a Penn State football fan how you think the season will end. If you still believe the Nittany Lions can make the Playoff, root for LSU to pull off the upset and give Alabama its second loss. If you don't think beating Michigan is possible, then an LSU loss would help Penn State secure a New Year's Six Bowl appearance. I would root for the Tigers to pull off the upset and hope that Penn State can pull off one of its own against Michigan in two weeks.
---
---
Thank you for reading Basic Blues Nation. Please follow us on Facebook and Twitter for the latest news and insights on your favorite Penn State athletics. For feedback, questions, concerns, or to apply for a writing position, please email us at [email protected] or direct message us on our social media. Also, be sure to check out our new site shop. It's due to your support that we can become one of the market's fastest-growing Penn State sports outlets!