James Franklin slams media for misreporting previous comments
James Franklin didn't hold back from expressing his displeasure with the media after his comments were falsely reported earlier in the week.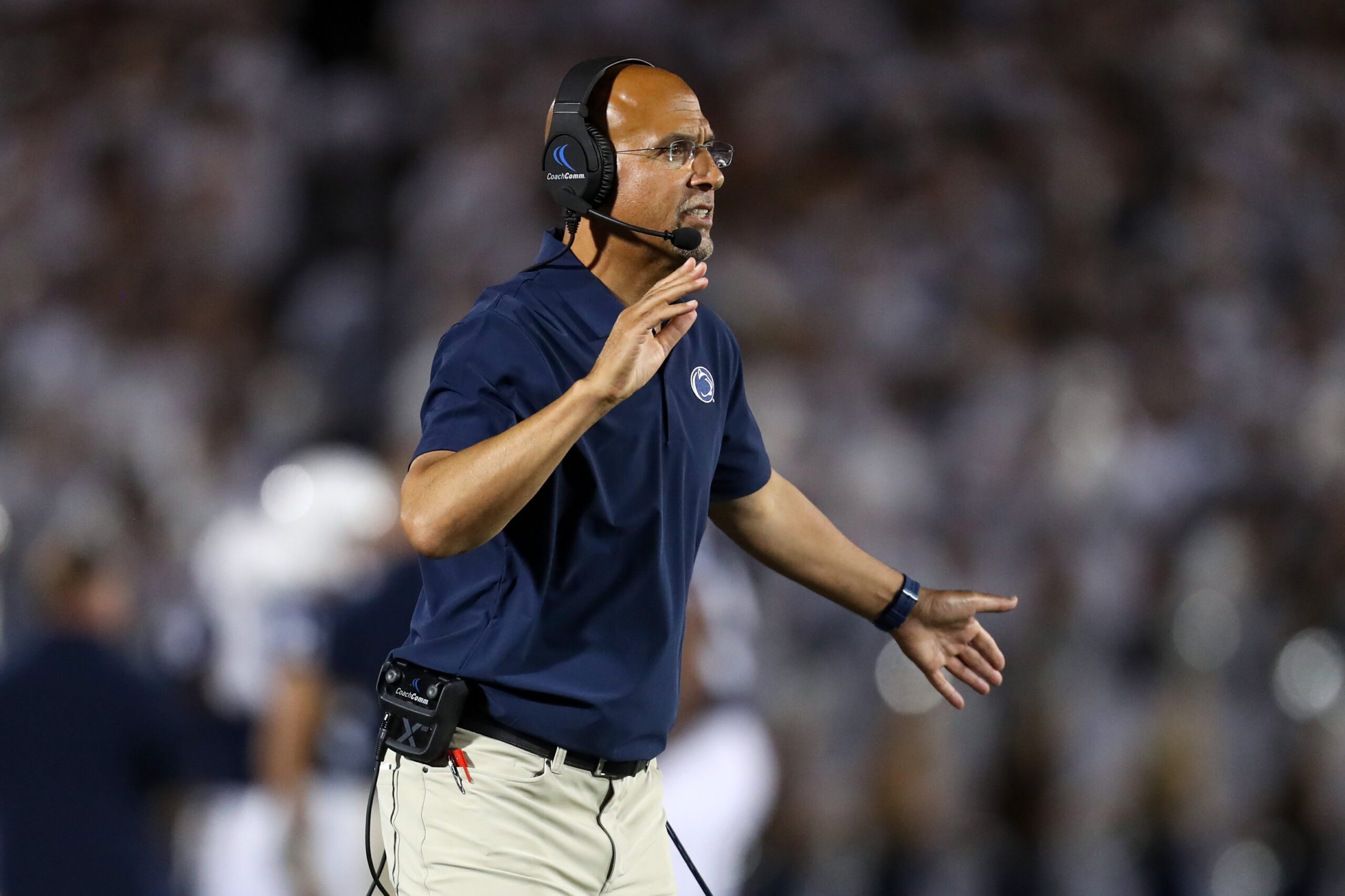 This week, James Franklin went viral. The Penn State football coach has made headlines in recent days, often for comments pertaining to topics outside the lines of the field. But one particular story this week was actually not a story at all. Shortly after his Tuesday press conference, several of Franklin's comments regarding future scheduling were taken out of context and blown up on the internet as a shot at rival program Michigan.
In availability following practice Wednesday, Franklin took an opportunity to set the record straight, as well as express his frustration with the inaccurate reporting that occurred at the national level.
Out of context James Franklin quote goes viral
James Franklin's face was slammed all over social media on Tuesday afternoon. Franklin had several viral moments from his weekly game-week press conference, including his response to what the Penn State football coach felt was a displeasing question regarding the Nittany Lion offense.
However, perhaps the biggest story coming out of Tuesday didn't come across as such in the press room. Franklin made a series of remarks about "another team" in the Big Ten that is buying out of nonconference games in favor of a lighter out-of-conference schedule in the new 12-team Playoff format. Michigan fans quickly jumped on these comments as a shot thrown at their program.
The problem is that Franklin was most likely not referencing Michigan with those specific comments (about buying out of games), nor were his remarks meant to be an insult. The full context of Franklin's answer actually praises the scheduling model. However, that didn't stop some in the national media from running headlines stating that the Penn State football coach was throwing shade at Michigan.
James Franklin Poured Gasoline On A Fire Today By Taking A Shot At Michigan's Weak Non-Conference Schedule https://t.co/STpjmEOTm2 pic.twitter.com/2ZZHafUMBR

— Barstool Sports (@barstoolsports) October 10, 2023
Penn State coach slams media for misrepresentation of his remarks
But ultimately, James Franklin got the final word. During his regular Wednesday post-practice availability, Franklin took the irregular step of starting the media scrum with an opening statement.
"It can be frustrating and a little sad sometimes when you have non-media members, but they have some social media presence, and they put something out that is not accurate," Franklin said. "And then some national media don't read the transcript, or don't watch the interview, and then they put something out there."
Franklin noted that his frustration was not directed at the local media, who he felt accurately captured the sentiment of his statement. The comments were likely directed at national college football reporter Brett McMurphy of the Action Network, who posted a portion of Franklin's comments on social media Tuesday afternoon. The post has since been removed and replaced with Franklin's full answer.
"Anybody that watched the entire interview or anybody that read the whole transcript, I was actually complimenting the schools from a scheduling perspective," the Penn State football coach continued. "It's what we've been doing. Even in the question that was asked to me, that's what was said. So I know every fan base and different school is looking for a reason to get angry and get mad and get motivated or something. But that, to me, is disappointing when real media members grab a partial quote and use it out of context. That's frustrating and disappointing."
On the field, Penn State football takes on UMass on Saturday at 3:30 p.m.
---
---
Thank you for reading Basic Blues Nation. Please follow us on Facebook and Twitter for the latest news and insights on your favorite Penn State athletics. For feedback, questions, concerns, or to apply for a writing position, please email us at [email protected] or direct message us on our social media. Also, be sure to check out our new site shop. It's due to your support that we can become one of the market's fastest-growing Penn State sports outlets!