Is Drew Allar a darkhorse Heisman contender? Full Ride Network 2023 college football season preview
From Penn State football and beyond, the Full Ride Network 2023 college football preview gives you the most comprehensive coverage of the upcoming season.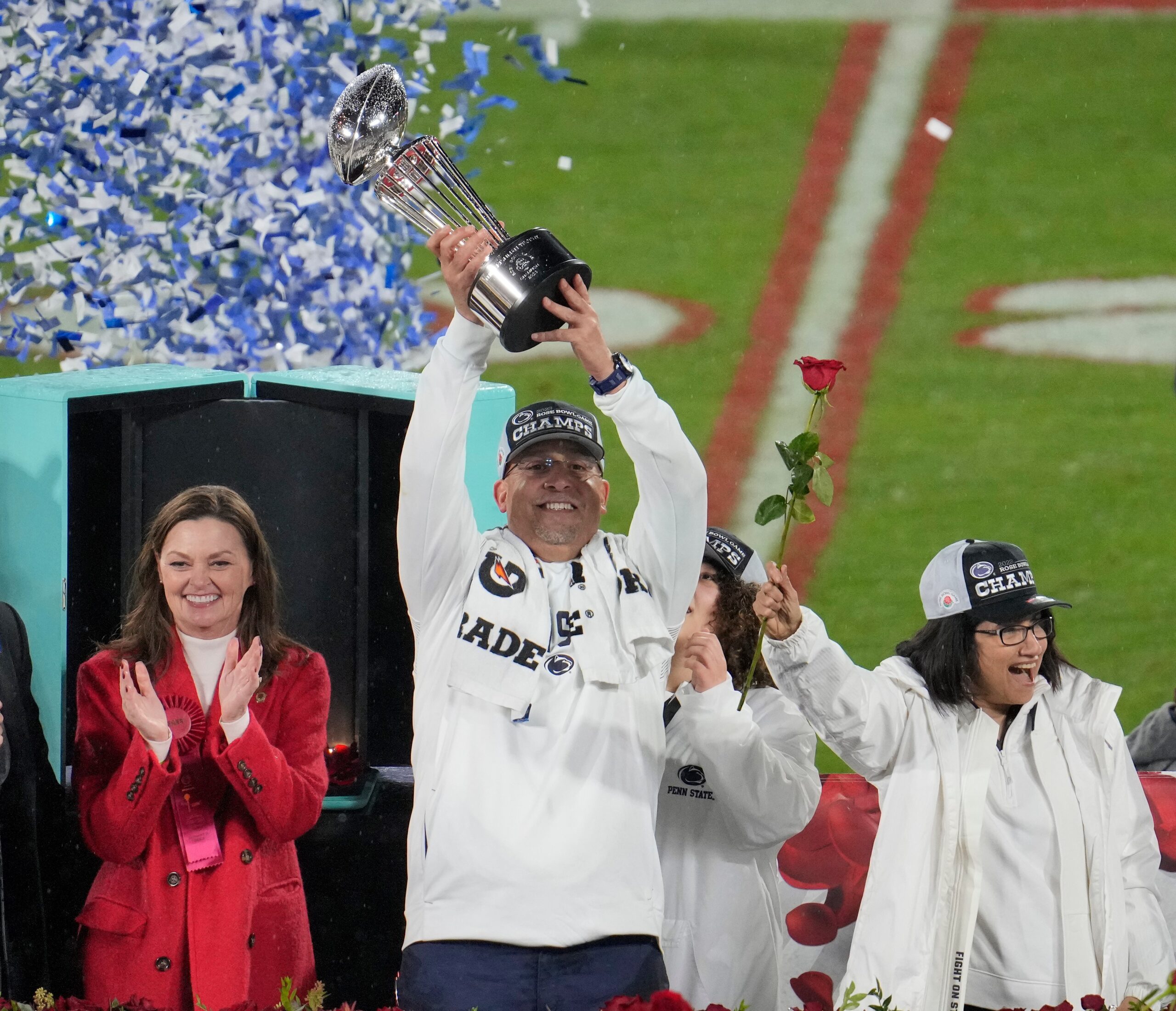 The Basic Blues Nation staff is proud to introduce the Full Ride Network 2023 College Football Preview. In addition to covering Penn State football and all Nittany Lion athletics, the Full Ride Network covers Power Five football across the country. Below you will find a compilation of rankings and predictions from our nationwide team of writers. Enjoy!
Full Ride Network 2023 College Football Season Preview
Welcome to Full Ride Network's 2023 College Football Preview. It includes a Preseason Top 25, First Team All-Americans, predictions for the college football playoff and national champion, Heisman Trophy picks, surprises and disappointments, best and worst storylines, thoughts on the new overtime rules and much more.
This preview was compiled with contributions from over a dozen writers from nine different college sites covering Power Five college football.
The full list of site contributors:
Jacob Davis – Hawg Country (Arkansas)
Hail To SC Staff (USC)
Tyler Sakalys-Moore – LSU Glory (LSU)
Basic Blues Nation Staff – (Penn State)
Alec Lasley – Hoosier Illustrated (Indiana)
Connor Muldowney – Spartan Shadows (Michigan State)
Dante Pryor – Armchair Illini (Illinois)
Jacob Renfrow – Carolina HQ (North Carolina)
Aaron Breitman – The Scarlet Faithful (Rutgers)
Let's kick it off!
Preseason Top 25
Georgia
Michigan
Ohio State
LSU
Alabama
USC
Clemson
Texas
Florida State
Tennessee
Oregon
Notre Dame
Utah
North Carolina
Kansas State
TCU
Wisconsin
Oklahoma
Ole Miss
Oregon State
Iowa
South Carolina
Tulane
Texas Tech
First Team All-Americans:
Offense
QB: Caleb Williams (USC)
RB: Blake Corum (Michigan)
RB: Raheim Sanders (Arkansas)
WR: Marvin Harrison Jr (Ohio State)
WR: Xavier Worthy (Texas)
WR: Rome Odunze (Washington)
TE: Brock Bowers (Georgia)
OT: Joe Alt (Notre Dame)
OT: Olu Fashanu (Penn State)
OG: Zak Zinter (Michigan)
OG: Cooper Beebe (Kansas State)
C: Sedrick Van Pran (Georgia)
Defense
DL: Jared Verse (Florida State)
DL: Bralen Trice (Washington)
DL: Jer'Zhan Newton (Illinois)
DL: Lai'atu Latu (UCLA)
LB: Harold Perkins Jr (LSU)
LB: Cedric Gray (North Carolina)
LB: Barrett Carter (Clemson)
CB: Kalen King (Penn State)
CB: Cooper DeJean (Iowa)
S: Kamren Kinchens (Miami)
S: Malaki Starks (Georgia)
Special Teams
AP: Travis Hunter (Colorado)
P: Tory Taylor (Iowa)
K: Joshua Karty (Stanford
Heisman Trophy Favorite
Pick: USC QB Caleb Williams
Others: Ohio State WR Marvin Harrison Jr., Michigan RB Blake Corum
Connor Muldowney (Spartan Shadows): I'd have to go with the reigning Heisman Trophy winner, Caleb Williams. Although, I do believe that Drake Maye will be right up there.
Tyler Sakalys-Moore (LSU Glory): The pick honestly speaks for itself. Caleb Williams is entering his second season with the USC football program and should perform as well, if not better, than he did in 2022. Last season, Williams threw the ball for 4,537 yards and 42 touchdowns in addition to his 382 yards and 10 touchdowns on the ground. As we all know, that turned out to be a Heisman-winning season for Williams, and the projected No. 1 pick in the 2024 NFL Draft should be able to win the award for the second straight season in 2023.
Dante Pryor (Armchair Illini): Marvin Harrison, Jr. is a viable Heisman favorite because DeVonta Smith won the award in 2020. Harrison could be the first overall pick in the draft, the first wide receiver to do so since Keshawn Johnson in 1996. On the balance, he's the best and most valuable player on his team in college football.
Heisman sleeper
Pick: Tie between Arkansas RB Raheim Sanders and Penn State QB Drew Allar
Others: Florida State QB Jordan Travis, Wisconsin RB Braelon Allen, Washington QB Michael Penix Jr., LSU LB Harold Perkins, Ohio State WR Marvin Harrison Jr.
Aaron Breitman (The Scarlet Faithful): The Heisman Trophy has only been won twice by the same player once. It was Ohio State's Archie Griffin that did it back to back seasons in 1974 and 1975. While Caleb Williams is the heavy favorite to repeat this season after winning it last fall, the odds are against him from a historical perspective. Heisman voters tend to hold the standard against former winners much higher compared to other contenders. Expectations are already sky high for Williams, but it would not be shocking at all if he did not repeat even if he is very good once again this season.
Favorite storylines
Connor Muldowney (Spartan Shadows)
Alabama quarterback battle
Payton Thorne winning the starting job at Auburn
Ohio State quarterback battle
MSU quarterback battle
Nick Saban vs. Jimbo Fisher
Jacob Davis (Hawg Country)
Alabama Quarterback Drama, who will take the field first for the Crimson Tide?
Hail To SC Staff (USC)
We look forward to the storylines that surround all the teams that will be in new conferences next season. I think it will be interesting when they play some conference foes for the last time.
Basic Blues Nation Staff (Penn State)
Battle for the Big Ten East
Reemerge of historic powers – Florida State, Texas
Dante Pryor (Armchair Illinois)
Can Penn State break through and win the Big Ten?
Has everyone counted out Clemson too soon?
Will Brian Ferentz win the "drive for 325?"
Will the Fisher, Petrino partnership work?
Jacob Renfrow (Carolina HQ)
Clemson vs FSU for the ACC.
Is Texas back?
Can Michigan capitalize on last season?
Ohio State QB situation
Worst storylines
Connor Muldowney (Spartan Shadows)
Michigan players being compared to all-time NFL greats
Any hot seat article that mentions Mel Tucker.
Hail To SC Staff (USC)
The SEC will likely get praised again, just like every other year, when in reality it isn't as good of a conference as people make it out to be. I'm not a big fan of that.
Basic Blues Nation Staff (Penn State)
Destruction of the Pac 12
Jacob Renfrow (Carolina HQ)
Colorado potentially being "good."/ Conference realignment.
Aaron Breitman (The Scarlet Faithful)
Rutgers being the worst realignment move ever.
Biggest Surprise – Conference
Pick: PAC-12
Others: ACC, Sun Belt
Tyler Sakalys-Moore (LSU Glory): The PAC-12 could be a lot of fun. When things are all said and done this regular season, tiebreakers could become a significant factor in who ultimately gets crowned as the conference champion. The PAC-12 reasonably has six teams with a decent shot at winning the conference, with USC, Oregon, Washington, Utah, Oregon State and UCLA. In turn, it wouldn't surprise to have multiple teams competing for a spot in the CFP for a large part of the season. PAC-12 After Dark in 2023 is going to be must-watch TV.
Biggest Surprise – Team
Pick: Iowa
Others: Oregon, Oregon State, Auburn
Tyler Sakalys-Moore (LSU Glory): I could end up regretting this one, but it would not surprise me to see a double-digit win Iowa team in 2023. And no, I'm not referring to its women's basketball program. There's no denying how bad the Iowa offense was in 2022. Lucky for them, their defense was one of the best in college football, leading them to wins such as 7-3 over South Dakota State and 13-10 over Minnesota. That said, I don't think it's possible that their offense won't improve in 2023, especially with their transfer portal additions of quarterback Cade McNamara, tight end Erick All and wide receiver Kaleb Brown.
Biggest Disappointment – Conference
Pick: Tie between Big 12 and ACC
Jacob Davis (Hawg Country): The Big 12 looked to be one of best last season but OU and Texas were huge let downs. With a new look it'll still be the same and maybe worse in 2023.
Connor Muldowney (Spartan Shadows): Have to go with the Big 12. Many will say the Pac-12 because it's about to fold, but the Big 12 will most likely miss out on the playoff yet again. Just no dominant team this year (I'm not calling Texas dominant).
Alec Lasley (Hoosier Illustrated): ACC. Clemson and Florida state enter as the leaders of the conference but quite honestly, I'm not sure how strong either team will be. Florida State comes in as the favorite in my eyes, but we'll see if 2022 was just a fluke, or the real FSU we'll see again this year. I think North Carolina could end up being the best team out of the league if the waiver situation with Tez Walker is cleared up.
Tylerv Sakalys-Moore (LSU Glory): ACC: At the end of the day, I'm not sure any of the conferences will disappoint in 2023. With so much changing in 2024, teams are looking to put an exclamation point on this era of college football, which could lead to fireworks galore. Still, aside from Clemson, Florida State and North Carolina quarterback Drake Maye, it could be a relatively uninspiring season for the ACC. The SEC and Big Ten largely dominate the country in top overall talent. The PAC-12 and Big 12 could each have a six-way tie for their conference championships for all we know. To be fair, it's not like the ACC is a bad conference this year. However, compared to the rest of the (current) Power Five, it simply can't compare in terms of overall entertainment.
Biggest Disappointment – Team
Pick: Tie between Ohio State And Alabama
Alec Lasley (Hoosier Illustrated): Ohio State. The Buckeyes will certainly be a factor in the Big Ten but with QB play a major question for them at the moment, I think they struggle early in the season. Losing CJ Stroud is obviously a huge loss, but I think it'll be one that is even bigger than expected.
Tyler Sakalys-Moore (LSU Glory): Alabama. No, the dynasty is not over. Yes, Nick Saban is still Nick Saban. With all of that being said, this could be a challenging year for the Crimson Tide. Even so, a tough year for them could mean they go 10-2, but I can't imagine Alabama fans being thrilled with a second year in a row without winning the SEC West. Regardless, their run game should be excellent, and their defense should be dominant. Still, the schedule is a gauntlet, and seeing a multiple-loss season for the Crimson Tide in 2023 wouldn't surprise.
Others: Florida State, Oregon, TCU, North Carolina, Washington
Connor Muldowney (Spartan Shadows): Honestly, I could see it being Oregon. The Ducks are plenty talented, but I think people are going to realize just how big of a loss Kenny Dillingham was for that offense, namely Bo Nix. I think the Ducks take a step back.
Dante Pryor (Armchair Illini): North Carolina will take a step back because Drake May can't play defense. There was so much on his shoulders in 2022. It's too much of an ask for one player to go out and score 40 points just to give his team a chance to win. Devontez Walker is a nice get from of the portal, but he can't replace Josh Downs and Antoine Green.
Best Non-Conference Game
Pick: LSU vs. Florida State
Dante Pryor (Armchair Illini): Florida State v. LSU might not be the "best" non-conference game, but there might not be a more important game. The winner of this game has loads of momentum heading into the rest of the season. A loss in this game could force either team to run the table the rest of the season to get into the CFP.
Other: Texas vs. Alabama
Tyler Sakalys-Moore (LSU Glory)
This is the last time these two teams will play each other as out-of-conference foes. Last season, Alabama beat Texas in Austin, TX, in thrilling fashion with a final score of 20-19. How exciting would it be if Texas goes into Tuscaloosa this year and hand the Crimson Tide a similar loss? Well, for context, this would be the first time Nick Saban had lost at home since LSU beat them on November 9, 2019. Regardless of the outcome, this game is shaping up to be a good one and could have national championship implications down the line.
Best G5 Team
Pick: Tulane
Other: Boise State, James Madison
Dante Pryor (Armchair Illini): Tulane is the favorite in the AAC. The 2022 Cotton Bowl Champions kept quarterback Michael Pratt out of the transfer portal. Though running back Tyjae Spears sought the greener pastures of the NFL, Pratt is capable of carrying the offense. Liberty transfer running back Shedro Lewis leads a running back by committee that could be effective in an AAC without Cincinnati or Houston.
Worst Power Five Team
Pick: Northwestern
Others: Indiana, Virginia, Stanford
Tyler Sakalys-Moore (LSU Glory): It's been a tough offseason for Northwestern. It's even tougher when you consider they were one of, if not the worst, teams in the Big Ten in 2022. Now, heading into 2023, the Wildcats are without longtime head coach Pat Fitzgerald, and while they bring back a decent amount of production, it's not exactly elite production. How the team responds to the adversity of the offseason will play a significant part in how the team does in 2023. Still, for fans of the program, I wouldn't expect more than one or two wins.
Connor Muldowney (Spartan Shadows): Sadly, I'll have to go Northwestern. Even Vanderbilt and Kansas have improved by leaps and bounds over the past couple of years.
Overtime rules: Thoughts on Changes
Entering the 2023 season, the overtime rules have been changed. As before, the first overtime involves teams having one possession on the opponent's 25 yard line. One difference this season is that in the second overtime period, teams that score a touchdown must attempt a two-point conversion after scoring a touchdown. The major change is that beginning in the third overtime, teams alternate two-point conversion attempts instead of offensive possessions.
Jacob Davis (Hawg Country): Let's be honest, the current state of overtime as we know it stinks. Who cares if games went past 3-4 overtimes? Some of the most memorable games required 6,7 and 8 extra sessions to come to the conclusion of them. The simple answer is to return college football to its old ways: unlimited overtimes that aren't made up of just gimmicky 2-point plays.
Hail To SC (USC): I would like the OT rules to go back to the way they were. They were even, the OTs didn't typically take a long time. I think the recent changes were unnecessary.
Connor Muldowney (Spartan Shadows): I think the old overtime rules before this most recent change were the best. I liked having teams start at the 25 and try to score for three overtimes before being forced to go for two. The flip-flopping of 2-point conversions definitely speeds things up, but rarely did we ever see a 7OT game.
Basic Blues Nation Staff (Penn State): Go back to a version of the old overtime rules. Get rid of the two point conversion shootout and just start forcing teams to go for 2 point conversions in OT 2 or 3 after touchdowns.
Jacob Renfrow (Carolina HQ): Keep it the way it is but with no 2 point conversion stuff after 2 OTs.
Aaron Breitman (The Scarlet Faithful): I hate the new change in eliminating possessions in favor of two-point conversion attempts beginning in the third period. Every overtime period should consist of a true possession. I don't mind having to go for two-point conversions after every touchdown in any OT period. If you want to talk unconventional wrinkles, if the team is kicking a field goal to tie it up in overtime, having the option to kick a 50 yard attempt and converting it to win the game could be fun.
College Football Playoff Predictions
Unanimous: Georgia, Michigan
Top Other Two: USC, Alabama
Others: Texas, LSU, Clemson, Penn State, Florida State
College Football Playoff Sleeper Pick
Pick: Utah
Others: Kansas State, Washington, Notre Dame
Tyler Sakalys-Moore (LSU Glory): I'm not entirely sure why everyone seems to keep forgetting about Utah. Kyle Whittingham's squad is coming off back-to-back conference championships and return plenty of top-end talent in 2023. While the loss of tight end Dalton Kincaid is significant, it's generally a good idea to trust coach Whittingham. The Utes return 16 starters, including senior quarterback Cam Rising, and the bulk of their defense. With a schedule that has them facing Florida, UCLA, Oregon State, USC, Oregon and Washington, Utah has quite the gauntlet ahead of them. If they manage to escape the regular season with even one loss, don't be surprised to see them well into the College Football Playoff race.
2023 National Champion
Pick: Georgia
Others: Michigan, LSU
Dante Pryor (Armchair Illini): Georgia has the best roster in the country, and what Kirby Smart has built will be hard to beat. There is no team in the SEC East with the roster to compete with Georgia. A lot of prognosticators are talking up Tennessee. Well, Georgia beat the Volunteers by two touchdowns — and it wasn't that close — with Hendon Hooker and Jaylin Hyatt. It's hard to see anyone Georiga when those 'Dawgs are huntin'. Can they hunt through an entire season?
---
---
Full Ride Network was established in the summer of 2022, comprising of over 15 collegiate websites. The network offers free comprehensive coverage and information about various college sports, serving as a hub for enthusiasts and fans to stay updated on the latest news, scores and events.