Major outlet predicts three-way tie for Big Ten East in 2023
The prediction would certainly lead to some interesting tiebreaker scenarios.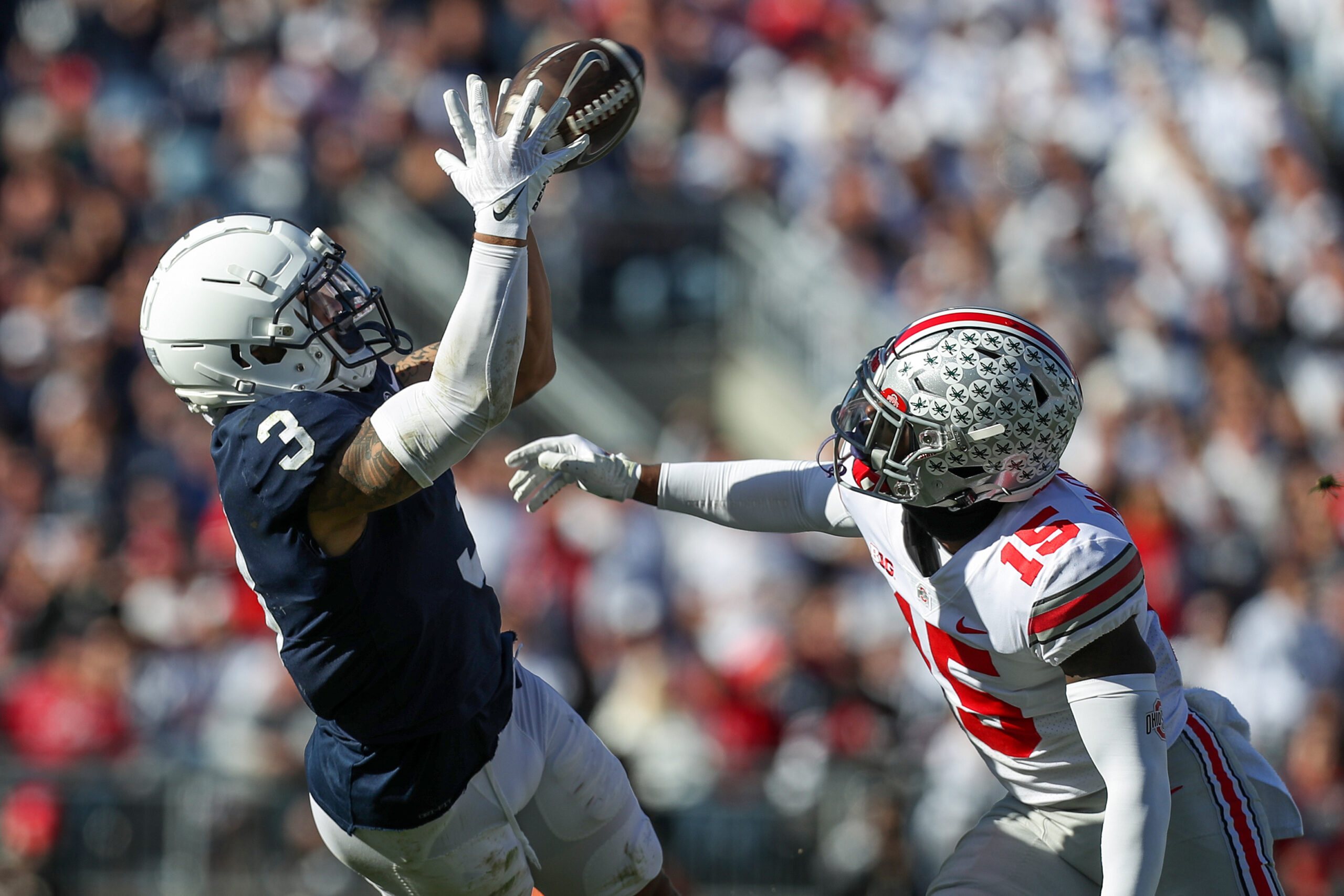 Once again, Penn State football is gearing up to play in one of the toughest divisions in college football. With likely three teams inside the top 10, the Big Ten East is expected to have more programs atop the 2023 preseason polls than any other division in the sport. Consequentially, there's the potential for a log jam for the divisional crown if each of these three teams can take out one another. And one top analyst at a major outlet recently predicted this scenario to occur this fall.
Major outlet predicts Penn State football will be involved in three-way tie for Big Ten East in 2023
Last week, Tom Fornelli of CBS Sports published a piece predicting the 2023 season win totals for every team in the Big Ten. Beyond storylines of note surrounding head coaching changes at Nebraska and Wisconsin, the story focused on the potential cluster atop the Big Ten East.
In his story, Fornelli predicted Penn State to go 11-1, with its only loss coming at Ohio State on October 21. "The offensive line is solid, the defense will be nasty, and there might be a significant upgrade at QB," Fornelli writes. "Add in a pillow-soft non-conference and a manageable road slate, and I have a hard time seeing this team lose more than twice during the regular season."
While this is a positive for Nittany Lions fans, there's a catch. Fornelli also predicts Ohio State and Michigan to finish 11-1. The analyst has the Wolverines falling to Penn State in Beaver Stadium on November 11. Fornelli then has Michigan topping the Buckeyes in the teams' annual rivalry at the end of the season.
Who would represent the East in the Big Ten Championship game?
If this scenario were to unfold as Fornelli predicts, it would create an interesting (for lack of a better word) turn of events to determine which team would represent the East in the Big Ten Championship. Without a fresh pot of coffee and an advanced math degree to help me sort through the logic, my determination is that Penn State, Ohio State, and Michigan would all remain tied through the first four steps of the Big Ten's divisional tiebreaker scenarios. If all three teams are 11-1, then any tiebreaker based on the record or winning percentage of each team would fail to break the stalemate.
Therefore, in this purely hypothetical scenario, the Big Ten East would come down to the records of the three team's Big Ten West opponents. Following Fornelli's predictions to their conclusion, this path would send the Buckeyes to the Big Ten title game. Ohio State's West opponents (Minnesota, Purdue, and Wisconsin) are predicted to have a combined record of 22-14, while Penn State's (Illinois, Iowa, and Northwestern) and Michigan's (Nebraska, Purdue, and Minnesota) are both expected to be 19-17.
While it's important to note that not every Big Ten team's record will play out exactly as Fornelli predicts, it's still very likely that Penn State, Ohio State, and Michigan could end up tied for the East division's crown. If that does occur, I'm sure tempers will flare from the fanbases of whichever teams do not end up in Indianapolis. Here's to hoping that when the Big Ten does away with divisions in 2024, the conference also comes up with better tiebreaker scenarios.
---
---
Thank you for reading Basic Blues Nation. Please follow us on Facebook and Twitter for the latest news and insights on your favorite Penn State athletics. For feedback, questions, concerns, or to apply for a writing position, please email us at [email protected] or direct message us on our social media. It's due to your support that we can become one of the market's fastest-growing Penn State sports outlets!