Could Penn State football be overhyped in 2023?
Is Penn State football getting a little too much love this offseason?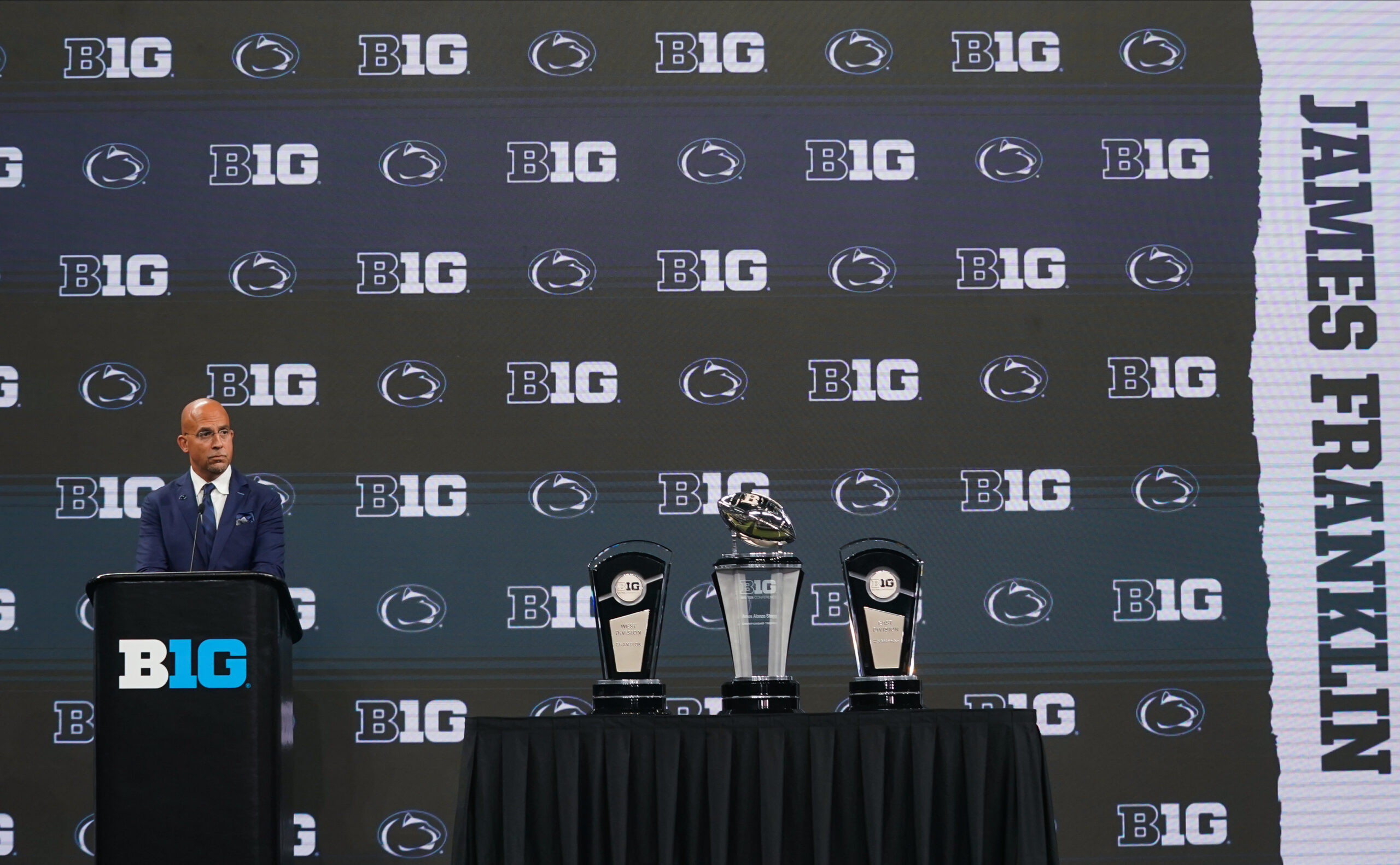 Few programs carry as much expectations heading into the 2023 season as Penn State football. Media darlings since defeating Utah in the Rose Bowl in early January, the Nittany Lions have been a trendy pick to win the Big Ten Championship and make the College Football Playoff all offseason.
But could the current good vibes in Happy Valley end in disappointment this fall? Recently, the Penn State Nittany Lions were included among a series of teams that could be overhyped heading into the 2023 season.
Will Penn State end up being overhyped this season?
Last week, Brad Crawford of 247Sports wrote an article titled, "College football flops: Potential disappointments in 2023 that would shock fans." As the title implies, the piece centers around teams that may be overhyped this offseason and could be in store for disappointment this fall. Crawford lists a series of seven teams, explains their expectations for the season, and then details an outcome that would be "disappointing" to fans.
Smack in between a list of suspects like Colorado, Clemson, Texas, and LSU was Penn State. A projected top-10 team in the preseason, Crawford notes that a disappointing outcome for the Nittany Lions would be three regular-season losses.
"Not since 2017 have the Nittany Lions experienced this level of hype in the summer, and this 2023 team is more talented than that one, at least on paper," Crawford writes. He then goes on to explain James Franklin's "1-0" mantra and how it is used to re-center the program and keep his Nittany Lions from becoming over-confident.
While acknowledging the talent on this 2023 roster, Crawford ends his snippet on Penn State by detailing a distressing scenario for Nittany Lions fans. "Should this team take on water early and lose in September to Iowa or Illinois, the dam could break and halt all of the buzz associated with Penn State being the biggest threat to Michigan and Ohio State at the top of the league standings," he writes. "There's no room for error for the Nittany Lions this fall, and that's an unnerving scenario to be in for Franklin, despite an elite roster loaded with future draft picks."
Tempered expectations?
Obviously, if this scenario were to unfold, it would be one of the biggest letdowns around the Penn State football program in several years. However, it's important to note that it may not be out of the question this fall. ESPN Analytics currently gives Penn State a 76% chance of leaving Champaign with a victory in Week 3. But with an early kickoff time in the first road test for a new starting quarterback, a sleepy start seems more than possible. Of course, we don't need to hash out the obstacles the Nittany Lions must overcome to beat Michigan or Ohio State later in the season.
So, while expectations for Penn State in 2023 are as high as any point in the James Franklin era, it's likely wise to temper those sentiments with a degree of caution. The Nittany Lions should expect to be in every game this fall, and they absolutely have the talent to beat any opponent on the schedule. But Franklin and the Nittany Lions will have to enter uncharted waters to reach the College Football Playoff this fall, so as a result, the Penn State faithful could walk away from the 2023 season with unmet expectations.
---
---
Thank you for reading Basic Blues Nation. Please follow us on Facebook and Twitter for the latest news and insights on your favorite Penn State athletics. For feedback, questions, concerns, or to apply for a writing position, please email us at [email protected] or direct message us on our social media. Also, be sure to check out our new site shop. It's due to your support that we can become one of the market's fastest-growing Penn State sports outlets!