B1G power rankings: Is Penn State football gaining on Michigan?
How will a potentially epic matchup between Penn State football and Michigan shake up the Big Ten power rankings?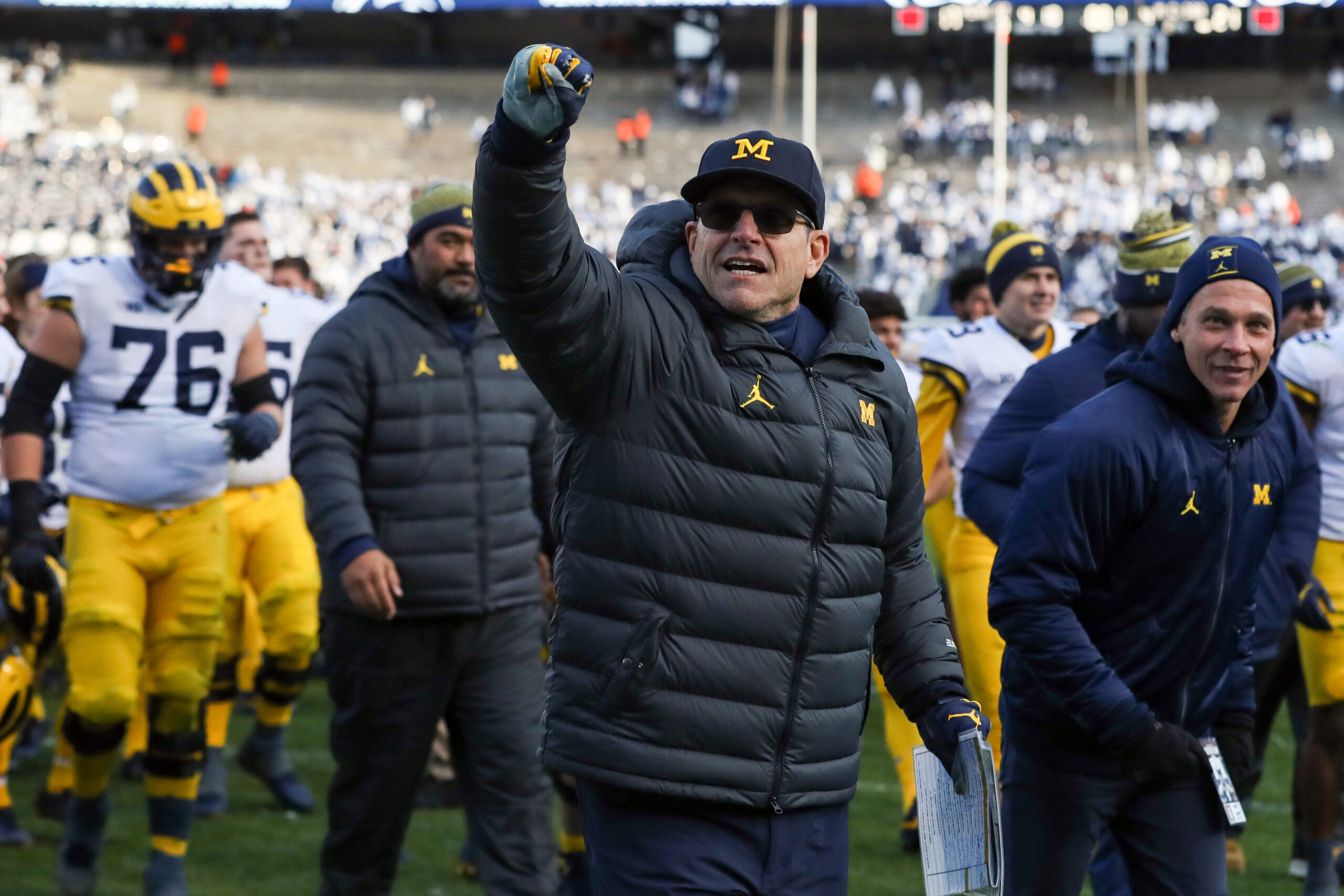 Penn State football cruised to a 51-15 win over Maryland last weekend, showing us the Nittany Lions that we thought we could see all season. Now, James Franklin and Penn State are ready to face off against Jim Harbaugh and the Michigan Wolverines tomorrow in a game that will help to decide the conference title race. A Nittany Lions win would most certainly knock the Wolverines out of the top slot in the Big Ten power rankings next week.
Week 11 Big Ten power rankings
Heading into last weekend, I thought the conference was pretty well figured out. There were the top teams, the muddled middle and the bottom three teams that would likely not win another game. Well, I was wrong about the bottom three, as they all pulled off victories and stayed alive for bowl eligibility.
The Big Ten West was a four way tie heading into last Saturday and now one team is up at the top again. The East will not be decided this week, but it could eliminate Penn State football if it loses. If the Nittany Lions win however, it will get even more interesting for the last two weeks.
With all the interesting results from this past week, the Big Ten power rankings got a little mix up. Let's see where every team shakes out this week.
No. 14 Purdue 2-7 (Last week 11)
The Boilermakers were soundly beat by Michigan 41-13. No surprise there. They gave up close 450 yards, most of it to J.J. McCarthy through the air.
Purdue has now been eliminated from bowl contention, one year after winning the Big Ten West. Its next game is against Minnesota.
No. 13 Indiana 3-6 (Last week 14)
Despite being outgained by over 80 yards, the Hoosiers pulled off a victory over Wisconsin 20-14. The win keeps their slim bowl hopes alive. Their next three games are winnable though, with a road trip to Illinois up first.
No. 12 Michigan State 3-6 (Last week 13)
Just when we all thought the Spartans had given up on the season, they notched their first conference victory of the season over Nebraska. It was also the first win for interim coach Harlon Barlett.
Like the Hoosiers, the Spartans bowl hopes are on life support. They will probably end this week at Ohio State.
No. 11 Maryland 5-4 (Last week 10)
The 5-0 start must seem so long ago for the Terps. They were dismantled by Penn State football to the tune of 51-15. Taulia Tagovailoa started the game completing his first 17 passes. But with zero rushing attack (it would finish with minus 49 yards), the Terps were completely one dimensional.
This year has to be considered a disappointment as Maryland seemed poised to take the next step in the tough Big Ten East. A bowl game is still within their grasp.
No. 10 Illinois 4-5 (Last week 12)
Quarterback Luke Altmyer was having a pretty good game when he was hurt late in the 4th quarter against Minnesota. Backup John Paddock entered the game, converted a 4th and 11 and two plays later delivered the game winning touchdown pass.
Illinois still can make a bowl game if it can win two of its final three contests. Up next is a home game versus Indiana.
No. 9 Northwestern 4-5 (Last week 9)
Northwestern and Iowa set offense back a century with their horrible display at Wrigley Field this past Saturday. That is par for the course for Iowa, but the Wildcats were coming off a 33 point performance versus Maryland the previous week.
Northwestern can still get to bowl eligibility with two more wins. A road game against a reeling Wisconsin team is on Saturday.
No. 8 Nebraska 5-4 (Last week 8)
The Cornhuskers had momentum and a three game winning streak on the line coming into their matchup with Michigan State. After three turnovers, they left with a loss. The ever elusive sixth win for Nebraska is up for grabs again this Saturday when they face Maryland.
No. 7 Minnesota 5-4 (Last week 7)
Minnesota has to be kicking themselves for giving up the lead late against Illinois. Especially to a backup quarterback who entered the contest cold.
The Gophers no longer control their own destiny in the Big Ten West. They own the head to head against Iowa so they need to hope the Hawkeyes stumble.
No. 6 Wisconsin 5-4 (Last week 4)
The Badgers have not been consistent on offense all season. Without Braelon Allen and Chimere Dike, they looked even worse in their loss to the Hoosiers.
With the injuries piling up, can the Badgers scrape together just one more victory to get to a bowl? They face Northwestern at home next.
No. 5 Rutgers 6-3 (Last week 6)
Rutgers lost to Ohio State, yet the Scarlet Knights move up a spot this week in the Big Ten power rankings. Think I may have been underrating them somewhat, and Wisconsin is not as good with all its injuries.
Rutgers had a lead against Ohio State, but when driving for a larger lead early third quarter, Gavin Wimsatt threw a pick six and the Buckeyes never looked back. It was a reminder of while Rutgers is improved, it is still behind the big programs of the conference. The Scarlet Knights face Iowa on Saturday and they have yet to beat the Hawkeyes in three previous matchups.
No. 4 Iowa 7-2 (Last week 5)
Neither Iowa nor Northwestern could eclipse 200 yards total offense in an epic display of futility. Somehow the Hawkeyes are 7-2 but it's only one side of the ball that is pulling its weight. The offense is trash and nothing will ever change until Brian Ferentz is gone.
Iowa continues its march towards a beat down in Indianapolis. The Hawkeyes face Rutgers in Kinnick next.
No. 3 Penn State 8-1 (Last week 3)
The offensive display shown against Maryland is what Nittany Lions fans had been waiting to see all season. Drew Allar had his best game yet on the road, the run game was solid, and the defense was punishing.
With some confidence behind them, now comes a huge test with Michigan. This will make or break the Nittany Lions' season. A win will erase doubts of James Franklin and keep the team in the chase for the conference title.
No. 2 Ohio State 9-0 (Last week 2)
The Buckeyes again started slow, but turned it on when they needed to do so to walk away from Rutgers still undefeated. Can Ohio State make it to the Michigan matchup undefeated? Probably, but it needs to have faster starts. Buckeyes face Michigan State next, a team they have defeated seven seasons in a row.
No. 1 Michigan 9-0 (Last week 1)
Michigan remains atop the Big Ten power rankings after continuing its winning ways despite all the crazy distractions of the sign stealing mess. As of this writing, the conference is still mauling potential punishments.
As far as the on the field results, it is not the Wolverines fault their schedule has been relatively soft so far. They can just play the teams on their schedule. But the real season begins Saturday for them with a massive game against Penn State football.
---
---
Thank you for reading Basic Blues Nation. Please follow us on Facebook and Twitter for the latest news and insights on your favorite Penn State athletics. For feedback, questions, concerns, or to apply for a writing position, please email us at [email protected] direct message us on our social media. Also, be sure to check out our new site shop. It's due to your support that we can become one of the market's fastest-growing Penn State sports outlets!