Penn State football: Attention to detail leads to standout night for Curtis Jacobs
Penn State linebacker Curtis Jacobs was all over the field Saturday night against West Virginia. In our exclusive interview prior to the season, Jacobs explained how his attention to detail can help lead to more standout performances like we saw in Week 1.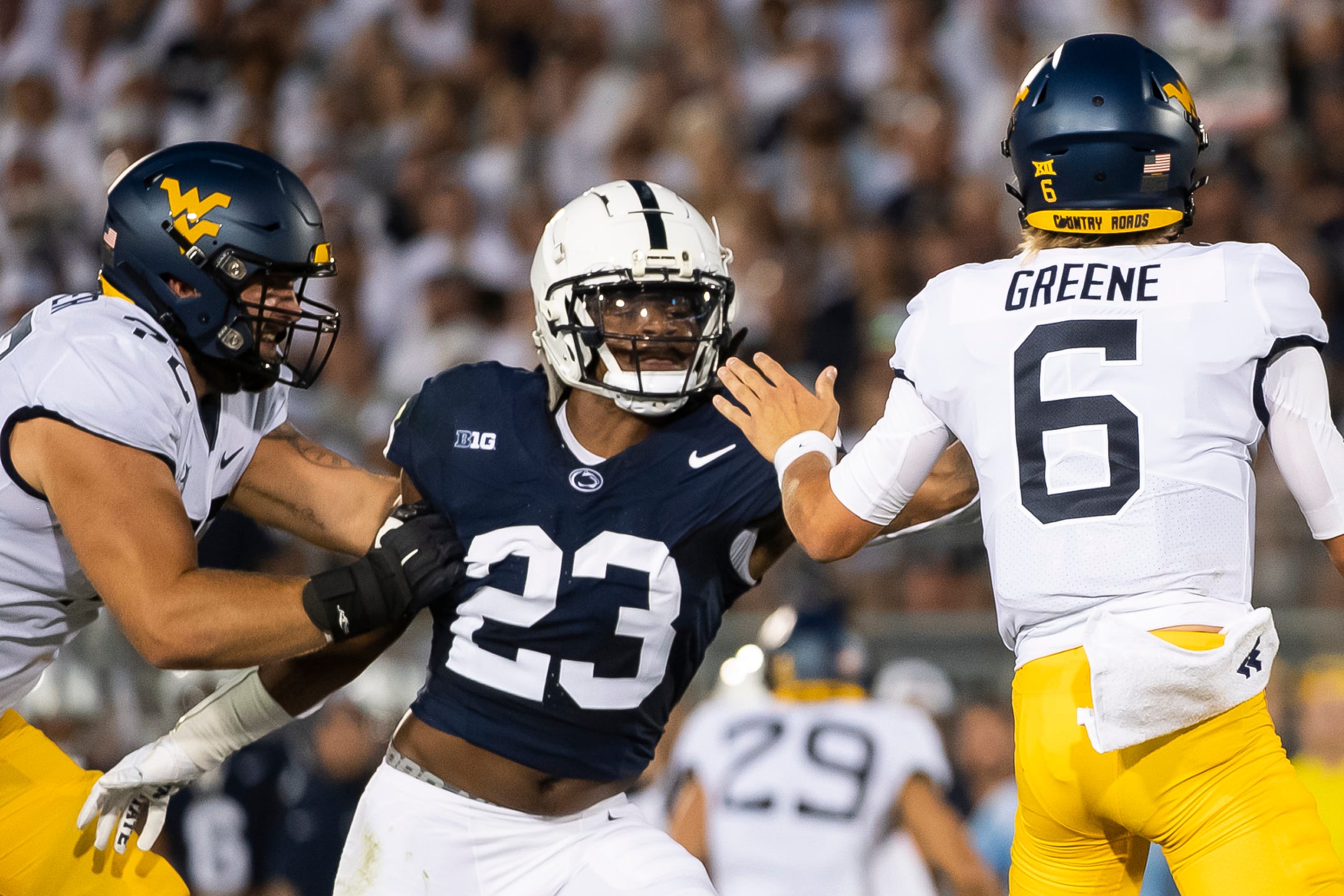 It wasn't perfect, but by and large, Penn State football looked impressive in its 38-15 victory over the West Virginia Mountaineers on Saturday night. While most are buzzing about the Nittany Lion offense under new quarterback Drew Allar, the Penn State defense recovered from a slow start to have a quietly dominant evening. Leading the way for the Lions on defense Saturday was junior linebacker Curtis Jacobs. As part of the new HVU On-Demand series, we sat down with Jacobs for an exclusive interview before Saturday's matchup, where he explained how his attention to detail led to the stand-out performance we saw against the Mountaineers.
Attention to detail helps Curtis Jacobs shine against West Virginia
Although it looked a little shaky at the start, the Penn State defense had a solid performance against West Virginia in Week 1. The Nittany Lions gave up 99 total yards through the first quarter of Saturday's game, which sent up some early warning flags. However, the defense adjusted nicely, only allowing slightly over 200 yards the rest of the way.
A key piece of this success was Curtis Jacobs. Jacobs was all over the field on Saturday, leading Penn State with 10 total tackles on the night, including a sack. When we spoke to Jacobs before Saturday's matchup, it was clear his attention to detail would help lead to this kind of breakout performance. Even after an impressive win like Saturday, Jacobs is always looking for something to improve.
"I make sure I watch the whole film," Jacobs said when discussing his postgame routine on Saturday evenings. "Not just my plays, but all of our plays collectively as linebackers. I just want to make sure everything is ironed out and make sure there weren't any mistakes. And if there are mistakes, I make sure to write them down and have those points ready when we come in for our meeting on Sunday."
Penn State defense can grow in 2023
After an extremely impressive 2022, Penn State football will look to be equally as fierce on the defensive side of the ball this fall. But according to Curtis Jacobs, the Nittany Lion defense can be even better in 2023.
"I've definitely seen growth from last year to this year, which is honestly scary because last year we were very productive and put up a lot of numbers," he said. "But I see that same hunger. Like we were doubted last year, and people still feel that."
While overall, the Lions have to be happy with the showing against West Virginia, there is certainly room for improvement, especially in run defense. Penn State will get the opportunity to do just that against Delaware on Saturday before heading to Illinois for its first road test of the season.
Exclusive player insights, presented by HVU On-Demand
If you enjoyed this sit-down interview with Curtis Jacobs, stay tuned for more exclusive player insights throughout the 2023 season as part of the newly launched HVU On-Demand platform. Our brand-new partnership between Happy Valley United and College Football Hall of Famer LaVar Arrington's media company, Up on Game, will unlock original video content, authentic podcasts, exclusive news, and more to all members of the collective. In addition, portions of this exclusive content will be made available free to you right here on Basic Blues Nation.
This initiative aims to promote NIL opportunities for the over 800 Penn State student-athletes represented by Happy Valley United and provide you with exclusive behind-the-scenes insights from your favorite Nittany Lions.
To learn more and donate, please visit Happy Valley United's website. We Are!
---
---
Thank you for reading Basic Blues Nation. Please follow us on Facebook and Twitter for the latest news and insights on your favorite Penn State athletics. For feedback, questions, concerns, or to apply for a writing position, please email us at [email protected] or direct message us on our social media. Also, be sure to check out our new site shop. It's due to your support that we can become one of the market's fastest-growing Penn State sports outlets!