Josh Pate previews Penn State football's chances against Ohio State and Michigan
The host of the widely popular college football talk show had plenty to say about the Nittany Lions.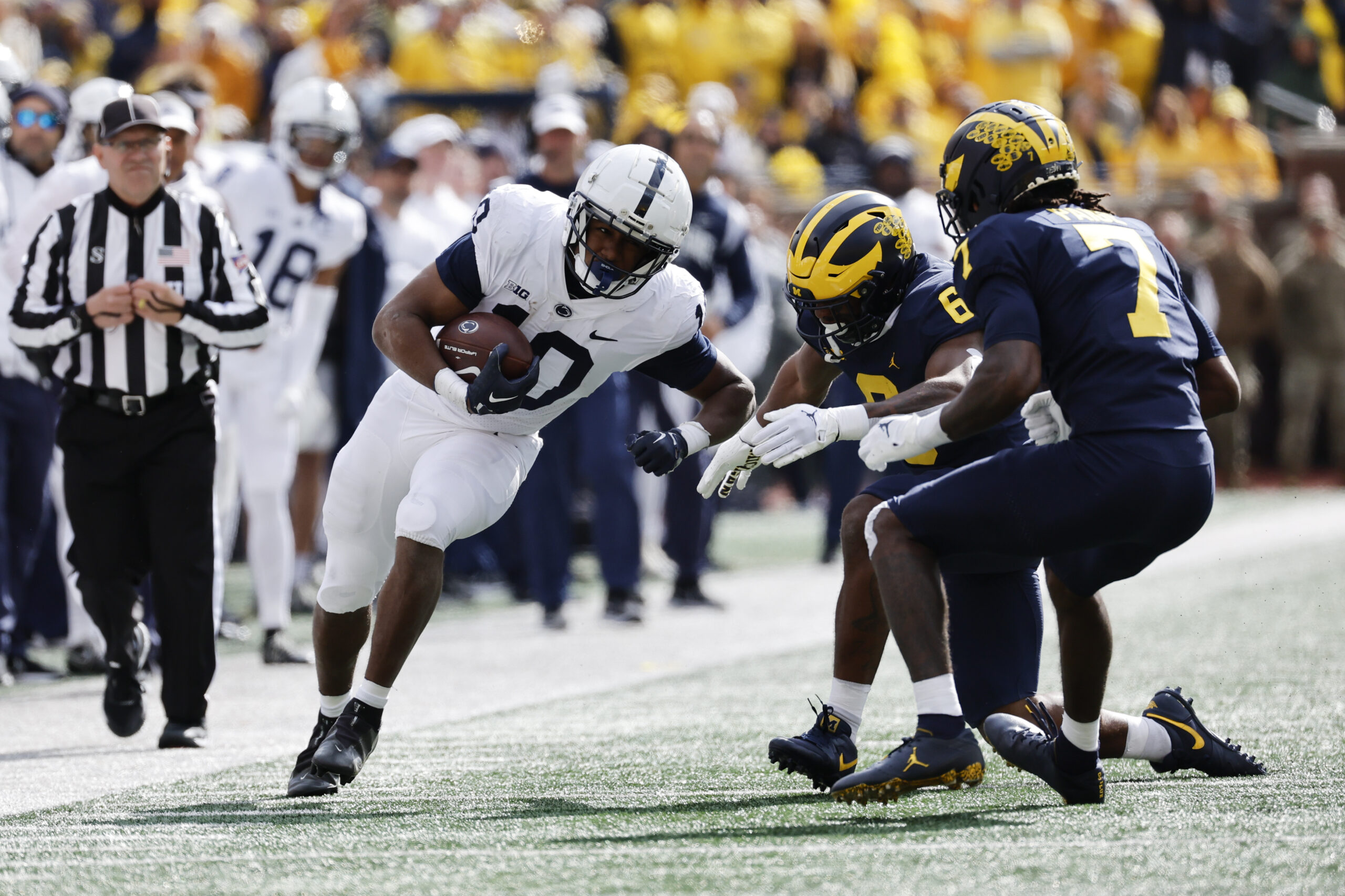 As with almost every season, 2023 for Penn State football will likely come down to two games – Ohio State and Michigan. How you feel about the Nittany Lions' chances in these two matchups probably dictates where you land on the team for this fall. Win one or both games, and Penn State is a College Football Playoff contender. Lose both, and it's back to where James Franklin has been many times before. In recent days, Josh Pate, host of the wildly popular national college football show Late Kick, provided an in-depth look at these two matchups, and discussed how he feels about Penn State overall. 
Josh Pate previews the Ohio State matchup
On an episode of his show Late Kick last week, Josh Pate previewed some of his marquee matchups for the upcoming season. When discussing the trifecta of key Big Ten games in Week 8, Pate highlighted the test that Ohio State's offense will face against the Penn State defense.
"Ohio State will have played Notre Dame so far on the road," Pate said. "…this [Penn State] is the best defense I think that they'll face all year. And it's the first time that we'll, in conference play at least, get to see either Kyle McCord or [Devin] Brown, whichever one wins a starting quarterback job, against an elite defense."
Pate continued his discussion of the game by noting Penn State's chances could very well rest on the progression of likely starting quarterback Drew Allar through that point in the season. "Who is Drew Allar by week eight?" he said. "I keep talking to you about how the offense may take a little time to settle in. That's why it's a good thing their schedule is not front-loaded. Well, by week eight, I mean, we should, for better or for worse, we should know what we have there this year."
Overall, Pate was bullish on the Nittany Lions' chances to hang in the game. But ultimately, the outcome could be determined by where the game is played. "Over/under win totals: 9.5 for Penn State, 10.5 for Ohio State," Pate concluded. "And the reason for that gap is probably this game and where it is. It's in Columbus, Ohio."
Can the Lions rebound against Michigan?
Pate then discussed Penn State's game against Michigan in Week 11. Like Ohio State, Pate believes the Nittany Lions will also be Michigan's first major test of the season. Much of this could have to do with the Nittany Lions' mentality coming into the matchup.
"…a couple of weeks later, that's when Michigan goes to Penn State," he said. "Obviously, depending on the outcome of that Penn State/Ohio State game, we may see Penn State in do-or-die mode here."
Then, much to the dismay of Nittany Lion fans, Pate went on to recap Penn State's embarrassing 41-17 loss in Ann Arbor last season:
But you remember what happened in this game last year? Penn State fans do. Michigan fans do. What does the number 418 mean to you? Because that is how many yards rushing Michigan had against them. Not in this decade. Not in the history of the series or anything like that. They put 418 up on them on the ground last year. A little over seven yards per carry. It was a bloodbath. It was a splattering."
While ultimately, he noted that the Wolverines will still be favored to win the game, Pate sounded confident in Penn State's chances to make the game much more competitive this season. "What can change over the course of a year?" Pate asked. "Well, I'll take the under on 418 rush yards for Michigan, but Michigan is still gonna be favored. Short favorite, but a favorite in that game right now."
Penn State football: A-list attitude
In a different episode of the show later in the week, Josh Pate featured Penn State on his Mood Tracker segment. Essentially, this part of the show is designed to give a national audience a snapshot of a fanbase's feelings leading up to a season.
For the Nittany Lions, Pate described the mood of James Franklin and the program as that of a B-list actor looking to become a star. Pate described Franklin's performance at Penn State as a tier below the elite of college football. Much like a supporting actor looking to make it big, Pate echoed the desire among the fanbase to push up to that next level. 
"You want to go from Liv Tyler to Brad Pitt. You want to be Denzel. How do you do it? Pretty simple, beat Ohio State and/or Michigan and go to the playoff."@LateKickJosh takes the temperature of Penn State fans ahead of the 2023 season ?

WATCH ?: https://t.co/gOdEMHFvxJ pic.twitter.com/kl2W3cHi4L

— 247Sports (@247Sports) May 23, 2023
For Pate, the way for Penn State to climb the ladder is clear. "How do you do it?" he asked. "Pretty simple. Beat Ohio State and/or Michigan and go to the playoff. Maybe even win you a playoff game. Hey, maybe even win you a title. But at least accomplish something that you haven't already accomplished."
Throughout these segments, it may sound like Pate doubts what James Franklin has in Happy Valley. Quite the contrary, as Pate has been very high on Penn State this offseason. But as he concluded his mood tracker segment by heaping praise on the program, Pate noted that there is still work to be done. 
They've got the highest-rated quarterback they've ever had there. They got an incredible 1-2 tandem in the backfield. They've got a ton of experience along their offensive line. They have got an exceptional defense and an exceptional defense coordinator…they love the staff. I love the staff. They are recruiting very, very well. In other words, all of the ingredients are there for you to become an A-lister this year. You just have to get it done.
---
---
Thank you for reading Basic Blues Nation. Please follow us on Facebook and Twitter for the latest news and insights on your favorite Penn State athletics. For feedback, questions, concerns, or to apply for a writing position, please email us at [email protected] or direct message us on our social media. It's due to your support that we can become one of the market's fastest-growing Penn State sports outlets!