Penn State wide receiver breaks down his new position coach and more
According to Omari Evans, new coach Marques Hagans is already leaving his mark on the wide receivers in just a few weeks on the job.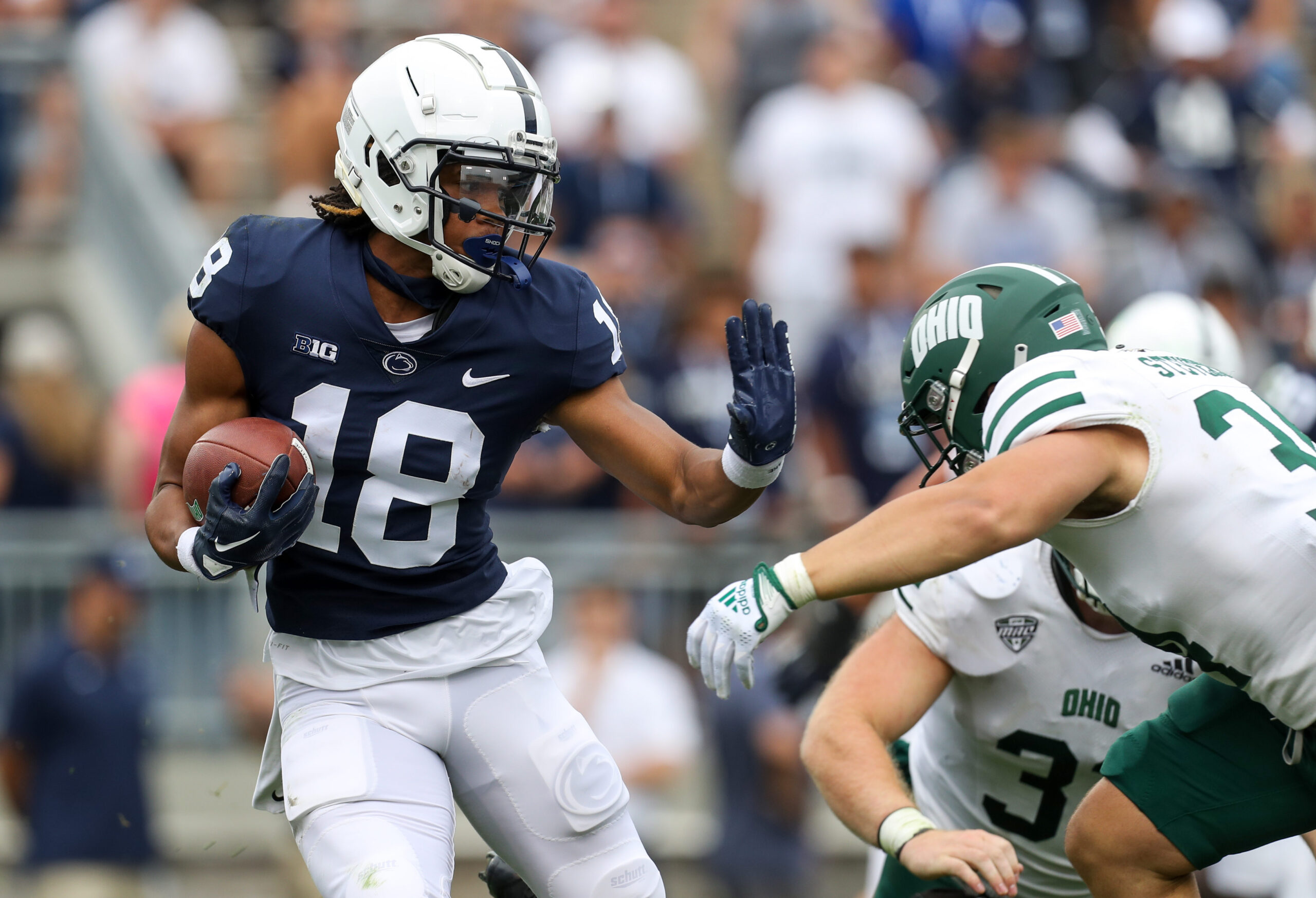 State College, Pa. — How quickly things can change in a year. The Penn State wide receivers were likely near the bottom of the list of concerns for the offense going into 2022. But after a subpar year, the Nittany Lion pass catchers have become a major question mark for 2023. The room needed change. James Franklin hired Marques Hagans in January to replace Taylor Stubblefield as Penn State's wide receivers coach. Now, Hagans must find answers for a room that is, in many ways, starting over. But according to sophomore wide receiver Omari Evans, Hagans is already putting together the puzzle pieces early in spring practice.
'He believes in us': Omari Evans talks Marques Hagans' impact, wide receiver development in spring
As a position room, the Penn State wide receivers took a significant step back in production in 2022. Total receptions, receiving yards, and touchdowns decreased from the previous year. However, the ratio of dropped passes to total targets increased dramatically from 2021. It evidently was time for a change, and James Franklin brought Marques Hagans in to rectify the situation.
This week, the media spoke with Omari Evans, a former three-star prospect now in his second year on campus. Like the rest of the room, Evans is using the spring to adjust to Hagans' fresh perspective on the receiver position. Hagans has used his outsider's vantage point to identify and address some of the issues plaguing the receivers in 2022. According to Evans, one of these areas is aggressiveness at the catch point.
"He's emphasizing attacking the ball, because that's something we need to work on," Evans said. "…we got to do a better job of attacking the ball instead of letting it fall down."
New Penn State receiver @MalikMcClain11 showing off his skills. pic.twitter.com/HYBXNnIWjU

— Basic Blues Nation (@BasicBlues) March 28, 2023
And it appears that Hagans' aggressive mindset goes beyond the technical details of the craft. From top to bottom, Hagans has instilled a mentality of toughness and discipline so far this spring. Hagans hopes to squeeze the most out of a talented position room with this approach.
"It's been going great," Evans stated when asked about the transition. "He's really hard on us because he believes in us and wants us to be great. So, it's been pretty good so far."
The WR room can change the offense in 2023
While he hasn't said it outright, the context clues not-so-subtly indicate how James Franklin feels about the wide receiver room heading into 2023. On several occasions, Franklin has expressed how, in today's era of football, wide receivers can change the complexion of a game.
"…the game has become such a space game that when you have guys on the outside that can go 80 at any moment, that changes defensive coordinators. That puts fear in people," Franklin said at the conclusion of winter workouts in February. This is a philosophy that the receiver room has embraced this off-season.
"…because of how good our running backs are, if we can win our one-on-ones — because they're probably going to one-on-one us a lot because they have to fill the box — we can make a big impact on the team," Evans said on Wednesday. "So yeah, our group can impact the team a lot, I feel like."
If he can emerge into a more prominent role, Omari Evans possesses the skillset and versatility to elevate the Penn State wide receivers to new heights in 2023. But for Evans, personal accolades take a back seat to what the Nittany Lions can accomplish this season.
"I feel like when the team goals come, the personal goals will come with that. So really, I'm just focused on finishing out the spring and getting into fall camp and focusing on West Virginia right now. And the personal goals will come whenever the season ends."
---
---
Thank you for reading Basic Blues Nation; we are proud to be a student and alumni-owned and operated media outlet covering all things Penn State athletics! Please follow us on Facebook and Twitter for the latest news and insights on your favorite Penn State teams. For feedback, questions, concerns, or to apply for a writing position, please email us at [email protected] or direct message us on our social media. It's due to your support that we can become one of the market's fastest-growing Penn State sports outlets!