Rose Bowl Names to Know: Utah Offense
There are several key Utes playmakers Penn State must shut down to leave Pasadena victorious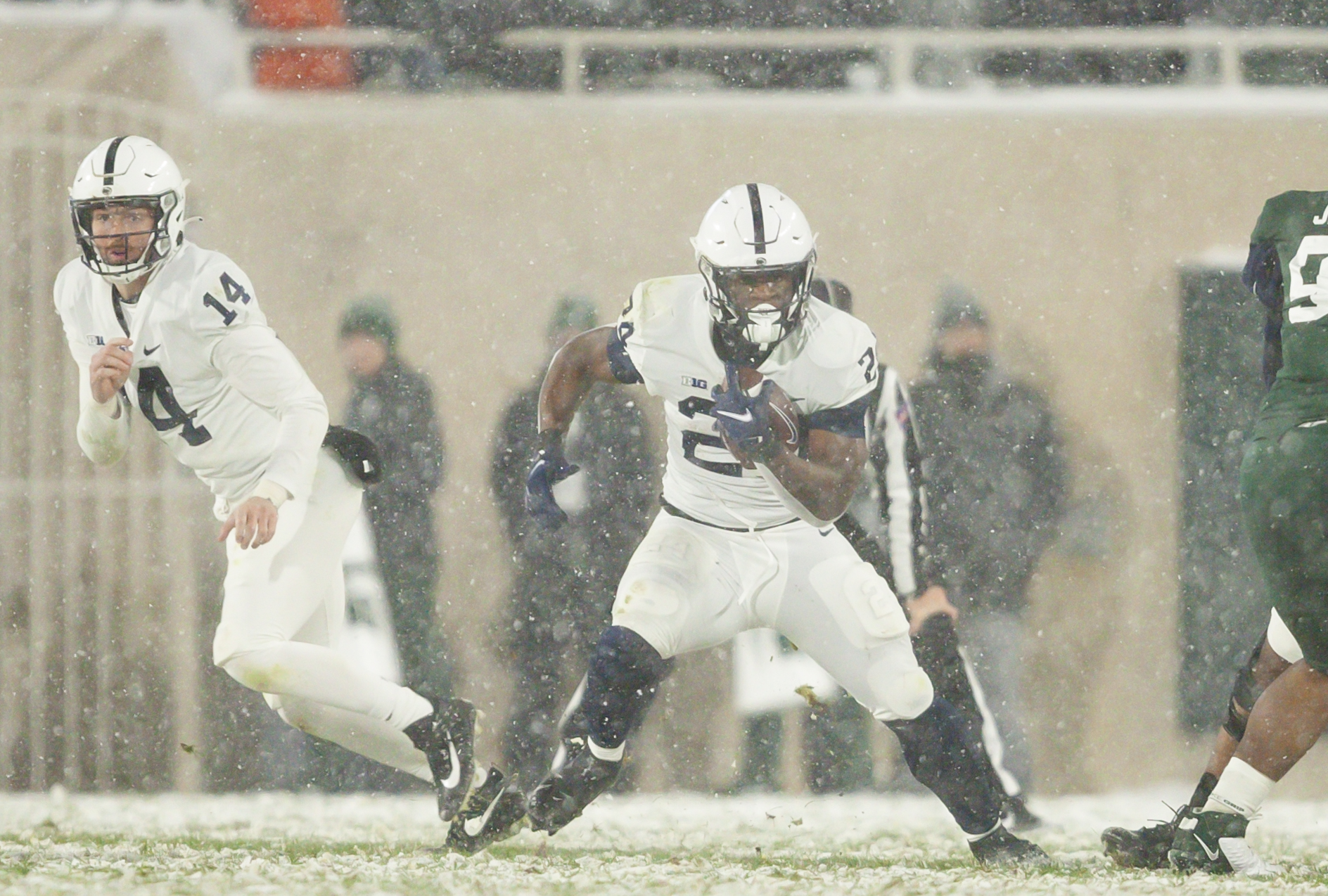 It's officially Rose Bowl day. As we count the hours to kickoff, it's time to dive deeper into Penn State's opponent: the No. 8 Utah Utes.
Utah's Offensive Outlook for the Rose Bowl

The Utes come into this game with one of the most prolific offenses in the country. Utah is top ten in scoring (40 PPG) and rushing (220 YPG). Although their passing game has been less prolific, it's still one of the more efficient aerial attacks in the nation (23rd). 
Most importantly, Utah plays a clean style of football. The Utes rarely give up negative plays, ranking in the top ten in both sacks and tackles for loss allowed. It will be challenging to get the Utah offense off the field, as it converts nearly half of its 3rd downs and has a top-25 turnover margin on the year. 
The Utes have suffered significant losses on this side of the ball since they last took the field. Utah's leading pass catcher, tight end Dalton Kincaid, has opted not to play due to injury. He is joined by Tavion Thomas, the Utes' leading rusher, who declared for the NFL Draft.  
Given these losses and that they play on the other side of the country, the names of Utah's remaining playmakers may not be front of mind for many Nittany Lions fans. However, there are still several players that Penn State fans should know before Monday's Rose Bowl showdown. 
Cam Rising
It helps that Utah's most well-known player is still expected to suit up for the Rose Bowl. Cam Rising has been one of the better quarterbacks in the PAC-12 all season. Rising's 66% completion percentage and 25 touchdown passes rank 4th in the conference among quarterbacks with at least 300 attempts this year. Rising also possesses good ball security, with a touchdown-to-interception ratio approaching 4:1. 
Most of Rising's passing yards come across the middle of the field, which is concerning. According to PFF, over a third of Rising's 2,900 yards have come on routes over the middle and short of the first down marker. We've seen Penn State's linebackers struggle with crossing routes, especially against Purdue and Ohio State. 
However, there is an opportunity if Penn State can beat the stout Utah pass protection. Rising's PFF passer rating drops by 37 points when he is under pressure this season. The Nittany Lions have been phenomenal in disrupting quarterbacks all year long. If Penn State can force Rising into making quick decisions, then it stands a much better chance of slowing down the Utes on offense. 
Ja'Quinden Jackson
With Tavion Thomas out, Utah will need to find other outlets for his production in the running game. Although Micah Bernard may get the starter's share of reps, Ja'Quinden Jackson presents a significant threat. 
Jackson has seen his share of carries increase dramatically in Utah's last five games. A former quarterback, Jackson has rushed for 25 fewer yards than Bernard on the year but on 30 fewer attempts. Jackson's 6.9 yards per rush is the best among Utes with at least 50 carries. He averages nearly four yards after contact, one of the better rates Penn State has seen all year. 
Even without Thomas, Utah will still bring one of the most dangerous running games in the nation to Pasadena. But with rare exceptions, the Nittany Lions have been strong against the run in 2022. It will be interesting to see how Manny Diaz attacks the Utes after having a month to prepare for this one. 
Money Parks
Like Jackson, Money Parks has done more with less as part of the Utah passing game this year, racking up over 400 yards on only 25 receptions. Parks is Utah's deep-threat receiver – he averages over 16 yards per reception and has primarily been targeted beyond the chains. On 10 receptions of 10 yards or more, Parks has 276 yards and both of his touchdowns this year. 
Although Penn State's secondary has been a strength all year, this will be one of the most significant challenges since the loss of Joey Porter, Jr. The Nittany Lions gave up several deep plays to Michigan State but otherwise were solid the last time out. I'll be curious if Utah favors throwing to Johnny Dixon instead of Kalen King in Porter's absence. While Utah's passing attack is respectable, Penn State has faced better this season. I would expect the Nittany Lions to have the advantage here next week. 

James Franklin describes how player competition drives success
Two of Penn State's biggest stars have used competition to drive their success on the field.
Iron sharpens iron is a common phrase used in football. Top players compete against each other to make each other better. The Penn State football team has had several battles that have led to individual growth. But one has stood out more than any other battle. That was between wide receiver KeAndre Lambert-Smith and Kalen King. Two of Penn State's biggest stars who used practice reps to get ready for this season. Now, early in 2023, they're enjoying each other's success according to James Franklin.
James Franklin describes how player competition drives success
Wide receiver No. 1 and cornerback No. 1 had some heated exchanges this summer in practice. But at the end of the day, both players have become stronger because of that. James Franklin spoke about the relationship between Kalen King and KeAndre Lambert-Smith and how on Saturday night they shared their success.
Franklin said during his media availability on Tuesday, "One of the cool things that I thought happened on Saturday is after KeAndre [Lambert-Smith] scored his touchdown, on the fade ball, which I thought was a really big-time play. The first guy to meet him coming off the sideline was Kalen King. Kalen and KeAndre's battles at practice are legendary. And I think that was a really good example, tip of the hat of Kalen seeing KeAndre being successful and KeAndre saying you're a big part of that success because of how we go against each other every single day at practice. So, I thought that was a really cool moment for all of the players on the sideline to see."
KeAndre Lambert-Smith has had a great 2023 season thus far
One of the biggest question marks heading into this season was who would be wide receiver No. 1 for the Penn State football team. KeAndre Lambert-Smith has answered that question with confidence. So far this season he has racked up 21 catches for 286 yards and 3 touchdowns. He is someone that Drew Allar can certainly rely on.
---
---
Thank you for reading Basic Blues Nation. Please follow us on Facebook and Twitter for the latest news and insights on your favorite Penn State athletics. For feedback, questions, concerns, or to apply for a writing position, please email us at [email protected] or direct message us on our social media. Also, be sure to check out our new site shop. It's due to your support that we can become one of the market's fastest-growing Penn State sports outlets!
Big Ten power rankings update: Penn State can't jump Ohio State after wild weekend
Penn State football looked dominant on Saturday, but still can't jump Ohio State in the latest Big Ten power rankings after a wild week in the conference.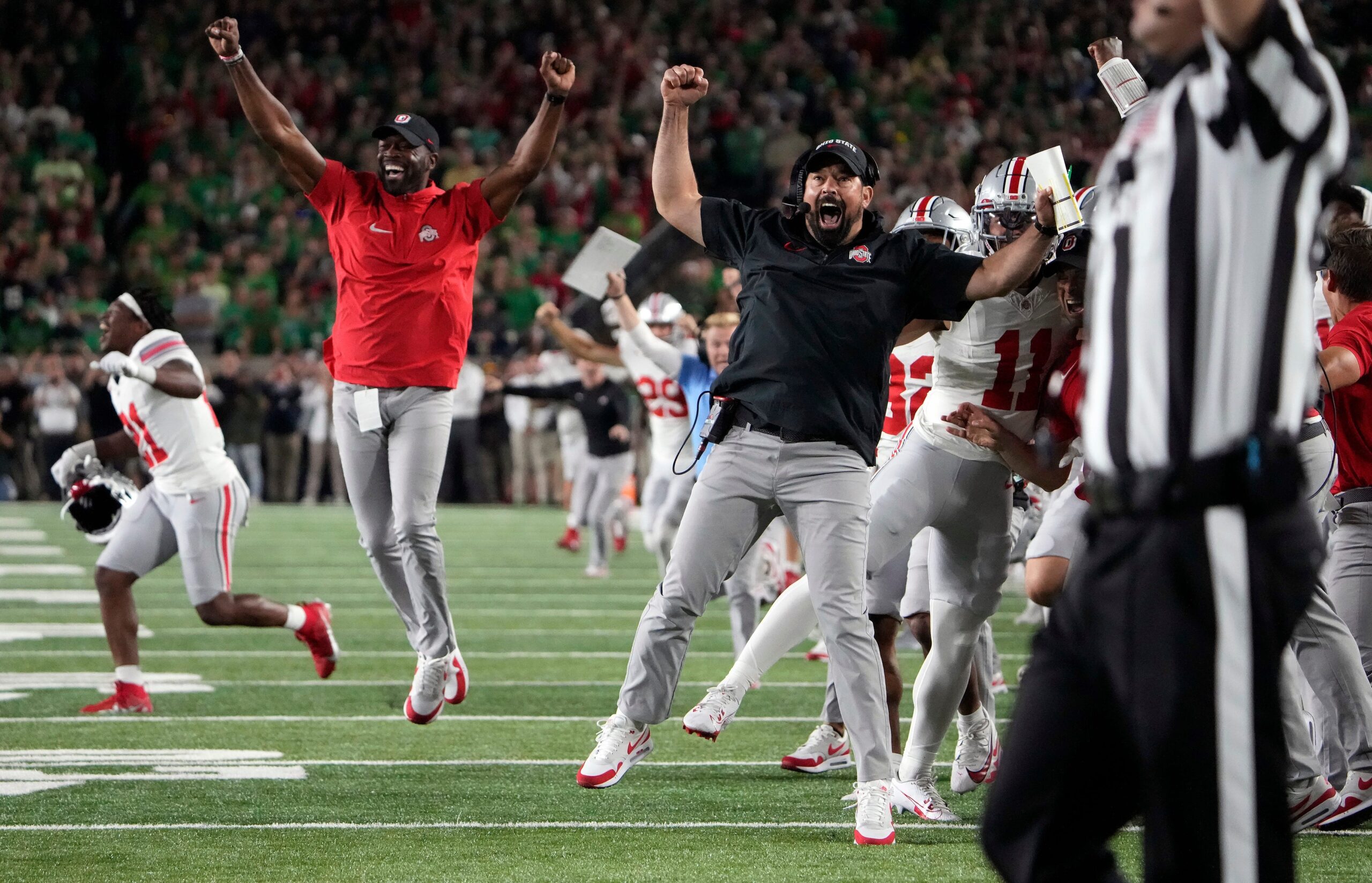 It was a wild weekend of college football in the Big Ten. We saw walkoff winners from Ohio State and Northwestern, while teams like Penn State football and Maryland cruised to dominant victories. Now that we're fully into conference play, the pecking order becomes more delineated. How did Week 4 impact our newest Big Ten power rankings?
Updated Big Ten power rankings
After another exciting week of college football, some clear separation is happening in the Big Ten. The top tier of three teams is a clear upper echelon of the conference, with a bright red line separating them and the next level.
A second tier is forming and, for now, has two teams. But this could expand as we get deeper into the season. These two teams are not at the big boy level yet and have a few flaws, but have played fairly well to this point.
And below them is a lower third tier with everyone else. These teams could be ranked in any order, and it would be justified. All the teams in this third tier have major flaws. Unless they have a drastic turnaround, they certainly will not be reaching the elite part of the conference this year.
With all of that said, let's get to this week's edition of the Big Ten power rankings.
No. 14 Indiana 2-2 (Last week 13)
The good news is the Hoosiers beat Akron. The bad news is they needed four overtimes to do it despite being 16-point favorites. The Zips had a chance to end it in regulation but missed a 32-yard field goal. The Hoosiers are still dropping to the bottom of the Big Ten power rankings this week.
It's hard to see too many more victories on the schedule. The Terps are up next.
No. 13 Northwestern 2-2 (Last week 14)
The Wildcats pulled off a surprising victory over Minnesota Saturday night. They were down 31-10 at the start of the 4th quarter but scored three unanswered touchdowns to force overtime, where they won it in the extra frame.
Quarterback Ben Bryant had a career night with 396 yards and four touchdowns. It will be tougher to put up that kind of performance against Penn State football next week.
No. 12 Purdue 1-3 (Last week 11)
The Boilers could not stop Wisconsin's Braelon Allen or the Badgers fast start on their way to a 38-17 home loss. Hudson Card rushed for a touchdown but threw two interceptions on a three-turnover night for Purdue.
This looks like it could be a rough first year for head coach Ryan Walters. He will face off against his old team, Illinois, next Saturday.
No. 11 Nebraska 2-2 (Last week 12)
Quarterback Heinrich Haarberg got the start again for the Huskers and was the team's leading rusher with 157 yards. He had a touchdown on the ground and through the air as Nebraska defeated Louisiana Tech 28-14.
After an 0-2 start, the Huskers have recorded back-to-back victories. It may be short-lived as the Wolverines come to Lincoln this Saturday.
No. 10 Michigan State 2-2 (Last week 9)
The Spartans are in complete disarray on and off the field. Against Maryland, they turned over the ball five times on their way to a 31-9 defeat. They outgained the Terps in total yards, but the turnovers were absolute killers.
If Michigan State keeps it up, it may find itself even lower in the power rankings next week. But the Spartans travel to offensively challenged Iowa next Saturday night, so perhaps their fortunes will turn.
No. 9 Illinois 2-2 (Last week 10)
Illinois was down 10-0 to FAU after the first quarter and needed a comeback to defeat the Owls 23-17. After a rough outing against Penn State football the previous week, Luke Altmyer had a better day with over 300 yards, a touchdown, and no interceptions.
Squeaking by FAU does not breed much confidence, though. But with what is below the Illini in the power rankings, they actually get to move up a spot. The Illini are at Purdue next week.
No. 8 Rutgers 3-1 (Last week 8)
The Scarlet Knights scored on their opening drive against Michigan on a 69-yard pass from Gavin Wimsatt. That would be all their scoring as Michigan scored the final 31 points. There were plenty of missed opportunities for Rutgers, none more costly than a pick-six, with the Scarlet Knights driving in the third quarter only down 10 points. That pretty much sealed Rutgers's fate.
This still may be a decent Rutgers team, but against its best competition so far, it failed. However, there is no shame in losing to the No. 2 team in the country, so they stay put in the rankings for the week. Up next is a sure-to-be win against FCS Wagner.
No. 7 Minnesota 2-2 (Last week 7)
Minnesota blew a three-score lead in the fourth quarter and then lost to Northwestern in overtime. Darius Taylor was a workhorse with nearly 200 yards on the ground and a touchdown. But the Gophers do not have a very good quarterback in Athan Kaliakmanis, and the defense gave up nearly 500 yards to a bad Wildcat offense.
This was a bad loss for Minnesota, but it is difficult to drop them even a spot because of what is behind them in the rankings. The Gophers will look to bounce back next week against Louisiana.
No. 6 Iowa 3-1 (Last week 5)
Brutal. Ugly. Pathetic. Those are just a few adjectives used to describe the Hawkeyes' performance in a 31-0 shutout loss to Penn State football. They had 76 total yards and had an equal amount of first downs as they did turnovers with four each. 
There is a ton of finger-pointing from fans after a game like this, and they are primarily pointing at Kirk and Brian Ferentz. The good news for Iowa is that it likely will not face as good of a defense as it did with Penn State again. Iowa certainly can right the ship this week with a home game against Michigan State.
No. 5 Wisconsin 3-1 (Last week 6)
Wisconsin finally got off to a fast start, scoring touchdowns on its first three offensive possessions. The Badgers held off Purdue for the victory, but it came at a cost, as running back Chez Mellusi was lost for the season with a broken leg.
The Badgers get a bye week at a good time, as they will adjust without Mellusi. After the off week, they will host Rutgers.
No. 4 Maryland 4-0 (Last week 4)
The Terps cruised to another comfortable victory, defeating Michigan State 31-9. It was Maryland's first victory in East Lansing since 1950.
Maryland's offense, led by Taulia Tagovailoa, gets much attention, but the Terp defense has been pulling its weight. The Terps have only allowed four touchdowns in their first four games and have come up with 11 turnovers. Up next is a home date with Indiana.
No. 3 Penn State 4-0 (Last week 3)
The Nittany Lions took it to Iowa in front of a White Out crowd, shutting out the Hawkeyes. This was a redemption win for the 2021 loss at Kinnick. Most impressively, Penn State controlled the ball for over 45 minutes and ran 97 plays to Iowa's 33 snaps.
The margin between Penn State and Ohio State looks awfully thin. Still, for now, the Buckeyes remain ahead in the Big Ten power rankings. Luckily, there is a game between the two in about a month that will settle it. For now, Penn State football travels to Northwestern next.
No. 2 Ohio State 4-0 (Last week 2)
On Saturday night, Ohio State pulled off a thrilling 17-14 victory over Notre Dame in South Bend. They had a 3-0 lead at halftime, then a 10-0 lead early in the third quarter. The Irish scored the next two touchdowns, and it was not until nearly the very end the Buckeyes scored the game-winner with a Chip Trayanum 1-yard rush at the goal line. The Irish also had only 10 guys on the field for the Buckeyes' last two snaps.
For Penn State, it was better for Ohio State to remain undefeated. The two teams appear to be on a collision course for a top-10 matchup in a few weeks in Columbus. For now, Ohio State gets a bye week.
No. 1 Michigan 4-0 (Last week 1)
The Wolverines started slow against Rutgers, but finished strong in Jim Harbaugh's first game on the sidelines this season. JJ McCarthy was efficient, going 15 of 21 for 214 and a score. Blake Corum also had two scores along with 97 yards. After giving up an explosive play for a touchdown on Rutgers's third play of the game, the Wolverine defense settled in giving up less than 190 yards the rest of the way and returning an interception for a touchdown.
The Wolverines will finally leave the comforts of home as they hit the road to Lincoln next Saturday.
---
---
Thank you for reading Basic Blues Nation. Please follow us on Facebook and Twitter for the latest news and insights on your favorite Penn State athletics. For feedback, questions, concerns, or to apply for a writing position, please email us at [email protected] or direct message us on our social media. Also, be sure to check out our new site shop. It's due to your support that we can become one of the market's fastest-growing Penn State sports outlets!
Drew Allar has helped build a championship culture at Penn State
The Penn State football team has an outstanding culture and Drew Allar has been a key contributor to that this season.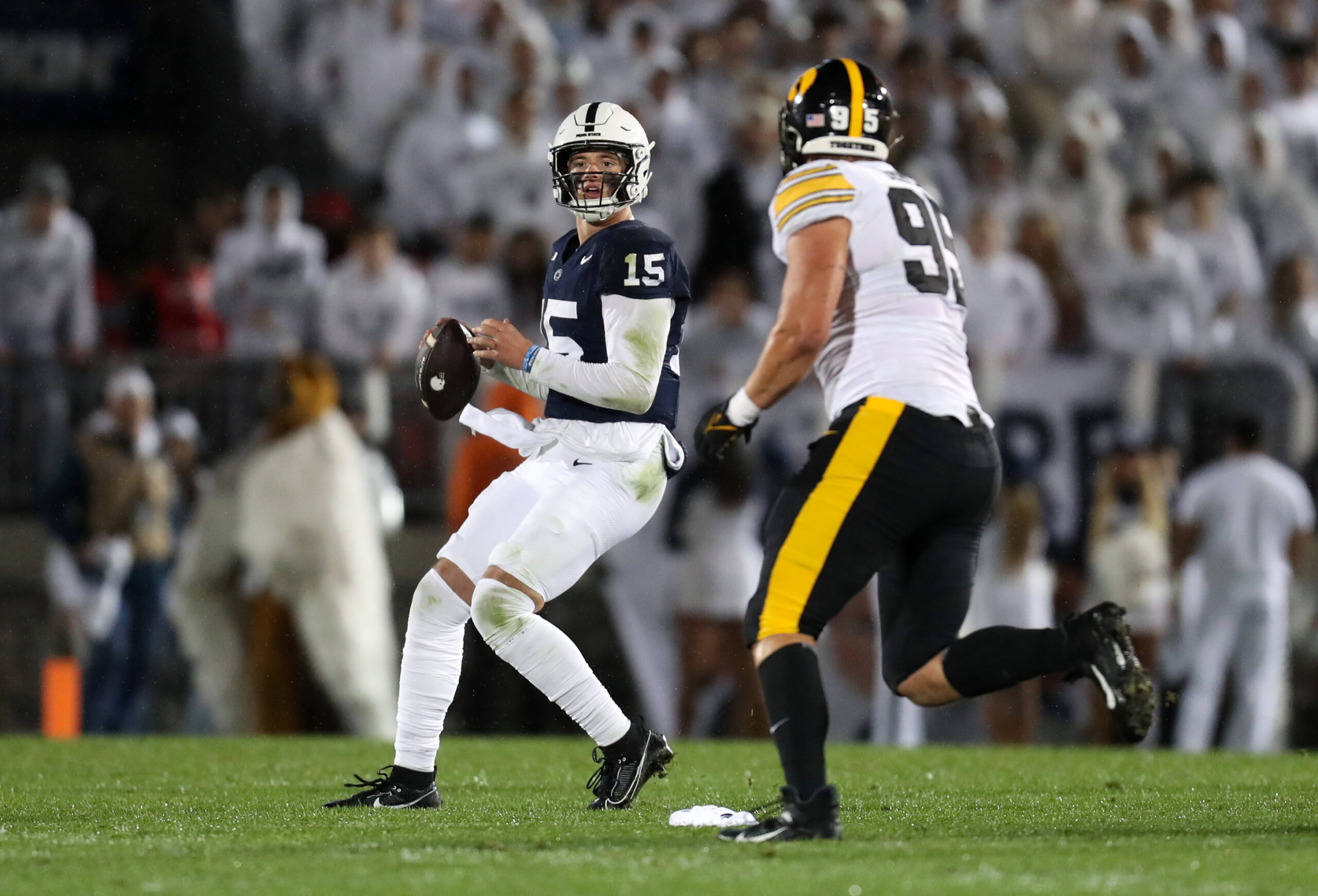 It's no secret that Drew Allar has been phenomenal early in his Penn State football career. The physical attributes are one thing but his decision-making is on another level. Through the games he appeared in during his freshman season and the first four games this season he has played mistake-free. He has yet to throw an interception in college and because of that, the ball security for Penn State has been phenomenal. KJ Winston Jr. referred to the battles the defense had with Drew Allar and prepared them for this season.
Drew Allar has helped build a championship culture at Penn State
James Franklin spoke earlier this summer about how many practices it took during fall camp before Allar threw an interception. Now, we have seen that translate to the field as well. Drew Allar has gone through the first four games of the season throwing 8 touchdown passes against 0 interceptions. He has protected the ball very well. Penn State football safety KJ Winston Jr. met with the media yesterday and described what it's like practicing against Allar.
Winston Jr. said, "I really think it's because of all fall camp and practice going against Drew [Allar] and kind of giving our best shot at him and him giving his best shot at us. I think just you know, in practice going back and forth it allowed him to come into the game feeling comfortable. We were playing against Drew like it was a championship game every day…"
Penn State is leading the country in these areas
The Nittany Lions posted on social media all of the categories they lead the nation in through four weeks. They're 1st in pass defense, total defense, first downs allowed, turnover margin. Then offensively they lead in fewest turnovers, and time of possession. Because of what Drew Allar and the Penn State defense did during fall camp, it has translated to the field this fall very well.
---
---
Thank you for reading Basic Blues Nation. Please follow us on Facebook and Twitter for the latest news and insights on your favorite Penn State athletics. For feedback, questions, concerns, or to apply for a writing position, please email us at [email protected] or direct message us on our social media. Also, be sure to check out our new site shop. It's due to your support that we can become one of the market's fastest-growing Penn State sports outlets!