REPORT: Delay cost Penn State chance at Micah Shrewsberry extension
Should this new story be cause for concern for Penn State fans?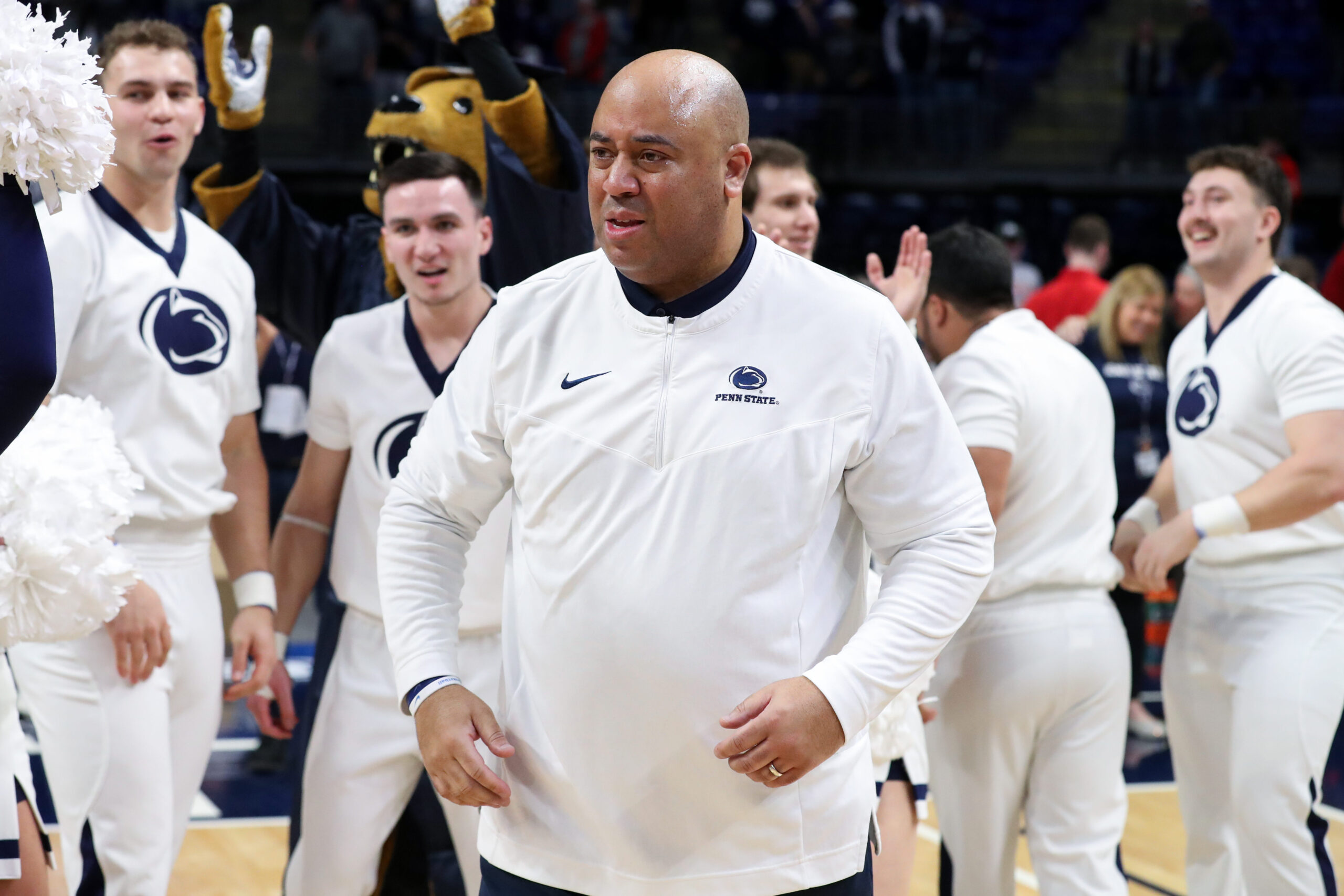 A new report out yesterday sheds further light on the timeline of contract negotiations between former Penn State basketball coach Micah Shrewsberry and the school. According to the story published by CBS Sports, Shrewsberry very likely would have remained at Penn State if the university and athletic director Pat Kraft had offered a renegotiated contract sooner than March. Shrewsberry left Happy Valley following Penn State basketball's NCAA Tournament appearance in March to become the new head coach of Notre Dame.
Delay may have cost Penn State a chance at Micah Shrewsberry extension
On Thursday, CBS Sports senior sportswriter Matt Norlander published a piece that looked at the weeks leading up to and following Micah Shrewsberry's departure from Penn State to Notre Dame. The long-form story provides interesting behind-the-scenes perspectives from Notre Dame athletic director Jack Swarbrick and Shrewsberry's wife, Molly, regarding the events that eventually led the former Penn State basketball coach back to South Bend. 
Many of the factors that led Shrewsberry to Notre Dame, including his family's ties to Indiana and the difference in basketball culture between the Hoosier State and Happy Valley, have been discussed in the months since the departure. However, Norlander's report does shed additional light on Penn State's timeline in pursuing Shrewsberry for a contract extension. 
In particular, one section of Norlander's piece is of note to Penn State fans. According to the narrative, Micah Shrewsberry had been Notre Dame's top candidate since mid-February. Shrewsberry and Notre Dame held several preliminary conversations in the final weeks of that month. However, Shrewsberry was adamant about keeping his focus on Penn State and didn't agree to a formal interview until after the season was over. But before Shrewsberry had any conversations with Notre Dame, his agent had attempted to restructure his contract with Penn State. Those attempts, according to the article, were not fully embraced by Pat Kraft and Penn State until early March.
"In the preceding months, Shrewsberry's agent attempted to negotiate a new contract with new Penn State AD Pat Kraft (who did not hire Shrewsberry)," Norlander writes. "The school decided to wait … until Penn State's March surge accelerated matters, so much so that Shrewsberry was approached by Kraft on March 14, just hours before the team was flying to the NCAA Tournament."
Norlander writes that Shrewsberry, unaware of the negotiations, felt uncomfortable signing a new contract hours before Penn State's first NCAA Tournament game since 2011. After the Penn State basketball season ended, Shrewsberry was pursued heavily by Notre Dame and Providence. According to his wife, who is quoted in the article, Penn State was also going after Shrewsberry hard, but "unfortunately, they waited very long to push." Norlander concludes that if Penn State had offered an extension in January, Shrewsberry would "almost certainly" still be in Happy Valley. 
Should this concern Nittany Lions fans?
By itself, this story could read as counterintuitive to Pat Kraft's stated desire to make Penn State athletics nationally competitive across the board. But, there were additional factors at play. 
It was apparent to many who follow the program closely that Micah Shrewsberry always had the potential to make Penn State basketball competitive in the Big Ten. But in January, the results weren't there. At the end of the month, the Nittany Lions were 14-7 and 5-5 in conference play. Penn State proceeded to lose its next four games going into mid-February before turning it around to win nine of its last 12. Had Kraft pushed for a new contract for Shrewsberry sooner, it very likely wouldn't have been received well by donors or the fanbase. 
And ultimately, I think the situation played out about as well as it could for both sides. Shrewsberry returned home to Indiana to coach a historic program. Penn State made a similar move, bringing in Pennsylvania native Mike Rhoades, who sounds committed to building the program for the long haul. Kraft has continued to take steps to make Penn State athletics more competitive on the national stage. So, while the Norlander piece may send off some alarm bells among the Penn State faithful, I think the cause for concern has largely subsided.
---
---
Thank you for reading Basic Blues Nation. Please follow us on Facebook and Twitter for the latest news and insights on your favorite Penn State athletics. For feedback, questions, concerns, or to apply for a writing position, please email us at [email protected] or direct message us on our social media. Also, be sure to check out our new site shop. It's due to your support that we can become one of the market's fastest-growing Penn State sports outlets!