Could weather, Iowa ruin another Penn State football season?
Could a water-logged White Out put a damper on the greatest atmosphere in college sports, and derail Penn State's push for a Big Ten title in the process?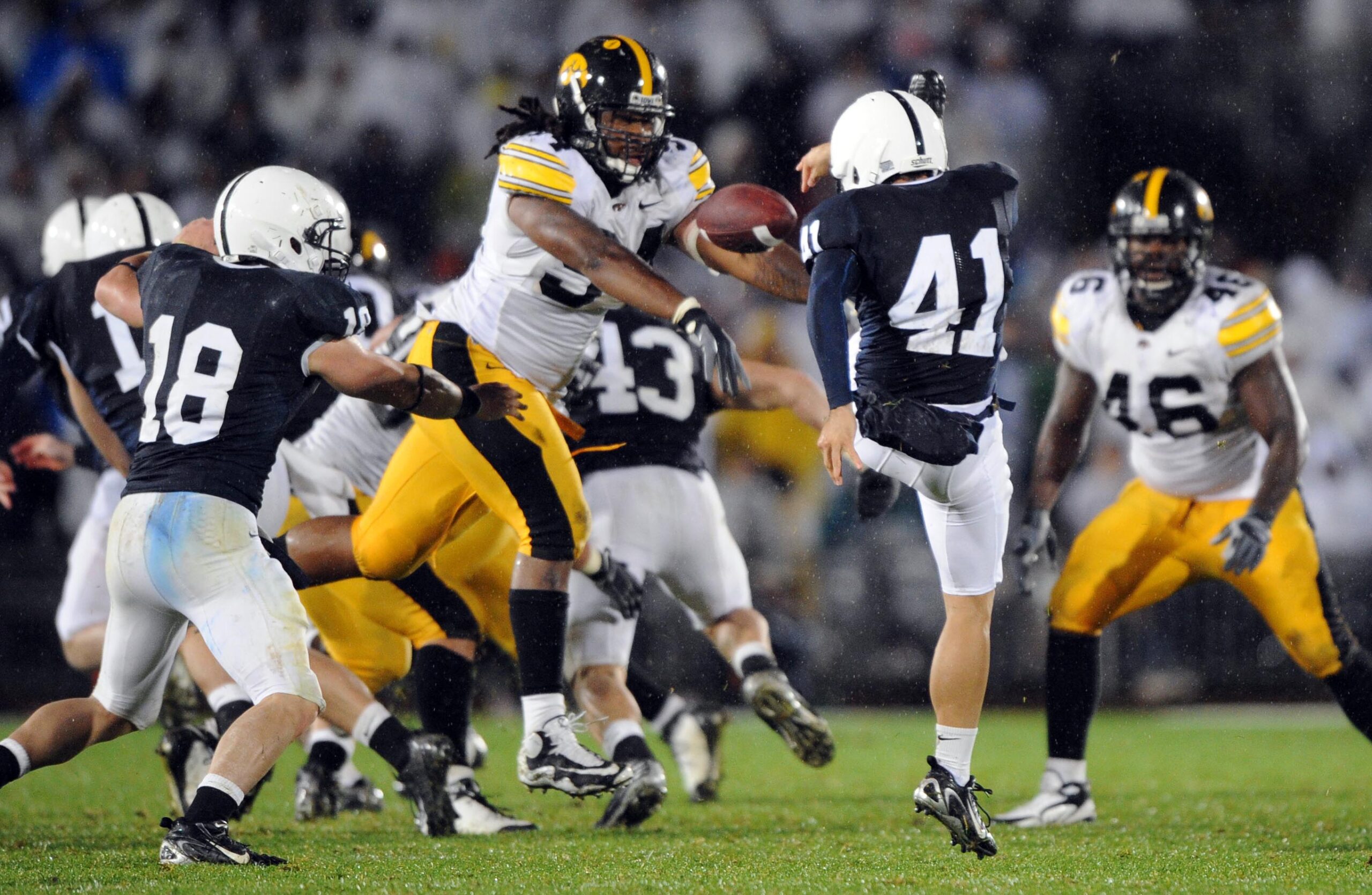 Saturday's top 25 matchup between No. 7 Penn State football and No. 24 Iowa is one of the featured games of a packed weekend of college football. But this year's White Out is expected to be a bit more soggy than it has been in recent years. Could Saturday's weather forecast put a damper on the greatest atmosphere in college sports, and derail Penn State's push for a Big Ten title in the process?
What is the weather forecast?
There were rumblings early in the week that a subtropical depression was going to form off the coast of Georgia and bring rainfall up the East Coast throughout the weekend. Now that we have gotten closer to the kickoff, those rumblings have come true. A tropical storm is expected to bring heavy rains to State College this weekend.
The current forecast for gameday starts with steady rain in the morning, leading to continuing showers throughout the afternoon. It should be a soggy tailgating scene all day, continuing throughout the game and into the night. Around kickoff, the rainfall is expected to pick up. Total rainfall for the entire day is expected to reach three quarters of an inch.
Nightmares from a previous rain-ruined White Out against Iowa
Many Penn State football fans probably have PTSD from the last time that Iowa came to Happy Valley during a rainy White Out. The year was 2009, and No. 5 Penn State hosted unranked Iowa. After a 3-0 start, College GameDay was on campus to take in the scene.
Daryll Clark hit Chaz Powell on the opening play from scrimmage for a 79-yard touchdown. The Nittany Lions raced out to a 10-0 first-quarter lead. But Iowa slowly chipped away, and eventually got a blocked punt that helped put them over top. The Hawkeyes never looked back after taking the lead, upsetting Penn State 21-10 on a rainy, miserable night in State College.
Is déjà vu in store for Saturday?
This year, the teams are a little bit different than in 2009. Yes, the Nittany Lions enter with a 3-0 record and a top-10 ranking. The Hawkeyes enter as a 3-0 team again, but most people don't expect this Iowa team to be like the 2009 squad. Iowa finished 11-2 with a top 10 ranking in 2009. This year's Iowa Hawkeyes aren't believed to have that level of talent.
Additionally, the talent gap is much larger between Penn State and Iowa in the 2023 matchup than in 2009. This is the main reason why there is optimism things will be different this time around. Penn State can now run the football unlike what we have seen the last few seasons. The Iowa defense this year has shown some weaknesses compared to what we have seen in the last decade.
Penn State will need to rely on the run game and taking care of the football this week to overcome the rainy conditions. Combine that with the Hawkeyes missing key players at the tight end and running back position, and this one should be solidly in the Nittany Lions' favor.
Further, even a water-logged White Out can still be an extremely intimidating environment. While the game may be lower scoring because of the rainy conditions, there's a reason the spread is 2 touchdowns.
---
---
Thank you for reading Basic Blues Nation. Please follow us on Facebook and Twitter for the latest news and insights on your favorite Penn State athletics. For feedback, questions, concerns, or to apply for a writing position, please email us at [email protected] or direct message us on our social media. Also, be sure to check out our new site shop. It's due to your support that we can become one of the market's fastest-growing Penn State sports outlets!