Penn State legends compares 2023 offense to iconic 1994 team
Penn State legends Ki-Jana Carter and OJ McDuffie recently compared the 2023 Nittany Lion offense to their iconic 1994 Penn State football team. Will the Nittany Lions be smelling roses again this year?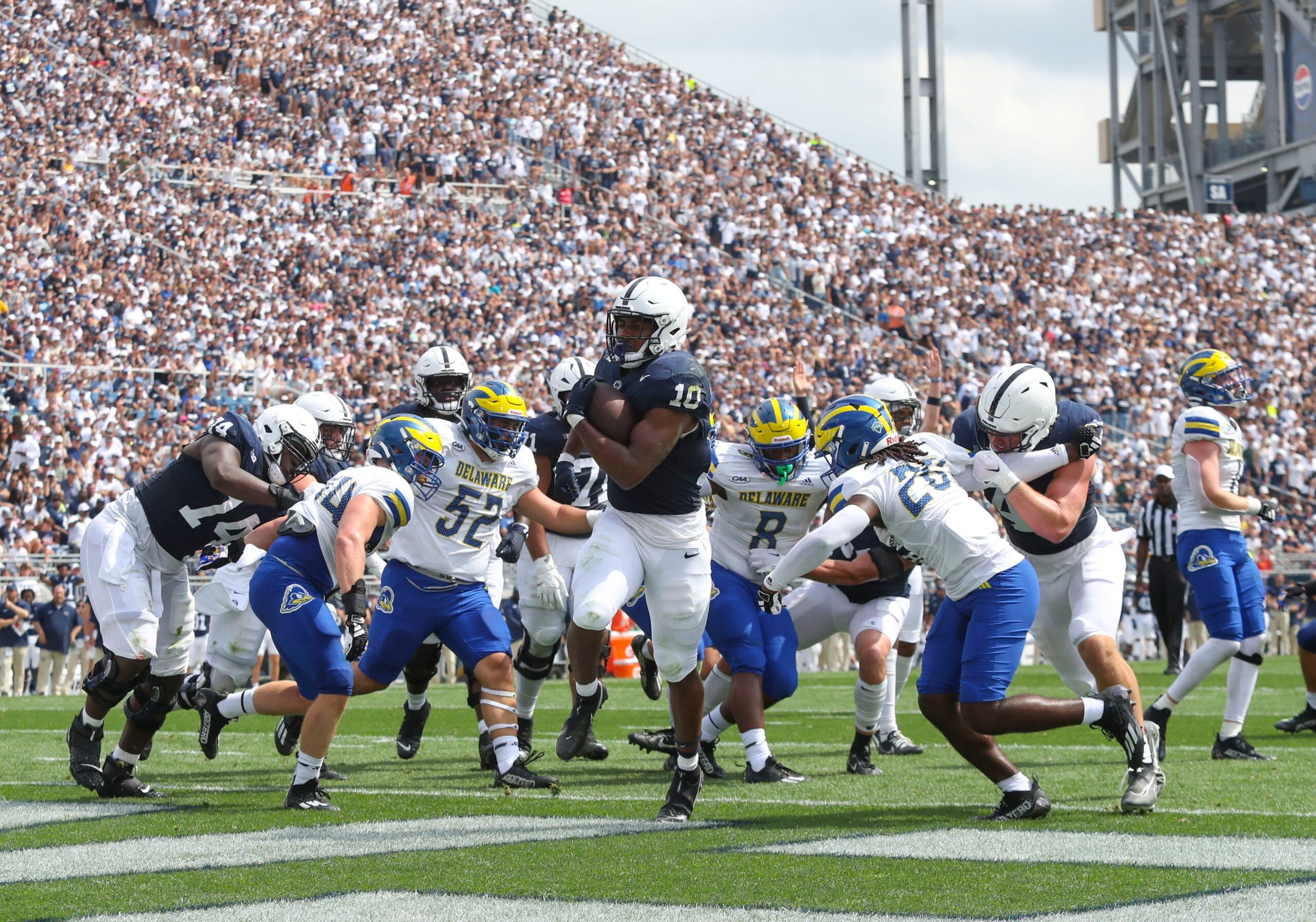 Penn State football has been lighting up the scoreboard in the 2023 season. The Nittany Lions have been scoring with ease, racking up 101 points through two games. While the competition has been lesser, Penn State's ability to impose its will on opposing defenses is a positive sign going into Big Ten play this week. The offense has looked so good, in fact, that Penn State legends Ki-Jana Carter and OJ McDuffie recently compared this year's squad to their iconic 1994 Rose Bowl-winning team.
Penn State legends Ki-Jana Carter and OJ McDuffie compare 2023 offense to 1994 team
Penn State football has experienced an offensive explosion through the first two games of this season. The Nittany Lions put up 38 points and 478 total yards against West Virginia in Week 1, followed by a whopping 63 points and 541 yards versus Delaware last weekend.
The offense has been able to move the ball by land and by air, as well. Against West Virginia, quarterback Drew Allar led the way with 325 passing yards (team total: 332) and 3 touchdowns. The script flipped last week, with the rushing attack leading the way. The Nittany Lions racked up 315 yards and 6 scores on the ground in a rout of the Blue Hens.
On this week's episode of the HVU On-Demand exclusive podcast, Ki and Juice, Penn State legends Ki-Jana Carter and OJ McDuffie explained how this offensive balance reminds them an awful lot of their iconic 1994 Penn State football team.
"If you look at a lot of successful teams out there: if you're one-dimensional, especially when you get to teams that are fairly highly touted…you got to be able to be multi-faceted," Carter explained. "Because if they try to shut down one part of your offense, the other side has to pick up."
"I hate always going back to our 1994 team, but we had so much balance, where you didn't know what we were going to do," the former Penn State running back continued. "And if you tried to stop one of us, we were going to be able to hurt you in other areas, too. I think this is a good thing…Two weeks ago, we passed a lot. Last week, we ran. I think it just gives the guys confidence…I think it's just going to carry on into the Big Ten season."
Offensive balance will keep opposing defenses guessing
Carter and McDuffie aren't the only ones who have liked what they've seen from the offense so far. Following the Week 2 victory over Delaware, head coach James Franklin explained how the offensive balance created by Drew Allar and the Penn State running game will challenge defenses moving forward.
"I think if you're the first two opponents, specifically the first opponent, you say, 'I'm not going to let Nick Singleton and Kaytron Allen beat us. I'm going to make a first-time starting quarterback prove that he can do it,'" Franklin said after the game.
"No matter what the hype has been like, he's still got to prove that he's done it. Well, now I think the defensive coordinators moving forward, you're in a tougher spot. You got two running backs that can be challenging. And you got a quarterback that's shown that he'll do it and can make the throws and make the plays. So now, there's enough evidence out there that as a defensive coordinator, you're questioning, 'What is our model for beating Penn State in terms of our offense?'"
The Nittany Lion offense will look to impress again when Penn State travels to Illinois to take on the Fighting Illini on Saturday afternoon.
Exclusive player insights, presented by HVU On-Demand
If you enjoyed this exclusive content, stay tuned for more insights throughout the 2023 season as part of the newly launched HVU On-Demand platform. Our brand-new partnership between Happy Valley United and College Football Hall of Famer LaVar Arrington's media company, Up on Game, will unlock original video content, authentic podcasts, exclusive news, and more to all members of the collective. In addition, portions of this exclusive content will be made available free to you right here on Basic Blues Nation.
This initiative aims to promote NIL opportunities for the over 800 Penn State student-athletes represented by Happy Valley United and provide you with exclusive behind-the-scenes insights from your favorite Nittany Lions.
To learn more and donate, please visit Happy Valley United's website. We Are!
---
---
Thank you for reading Basic Blues Nation. Please follow us on Facebook and Twitter for the latest news and insights on your favorite Penn State athletics. For feedback, questions, concerns, or to apply for a writing position, please email us at [email protected] or direct message us on our social media. Also, be sure to check out our new site shop. It's due to your support that we can become one of the market's fastest-growing Penn State sports outlets!