Olu Fashanu 'wants to be great' according to Phil Trautwein
Olu Fashanu is never satisfied with the work that he's put in. He has a desire to improve according to Phil Trautwein and that's what makes him special.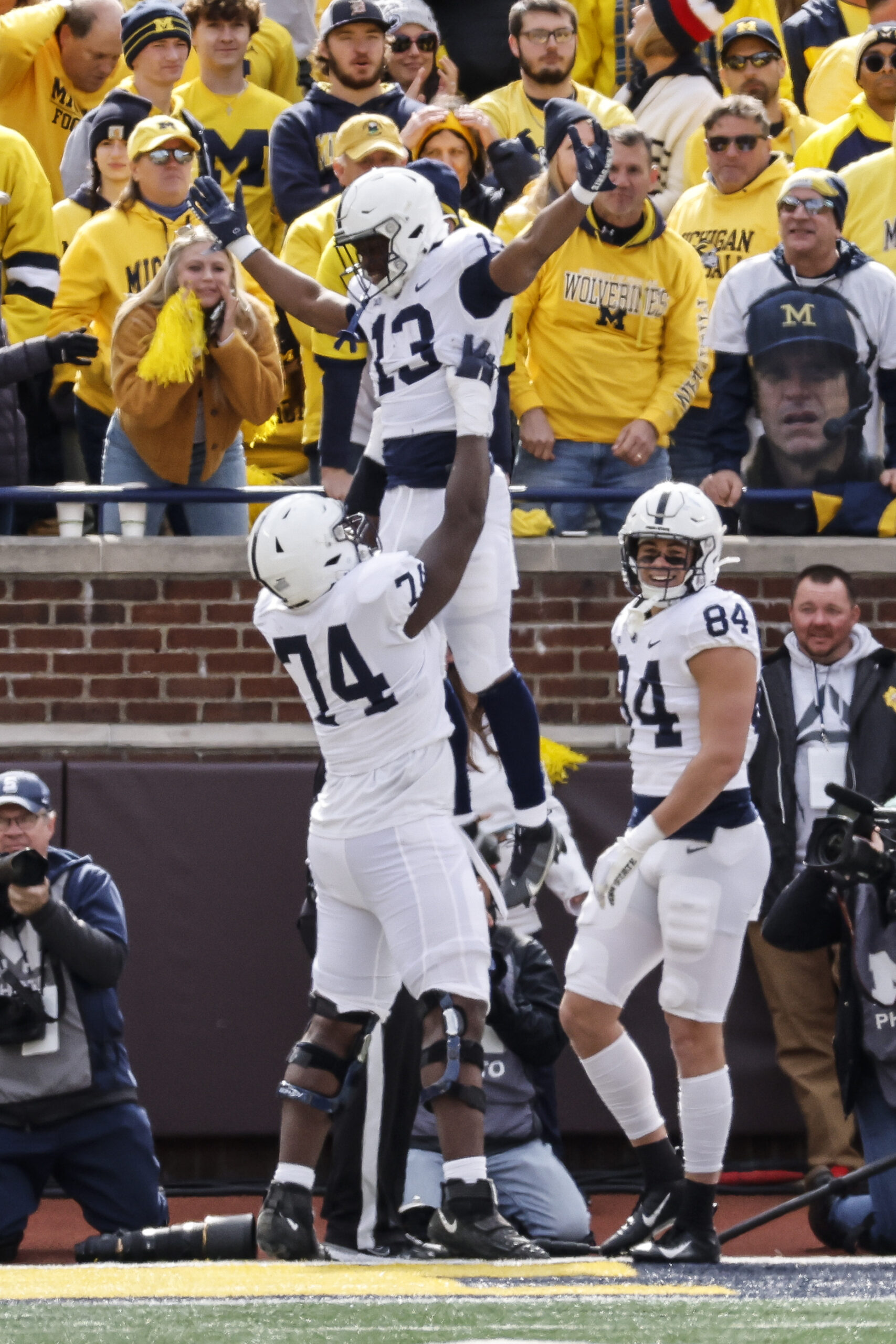 It's simple for Penn State football star left tackle Olu Fashanu. He has a deep desire to be the best. After the 2022 season, many NFL Draft scouts raved about Fashanu's potential. Many believe he is the best offensive tackle prospect in the 2024 NFL Draft. But that hasn't changed the way that Olu Fashanu goes about his business. In fact, according to OL coach Phil Trautwein, it has made him even more hungry to be the best.
Olu Fashanu 'wants to be great' according to Phil Trautwein
For some players, it's easy to take your foot off the gas pedal once you know you've made it. But it's the players who are never satisfied with their progress that go on to have hall-of-fame-type careers. During his media availability on Thursday morning, the Penn State football offensive line coach spoke about Olu Fashanu.
Trautwein said, "Yeah, I mean Olu [Fashanu] is a pro, and the fact that some guys when they get all this hype or they get all this recognition and they start to like push back, or they start to say "Oh I'm good" or they feel satisfied or they just don't work as hard, right? But Olu's the opposite. Like, he's hungry every single day, no matter what people say about him, good or bad. He doesn't care, he just wants to be great. And when you have that mindset, all that other stuff doesn't really matter. Like, he just wants to go and just be great. And to work hard and work on his fundamentals."
Olu Fashanu has an extremely high level of maturity. He has realized that he still has room to improve and he is utilizing this season to grow in those areas.
Fashanu's leadership & why he returned to Penn State
It doesn't stop there, Fashanu also wanted to grow in the leadership department this season. He was named a team captain and has his teammate's attention.
Trautwein continued, "He's a role model. He's definitely more of a vocal leader, he takes charge. If he has something to say, he says it and everybody listens. So, he's definitely becoming a more vocal leader, he's talking more. I mean his approach is awesome."
It's clear that his teammates respect him a lot. Part of that is due to the logic behind Fashanu returning to Penn State after the 2022 season.
Trautwein explained, "The team is why he came back, right? So he came back for the team and he wants to win. And when you have that, you're starting to build something special."
---
---
Thank you for reading Basic Blues Nation. Please follow us on Facebook and Twitter for the latest news and insights on your favorite Penn State athletics. For feedback, questions, concerns, or to apply for a writing position, please email us at [email protected] or direct message us on our social media. Also, be sure to check out our new site shop. It's due to your support that we can become one of the market's fastest-growing Penn State sports outlets!