Basic Blues Nation Staff Predictions: Penn State vs. Delaware
The Basic Blues Nation staff provides our picks for tomorrow against Delaware.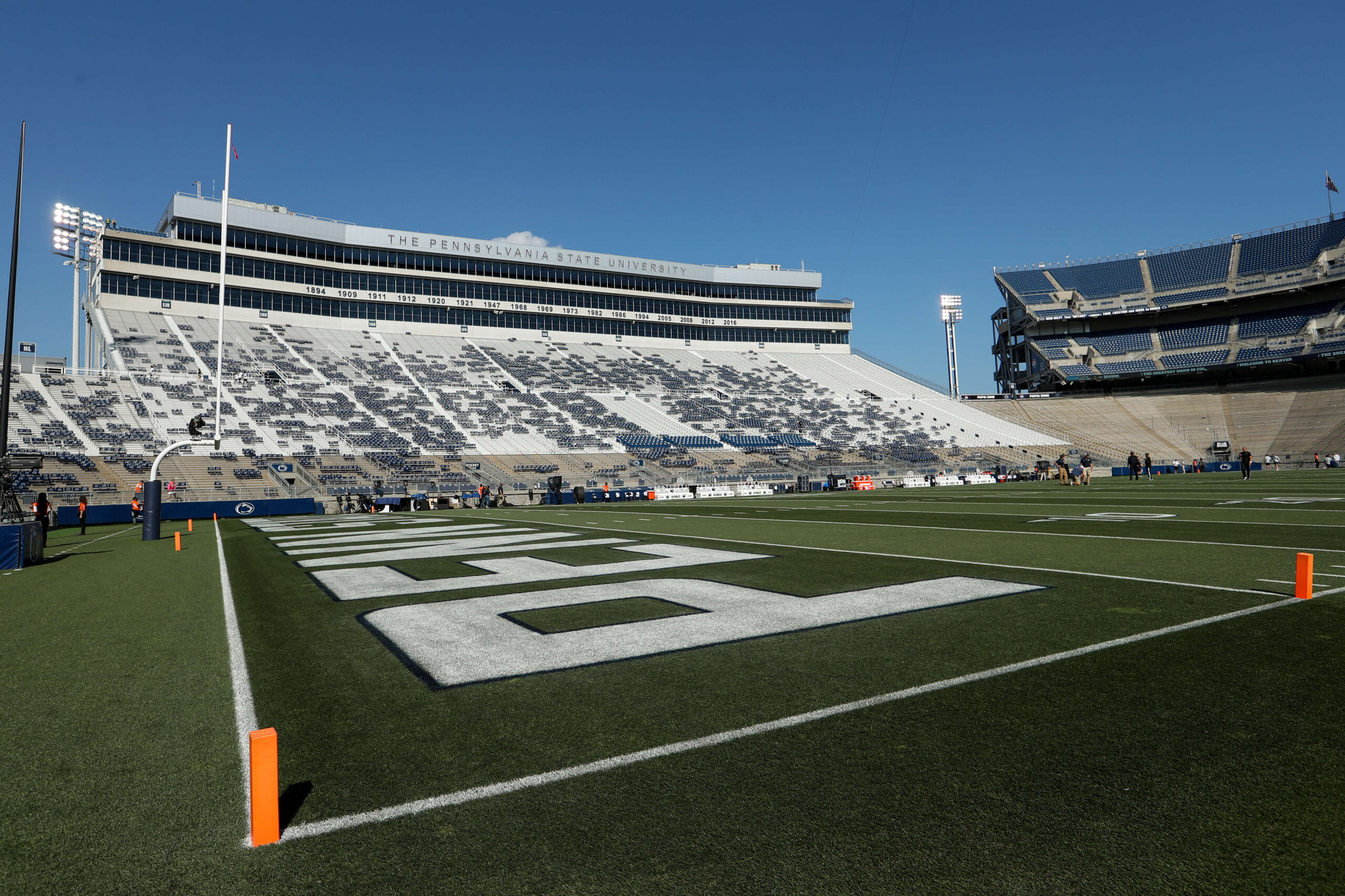 Week 2 of the college football season is here. The Penn State football team will take on the Delaware Blue Hens tomorrow at noon. The Nittany Lions are expected to be massive favorites in this first-time matchup with this FCS foe. As the expectation is for Penn State to have a large margin of victory, many within the PSU community want to see what depth this team has. Specifically at quarterback with Beau Pribula and other skill positions that may not see the field much more this season. But before kickoff, let's see what the Basic Blues Nation staff believes the final score will be tomorrow. Here are our Week 2 game predictions:
Basic Blues Nation Staff Predictions: Penn State vs. Delaware
Caroline Bixler (@_supcaroline) – Host, Penn State Roar Room: Penn State 51 – Delaware 6.
Look to see the tight ends involved early and often after not much use in week 1. This is a perfect game to "get right" and shore up what was, at times, a shady run defense with some suspect tackling. I also look forward to watching the receiver room continue to sort itself out in a game that should have plenty of reps to go around.
Morgan Chapman (@BasicBluesPod) – Site Manager: Penn State 45 – Delaware  6.
Look for the Penn State football team to handle their business tomorrow. Suffocating defense, while continuing to build chemistry and continuity with Drew Allar and the rest of the offense. I believe that the Nittany Lions will have a major lead at halftime, Allar and the first team gets the first series of the third quarter. Then, the reserves led by Beau Pribula pile in and finish this game strong.
Colin Crissey (@ColinPat3) – Contributor: Penn State 52 – Delaware 3.
I think Penn State is super vanilla this week. A lot more runs than last week. Allen and Singleton go off. Allar is out in the early 3rd quarter. Delaware breaks the shoutout late.
Mark Gobbie (@TheYinzerLion) – Contributor: Penn State 48 – Delaware 7.
The offense is given the opportunity to open up a little more this week with a lower-tier opponent coming to town. Drew Allar racks up some nice drives and shows off his arm talent even more than we saw last week. The running game gets going more against a weaker defensive front. Should be a fairly easy outing for the Nittany Lions with a great opportunity to get everyone a chance to get some good work in, even the twos.
Jaret Gold (@JaretGold) – Contributor: Penn State 56 – Delaware 10.
This weekend should be a relatively stress-free one for Penn State fans. Sandwiched between two Power 5 opponents. FCS Delaware provides a nice opportunity for a "get right" game.
Delaware is generally one of the strongest FCS schools each year, but they still won't be able to provide much resistance. I expect the twos, threes, and fours on the depth chart will get valuable live reps in a game that's over by halftime.
Shane Lunnen (@SJLunnen) – Contributor: Penn State 48 – Delaware 10.
I really don't like these FCS games and wish Power 5 schools would stop playing them. I understand it is good exposure and experience for the FCS team plus a paycheck. But I feel there is not much gained for the Power 5 team.
With that said, Delaware has been one of the more successful FCS programs so this probably won't be as much of a cakewalk as Idaho from the 2019 season. Still, Penn State should roll comfortably and get plenty of backups playing time.
Surya Maddali (@maddali_surya) – Contributor: Penn State 45 – Delaware 7.
The Lions should be able to handily defeat the Blue Hens. This game should answer a lot of questions that people had, leaving the first game and will be a confidence booster for the players. I expect just about everyone to get playing time and a more varying approach than the West Virginia game. Will give the team a confident win before heading to a road matchup that will be a good test.
Hannah Miller (@hannahhmillerr_) – Contributor: Penn State 48 – Delaware 10.
I think the defense holds down the fort throughout the game and doesn't let up points until the end of the game. Drew will have another stellar performance and I think one of the TEs might lead the team in receiving yards.
Also, I think Nick Singleton scores at least two touchdowns and the defense causes at least one turnover.
Pat Sweda (@PatrickSweda) – Social Media Director/Contributor: Penn State 52 – Delaware 7.
Penn State should make quick work of Delaware in a game that will feature a lot of reps for the 2nd and 3rd stringers. The Blue Hens are a solid FCS program and are currently ranked 19th in the most recent coaches poll. This is a perfect type of game to figure out the special team concerns from week 1.
Matt Thomas (@MGAT1408) – Editor-in-Chief: Penn State 52 – Delaware 10.
After the excitement surrounding the opening kickoff last week, there won't be much to this matchup. Delaware is one of the better teams in the FCS, but there is a reason that the Blue Hens are on the schedule. Penn State football cruises in Week 2. I'll be looking for the starters to clean up some areas after last week, especially on run defense and in pass protection, but then get out of the game early without injury. I'm looking forward to seeing several of the newest Nittany Lions get a decent run in the second half, including true freshmen like Tony Rojas and King Mack.
How to watch Penn State vs. Delaware:
Remember that tomorrow's game will be exclusively on Peacock. If you are unable to attend this Penn State football game you will need a subscription to watch the Nittany Lions. Kickoff is set for Noon tomorrow. We Are!
---
---
Thank you for reading Basic Blues Nation. Please follow us on Facebook and Twitter for the latest news and insights on your favorite Penn State athletics. For feedback, questions, concerns, or to apply for a writing position, please email us at [email protected] or direct message us on our social media. Also, be sure to check out our new site shop. It's due to your support that we can become one of the market's fastest-growing Penn State sports outlets!