James Franklin opens up about using Beau Pribula in passing game
Beau Pribula attempted and completed 1 pass against Rutgers. On Monday, James Franklin explained the importance of situational football and why we've seen so few pass attempts from Pribula.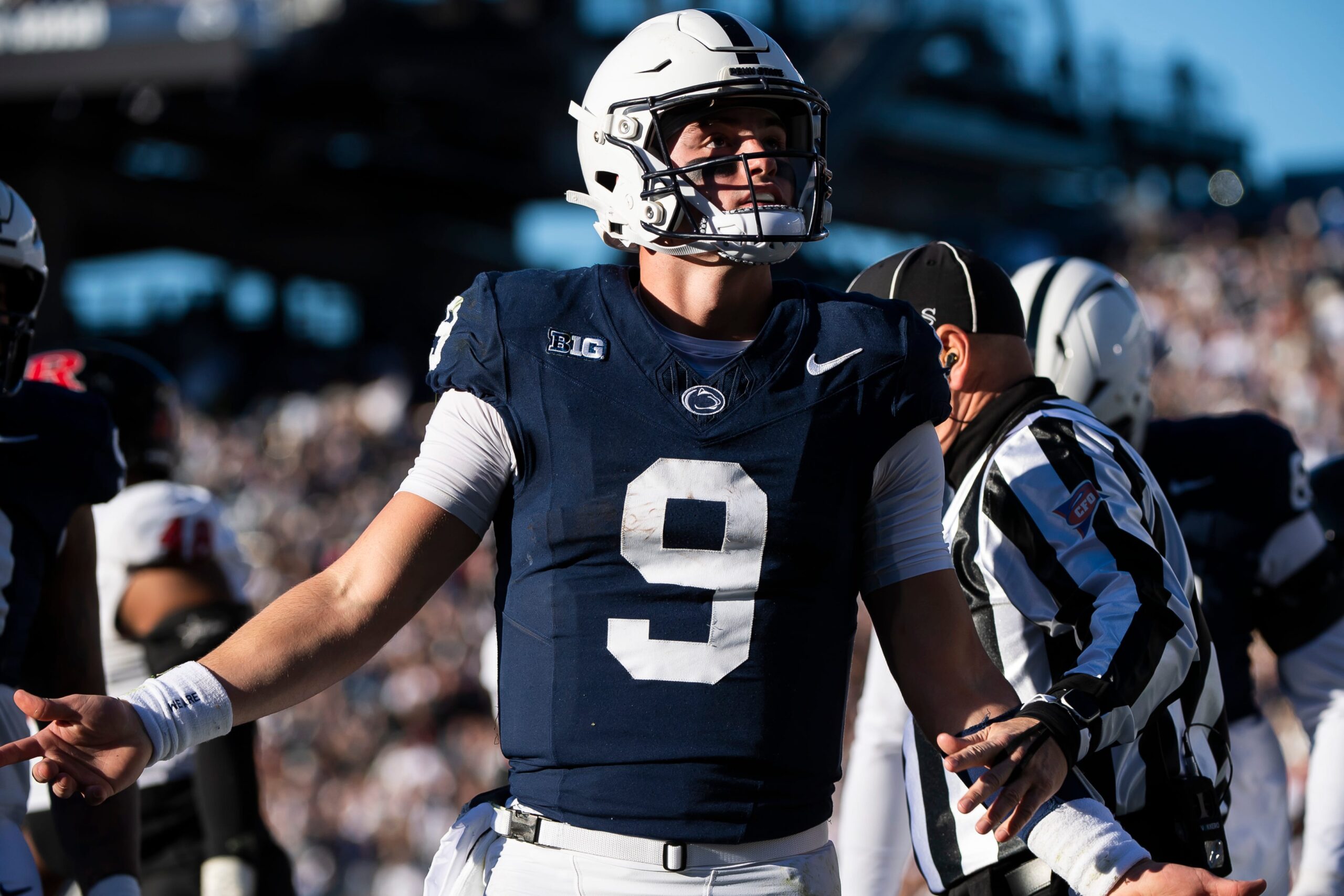 For the first time in 2023, we saw Penn State football quarterback Beau Pribula thrown into action for more than the last few minutes of the game. Pribula entered for the injured Drew Allar against Rutgers early in the 3rd quarter. He looked confident as usual, but the most impressive thing about his game was his toughness. You don't see quarterbacks that are willing to take contact head-on, but Pribula doesn't mind at all. He only attempted one pass on Saturday and very few this season. James Franklin explained why we haven't seen many passing opportunities for the backup quarterback.
James Franklin opens up about Beau Pribula and his passing game
Penn State football fans were likely pleased with what they saw from Beau Pribula against Rutgers. He operated the offense with a ton of confidence and led some scoring drives. But the elephant in the room this season has been why have we not seen Pribula pass the ball much? Is it due to situational football? Or does the coaching staff not trust him very much? James Franklin explained this on Monday.
Franklin said, "A: I think a couple of things. It's situational, right? Like we've had passes in for him every week, but then you also get into a situation where the majority of his reps have come in four-minute football where you're trying to run the ball as much as you possibly can. By running the quarterback, you even the numbers out.
It's funny because I ran up to him on Saturday, and although there was a lot of time left in the game, we still wanted to milk the clock. It's funny, one of the chain gang guys was kind of upset because we were in the huddle too long early in the call. I'm like, we're doing that on purpose.
We're in a good position with the game right here. We want to put a really good drive together, eat the clock. I said something to Beau about it, and Beau was like, 'Yeah, I'm used to this. I know how to operate. This is what I've been doing all year long.'
So, yes. But, again, I think part of it is where you're at in the game and does the situation warrant that. As you can imagine, there has been more in his package than what you've seen. Yes, sir."
Will we see Beau Pribula take the field against Michigan State?
The larger question around the program this week has been what is the status of Drew Allar? We saw the sophomore quarterback exit the Rutgers game and never return. But James Franklin believes Allar will be ready to go this Friday night against Michigan State.
I wouldn't be surprised if we see more of the Beau Pribula package to complete the quarterback run in the offense. But it sounds like No. 15 will be back under center on Friday.
---
---
Thank you for reading Basic Blues Nation. Please follow us on Facebook and Twitter for the latest news and insights on your favorite Penn State athletics. For feedback, questions, concerns, or to apply for a writing position, please email us at [email protected] or direct message us on our social media. Also, be sure to check out our new site shop. It's due to your support that we can become one of the market's fastest-growing Penn State sports outlets!