BREAKING: James Franklin expects Drew Allar back from injury vs. Michigan State
Penn State football coach James Franklin says that "all indications" are that Drew Allar will be back from injury vs. Michigan State.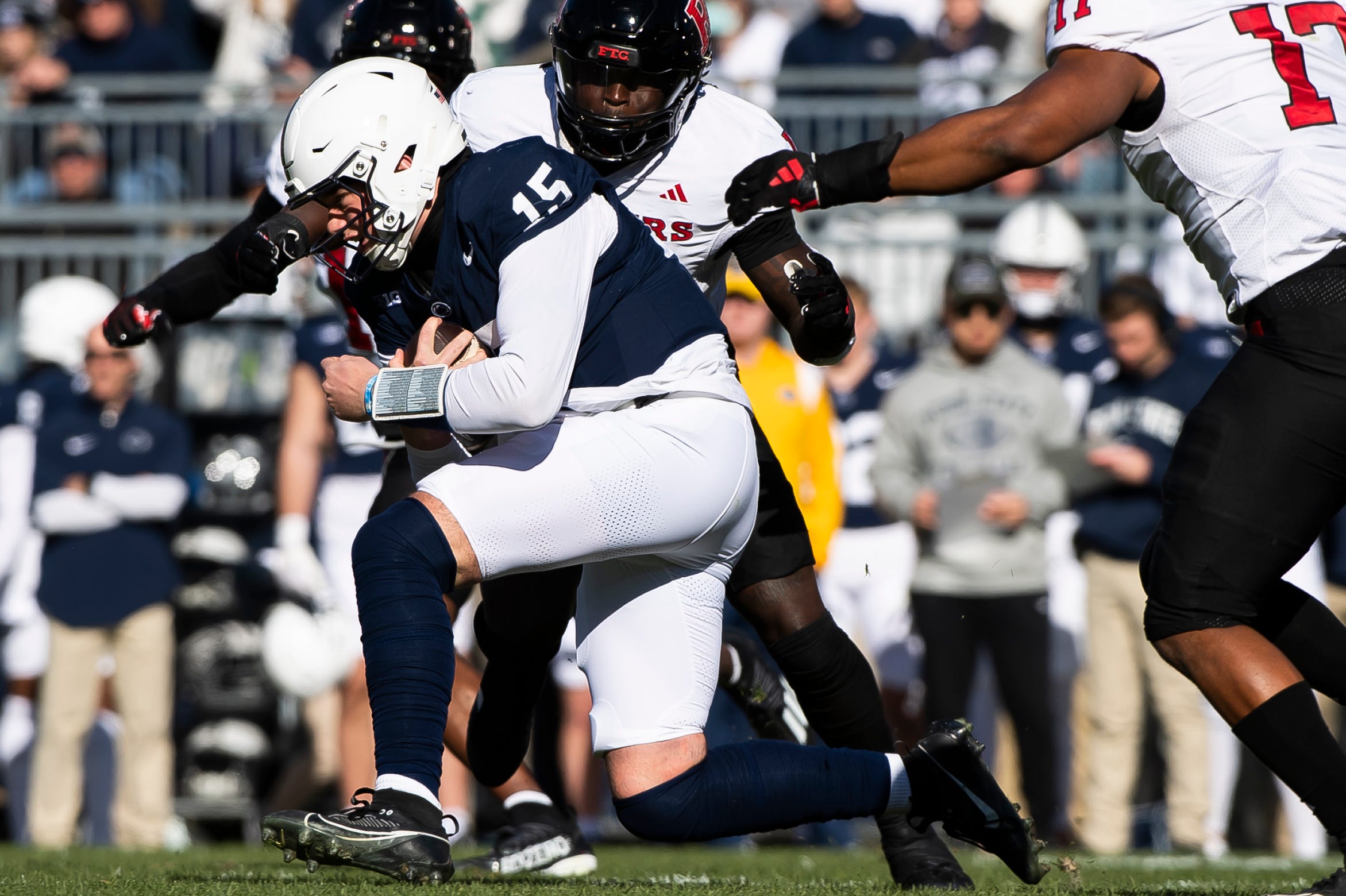 On many levels, Penn State football responded to adversity Saturday in a 27-6 win over Rutgers. Not only did the Nittany Lions bounce back from a devasting loss to Michigan the week prior, but the Penn State offense overcame its fair share of in-game issues, an injury to starting QB Drew Allar being chief among them. With information being scarce in the hours after the game this weekend, there was growing concern that Allar may not be available on short rest this week against Michigan State. However, James Franklin expressed Monday that he "expects" that Allar will be ready to go come Friday night.
James Franklin speaks on Drew Allar injury
After a sluggish first half, things almost took a disastrous turn for the Penn State offense early in the third quarter against Rutgers. On the first offensive series of the second half. Drew Allar took an awkward hit on an 8-yard run that left the sophomore QB shaken up.
Allar took one more snap, a ball which he threw away after clearly suffering some pain. The Penn State QB then went into the medical tent, and although he would emerge several moments later, his afternoon was done. Allar was seen throughout the second half working on his right throwing arm, indicating some sort of upper-body injury.
Allar's numbers weren't phenomenal when he exited, finishing the day 6-13 for 79 yards passing. He did, however, break off several sizable chunk plays with his legs, averaging 9.3 yards per rush.
After the game, James Franklin described the injury as "banged up" and noted that he didn't see the injury as being significant, but declined to comment further.
On Monday, Franklin had a more positive update regarding Allar's injury status. However, Franklin also qualified his comments by noting that it is still early in the week, and that backup QB Beau Pribula will have a role regardless.
"We expect Drew to go," Franklin said. "Just like we planned on last week, I still think both of those guys will have roles. And I think Beau will be ready to go. He did a great job [against Rutgers]. He didn't flinch. The staff didn't flinch. The players didn't flinch. And he went in and made plays like we expected him to make. It's too early for me to say, we have not practiced yet since the game. But all indications, I would think we're going to be back to normal."
Risk-reward still important for Penn State football in QB run
Despite the injury to Drew Allar, don't expect Penn State football to change up its game plan any time soon. The Nittany Lions doubled down on the QB run after Allar left the game Saturday. Backup QB Beau Pribula led all Nittany Lions with 8 rushes for 71 yards and a touchdown in a 17-point second half against Rutgers.
James Franklin commended Allar's leadership from the sideline after the game, but also noted the balance between risk and reward when it comes to running the former 5-star QB.
"Obviously, we never want to put our players in a position where they're going to get an injury, bumps, bruises, whatever it may be," Franklin said after the game. "At that point, he [Allar] was averaging like 10 yards per rush. And really what he had done the whole game, or what he really done the whole season, is get as many yards as he can and get down. And he's done a really good job of managing that all season long."
"Right there in that situation, he was just about to get down, and somebody flashed from behind another player and hit him just right," Franklin continued. "He was really good as the game went on. I thought his leadership was phenomenal on the sideline. But it's like anything else, right? Whether it's football, whether it's business, whether it's offense, whether it's defense: it's all about risk-reward and everything we do."
Kickoff between Penn State football and Michigan State is scheduled for Friday night at 7:30 p.m. on NBC.
---
---
Thank you for reading Basic Blues Nation. Please follow us on Facebook and Twitter for the latest news and insights on your favorite Penn State athletics. For feedback, questions, concerns, or to apply for a writing position, please email us at [email protected] or direct message us on our social media. Also, be sure to check out our new site shop. It's due to your support that we can become one of the market's fastest-growing Penn State sports outlets!