James Franklin: Dante Cephas performance 'changes everything' for Penn State
WR Dante Cephas had a breakout game for the Nittany Lions at Maryland Saturday, a performance James Franklin says "changes everything" for Penn State football.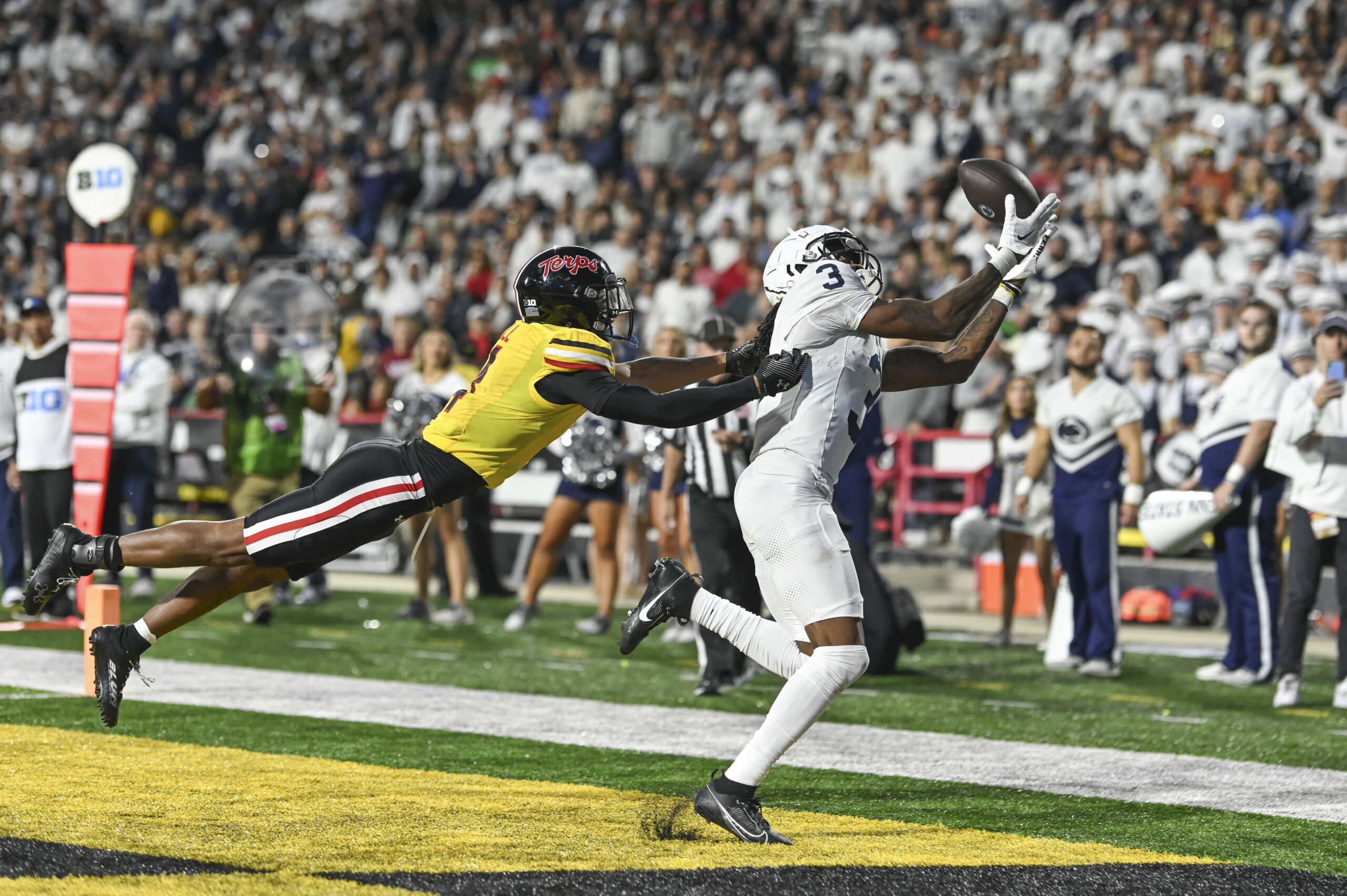 After a shaky close to October, Penn State football got right to start the month of November. The Nittany Lions dominated Maryland, winning 51-15 Saturday afternoon in College Park. From a barnburner first half from Drew Allar to a stifling outing from the Penn State defense, there are many positive storylines coming out of Saturday. But perhaps the most crucial development for the Nittany Lions is the breakout game from wide receiver Dante Cephas. After the win, James Franklin explained why Cephas's performance "changes everything" for Penn State moving forward.
Better late than never: Dante Cephas arrives for the Nittany Lions
Penn State football nabbed one of the more noteworthy transfer portal additions of the offseason when it landed Kent State wide receiver Dante Cephas. After a stellar career for the Golden Flashes, Cephas came to Happy Valley ready to prove himself on the biggest stages.
However, like many of the Nittany Lions' wide receivers, the production hasn't been there for Cephas this fall. The redshirt senior has been in and out of the lineup as a clear second receiver has yet to emerge behind KeAndre Lambert-Smith. Bothered by drops on several occasions, Cephas had a meager 11 receptions for 146 yards through seven games played this year.
Cephas did his part to change that narrative Saturday at Maryland. A career-best as a Nittany Lion, Cephas had 6 catches for 53 yards and 2 touchdowns against the Terrapins. Both scores were beautiful corner throws by quarterback Drew Allar, only to be outdone on the receiving end by Cephas with two spectacular catches.
Dante Cephas hauls in his first score as a Nittany Lion.

A great ball from Drew Allar as Penn State leads 7-0.

— Alex Rocco (@AlexRocco13_) November 4, 2023
Cephas felt "relief" after first touchdown against Maryland
After watching the room struggle all season, Penn State football fans took a collective exhale seeing someone other than Lambert-Smith (who had a near 100-yard day in his own right) excel for the Nittany Lions against the Terrapins.
Dante Cephas expressed a similar feeling after catching his first career touchdown as a Penn State Nittany Lion.
"I knew it was a touchdown, but I didn't want to celebrate too early," he said. "So I just had to wait and get the confirmation from the refs. But after that, I just felt relief. I just felt a lot of relief after that. [Because] I was able to be the one to get the first touchdown and help the team win."
Penn State WR Dante Cephas on his two TD receptions vs. Maryland in PSU's 51-15 win over the Terps pic.twitter.com/S3WLppNgiy

— Mike Poorman (@PSUPoorman) November 4, 2023
Changes everything: James Franklin praises breakout performance from Penn State wide receiver
While dominating start to finish on the road for the first time all season certainly is noteworthy, it's impossible to ignore what looms on the schedule for the Nittany Lions.
If Penn State football wants to topple No. 3 Michigan next week in Beaver Stadium, it needs to see shades of the 400-yard offensive outing experienced Saturday at Maryland. A critical component of a potential upset will be the Nittany Lions' ability to spread the ball to multiple playmakers in the passing game.
While he didn't acknowledge next week's game specifically, James Franklin recognized how important Saturday's performance from Dante Cephas was for doing just that.
"It changes everything," Franklin said of Cephas's play after the game. "When there's one guy that people are concerned about, a lot of defenses can figure out a way to make that challenging. But now there's multiple guys. The tight ends, multiple receivers that are making plays. It's a real positive. Hopefully, it's a big confidence boost for him and for us as well, and we can build on it."
---
---
Thank you for reading Basic Blues Nation. Please follow us on Facebook and Twitter for the latest news and insights on your favorite Penn State athletics. For feedback, questions, concerns, or to apply for a writing position, please email us at [email protected] or direct message us on our social media. Also, be sure to check out our new site shop. It's due to your support that we can become one of the market's fastest-growing Penn State sports outlets!