Drew Allar breaks down game-winning touchdown pass vs Indiana
Drew Allar finally let one fly, and it ended up being the most important play for Penn State football this season. Hear the Penn State QB explain how the game-winning touchdown bomb happened.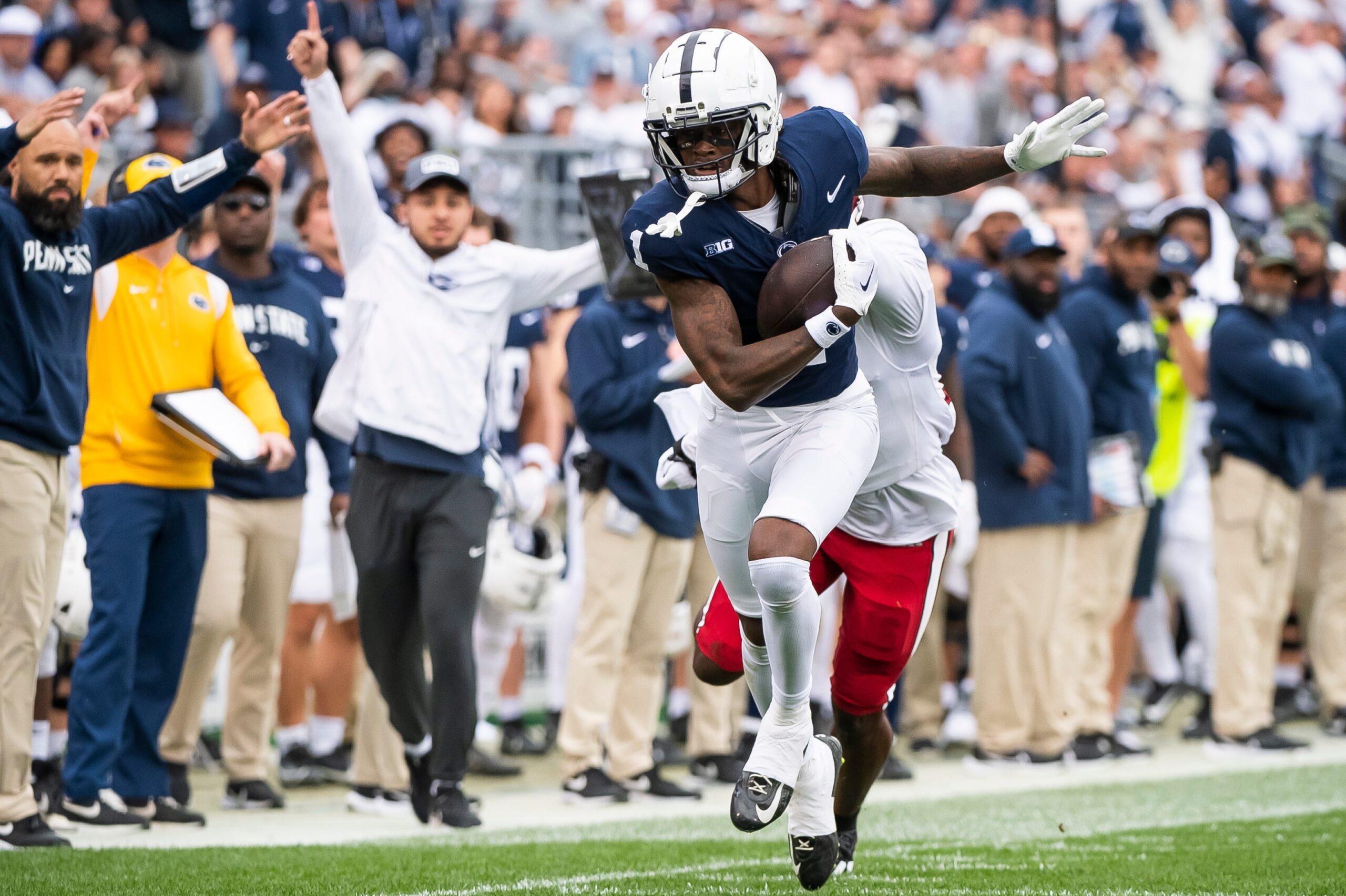 It certainly wasn't a pretty win for Penn State football today, pushed to the brink by the two-win Indiana Hoosiers en route to a 33-24 victory. But both on the field and after last week's emotional loss to Ohio State, the word of the day for the now 7-1 Nittany Lions was "resiliency." This was most evident for sophomore QB Drew Allar. After a disastrous performance last week, Allar faced adversity again Saturday, throwing his first career interception late to allow the Hoosiers to tie the game. But rather than crumbling, Allar stared down the barrel on the next drive and delivered a 57-yard strike to KeAndre Lambert-Smith to win the game. Following the victory, Allar explained how he made what could ultimately be a season-saving throw for James Franklin and the Nittany Lions.
Drew Allar bounces back from adversity
Penn State QB Drew Allar has taken center stage since last week's 20-12 loss to Ohio State. Allar, like the rest of the Nittany Lion offense, looked lost in Columbus, finishing the day 18-42 for 191 yards and a touchdown.
After the first real taste of adversity, it was uncertain how the Penn State football team would bounce back against Indiana today. On both sides of the ball, the Nittany Lions looked sluggish, allowing the last-placed Hoosiers to hang in the game, 24-21 late into the fourth quarter.
It was here that adversity struck Drew Allar again. With 5:02 remaining in the game, Allar threw an interception, the first of his career, at the Nittany Lions' own 14-yard line. After Indiana kicked a field goal to tie the game with 2:58 left, it seemed as if the emotions of last week were creeping up to steal a second loss from Penn State football.
But then, Allar locked in. After opening the series with an 11-yard completion and ten-yard run from Kaytron Allen, Allar reared back to launch a dime to KeAndre Lambert-Smith, who scampered down the sideline for a 57-yard touchdown. This was ultimately the deciding score, although followed up by a defensive safety on the ensuing Indiana drive.
ALLAR. LAMBERT-SMITH.

Penn State coming up clutch. pic.twitter.com/rua231RKNz

— CBS Sports (@CBSSports) October 28, 2023
James Franklin explains thought process on final touchdown play
All told, it was a bounce-back day for Drew Allar, who finished with 20 completions on 31 passes, going for 210 yards and three touchdowns.
James Franklin discussed the biggest of those three touchdowns after the game, explaining how Penn State football finally hit a long score on a play that had been a check-down earlier in the day.
"You know, typically, when we call a go route, it's not just a go," James Franklin said. "So, it's a read route. If they're off and bailing, then we sit it down in front of them. The one that we threw to KeAndre [Lambert-Smith] earlier in the game on a crossing route that we missed, that was the same exact play call. They bailed their corners. And obviously, we're not just going to throw it. Went to take the check-downs…We missed it, then we called it again [on the touchdown.]
Drew Allar breaks down game-winning throw vs. Indiana 
Without question, the 57-yard touchdown strike was the biggest play of Drew Allar's young career. It's also arguably the most important play for Penn State football this season, as a loss to Indiana would have derailed any hopes of a bid to the College Football Playoff.
When we had the chance to speak with him after the game, Allar explained what he saw from the Hoosiers that led to the breakout play.
"That was the second time we ran that play, actually," Allar said. "The first time was the one where I missed it to [Malik] McClain on the post in the endzone…But on that play, honestly, I just saw Indiana kind of being aggressive. With cover one, and the cover one safety was pretty low. That's how they kind of play as a team, with their post safety."
So, I knew that I had two good options," he continued. "I had Dre [KeAndre Lambert-Smith] on the slot fade, and then I had McClain again on the backside post. So my first option was Dre, and he won, so I just gave him a chance, and the rest happened."
Overall, the throw was a testament in resiliency for Drew Allar, who admitted he didn't even realize that he had thrown an interception until he returned to the sideline after the previous series. But for the sophomore QB, the touchdown, and the win, was a team effort.
"I think it starts with all the support I have here," he said. "Whether it's teammates or coaches, I couldn't ask for a better group of people to be around as a support system…Dre made a fantastic catch. It was pretty good coverage, honestly. But Dre made a really good catch and then was able to stay in bounds and take it the rest of the way."
---
---
Thank you for reading Basic Blues Nation. Please follow us on Facebook and Twitter for the latest news and insights on your favorite Penn State athletics. For feedback, questions, concerns, or to apply for a writing position, please email us at [email protected] or direct message us on our social media. Also, be sure to check out our new site shop. It's due to your support that we can become one of the market's fastest-growing Penn State sports outlets!