Penn State football: Revisiting the DL room following Alonzo Ford transfer
How does new transfer Alonzo Ford fit into Penn State's defensive line room?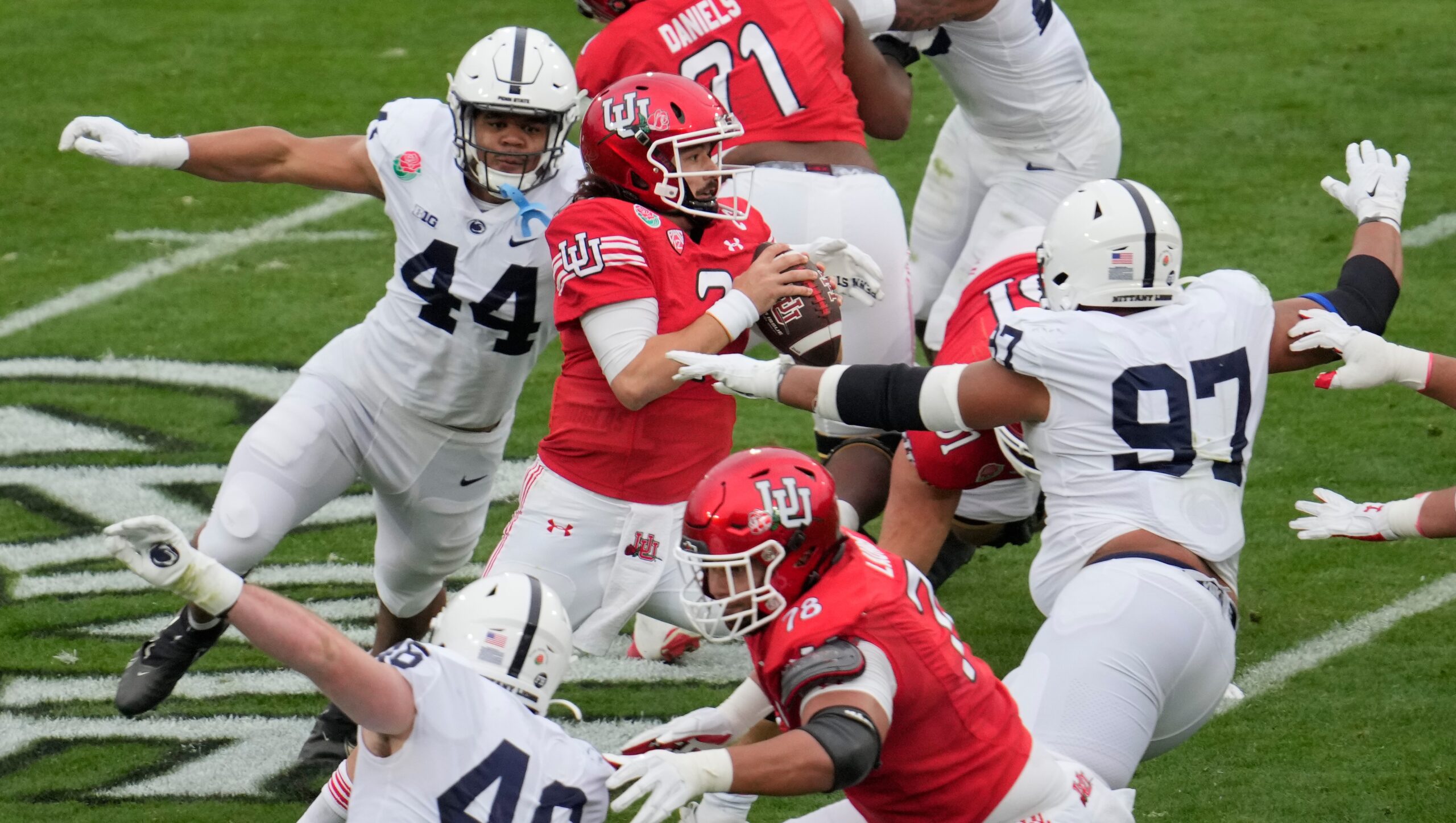 Going into the offseason, Penn State football was in a reasonably strong situation in terms of positional depth across its roster. However, there were a few spots of positional need, most notably at wide receiver and defensive line. While James Franklin secured receivers Malik McClain and Dante Cephas via the transfer portal, there was considerably less movement up front on the defensive side. That is until Wednesday night, when transfer Alonzo Ford announced his commitment to the Nittany Lions from Old Dominion.
Blessed and excited Let's get to work!! #WeAre pic.twitter.com/CvjRmF5eqq

— Alonzo_ford (@AlonzoFord2) May 4, 2023
A successful player at Old Dominion, Ford likely won't crack the starting rotation this fall. However, he will add critical depth up front for a long and physical Big Ten season.
Penn State Football lands transfer Alonzo Ford
Alonzo Ford was not the most coveted recruit coming out of the high school ranks. A three-star in the class of 2020 according to the 247Sports Composite rankings, Ford chose Ricky Rahne's Old Dominion program over Army, Air Force, Boston College, and Coastal Carolina, among others.
However, Ford became a productive player in two seasons for the Monarchs. In his freshman campaign in 2021 (ODU's 2020 season was canceled due to the pandemic), Ford racked up 40 total tackles and a fumble recovery. Ford followed up this production with 32 tackles, including 3.5 half sacks, in 2022. This performance earned Ford an All-Sun Belt Conference honorable mention last year.
Measuring 6-3 290 pounds coming out of high school, Ford was most recently listed at 272 pounds at Old Dominion. If he can add good weight via the Penn State strength program, Ford can help address a critical need in a somewhat undersized defensive tackle room.
Revisiting the defensive line depth chart post-Ford commitment
The defensive line was one of the few spots on the roster that needed a significant boost following the 2022 season. James Franklin noted as much this offseason, most recently following April's Blue-White Game. "We're in a good place right now," Franklin stated. "But I think we need some more depth and more competition at D-Tackle."
Alonzo Ford most likely won't crack the starting lineup at defensive tackle this season. The Nittany Lions return Hakeem Beamon, who started 12 games in 2022. Many also expect Dvon Ellies to take a step up this year, replacing starter PJ Mustipher. I also wouldn't be surprised to see Coziah Izzard and Zane Durant contend for starter's reps, even if they aren't running out onto the field with the first team.
I see Ford as a player on the cusp between the group of significant contributors and the next wave of rotational pieces. Given his experience and production, Ford likely slots ahead of players like Jordan van den Berg, who appeared in all 13 games last season, and Davon Townley, who appeared in seven games. Behind them are Kaleb Artis and Sam Siafa, who are both coming off redshirt freshman seasons.
Ford is a long-term move for the Nittany Lions
Overall, Alonzo Ford may not be the "splashy" transfer that fans were hoping for coming into portal season – at least not initially. In the short term, Ford can turn Penn State's four-man rotation up front into a five-man cycle. But with two seasons of eligibility and a COVID year left to use, Ford has the potential to develop into a significant contributor for Manny Diaz and Deion Barnes on the defensive line.
---
---
Thank you for reading Basic Blues Nation. Please follow us on Facebook and Twitter for the latest news and insights on your favorite Penn State athletics. For feedback, questions, concerns, or to apply for a writing position, please email us at [email protected] or direct message us on our social media. It's due to your support that we can become one of the market's fastest-growing Penn State sports outlets!
Penn State basketball: Scouting report on VCU transfer PG Ace Baldwin
Learn more about Penn State basketball point guard Ace Baldwin ahead of the 2023 season.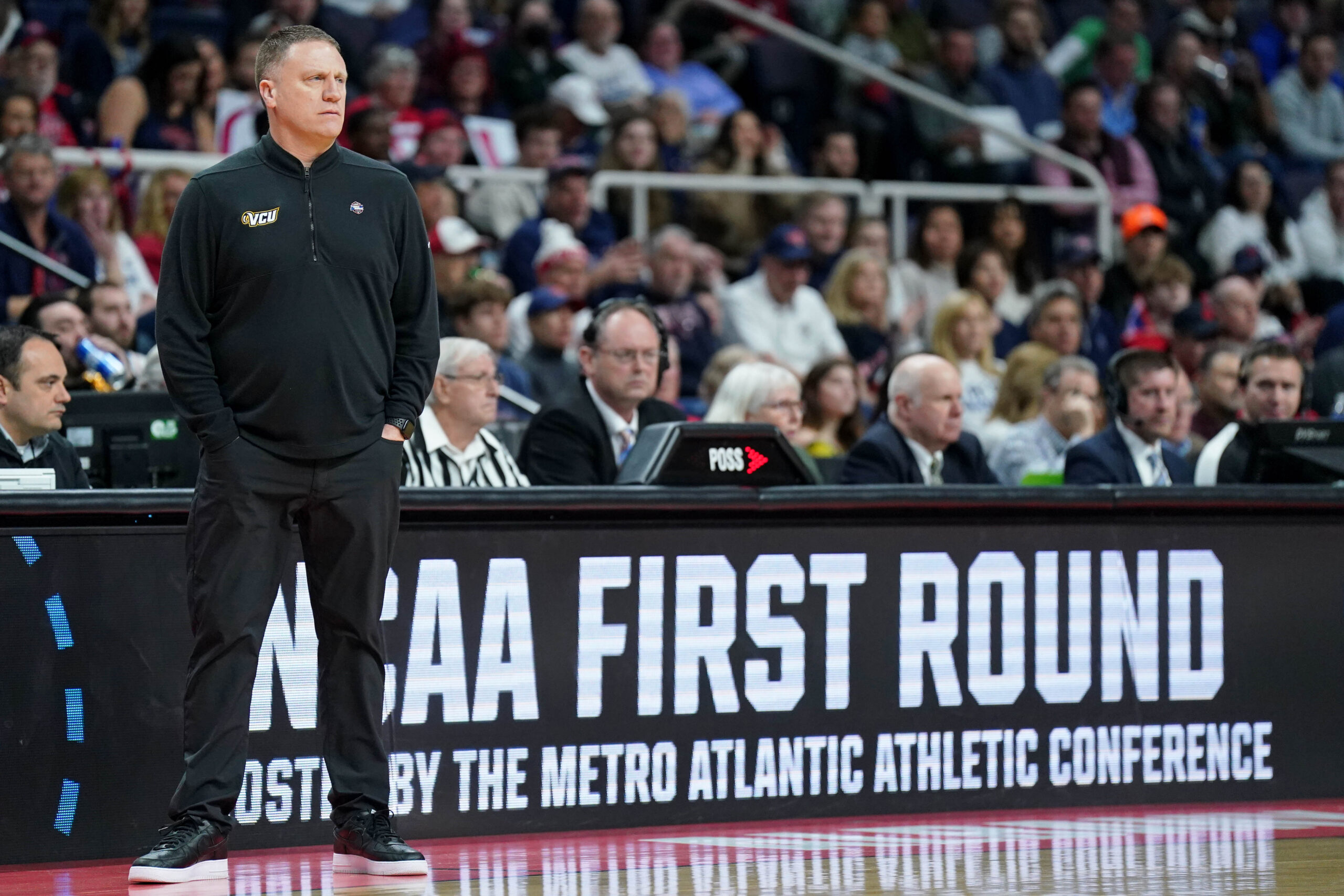 The Penn State Basketball team went through some radical changes this offseason. Head coach Micah Shrewsberry led the Nittany Lions to their first NCAA tournament bid since 2011 but used the success to land the job at Notre Dame in his home state of Indiana. His departure and other circumstances led to the transfer of 4 players including freshman starter Kebba Njie and freshman spark plug Evan Mahaffey. This was a huge blow to an already thin roster that saw most of the NCAA tournament rotation graduate or leave early for the NBA draft in Seth Lundy's case. This left new head coach Mike Rhoades with just 3 returning players. The transfer portal was Rhoades's preferred route to fill out the roster, eventually bringing in a huge transfer class of 9 players. The most important player in that group was Junior point guard Ace Baldwin Jr.
Penn State basketball: Scouting report on VCU transfer PG Ace Baldwin
Ace is a 6'0 PG from Baltimore, Maryland that was a 3-star in the 2020 high school recruiting class. He spent 3 years at VCU and was a starter from day 1. Ace followed Rhoades from VCU to Penn State following a fantastic season. Ace led VCU to  A-10 regular season and tournament championships averaging 12.7 points, 2.9 rebounds, 5.8 assists, and 2.2 steals a game on a shooting slash of 42.1/34.2/79.5. He was first team all A-10 and took home A-10 Player of the Year and A-10 defensive player of the Year. Ace was the first player to commit to the Penn State basketball team in the transfer portal and was an important piece in attracting other players to join the program including his VCU teammate Nick Kern Jr. 
Like many people in the fan base, I did not watch a lot of VCU last year so I did not know a lot about our new star. From watching your average highlight video you can tell that Ace is a strong player that uses ball screens a lot. He gets to his spot in the mid-range and is a proficient scorer. He also uses his length well on both ends and seems to control the offense. Now let's dig a little deeper and see what some underlying numbers and full-game films show us. Credit to "College Basketball Scouting" for providing a great breakdown on how Ace operates statistically and "Mistachill" for uploading many complete VCU games including the February 3rd, 2023 matchup against Saint Louis and the March 12, 2023 matchup against Dayton that I used for this breakdown. 
Let's start on the defensive side of the ball because plainly, Ace is just awesome here. This is hardly surprising considering his DPOY honor this past year in the A-10. The eye test can just tell you a ton right off the gate. He pressures his matchup full-court all game if they are the lead ball handler. Ace uses his length extremely well off-ball, just swarming to the ball and creating havoc for the opposing offense. He is a versatile defender switching between pressuring the opposing lead guard to play prevent on a shooter seamlessly. The stats tell a similar story on this end. Ace has averaged over 2 steals a game all 3 years at VCU, and he has a very impressive 3.9% steal rate. He projects to immediately come in and be the Penn State basketball team's best guard defender and shouldn't have any problems on that end adjusting to the Big Ten. He is more than long, strong, and fast enough to hold his own from day 1 in the conference. 
On offense, Ace can be a big-time scorer or facilitate well and bring the team up which was shown in full force in the 2 games I watched. Something to keep in mind as we discuss his offense is that the VCU offense sucked last year through no fault of his own. The spacing on the team was legitimately horrible, starting 3 non-shooters, which made operating a lot harder for Ace. To give a better idea of what I mean, in one of the games I watched, Ace was the only player on the team to hit a three.
Against Dayton in the A-10 Championship game, we got a great look at Ace Baldwin's pure PG abilities as he racked up 7 assists and just controlled the pace of the game for large stretches. He operates mostly in the pick and roll, playing there as the ball handler 48% of the time resulting in 0.86 points per possession which is the 71st percentile in the country. Ace keeps his eyes up at all times and is always looking out for his teammates. Because of this he is very gifted at finding cutters, like his current teammate Nick Kern, and can always punish the defense for falling asleep. He handles pressures and traps very well, finding those pockets of space to make some spectacular passes to the big rolling off the screens. 
While the counting stat of 5.8 assists per game shows a solid but not great playmaker, his 31% assist rate shows just how special of a passer he is. He picks up his dribble too fast at times off screens but even when he does he never panics. He is patient enough to wait for the passing lanes to open up and hit the right guy. Sometimes however those passing lanes do not open up, and that doesn't always stop Ace. He has a 19% turnover rate, which mostly comes from attempting some very difficult passes. He is a player Penn State should immediately be able to rely on to run some efficient offense and get everyone involved as this team learns its roles and develops chemistry.
In the Dayton game, he also showed a dimension of his game I hope we see explored more with the Penn State basketball team this season. He knocked down 2 catch and shoot threes, one off of a nice relocation, and the numbers say he needs more of those opportunities. He is an elite catch-and-shoot shooter, being in the 97th percentile on catch-and-shoot jumpers on an absurd 68% EFG. When he has time to set his feet, get square, and has some space he is an absolute knockdown shooter. 
The problem is he does not move much off the ball to get free and get those opportunities, and when a defender does close the space, he does not attack that well. You would expect with that incredible shooting he would be very efficient in spot-up situations, but he is in spot-up situations 19% of the time resulting in 0.93 PPP which is just 52nd percentile in the nation. He struggles to attack a close-out and get to his spot, often making poor reads, taking an off-balance jumper that is not needed, or just backing up and resetting the offense. Hopefully playing with another PG in Kanye Clary and others who are used to having the ball like RayQuawndis Mitchell can help Ace get more catch-and-shoot looks. 
In the Saint Louis game, we get a way better look at Ace's scoring. He lit up the box score this game, scoring a career-high 37 points. His navigation of ball screens is really what jumps out right away. He uses them so well to get space for his smooth pull-up jumper which he can knock down in bunches. He can get that shot off in pretty much any situation thanks to his speed and how fast his release is, making it a fantastic bailout shot for the offense, similar to Jalen Pickett's step-back three or post fadeaway. He controls the pace well, rarely getting sped up or slowed down similar again to Pickett. The difference here is that Ace likes to go fast, a lot. He loves to get a ball screen as high as possible so he can get a full head of steam attacking the opposing bigs. Then he either tries to get by or through them on a drive or stops on a dime for the mid-range pull-up. 
He gets in trouble sometimes when he goes for a runner and is just going too fast to make it accurate but overall his driving ability is impressive. 28% of his FGAs at the rim on 55% shooting which is solid for a 6-foot PG. His speed certainly helps here, but his acceleration and change of pace are not great, so he rarely blows right by opposing guards. Because of this, I would categorize him more as a strong driver. Using his strength to go right into the body of his defender and get them off balance to then either fade back for a mid-range or use his length to get the ball up around them. 
Ace is not afraid to pull up from anywhere no matter what advanced analytics say. He routinely will pull up from just inside the three-point line if that is where he can get space. Don't worry though he isn't afraid of the deep shot either. 19% of FGAs come from left above the break threes on 33% shooting and another 16% of FGAs come from right above the break threes on 30% shooting. The degree of difficulty on some of these shots leads to the percentage not being great but there is no worry on the jumper. His mechanics are great. It is a compact, fast, and easily repeatable jumper that is just completely fundamentally sound. He has a great ability to get square and on balance no matter where he is trying to pull up from. He also had a high release point and that mixed with his length and speed makes the shot hard to block despite only being 6 feet tall. 
Where can Baldwin's game improve?
It is not all perfect though obviously. The main issue is Ace's overall shot selection. With how bad the VCU offense was Ace often found himself taking less-than-ideal shots for a good offense. He had just .87 expected points per shot and it mostly just comes from tough pull-ups, bad runners, and getting walled off inside. Specifically, the areas you want to see him improve are spot-up opportunities like mentioned before, and in transition where he gets just 0.78 PPP which is a terrible 16th percentile. Both areas boil down to the same thing, he struggles in 1v1 situations. He forces bad pull-ups and doesn't let things evolve enough in both situations. He needs to learn to leverage his speed and shot better to get better looks inside, and he needs to just slow down a bit there to let the offense develop a bit. 
Ace Baldwin Jr. immediately projects to be the star of this Penn State team. His familiarity with Rhoades and the VCU system, ability to put the ball in the basket, and passing chops make him the ideal point guard to start this new era of Penn State basketball with. There will be some growing pains for sure as Ace gets adjusted to the better athletes and more talented players of the Big Ten, and as he works to get chemistry with his new teammates. However, it's not all bad changes. This Penn State roster projects as a much better-spaced team which will give Ace a lot more room to operate. At the very least Ace should provide PSU fans with a ton of fun moments in what should be a very interesting season.
---
---
Thank you for reading Basic Blues Nation. Please follow us on Facebook and Twitter for the latest news and insights on your favorite Penn State athletics. For feedback, questions, concerns, or to apply for a writing position, please email us at [email protected] or direct message us on our social media. Also, be sure to check out our new site shop. It's due to your support that we can become one of the market's fastest-growing Penn State sports outlets!
Penn State football: Reviewing the impact of the 2023 transfer portal additions
The Penn State football team has added 3 players on the offensive side of the ball and 2 players on the defensive side of the ball from the NCAA transfer portal this offseason. But, what kind of impact will each player have in 2023?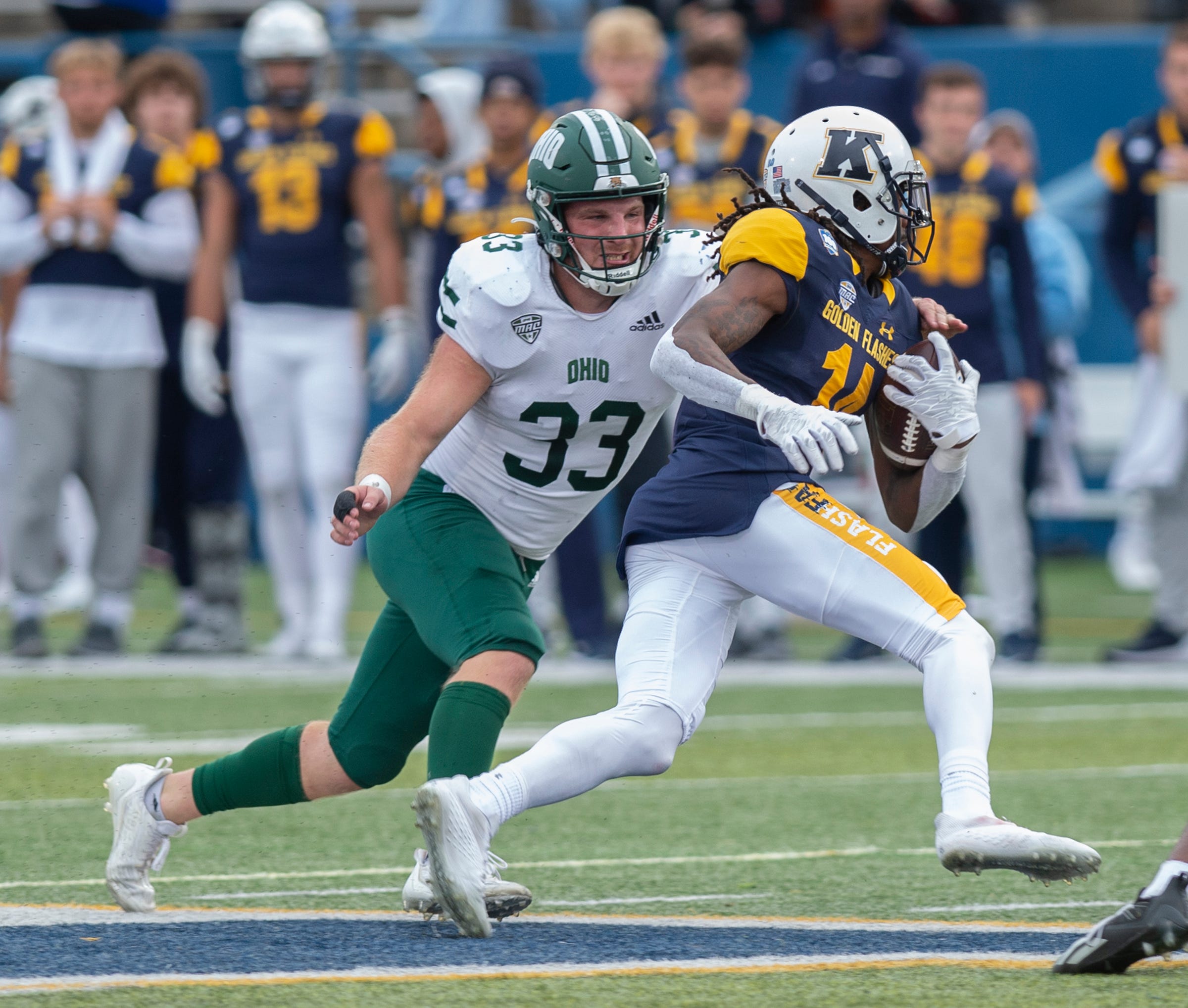 James Franklin and his coaching staff have taken their time over the past few seasons to identify areas of need when it comes to utilizing the NCAA transfer portal. This approach has paid dividends for the program as the Penn State football team is able to complete its due diligence on a player before bringing them into the locker room. The Penn State football 2023 transfer portal additions could make or break the Nittany Lions college football playoff hopes.
Offensive Transfer Portal Additions
On the offensive side of the ball, Penn State has added a total of three players, and each of them will have an important role on the team this fall. Starting with the gem of this transfer portal class, wide receiver Dante Cephas, who joins the Nittany Lions after spending the first four years of his career at Kent State. A general concern surrounding the team this fall is the inexperience within the wide receiver room (besides KeAndre Lambert-Smith), but Cephas will fill that gap. In his career, he has racked up 145 receptions for 2,139 yards and 12 touchdowns. Cephas has a legitimate shot at becoming Drew Allar's number-one option on offense.
Another wide receiver that the Penn State football team has added to its 2023 roster via the transfer portal is Malik McClain, who transferred in from Florida State. At FSU, McClain accounted for 33 receptions for 396 yards and 5 touchdowns. In March, he showcased his athleticism while running routes at Sean Clifford's pro day back. He's a player who will see the field this fall, but he will need to beat out Harrison Wallace if he wants to be a starter in 2023.
Finally, the Nittany Lions added former Minnesota running back Treyson "Trey" Potts this off-season. Potts is from Williamsport, PA so this is a homecoming for him. Obviously, he is not at Penn State to be the number one running back on the depth chart, but what he brings is the veteran presence that this room needs. Behind Nick Singleton and Kaytron Allen, Potts will be an important depth player who has 1,195 yards and 11 touchdowns in his career thus far.
Defensive Transfer Portal Additions
Defensively, Penn State added two players from the transfer portal. After CB Storm Duck re-entered the transfer portal, the secondary needed some much-needed depth which they have in Audavion Collins. The former Mississippi State Bulldog just finished his redshirt freshman season and has yet to appear in a game; however, at Penn State Collins will be able to compete for a special teams role and look to make an impact in the secondary as his career progresses.
Rounding out the Penn State football 2023 transfer portal additions was Alonzo Ford, the defensive tackle who has transferred from Old Dominion. Ford is coming off of a career year where he racked up 32 tackles and 3.5 sacks. With the loss of PJ Mustipher to the NFL, the Nittany Lions need a player like Ford who can step in and be productive. As we have seen over the past few seasons, you can never have enough bodies on the offensive and defensive line.
---
---
Thank you for reading Basic Blues Nation. Please follow us on Facebook and Twitter for the latest news and insights on your favorite Penn State athletics. For feedback, questions, concerns, or to apply for a writing position, please email us at [email protected] or direct message us on our social media. It's due to your support that we can become one of the market's fastest-growing Penn State sports outlets!
New Penn State football transfer defensive lineman graded top 10 in the Big Ten
This new Penn State football transfer has been graded as a top 10 defensive lineman in the Big Ten.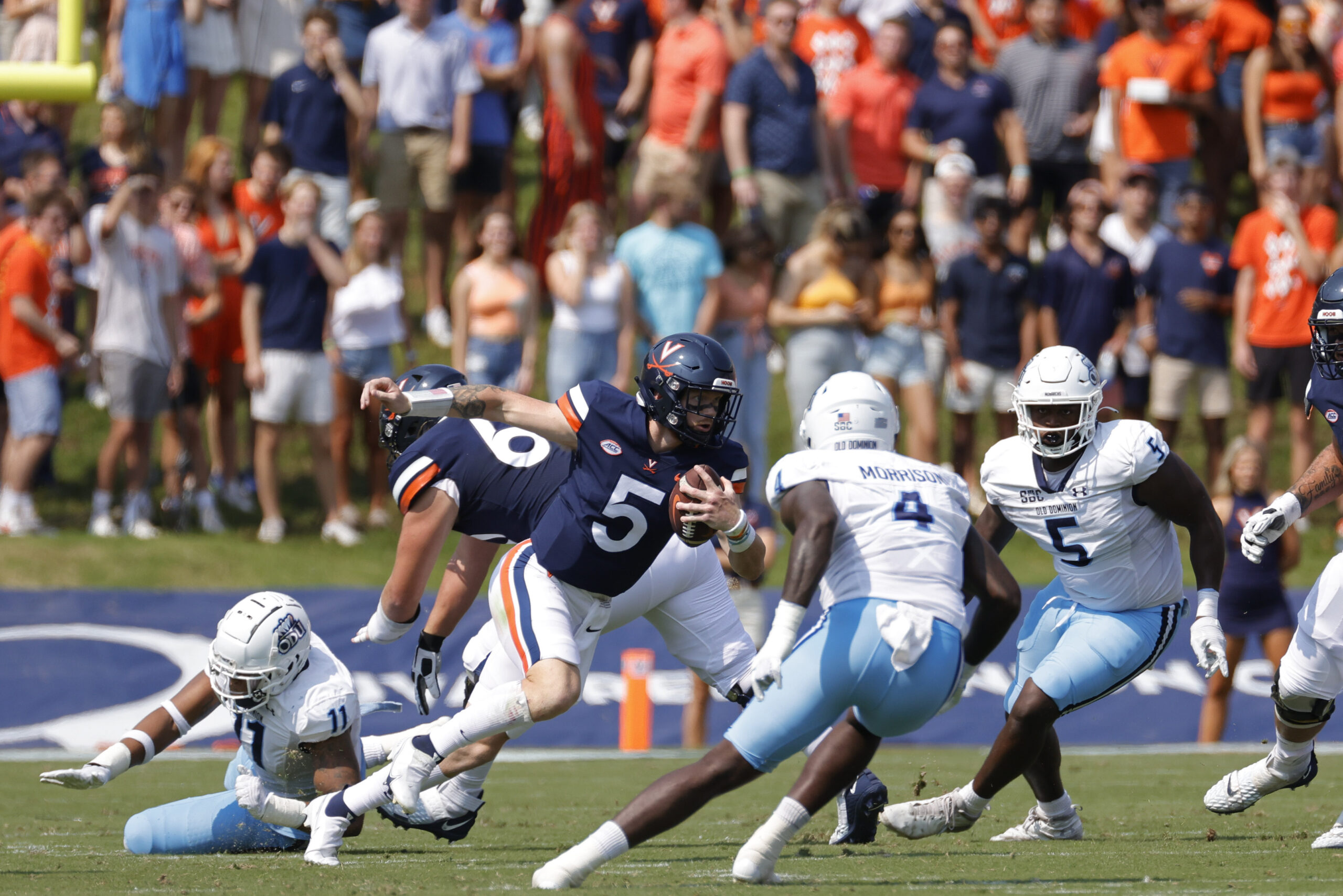 Two months ago, following the 2023 Penn State football spring game in Happy Valley, head coach James Franklin pointed out a specific position of need for the Nittany Lions ahead of the fall opener: defensive tackle. Not long after, the Blue and White grabbed Alonzo Ford, a huge interior defensive lineman, out of the transfer portal, effectively addressing this need with a talented rising star.
Recently, Pro Football Focus graded the top 10 defensive linemen in the Big Ten conference heading into the 2023 season, and Alonzo Ford, the new transfer defensive lineman for Penn State football, made the cut.
New Penn State football transfer defensive lineman graded as a top 10 DT in the Big Ten conference
Alonzo Ford is one of the less-talked-about additions from the transfer portal for the Penn State Nittany Lions ahead of the 2023 season. However, as a huge interior defensive lineman, he is poised for a remarkable year in the Blue and White and is already one of the top-graded defensive tackles in the entire Big Ten conference.
Recently, Pro Football Focus (college) released its rankings of the top 10 graded Big Ten defensive linemen heading into the 2023 season, and Ford made the cut as the No. 9 player on the list.
As a freshman in 2021, Alonzo Ford started all 13 games at defensive tackle for Old Dominion. He led his team's defensive line in tackles with 38 and recorded 2.5 sacks, despite his lack of experience. Last fall, Ford continued to impress, earning recognition as an All-Sun Belt honorable mention during his true sophomore season.
Since joining the Nittany Lions, Ford has added some weight, now standing at 6-foot-2 and weighing over 280 pounds. He still has room to grow in order to become a top Big Ten defensive tackle; however, his Penn State football career is already off to an impressive start.
In just a few months, keep an eye on Alonzo Ford as he pushes for a breakout season in his first year as a Nittany Lion.
---
---
Thank you for reading Basic Blues Nation. Please follow us on Facebook and Twitter for the latest news and insights on your favorite Penn State athletics. For feedback, questions, concerns, or to apply for a writing position, please email us at [email protected] or direct message us on our social media. It's due to your support that we can become one of the market's fastest-growing Penn State sports outlets!