Penn State Baseball Wins Home Opener
The Nittany Lions won the first of two games against the Hoyas.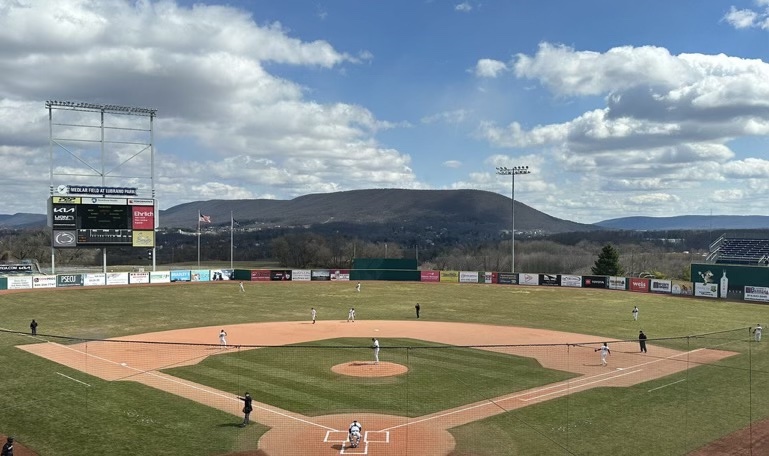 STATE COLLEGE, PA — After coming out on the right side of a series against Brown last week, Penn State baseball started this weekend on a positive note. The Nittany Lions defeated Georgetown 6-1 in its home opener Saturday to improve to 10-5.
Lions Struggle at the Plate Early
This game was a pitcher's duel early, as both teams exchanged scoreless bouts in the first inning.
Georgetown loaded the bases in the second inning after a series of walks and missed plays in the infield. Still, pitcher Daniel Ouderkirk got out of the jam with a slider for the ages to strike out the Georgetown batter.  
On the Penn State side of the second inning, the Lions got their first baserunner after catcher Thomas Bramley walked. However, the Nittany Lions could not capitalize, and the game remained scoreless going into the third inning.
Georgetown added two base runners via the walk in the top of the third inning. Ouderkirk had five walks allowed up until that point, but like the previous innings, he closed out the inning without any harm.  
Penn State Baseball Dominates Hoyas Late
Penn State got its first two hits in the bottom of the third inning from singles by Bobby Marsh and Kyle Hannon. Johnny Piacentino hit a bases-clearing standup double to score Hannon and Marsh. The Lions then added to the total via a Josh Spiegel single that scored Piacentino and gave Penn State a 3-0 lead.
Penn State made an impressive 1-2-3 double play in the top of the fifth inning. However, Georgetown would get on the board on a wild pitch, allowing a runner from third to score, and the score became 3-1 Penn State. Head coach Rob Cooper also made an interesting pitcher change here for the Lions when Ouderkirk was replaced with another starter, Travis Luensmann.  
Penn State added to its lead in the bottom of the fifth inning after Anthony Steele, pinch-hitting for Josh Spiegel, hit a single that found the gap in right field to score Bobby Marsh to make the score 4-1.
The Lions made it 5-1 in the sixth after confusion from a rundown from first to second base allowed Tayven Kelley to score from third.
In the bottom of the seventh inning, Hannon smacked a home run to right center field to increase Penn State's lead to 6-1.
Penn State won the game with a final score of 6-1, backed by the dominant outings of starter Ouderkirk and reliever (for the day) Luensmann. Ouderkirk is second in strikeouts among Big Ten pitchers this season with 41.
Sticking with the Same Approach
In the postgame press conference, I asked head coach Rob Cooper what spurred the Lions to start scoring. They could not figure out the pitcher the first time around the lineup, so I was curious if adjustments were made to see the pitches better or if none were necessary.
In response, Coach Cooper said, "the biggest thing is to not get away from your approach." He asserted that sometimes it is just "kinda sticking with the approach," and it is important to not get "freaked out" after a stretch of struggle.
Kyle Hannon: Home Runs Galore
I also asked leadoff hitter and second baseman Kyle Hannon about what he saw as a factor in his success with the long ball this season. He now has four home runs in 2023. Hannon stated it's about "not trying to do much." 
Simply put, Hannon was trying to find strikes and attack. He said, in the end, that it is about "capitalizing off of a pitcher's mistakes."
Kyle Hannon!!! He crushes one to right-center for his fourth homer of the year!

B7 | PSU 6, GU 1#WeAre pic.twitter.com/nnfwZRytEr

— Penn State Baseball (@PennStateBASE) March 18, 2023
Penn State baseball plays next against Georgetown again to close the series on Sunday.  
Penn State wins!!! Nittany Lions take their home opener against Georgetown!@kylehannon_28 2H, 2R, HR
Piacentino 2H, 2B, 2 RBI
Ouderkirk 4IP, 1R, 6K
Luensmann 5IP, 0R, 3K, W#WeAre pic.twitter.com/HM4ceSksBB

— Penn State Baseball (@PennStateBASE) March 18, 2023
---
---
Thank you for reading Basic Blues Nation. Please follow us on Facebook and Twitter for the latest news and insights on your favorite Penn State athletics.
For feedback, questions, concerns, or to apply for a writing position, please email us at [email protected] or direct message us on our social media. It's due to your support that we can become one of the market's fastest-growing Penn State sports outlets!