Marvin Harrison Jr. calls Penn State vs. Ohio State a 'rivalry game'
Has Penn State and Ohio State reached rivalry status? Star Ohio State WR Marvin Harrison Jr. has a strong opinion about this matchup.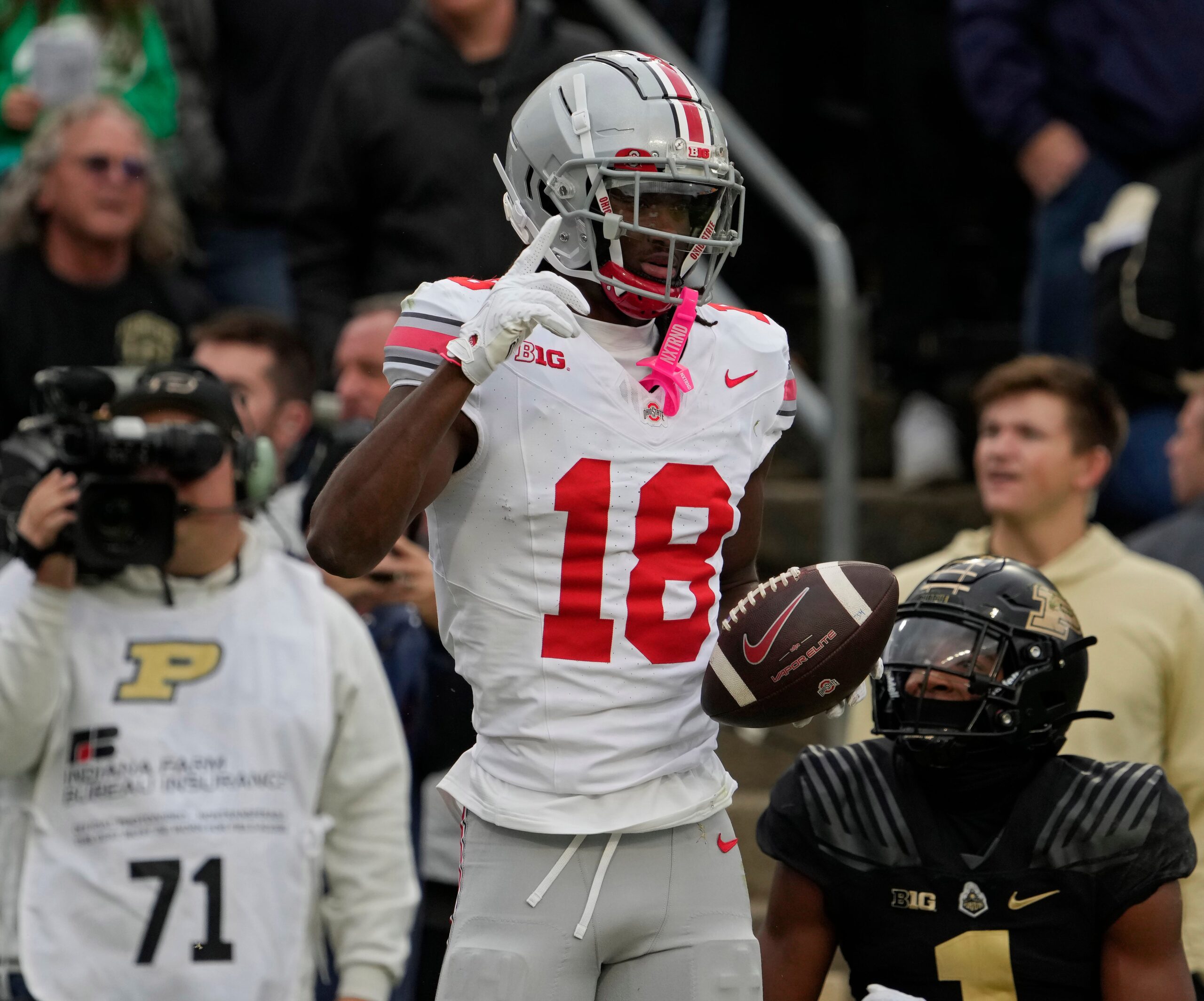 The Penn State football team has been known to be "unrivaled" for many years. It's part of who the Nittany Lions are and it's in their DNA. However, it could be argued that Ohio State and Michigan could be considered a rival of Penn State. That poses the question of what it means to be a rival with another school. A long history of back-and-forth wins and losses? Or is it as simple as two teams that play to the wire every game? Some might say they are almost evenly matched most years, but with that in mind recently wide receiver Marvin Harrison Jr. spoke about this topic. What he said might surprise some people.
Marvin Harrison Jr. calls Penn State vs. Ohio State a 'rivalry game'
The Penn State football team last defeated Ohio State in Columbus in 2011. The Nittany Lions won that game 20-14 that day. Then, it wasn't until 2016 when Marcus Allen blocked a field goal late in the game and Grant Haley took it back for a touchdown. Since then, the Nittany Lions have been close but they have not found a way to win the big game in the past seven years. But what did star wide receiver Marvin Harrison Jr. say about the Penn State vs Ohio State matchup?
Harrison Jr. said, "Yes, I think it is a rivalry game. I don't know too much of the history between Ohio State and Penn State. I know the games have been very close in recent history, comes down to that fourth quarter when one team pulls away from the other. But, I think the goals that we are trying to accomplish as a team, make it to the Big Ten Championship, Penn State is definitely one of those teams year in and year out that you have to go through to reach that goal."
The key to slowing down Marvin Harrison Jr.
Marvin Harrison Jr. is arguably one of the best wide receivers in college football. He's going to make his plays, but the key focuses back on the Penn State defensive line. If Chop Robinson, Adisa Isaac, and Dani Dennis-Sutton can get to and sack Kyle McCord or pressure him into bad decisions that will slow down the passing attack. The other thing they will need to do is take away the bubble screen action. They did a great job rushing up and making the tackle in space last season, can they repeat that today?
---
---
Thank you for reading Basic Blues Nation. Please follow us on Facebook and Twitter for the latest news and insights on your favorite Penn State athletics. For feedback, questions, concerns, or to apply for a writing position, please email us at [email protected] or direct message us on our social media. Also, be sure to check out our new site shop. It's due to your support that we can become one of the market's fastest-growing Penn State sports outlets!