Penn State football standouts share thoughts on returning to Ohio
Today's game against Ohio State is a massive opportunity for the Penn State football program. But for some Nittany Lions, it's also a homecoming.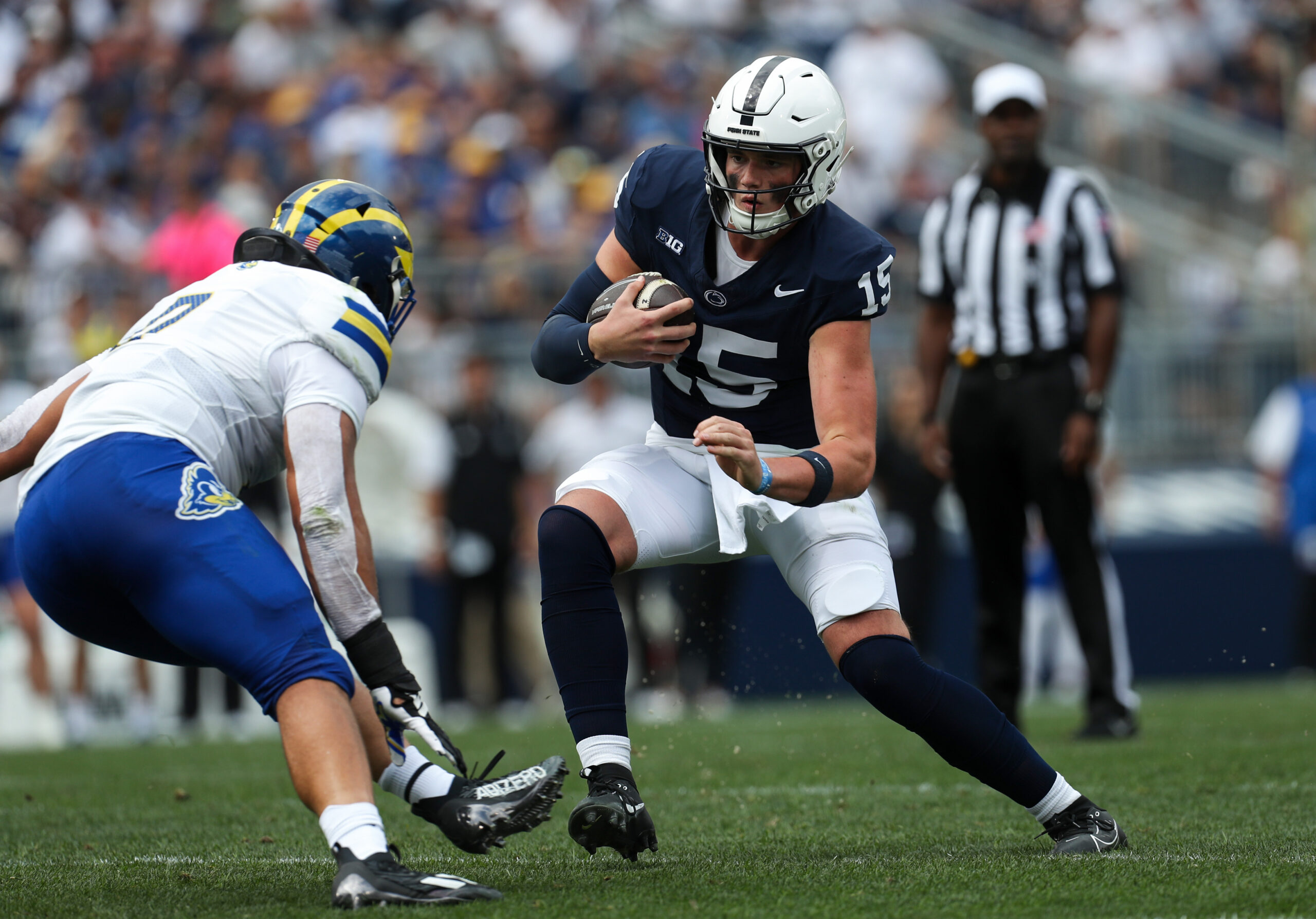 It's finally gameday. The college football world has its eyes firmly fixed on Columbus for what is perhaps the biggest game of the 2023 season. But for some Penn State football players, today's game is not only a chance to put their stamp on the program, it's also a homecoming. This week, Nittany Lions standouts and Ohio natives Drew Allar and Kaden Saunders discussed their feelings about returning home to face Ohio State in this colossal showdown.
 Drew Allar feels prepared for the "challenging atmosphere"
As most Nittany Lions fans know, Penn State starting QB Drew Allar hails from Medina, about a two-hour drive from Columbus. Like many in the Buckeye State, Allar told the media this week that he frequented the Horseshoe as a child.
"I did grow up going to Ohio State games, like a lot of a lot of us did in Ohio," Allar said when asked about returning home this week. "They got a great fan base, a great atmosphere. [It's] going to be a very challenging atmosphere."
The Ohio State fanbase is consistently among the top in college football. The capacity of Ohio Stadium is 102,780, the third largest in the country. Former Ohio State QB and College GameDay host Kirk Herbstreit has noted in the past that the fanbase can be "reactionary," becoming the loudest when "they feel threatened." 
Certainly, the challenge of going back home will be difficult for Drew Allar. But Allar feels Penn State football will be prepared for the biggest game of the season.
"They're a very passionate fan base. But, I think it's nothing we're not prepared for," he said. "We practice in very loud environments all the time. I think we're going to be prepared for it. But at the end of the day, it's just going out and executing our jobs and just being sound in our assignments."
"Obviously, we're going to be facing a top team in the country, on both sides of the ball," Allar continued. "It's going to be a great challenge for us, and I think we look forward to that challenge in the opportunity we have this weekend."
Kaden Saunders explains why he didn't end up a Buckeye
In redshirt freshman WR Kaden Saunders, Penn State football plucked a highly touted prospect right out of the heart of Ohio State territory. The speedy WR played his high school ball in Westerville, a suburb of Columbus. Saunders came into Penn State as a four-star wide receiver and the No. 77 overall player in the country in 2022, according to 247Sports.
Primarily used as a punt returner in 2023, Saunders has seen limited time on the offensive side of the ball. While only having 3 catches for 18 yards on the season, Saunders has provided a spark at times for a sluggish Penn State offense. This gives some Penn State football fans hope that Saunders is on the cusp of taking his game to the next level. A breakout performance would never be more welcomed as in the biggest matchup of the year.
As Kaden Saunders returns home, there has been increased focus this week as to how a highly touted prospect from the shadow of the Horseshoe could end up at one of the Buckeyes' Big Ten rivals. According to Saunders, Ohio State recruited him as a CB, when he wanted to play on the offensive side of the ball.
"I wouldn't say there's a chip on my shoulder," Saunders said when asked if he feels overlooked by the Buckeyes. "I respect Ohio State. Everyone in this program respects them. They were recruiting me for a position that didn't necessarily want to play. So, I decided to look at other options and ended up with where I'm at. And I'm happy with my decision."
Could another Penn State football player with Ohio ties make an impact against Ohio State?
Penn State football has another WR with Ohio ties who is waiting to make his impact. Transfer Dante Cephas, a 6-foot-1-inch wide receiver from Pittsburgh, arrived in Happy Valley this offseason with much fanfare. Of course, Cephas started his college career at Kent State, in the northeast corner of Ohio. 
Despite hauling in over 2,000 yards in his Golden Flashes career, Cephas only has 7 receptions for 103 yards this season. But as many look to the Penn State offense as the potential difference maker in today's matchup, perhaps a return to form could be in the works for Cephas this afternoon.
---
---
Thank you for reading Basic Blues Nation. Please follow us on Facebook and Twitter for the latest news and insights on your favorite Penn State athletics. For feedback, questions, concerns, or to apply for a writing position, please email us at [email protected] or direct message us on our social media. Also, be sure to check out our new site shop. It's due to your support that we can become one of the market's fastest-growing Penn State sports outlets!