James Franklin mentions 3 question marks heading into the Blue-White game
On Tuesday, James Franklin mentioned three question marks still being answered ahead of the spring game.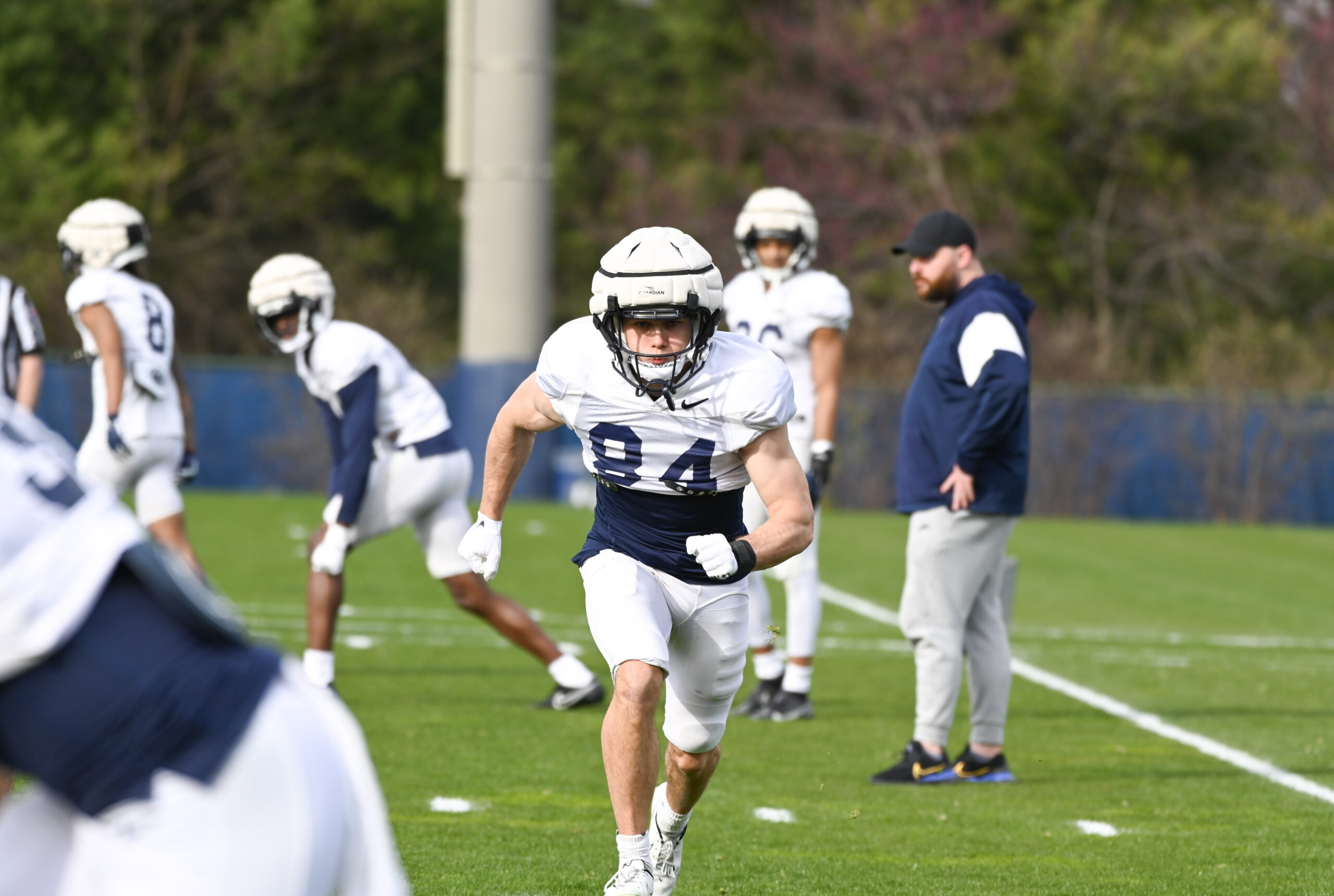 STATE COLLEGE, Pa. — The weekend that all Penn State fans have been waiting for has finally arrived; on Saturday, the Penn State football team will take the field for the first time in months for the program's annual Blue-White spring game. On Tuesday evening, head coach James Franklin had a chance to speak with the media and briefly talk about three of the program's question marks still being addressed during Penn State spring practice.
Head coach James Franklin: Special teams is coming together, no specifics yet
While it may not seem like a big deal to some, the Nittany Lions are facing a massive test heading into the spring game and a new season this fall: special teams. This season, Penn State football will have a different kicker, punter, and long snapper than it did a season ago — for a head coach, this is a significant issue to address before the season starts on September 2nd against West Virginia.
While James Franklin did not offer many specifics, it sounds like Penn State's special teams are in good hands right now.
"We had a big question mark with the specialists," James Franklin said. "I feel good about the long snapper, feeling good about the punting competition, feel good about the field goal competition, so that has been good."
Who will take over in the middle of Penn State's defensive line?
The loss of PJ Mustipher has caused concerns regarding the depth that Penn State football carries in the middle of the defensive line. Right now, one of the Nittany Lions' bigger offseason storylines is who will step up at defensive tackle; Zane Durant is a name that has been thrown around a lot by the coaches and players, though there are still some things being worked out heading into the spring game this weekend.
"I think there is still some question marks in terms of depth a D-tackle," Franklin said on Tuesday. "We gotta get resolve there."
Later in the evening, Kaytron Allen spoke to the media, and once again, Zane Durant was mentioned.
"Zane Durant," Kaytron Allen said when asked about Penn State's spring standout defensive linemen. "I like the way he plays, the way he carries himself; he always wants to make a play, he wants to be back in the backfield. He makes our O-line great. He's made a lot of plays [during spring] … [he's] just making plays, being around the ball, springs to the ball."
Wide receiver depth still being worked out during Penn State spring practice
With a new quarterback going under center this fall, it is not ideal that the Penn State football team is looking to replace much of the team's receiving depth from a season ago. With standouts like Mitchell Tinsley, Parker Washington, and Brenton Strange on their way out the door, the Nittany Lions will need guys like KeAndre Lambert-Smith and others to step up in 2023. Still, despite having a couple of top wideouts, Penn State is still lacking a true WR3 right now, which will be a crucial factor to watch this Saturday.
"I still there think is a question mark at wideout — who is going to be the third wideout? That's still a pretty open competition for a number of guys for the job," James Franklin said. And [we] still have some talent coming in."
When James Franklin says there's an open competition, he means it. After Franklin identified the WR3 spot as a question mark, he was asked about who is competing for the spot right now. His answer was simple: "The rest of the wideouts."
This weekend, make sure to watch these three key position battles throughout the Blue-White game as the Penn State football team looks to work a few things out ahead of the 2023 fall opener in September.
---
---
Thank you for reading Basic Blues Nation; we are proud to be a student and alumni-owned and operated media outlet covering all things Penn State athletics! Please follow us on Facebook and Twitter for the latest news and insights on your favorite Penn State teams. For feedback, questions, concerns, or to apply for a writing position, please email us at [email protected] or direct message us on our social media. It's due to your support that we can become one of the market's fastest-growing Penn State sports outlets!