Penn State football is making great progress during spring ball
The Nittany Lions are having an impactful and useful spring session this year.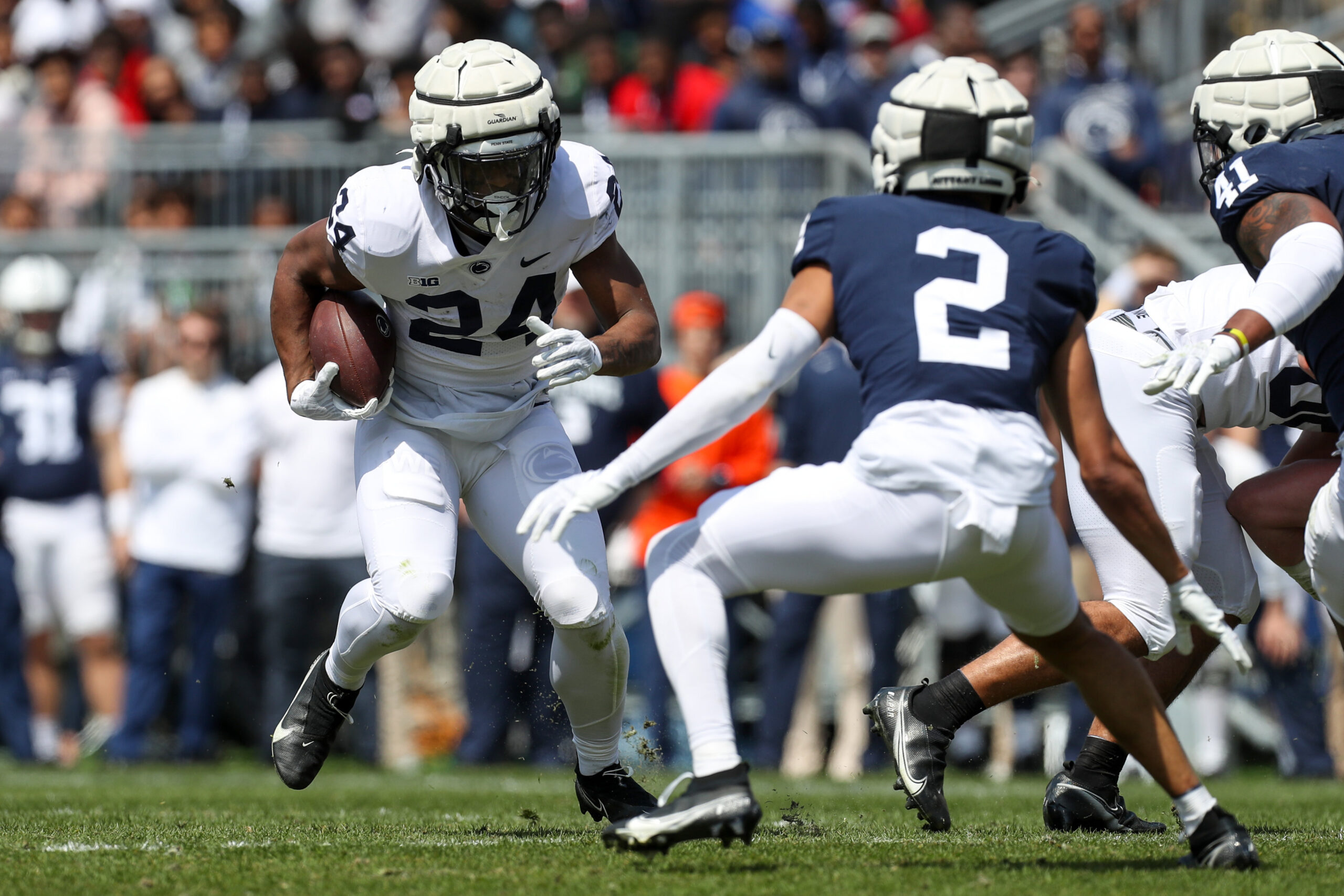 Last week, James Franklin addressed the media about several spring ball storylines leading up to the final week of practices and the Blue-White game this weekend. For Franklin, Penn State spring practice is about getting better, getting healthy, and figuring out who is ready to step up during a brand new Penn State football season this fall.
Penn State football making great progress during spring practice
The Nittany Lions currently have a number of guys injured or developing during spring ball, and it's been essential for the coaching staff to see these players in action to get a feel for who will be stepping up in 2023. From position battles all over the board to freshman standing out and questions on special teams, it's been a productive spring in State College, to say the least.
"We finished the [2022] season well, we got a ton of talented players coming back, we still have have questions marks, but that is what the offseason is about," head coach James Franklin said last week. "We gotta be ready to play well against West Virginia and see where it takes us."
"We have gotten a ton of reps, which has been good," Franklin said when asked about how much his team has accomplished this spring. "I would have liked to get into the stadium a little bit more, but the weather hasn't necessarily cooperated with that. But we have gotten a ton of really good reps — really competitive reps — our defense is playing really well. I thought our offense played well [last Tuesday], probably the best practice we've had this spring. It's been competitive all spring long, we have depth at the specialist positions … that competition has been good as well."
Despite injury issues, the Nittany Lions press on towards the Blue-White game
Penn State spring practice has gone well, though the Nittany Lions are still battling a few injury issues and more leading up to the Blue-White game this weekend.
"We have made some good progress — as you guys know we have a number of guys that are out this spring," James Franklin said. "So it will be great to get them back as well as the guys that still haven't arrived yet in the summer. We're gonna need all of those guys."
While the Penn State football team has been able to work around having guys out to this point, it has still impacted spring practice.
"It's been better [than last spring]," Franklin said. "We've had a [few] limitations but we've been able to push through it. We've got different positions it has affected right now — I am pretty hopeful that we'll be able to have a traditional spring game, with maybe only a few guys that may have to run back and forth from sideline to sideline. But I think we will be able to have a traditional spring game, which I think will be meaningful for us — allow us to get something out of that last practice — and also give the fans something to look forward to."
While this year's Penn State spring practice sessions have not been perfect, the Nittany Lions and their head coach — James Franklin — are pushing onward and are ready for a massive season this fall. Finally, after months of waiting, the Penn State football Blue-White spring game will kick off this Saturday at Beaver Stadium.
---
---
Thank you for reading Basic Blues Nation; we are proud to be a student and alumni-owned and operated media outlet covering all things Penn State athletics! Please follow us on Facebook and Twitter for the latest news and insights on your favorite Penn State teams. For feedback, questions, concerns, or to apply for a writing position, please email us at [email protected] or direct message us on our social media. It's due to your support that we can become one of the market's fastest-growing Penn State sports outlets!