Does Penn State football have a new secret weapon in recruiting?
According to James Franklin, Penn State football has received a recent boost from an unlikely source on the recruiting trail.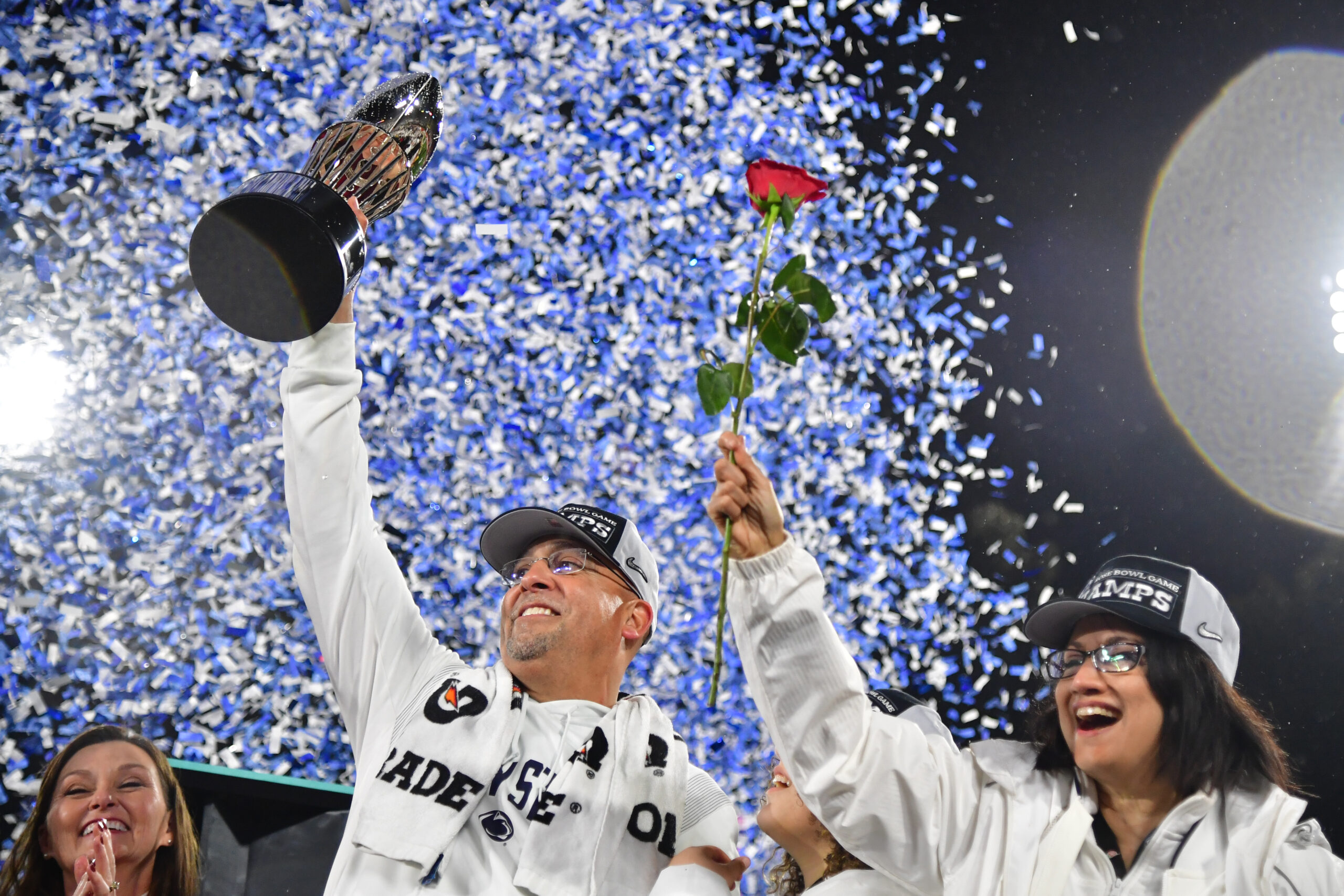 June capped off an impressive spring and early summer haul for Penn State football recruiting. With seven new commitments, the Nittany Lions have 21 prospects for the cycle. By most accounts, Penn State's 2024 class is firmly inside the top 10 of the national rankings. Much of this current success is due to the efforts of James Franklin and the Penn State football recruiting staff. But is there someone else to credit as well? In a recent interview, James Franklin noted that he has been getting help on the recruiting trail from an individual outside the Lasch Football Building.
James Franklin reveals the unlikely person who recently gave Penn State football a boost in recruiting
On last week's episode of Next Up with Adam Breneman, James Franklin discussed some of the broader changes in culture and priority alignment at Penn State in the last few years. This new shift extends beyond the athletic department and even goes as high up as Old Main. According to Franklin, the Nittany Lions recently received a boost in recruiting from an unlikely source, Penn State's new president, Dr. Neeli Bendapudi.
"One of the reasons we're having a great recruiting class? Two of our top recruits met with Neeli Bendapudi," Franklin told Breneman. "Dr. Bendapudi, our president, she killed it. They committed, like, literally that weekend. That alignment matters."
Although Franklin didn't note when, how, or with whom these meetings occurred, the fact that a university president is meeting prospective recruits for the school's college football program is eyebrow-raising enough. And whatever was said, it was clearly enough to get those recruits to buy in to the message of Penn State, both on and off the Beaver Stadium grass.
The results of Penn State's new alignment can already be seen
The new alignment across the Penn State campus can be seen beyond this isolated example. Under the leadership of Bendapudi and new athletic director Pat Kraft, Penn State had one of the most successful athletic years of any school in the country. The list of accomplishments runs deep — a Rose Bowl-winning football team, a national champion wrestling program, national semifinal runs for field hockey and men's lacrosse, and NCAA Tournament appearances for men's ice hockey and basketball, to name a few.
Penn State is even pushing the envelope in sports that have traditionally not brought much success to Happy Valley. On Monday, Kraft announced the hiring of Mike Gambino to lead the baseball program. Gambino led Boston College to a program-record 37 wins in 2023 and two Super Regional appearances in the last decade.
James Franklin further emphasized the importance of this new alignment in his interview with Breneman. "If there's something we need, and it's important, and it's going to impact winning, I can make a call to Pat Kraft, and it can go up the chain of command, and we can get things done, and we can get things done quickly," he said.
The message is clear – Penn State's leadership is committed to winning in everything. While things like recruiting successes may seem small, those small wins add up to big victories over time.
---
---
Thank you for reading Basic Blues Nation. Please follow us on Facebook and Twitter for the latest news and insights on your favorite Penn State athletics. For feedback, questions, concerns, or to apply for a writing position, please email us at [email protected] or direct message us on our social media. It's due to your support that we can become one of the market's fastest-growing Penn State sports outlets!