With NFL Draft looming, Penn State legend likely staying in PA
The former Nittany Lion standout defensive back could be starting his next chapter in PA.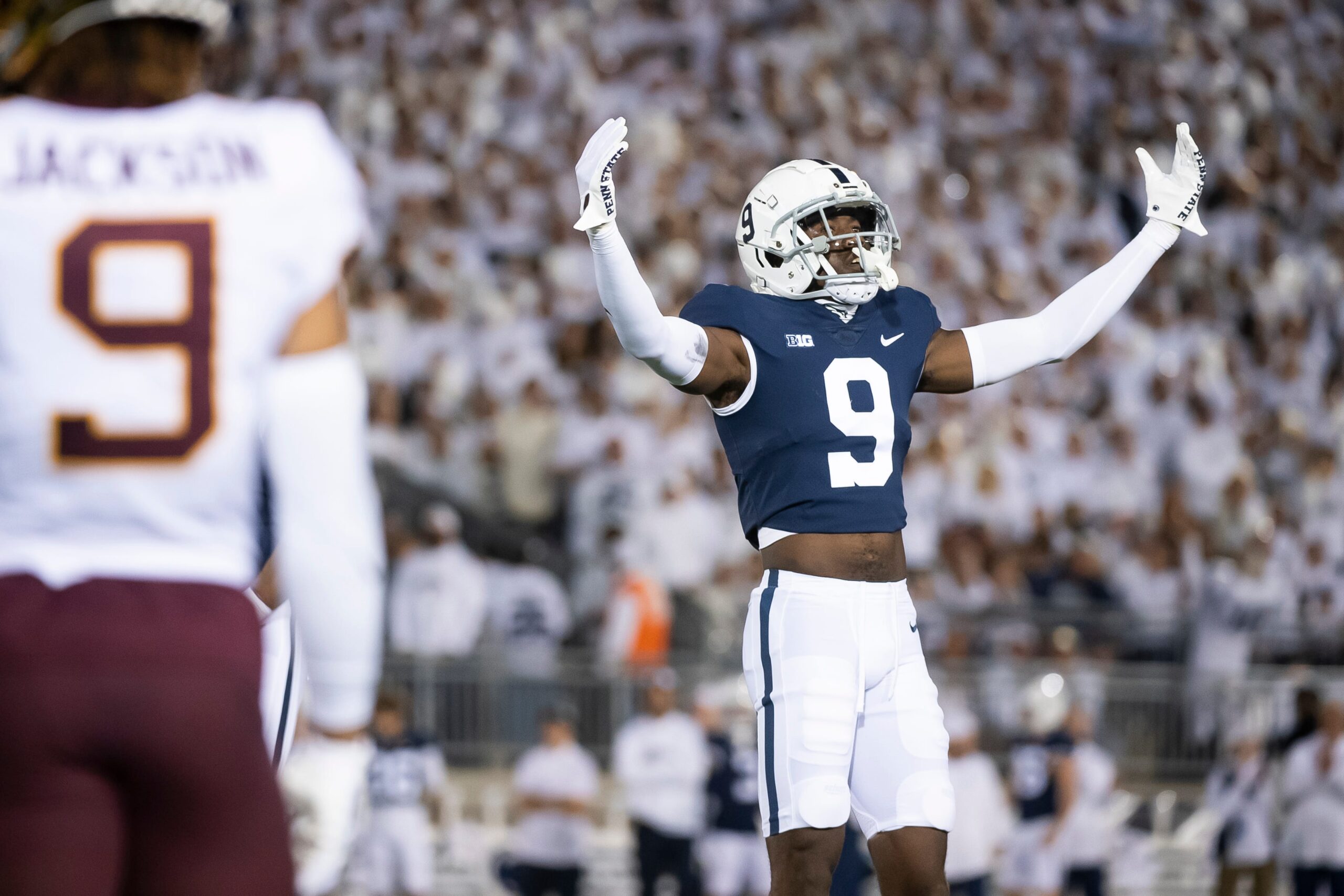 Last Friday, the Nittany Lions hosted their annual pro day in State College, PA. Seeing as Penn State football is known for developing some top NFL Draft picks, many of the NFL's top scouts were in attendance, and no one got more attention than Penn State football standout Joey Porter Jr., who is currently favored to go early/middle first round. For the in-state Pittsburgh Steelers — who need some defensive back help right now — Porter makes a lot of sense, meaning the former Nittany Lion All-American may be staying in the state after all.
Despite NFL transition, Joey Porter Jr. Likely staying in PA
Throughout the past three years, Joey Porter Jr. has been one of the top defensive backs in the Big Ten. In fact, in his most recent season with the Nittany Lions' football program, Porter helped lead Penn State's defense to an incredible season, which concluded with a 14-point win over Utah in the Rose Bowl game on January 2nd.
Throughout his three seasons playing for Penn State football, Porter used his size and talent to lock down some of the nation's top wide receivers — he appeared in 30 college football games, making 94 tackles, recording one sack, intercepting one pass, and defending another 19 passes. Porter was one of the highest-graded corners in all of college football, and is now regarded as one of the top defensive players in this year's NFL Draft.
Does it make sense to take Porter with one of the top picks in the draft?
In just about every mock NFL draft, Joey Porter Jr. is favored to land in Pittsburgh to start next season. If the Steelers want a corner that can come in and take over some serious snaps right off the bat, Porter is their guy. Here is what Johnny McGonigal of PennLive had to say about Joey Porter Jr. and the Steelers:
I thought about not picking the Steelers here to avoid being predictable. But sometimes projections, even when they seem too good to be true, make too much sense not to happen. Porter's connections to Pittsburgh are well-documented. His dad was a Pro Bowl linebacker and Super Bowl champion with the Steelers. Porter is a North Allegheny alum and is friends with Mike Tomlin's sons.
But most importantly, the Steelers need help at corner. It's the biggest hole on their roster, and Porter is one of three first-round corners. There's a chance Pittsburgh might have to trade up. But if four QBs go in the top 10 — and there's a good chance that happens — that could push Porter down into Pittsburgh's range.
Joey Porter Jr. has numerous ties to the state of Pennsylvania; he grew up in PA, attended high school in PA, graduated from the biggest university in PA, and now, could start his pro football career in PA as well. Additionally, Porter's father — Joey Porter Sr. — began his NFL career with the Steelers, and even served as Steelers assistant coach in the 2010s.
Drafting Porter Jr. would make a lot of sense for the Pittsburgh Steelers, and it could keep a Pennsylvania legend in the state for a long time to come.
---
---
Thank you for reading Basic Blues Nation. Please follow us on Facebook and Twitter for the latest news and insights on your favorite Penn State athletics.
For feedback, questions, concerns, or to apply for a writing position, please email us at basicbluesnation@gmail.com or direct message us on our social media. It's due to your support that we can become one of the market's fastest-growing Penn State sports outlets!
Penn State football: Sean Clifford to play unique role with the Green Bay Packers
The Green Bay Packers are receiving a much-needed addition to their roster with Sean Clifford.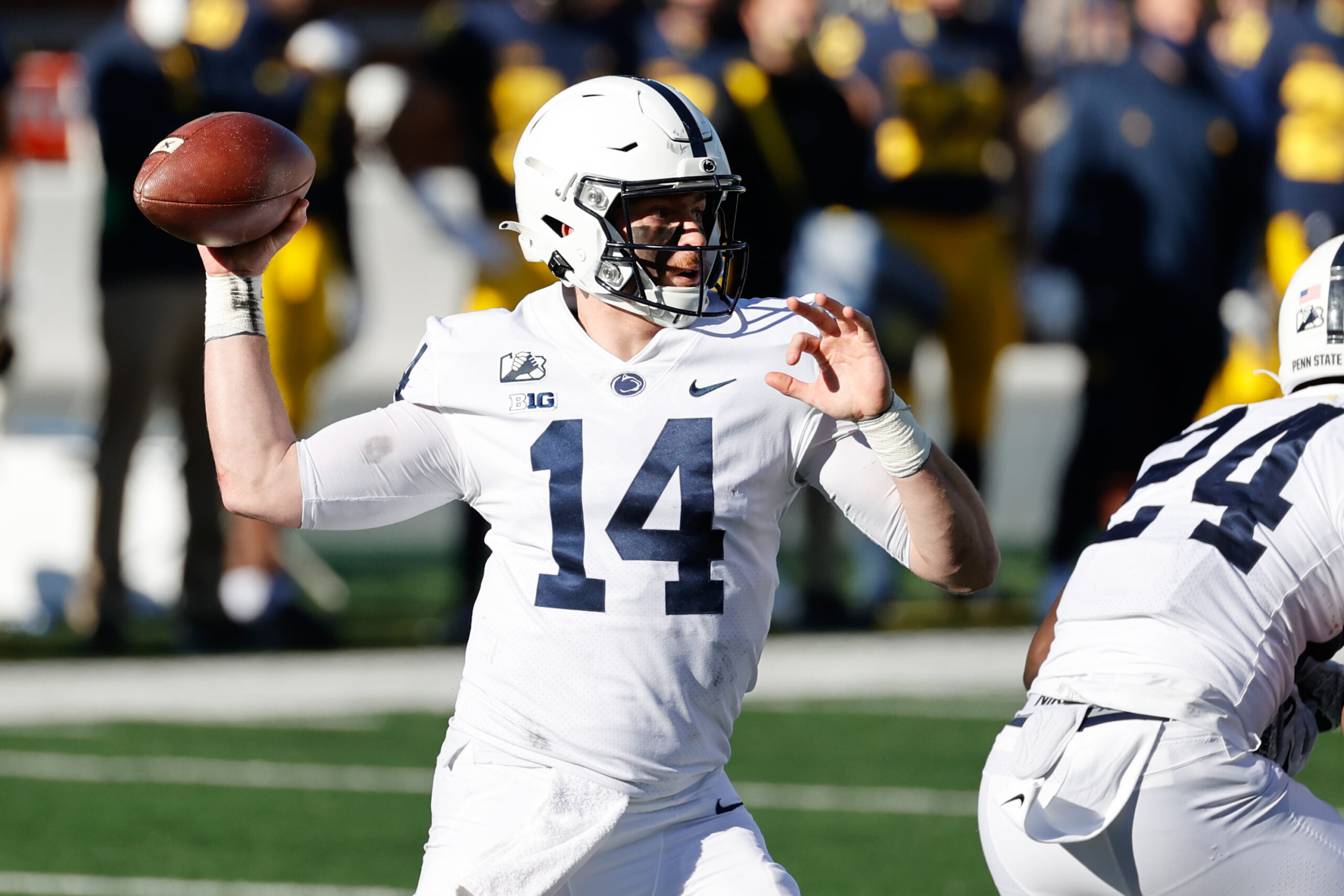 Over the weekend. former Penn State football quarterback Sean Clifford was drafted by the Green Bay Packers with the 149th overall pick in the 5th Round of the draft. For the former Nittany Lion starter, who is not the biggest or most talented quarterback to be drafted, he brings something that many quarterbacks — even in the NFL — do not possess: intelligence. According to Packers' head coach Matt LaFleur, Clifford's intellect is what sold Green Bay on taking him in Round 5.
Former Penn State football quarterback brings an intellectual approach to the game
During his tenure at Penn State, Sean Clifford was both the subject of adoration and animosity among the fans. While he led the team to remarkable victories, including two 11-2 seasons and New Year's Six bowl wins, his performance during the middle two seasons was lackluster. Clifford's time as the Nittany Lions' starting quarterback had its ups and downs, and while he was not the team's top quarterback, he was not solely responsible for their shortcomings in 2020 and 2021.
Despite some challenges with his athletic abilities, including inconsistent throws, Clifford's intelligence on the field was never in question. Head coach James Franklin and sophomore quarterback Drew Allar both spoke highly of Clifford's contributions during the 2022 season and praised his exceptional football IQ.
Out with the old, in with the new
With the Green Bay Packers losing their veteran quarterback Aaron Rodgers, there was a pressing need for greater football intelligence and knowledge in their young quarterbacks room. The departure of a seasoned quarterback like Rodgers, who has played with the team for over a decade, can cause a significant leadership vacuum and make it challenging for new players to adapt to the team's culture and game strategy.
To fill this void, the Packers organization has been seeking quarterbacks with high football IQs who can effectively execute plays and make intelligent decisions on the field. In today's NFL, having players who can quickly analyze complex situations and adjust game plans accordingly is critical to success. This means that the Packers need quarterbacks who are not only physically gifted but also possess the mental acuity to outthink and outsmart their opponents.
"We went through the meetings with him and were impressed by his football acumen and his overall intelligence," LaFleur said after the Packers drafted Clifford.
More football IQ is a good thing for the Packers
In addition to having a high football IQ, the Packers' new quarterbacks must be adaptable and versatile, with the ability to perform well in various game scenarios. As the Packers seek to replace their veteran quarterback, they will undoubtedly prioritize finding players who can make sound decisions, work collaboratively with the team, and execute plays with precision.
While Sean Clifford may never be an NFL starter, he should be able to compete for the QB2 role and bring a much-needed presence to the Packers' roster due to his high football IQ and incredible amount of heart.
---
---
Thank you for reading Basic Blues Nation. Please follow us on Facebook and Twitter for the latest news and insights on your favorite Penn State athletics. For feedback, questions, concerns, or to apply for a writing position, please email us at basicbluesnation@gmail.com or direct message us on our social media. It's due to your support that we can become one of the market's fastest-growing Penn State sports outlets!
Notable Penn State football transfer portal losses selected in NFL Draft
Some key departures from Happy Valley had their names called in the NFL Draft this weekend.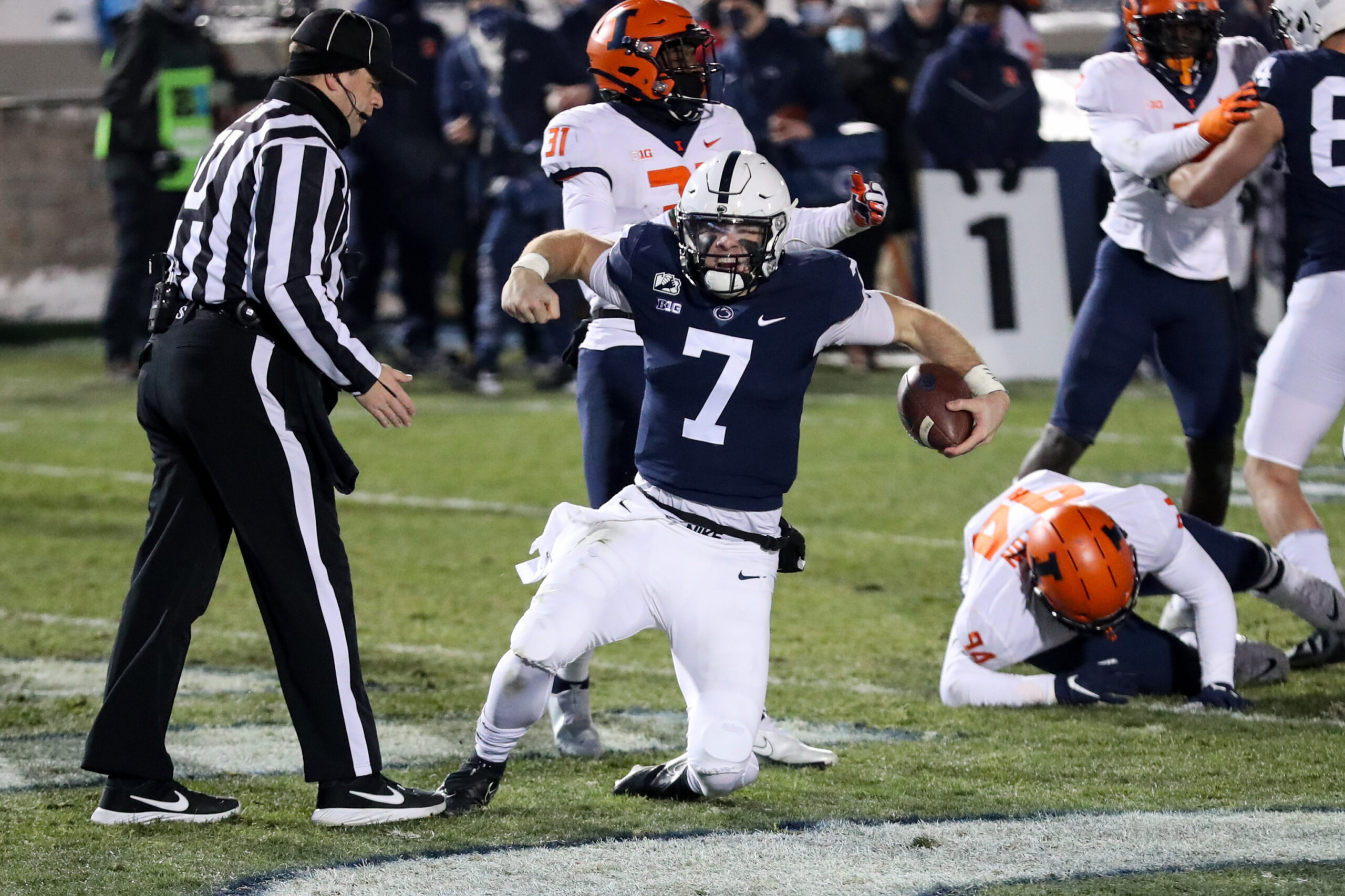 The NFL Draft has concluded. James Franklin and his staff have earned the reputation as one of the top developers of NFL talent in college football. Penn State football joins Georgia, Ohio State, and Alabama as the only four programs with at least five NFL draft picks in the last six NFL Drafts. This year, six Nittany Lions heard their names called on draft weekend. However, in today's age of the transfer portal, the number of former Penn State football players selected in the NFL Draft climbs even higher. Here are some of the most notable Penn State transfer portal losses selected in a crazy 2023 NFL Draft. 
Former Penn State quarterback becomes biggest storyline of NFL Draft
The NFL Draft's biggest storyline was the fall of former Penn State quarterback Will Levis. Levis, a three-star QB from Middletown, CT, committed to a crowded quarterback room filled with Trace McSorley, Tommy Stevens, and Sean Clifford in 2018. Clifford beat out Stevens for the starting job in 2019, leaving Levis as the backup. 
In 2020, Clifford struggled and faced injuries, creating a larger role for Levis. There was much debate about who should be the starting quarterback during Penn State's tumultuous 2020 season. Ultimately, Clifford beat out Levis for the job, and Levis decided to take his talents to Kentucky.
Levis went 17-7 in his two seasons at Kentucky and led the Wildcats to heights the program has never seen before. During NFL Draft evaluations, Levis's size and natural ability drew comparisons to Josh Allen. Last week, as rumors swirled that he would be drafted number one overall, most pundits expected Levis to be a high first-round pick. But surprisingly, Levis dropped a selection below Joey Porter Jr. and was drafted in the 2nd round (33rd overall) by the Tennessee Titans.
The media attention given to Levis's fall was nothing short of brutal. The former Penn State quarterback was compared to Aaron Rodgers on ESPN's coverage of the NFL Draft. Many brought up that Levis lost Penn State's quarterback competition to Clifford. When Clifford was drafted by the Green Bay Packers, people touted him as "the quarterback that famously held off Will Levis." 
Whether or not the Penn State fan base cares, Levis is a Nittany Lion. Levis graduated from Penn State in three years. Levis's girlfriend (who also got a lot of media attention) is a Penn Stater. Penn State fans should root for Levis in the NFL.
"I stayed positive, and I knew what was meant to be, was going to happen. When I saw they traded up for me, that alone was telling me that they wanted me, they wanted this to happen."#Titans Select QB Will Levis in Second Round of NFL Draft

— Tennessee Titans (@Titans) April 30, 2023
Top prospect from 2018 Penn State football recruiting class becomes mid-round selection
Penn State's 2018 recruiting class might be its best ever. There were three five stars in class, including 2021's NFL Defensive Rookie of the Year, Micah Parsons. One of these five stars was Justin Shorter, a 6-5 226-pound receiver from NJ who was expected to be a huge part of Penn State's offenses. But Shorter never panned out at Penn State, recording only 166 yards from scrimmage on 16 players over two years in Happy Valley.
After the 2019 season, Shorter hit the transfer portal and headed to Florida. As a Gator, Shorter had 1,395 all-purpose yards and 8 touchdowns over three seasons. His size and speed combination made Shorter an excellent vertical threat in Gainesville. On Saturday, the Buffalo Bills selected Shorter in the 5th round to provide depth in a crowded receiver room that emphasizes the deep ball. 
Got ourselves another gator.

Welcome to Buffalo, @jshortz10! #NFLDraft pic.twitter.com/OP8iE07feU

— Buffalo Bills (@BuffaloBills) April 29, 2023
Massive Tight End from Happy Valley's footprint gets drafted late
Another piece of Penn State's historic 2018 recruiting class was tight end Zack Kuntz. A 6-7 258-pound tight end from Camp Hill, PA, Kuntz was ranked as the fourth-best tight end in the 2018 cycle. Kuntz was believed to be the next in line of great tight ends at Penn State, following in the footsteps of Mike Gesicki and Pat Freiermuth. 
This plan did not come to fruition, as Brenton Strange and Theo Johnson rose to the top of a crowded tight end room. Kuntz decided to enter the transfer portal and join Ricky Rahne, his former offensive coordinator and current Old Dominion head coach. 
In 2021, Kuntz was second among tight ends nationwide with 73 receptions, and second on his team with 692 receiving yards. The massive tight end had five touchdowns as well. It looked like 2022 would be an even bigger year for the Camp Hill prospect, but Kuntz played in just five games before suffering a season-ending injury. 
Coming back from injury, the physical specimen Kuntz thrived at the NFL Combine. Kuntz ran an impressive 4.55-second 40-yard dash, had a 40-inch vertical, and added a 10-foot 8-inch broad jump. Since he tested so well, the New York Jets saw the potential a big target like Kuntz could have in its organization and selected the tight end in the 7th round. Kuntz joins a tight-end room that includes Tyler Conklin, C.J. Uzomah, Jeremy Ruckert, and Kenny Yeboah. Time will tell if Kuntz becomes utilized by the Jets as part of their offense.
Huge athleticism coming to the TE group. Let's go @zackkuntz_717!!

📰 https://t.co/1C6pXmzpCk pic.twitter.com/cqHSjghI2c

— New York Jets (@nyjets) April 29, 2023
---
---
Thank you for reading Basic Blues Nation. Please follow us on Facebook and Twitter for the latest news and insights on your favorite Penn State athletics. For feedback, questions, concerns, or to apply for a writing position, please email us at basicbluesnation@gmail.com or direct message us on our social media. It's due to your support that we can become one of the market's fastest-growing Penn State sports outlets!
'Speechless': Penn State football standouts react to hearing their names called in NFL Draft
After a run on Nittany Lions in the NFL Draft Friday, several former Penn State football players reacted to finding out their new teams.
After a disappointing opening round, there was a run on Penn State Nittany Lions in the second and third rounds of the NFL Draft. With four selections on Friday night, Penn State football joined USC and LSU as the only programs to have a player picked in one of the first three rounds of the NFL Draft for 18 consecutive years. While the analysis in the coming days will focus on player skillsets, scheme fits, draft steals, and potential busts, the human element of the NFL Draft is often quickly lost. Fortunately, we were able to capture a small glimpse of what it was like for several former Nittany Lions on the most transformational night of their lives.
Despite the disappointment, Porter expresses gratitude for coming home
Like every year, the 2023 NFL Draft has had many twists and turns through three rounds. However, several Nittany Lions were front and center for some of the most surprising moments this year.
One of the most stunning developments from the first round was the omission of Joey Porter Jr., who was widely expected to be a mid-round pick. The Pittsburgh Steelers, where Porter's father played, were seen as a no-brainer landing spot for the cornerback to open the second round. However, there was speculation throughout Friday about whether the Steelers would trade the pick, perpetuating Porter's fall.
But ultimately, the Steelers brought the North Allegheny High School prospect home. Porter, who was already back in Pittsburgh, met with the Steelers' media last night and expressed what the wait was like. "After last night, I was like, anything can happen with this draft," Porter said. "When they were on the clock and then the time was winding down, I was like, 'Dang, they might not get me.' But then I saw that 412 number pop up, and I was like, 'Okay, I'm coming home.'"
.@JoeyPorterJr knew he was coming home when a 412 number popped up on his phone. pic.twitter.com/fHj9CRwHhF

— Pittsburgh Steelers (@steelers) April 29, 2023
Scruggs describes shock with early NFL Draft selection
On the other end of the spectrum is Juice Scruggs. Scruggs was expected to be drafted on Friday night. But almost no one thought he would jump up into the second round, where he was picked No. 62 overall by the Houston Texans.
After his selection, Scruggs joined us for a media Zoom call, where he fought back tears, trying to express what the moment meant to him. "…the moment, I can't describe it," he told us. "It's everything I thought it would be and more."
Scruggs, who was with his family, described what getting the call was like and his thoughts on his next steps with the Texans. "I was just anxious all day, to be honest…I saw that Houston number pop up on my phone, and my heart just started racing," he said. "It's just kind of like a speechless moment. I'm just ready to get to work."
Amid the jubilation, Scruggs had the chance to connect with Penn State offensive line coach Phil Trautwein. Trautwein, who joined the staff in 2020, has elevated the offensive line play in Happy Valley. Scruggs attributed much of his second-round surprise selection to his former coach. "…it [the call with Trautwein] was emotional because he knew the goals that I had," Scruggs said. "We put in a lot of work, a lot of hard times. It wasn't always easy…He was just proud of me. I told him I'm thankful for everything he did… He's a big reason why I'm going in the second round."
Just wrapped up media availability with Juice. Says he's at a loss for words, and ready to get to work.

Also mentioned he doesn't know 1st round pick CJ Stroud personally, but is ready to put the Penn State/Ohio State rivalry to the side now. #WeAre https://t.co/KAc0WzbBYw

— Basic Blues Nation (@BasicBlues) April 29, 2023
Other Penn State football standouts find their new homes
Although they chose to have more private moments, we did get to see some of the reactions for Brenton Strange and Ji'Ayir Brown, who also went off the board Friday night.
Strange was the first of back-to-back picks for Penn State, going one spot before Scruggs with the 61st pick to the Jacksonville Jaguars. Shortly after his selection, Jacksonville released a short video where Strange discussed how he could be a dangerous weapon for Jaguars quarterback Trevor Lawrence.
Added a versatile playmaker on Day 2.@BrentonStrange | #NFLDraft pic.twitter.com/1ZvqZAt5df

— Jacksonville Jaguars (@Jaguars) April 29, 2023
The final pick of the night for Penn State football was Brown, who went in the middle of the third round to the San Francisco 49ers. Surprisingly falling into the third round, Brown could become one of the steals of the draft. San Francisco apparently felt the same way, as 49ers General Manager John Lynch told Brown that the team traded up in the third round to select him. The 49ers released the heartwarming video of when Brown found out he was heading out west.
#JL knows safeties.

The call that made @_Tiig2 a member of the 49ers 📞 pic.twitter.com/k0B0AcFvpa

— San Francisco 49ers (@49ers) April 29, 2023
With one more day to go, several more Nittany Lions will likely find new homes this weekend. The NFL Draft resumes Saturday, with the fourth round starting at noon.
---
---
Thank you for reading Basic Blues Nation. Please follow us on Facebook and Twitter for the latest news and insights on your favorite Penn State athletics. For feedback, questions, concerns, or to apply for a writing position, please email us at basicbluesnation@gmail.com or direct message us on our social media. It's due to your support that we can become one of the market's fastest-growing Penn State sports outlets!