Shrewsberry praises Holtmann, discusses Penn State's win over Ohio State
After Penn State's impressive four-point win over Ohio State, Micah Shrewsberry had a lot to say of his team and the Buckeyes.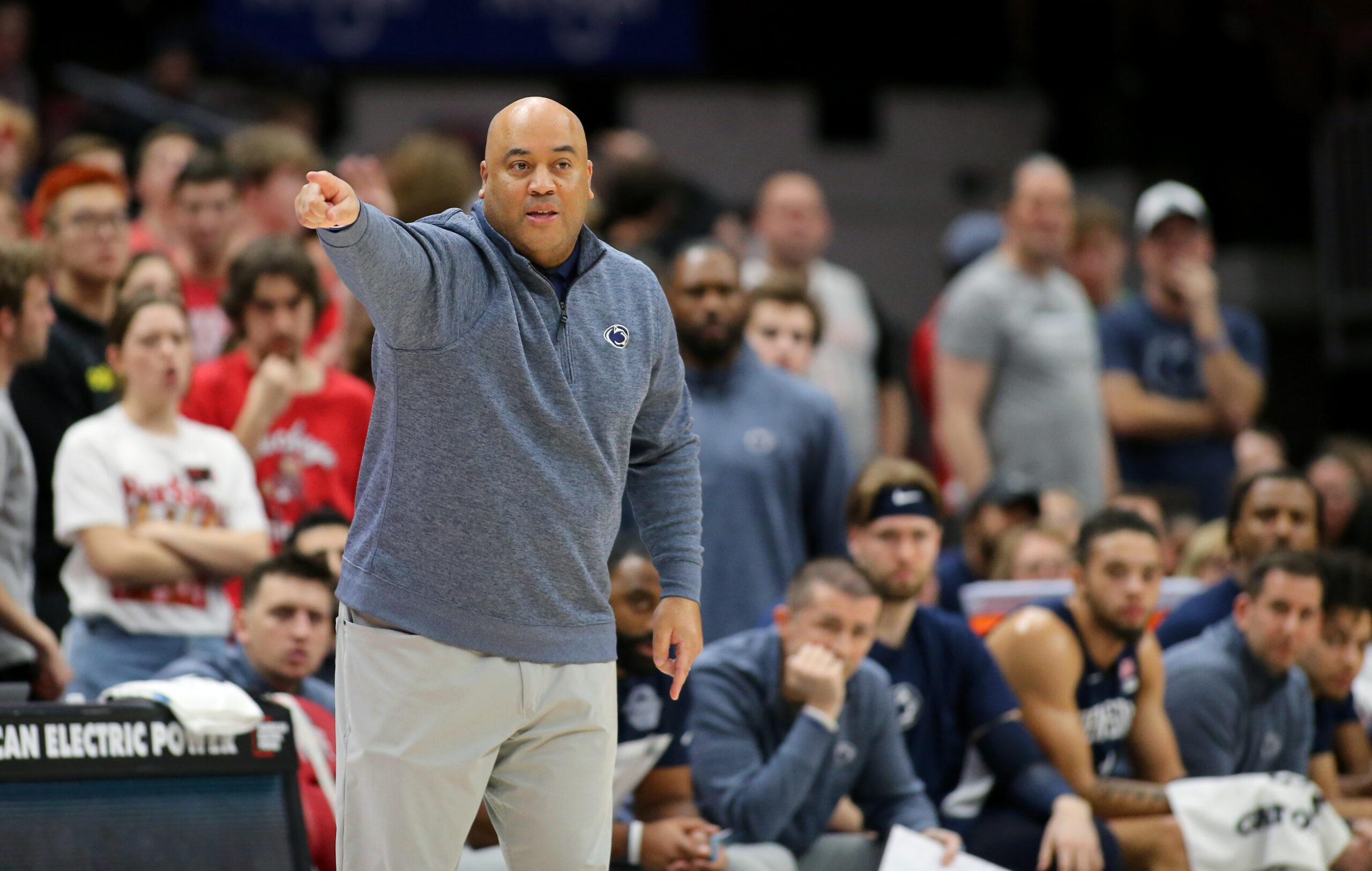 COLUMBUS, OH — On Thursday night, the Penn State Nittany Lions went into Value City Arena in Columbus, OH, and came away with a season-changing four-point victory over the Ohio State Buckeyes. The quad one win puts Penn State basketball back into the NCAA tournament picture heading into this Sunday's matchup with another quad one opponent: Rutgers. After Penn State's win over Ohio State, Nittany Lion head coach Micah Shrewsberry had some notable words for the media — from praising Ohio State head coach Chris Holtmann to discussing his team, Shrewsberry made many notable points.
Micah Shrewsberry opens presser with praise for Chris Holtmann
After narrowly pulling out a 75-71 win in Columbus, a high-spirited Micah Shrewsberry entered the press room and immediately began singing Buckeye head coach Chris Holtmann's praises.
"Before I go to answer questions — Chris Holtmann is a hell of a coach." Shrewsberry said. "If anybody's got any questions or doubts about that, then you're crazy man. That dude can coach, he's a hell of a coach, he's done it — like, yeah they're struggling this year, but that dude can coach, man. So you can get that nonsense and that craziness — you can get it out of my face, don't bring that over here to me." Shrewsberry added, "not that you did or anything — not that anybody cares what my opinion is. My opinion is he's a hell of a coach."
Micah Shrewsberry on Penn State's early foul trouble against Ohio State
"It hasn't happened to us very much," Shrewsberry said about Pickett and Funk getting two fouls early on in the game. "You trust those guys, they're smart, they're pretty handy players. They're still going to be in tough positions because we can't change our gameplan up totally, so they're going to end up in some switches, they're going to end up in some tough covers. You just got to trust that they're not going to foul unnecessarily… to do what they need to do to just force tough shots and not pick up another foul."
Shrewsberry continued, "I wanted to keep them engaged — you get five fouls, and two is not half… You've still got three left just do what you can to not pick that third up. I didn't want them to not be aggressive on offense or defense, if they're not being aggressive, then you have to take them out; but they were both being aggressive on both ends. [The other players] are capable… I talked to our guys about, not what Ohio State is doing right now, it's what they're capable of doing. Ask Cam Wynter… that dude is a 1,600-point scorer in his four years, he can get buckets."
"Seth [Lundy] has always played pretty well against Ohio State, him hitting some big shots and getting to the free throw line was big for us… we needed somebody to help us hold on until we could get those guys back at full-strength."
On what flipped Cam Wynter's "switch" these last two games
"He has been challenged this year, and he's responded a lot, but he's doing what we ask him to do. We're trying to get him to be a little more aggressive offensively, and I think he's done that in the last few games," Micah Shrewsberry said. "It just gives you another weapon that people are thinking about and people are worrying about even when [Pickett and Funk] come out. It helps me — now I feel a little better about getting Pickett a break in the first half, in the second half, because you know what he's capable at any point in time."
On Pickett's incredible play
"Even when he's not playing at his best — I didn't think he was very good in the first half before he got his fouls — he can get it going at any moment," Coach Shrewsberry said. "He was 2/2 from three, 5/9 two games ago — it takes away ways that people can guard him, and now you're limited. You can only do so much, right? I have coached a lot of basketball, there's only so many ways you can guard a ball screen, and him making threes eliminates one of them, so now you're down to a couple, and then we just figure out what you're doing and we just try and get him in the right spots… when you've got a guy like that you just ride him as long as you can."
On Penn State's 3-point record
"It's a combination of having a bunch of really good shooters, but you have to have shooters that make shots, that's the biggest thing," Shrewsberry told the media. "We have more makers than shooters. Our guys are comfortable shooting it — they're comfortable taking tough shots… It's awesome for us to set the school record for making threes, but that's not our ultimate goal, it's just a byproduct of how we're playing and what we're doing."
On Ohio State's one turnover
"We're not built to force turnovers," Shrewsberry said. "We're smaller, if we're out trying to get steals in passing lanes, now people are getting by us — they're getting to the rim and they're scoring. We don't have backline help… our defense is more about positioning… We haven't given up a lot of offensive rebounds on a whole on the season, but we don't force a lot of turnovers — BUT — for us to have possessions we can't turn the ball over either. Another clean game from us with four."
_____________________________________________________________________________________________________________________________________________________________________________________
Thank you for reading Basic Blues Nation. Please follow us on Facebook and Twitter for the latest news and insights on your favorite Penn State athletics.
For feedback, questions, concerns, or to apply for a writing position, please email our Managing Editor at [email protected]. It's due to your support that we can become one of the market's fastest-growing Penn State sports outlets!
BREAKING: Penn State basketball lands Dominick Stewart
The Penn State basketball team has landed a new commit in the 2024 class today.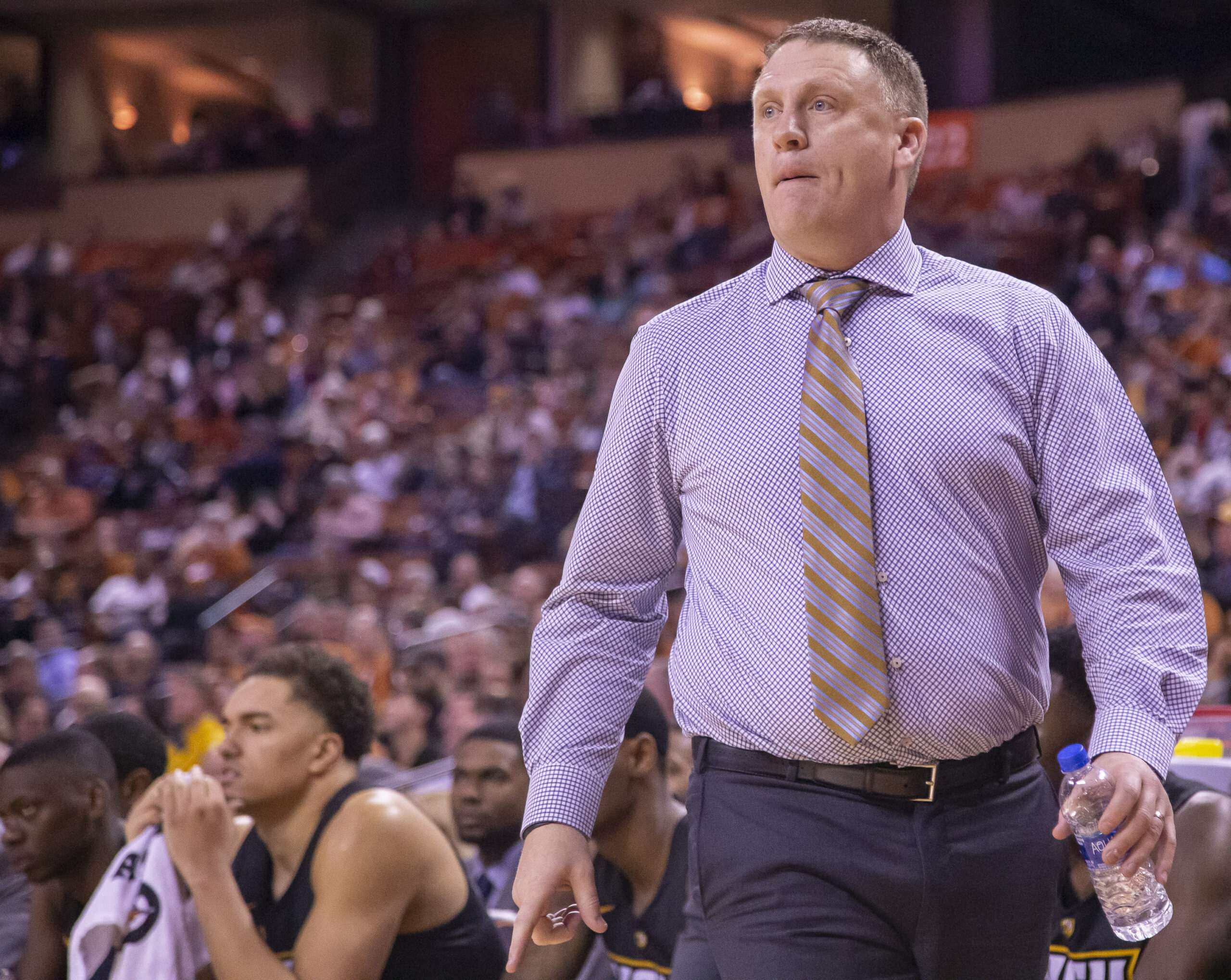 Mike Rhoades and the rest of the Penn State men's basketball recruiting staff got some good news today from the recruiting trail as the 2023-2024 season inches closer. The 2023 schedule was released this week and tip-off is nearing closer. But before that takes place, Rhoades and his staff have been hard at work trying to secure the future. A step in that direction was taken today, as the Nittany Lions landed top prospect Dominick Stewart. 
Penn State basketball lands Dominick Stewart
Class of 2024 guard Dominick Stewart announced his commitment to the Nittany Lions on Friday afternoon. Dominick is a 6'5 guard from Maryland and is currently playing at the Southern California Academy in California. He is the 184th-ranked player nationally and a three-star by the ON3 industry rankings. He carries an impressive offer list that includes Butler, Creighton, Mississippi State, and Cal. Penn State offered back in July after Dominick's very strong showing on the AAU circuit which included All-Breakout team selections at Peach Jam in the Nike EYBL session #3. This commitment comes from a recent visit he took to Happy Valley at the beginning of the month. 
NEWS: Dominick Stewart, a 6-foot-5 shooting guard in the class of 2024, tells me he's committed to Penn State.

Story: https://t.co/iUp5YV6LqN pic.twitter.com/iYo2Nc34YU

— Joe Tipton (@TiptonEdits) September 22, 2023
Stewart looks like a good get, especially after that impressive AAU run that got many schools noticing him. He is a smart and skilled player who can fit into many lineups and spots on the court. He is a good shooter with a great jumper. His jump shot is smooth and quick which allows him to avoid contests and score in bunches when he gets hot.
He processes the game at an impressive speed and is constantly making the right play. Not your typical lead ball playmaker, but is a fantastic connector, keeping the ball moving and hitting the open man. Those smarts apply to the other side of the ball too. Stewart uses his good size at hoard effectively to guard up and down the lineup. He is a good and willing team defender which fits the Rhoades style well. 
Where does Stewart fit in at Penn State?
Stewart, originally a member of the 2025 class, becomes the second member of Penn State's 2024 class after reclassifying. He joins fellow guard Jahvin Carter as the first high school recruit to commit to Penn State since Mike Rhoades took over. Jahvin, who committed back in June, and Stewart make an interesting pair in the backcourt and share a lot of skills that the staff clearly values. The biggest one is their basketball IQ. They should both be important pieces in building a smart and skilled program for the future of Penn State Basketball. 
---
---
Thank you for reading Basic Blues Nation. Please follow us on Facebook and Twitter for the latest news and insights on your favorite Penn State athletics. For feedback, questions, concerns, or to apply for a writing position, please email us at [email protected] or direct message us on our social media. Also, be sure to check out our new site shop. It's due to your support that we can become one of the market's fastest-growing Penn State sports outlets!
Penn State Basketball has released its 2023-2024 official schedule
The Penn State basketball 2023-2024 schedule is here!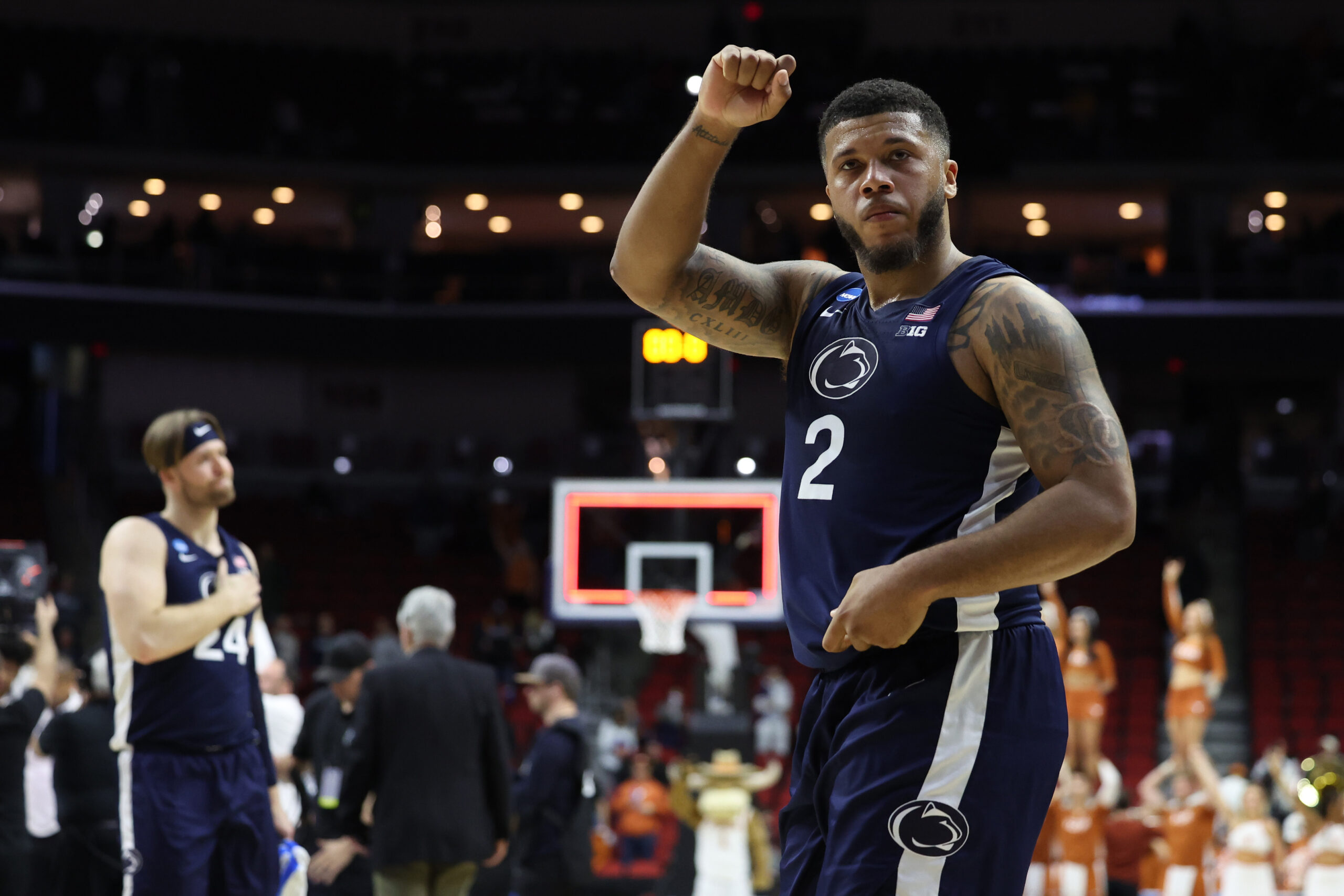 After a long wait, we now know what awaits the Penn State Men's Basketball team this winter. Year 1 of the Mike Rhoades era is around the corner with the release of the 2023-2024 basketball schedule. The schedule totals 30 games including an in-season tournament, a potential revenge game, and another Palestra special
Penn State Basketball has released its 2023-2024 official schedule
Before all that, however, the season opens up on November 6th against Delaware State. This game, at the Bryce Jordan Center, starts a run of home games to begin the year against Lehigh (November 10th), St. Francis (November 14th), and Morehead State (November 17th). This all leads to the ESPN Events Invitational.
Penn State gets its first big test down in Orlando in a rematch against Texas A&M. The game takes place on Thanksgiving, November 23rd, and will be a great chance to test out the radically different roster against a more familiar opponent. Penn State will play a total of 3 games in the tournament win or lose with the potential for a very intriguing matchup
If the Nittany Lions are able to go all the way to the championship they could match up against Mike Rhoades' former school, VCU. This would obviously be huge for the coach against his old school, but it also features a "revenge" opportunity for a couple of players as well. Point guard Ace Baldwin Jr. and forward Nick Kern Jr. both followed coach Rhoades from VCU to Penn State this past spring. While this game would be amazing, it is unlikely. Penn State and VCU would both have to mirror each other in each round whether that means winning out, losing out, or somewhere in between. A matchup we are guaranteed is another Big Ten Showdown in Philly.
On January 7th the Nittany Lions will take on Michigan in the Palestra. This will be the second year in a row Penn State will host a game in the historic arena and the 4th time since their 2017 matchup against Michigan State. Penn State has a long history in the arena playing 61 games there since 1927, and win or lose, the environment is always electric. 
The schedule in full goes as follows:
November 6th: vs. Delaware State
November 10th: vs Lehigh
November 14th: vs St. Francis(PA) 
November 17th: vs. Morehead State
November 23rd: vs Texas A&M*
November 24th: vs Butler/FAU*
November 26th: vs TBD*
December 2nd: vs Bucknell
December 6th: at Maryland
December 9th: vs. Ohio State
December 21st: vs Le Moyne
December 29th: vs Rider
January 4th: at Michigan State
January 7th: vs Michigan 
January 10th: vs Northwestern
January 13th: at Purdue 
January 16th: vs Wisconsin
January 20th: at Ohio State
January 27th: vs Minnesota
January 31st: at Rutgers
February 3rd: at Indiana
February 8th: vs Iowa
February 11th: at Northwestern
February 14th: vs. Michigan State
February 17th: at Nebraska 
February 21st: vs Illinois 
February 24th: vs Indiana 
February 27th: at Iowa 
March 2nd: at Minnesota 
March 10th: vs Maryland 
March 13th-17th: Big Ten Tournament
*= ESPN Events Invitational in Orlando, Florida
**= home game in Philly at Palestra
Penn State has already played a couple of warm-up games with two big wins in the Bahamas that gave us our first look at this new squad. The team has also announced a third against Robert Morris on October 27th as they gear up to take on this 23-24 schedule. As Mike Rhoades looks to begin a new era in Penn State basketball. 
---
---
Thank you for reading Basic Blues Nation. Please follow us on Facebook and Twitter for the latest news and insights on your favorite Penn State athletics. For feedback, questions, concerns, or to apply for a writing position, please email us at [email protected] or direct message us on our social media. Also, be sure to check out our new site shop. It's due to your support that we can become one of the market's fastest-growing Penn State sports outlets!
Scouting report on Penn State Basketball center Qudus Wahab
Learning more about Qudus Wahab.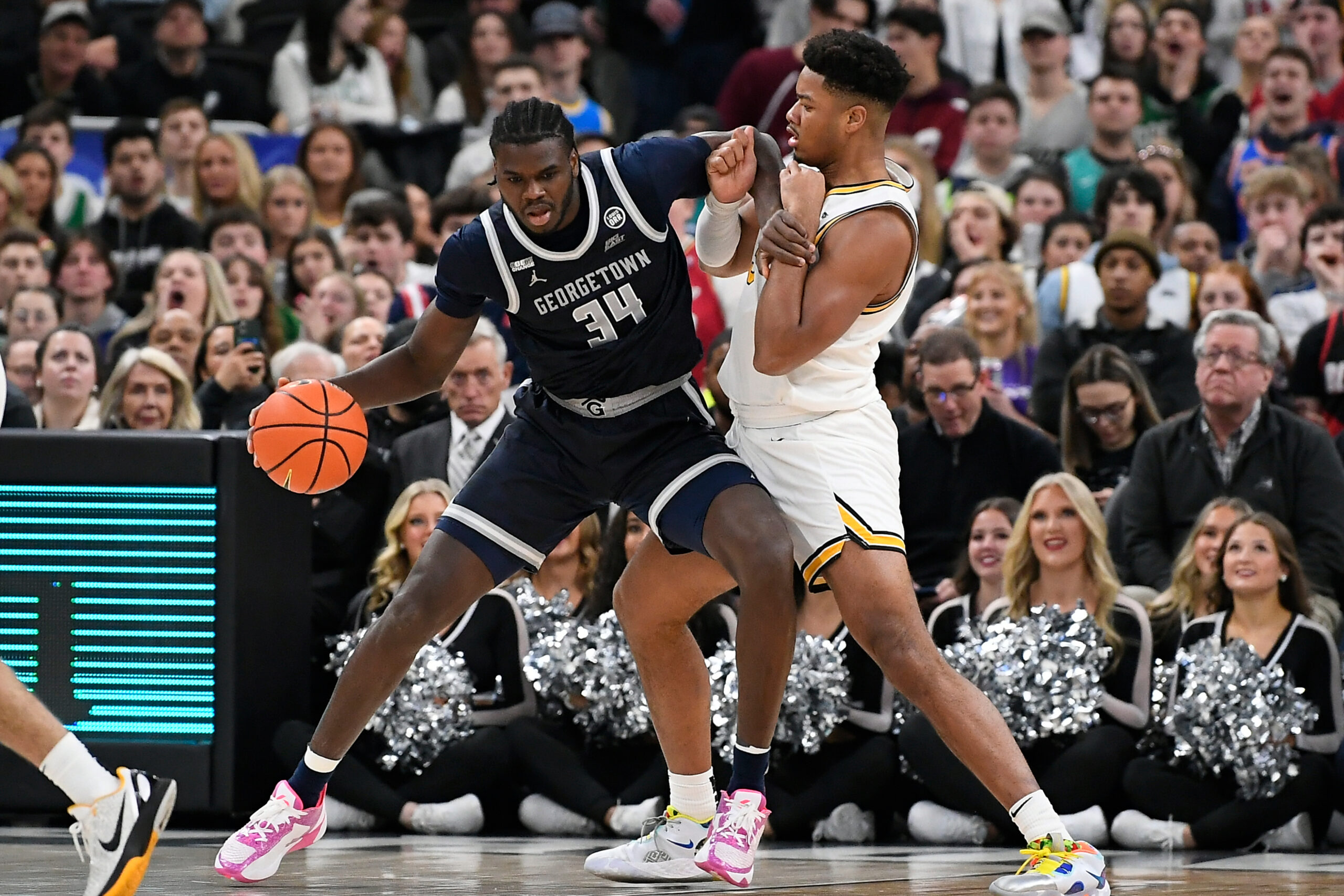 The second player I'm covering in the scouting series is the 5th-year senior from Georgetown Qudus Wahab. The projected starting center may be the deciding factor for which way the Penn State basketball season goes. With a lot of inexperience behind him and some good centers in the conference, Wahab's play is going to be crucial for the Nittany Lions.
Scouting report on Penn State Basketball center Qudus Wahab
Wahab comes to Penn State to close out what has been an up-and-down college ride so far. Qudus was a top 150 recruit back in the 2019 high school recruiting class and chose to play for Georgetown. After a big sophomore year where he averaged about 13 points and 8 rebounds, Wahab decided to enter the transfer portal looking for a better program. He transferred to Maryland, but after a disappointing season that saw him play just 19 minutes a game, he entered the portal again, this time heading back to Georgetown. In his 4th season, he bounced back from his bad year at Maryland, but still did not reach his sophomore-year level, averaging 9.6 points and 7.1 rebounds a game.
He got more post touches this year than he had in the past and his efficiency reflected that, dropping from a career 58% shooting mark to just 51.3%. The Georgetown team was bad with a record of 7-25. Their offense ran terribly and everyone suffered because of it. Wahab comes to Penn State with less of a burden offensively and some very talented guards to play with in Ace Baldwin and Kanye Clary which should help increase his efficiency. 
When you watch the highlights Wahab looks like your average traditional center. Often the biggest player on the floor he appears to be a physical presence down low on both ends. It looks like he loves to work in the post and he isn't the most athletic player. Highlights rarely show the full picture, however, so let's dig a little deeper and check out some full games. Again, shoutout to the amazing College Basketball Scouting channel for a good breakdown of the numbers of Wahab's senior season.
The first game I watched was a January 24th matchup against DePaul. Wahab played 22 minutes in this matchup finishing with 9 points on 2-6 shooting from the field and 5-6 shooting from the line. He also added 10 rebounds and a block to the box score. The main thing that jumps out of this game is the style that Georgetown was running last year. They ran a ton of iso-heavy plays and rarely used ball screen actions. Wahab seemed to spend the majority of the game in the dunker's spot or fighting for position inside. In the season Wahab operated in a post up 48% of the time resulting in 0.93 points per possession, or PPP, which is 67th percentile. He looks comfortable there but it is not the most efficient style of offense, which was evident in this game with his poor shooting from the field. He is in roll/pop action only 15% of the time resulting in 0.98 PPP which is 45th percentile.
That percentage should skyrocket playing in Rhoades' offense and, with the improved guard play around him in Ace and Kanye, that PPP will improve as well. The other thing that is really apparent here is his rebounding skills. He has a nose for the ball off the boards and he gets work done there on both ends. In this game, his 10 rebounds were evenly split, 5 defensive and 5 offensive. Wahab's offensive rebounding is gonna be a huge factor for a Penn State team that has had problems there in the past. He had a 13% offensive rebounding rate last year. Comparatively, Penn State as a team had a 17.7% rebounding rate last season. Wahab's defense was not the sharpest in this game. He looked lethargic and was out of position a number of times, but playing for a team as bad as Butler can take away your motivation to really try. This next game we are gonna look at provides some evidence that it is a motivation issue and not an ability issue. 
Game 2 was a matchup against the future champion UConn Huskies on February 4th. The game ended in a loss for Georgetown, but the Hoyas played a tough game, falling 68-62. The game is this close was in no small part thanks to Qudus Wahab. Matching up against arguably the best center rotation in the country of Adama Sanogo and Donovan Clingan, Wahab played 27 minutes scoring 10 points on 5-9 shooting from the field with 6 rebounds and 2 blocks. Wahab looked much more motivated and active in this game. He seemed to take pride in the matchup and really held his own on both ends. He could not get super far inside easily against Sanogo but he was able to get to his spot near the right elbow for a few smooth post hooks. The post hook is a solid weapon for Wahab. He goes to it near the right elbow for 14% of his shot attempts and he hits them at a respectable 50% from the field. That shot has the makings of a great low-shot clock bailout play to try and salvage some bad possessions. On defense, he was much more engaged. He defended his individual matchups well but also was an excellent team defender. He always seemed to be in the right position this game and was hustling around nonstop. His defense was the biggest reason why Georgetown was able to hold UConn to just 68 points. With the right motivation, Wahab showed he can rise to the occasion. 
What will Wahab's role be at Penn State?
With Penn State, it will be a wildly different role for Wahab on both ends. Playing with a guard like Ace Baldwin who operated in the pick-and-roll 48% of the time last season should give Wahab a lot of new looks on offense. Wahab seems to have a good feel for space and is crafty inside to finish at the rim despite his lack of athleticism. He already shot 69% of his shots at the rim on 54% efficiency, and, with a more PnR-heavy offense and better guards, we could see both those numbers improve at PSU. On defense, the transition is a bit more complicated. The Rhoades' defense uses a lot of pressure concepts that will be a new experience for Wahab. It is a very high-energy defense that requires a lot of hustle. Wahab has struggled with hustle at times, but with very little experience behind him, he is going to have to really buy into the system for the Penn State basketball team to be successful. 
Wahab is going to be one of the most important players for the Penn State basketball team this season, for better or worse. Last year for him was not great, but we have seen some fantastic play from Wahab at times throughout his 4-year career. With improved guard play and a more coherent system, Qudus could be in for a nice comeback in his final college season. 
---
---
Thank you for reading Basic Blues Nation. Please follow us on Facebook and Twitter for the latest news and insights on your favorite Penn State athletics. For feedback, questions, concerns, or to apply for a writing position, please email us at [email protected] or direct message us on our social media. Also, be sure to check out our new site shop. It's due to your support that we can become one of the market's fastest-growing Penn State sports outlets!