Rooting Guide: Which Week 6 games are most important for Penn State football?
Penn State football may be idle this week, but that doesn't make this week's slate of games meaningless. Which games will have the most impact of the Nittany Lions' hunt for the CFP? We have you covered!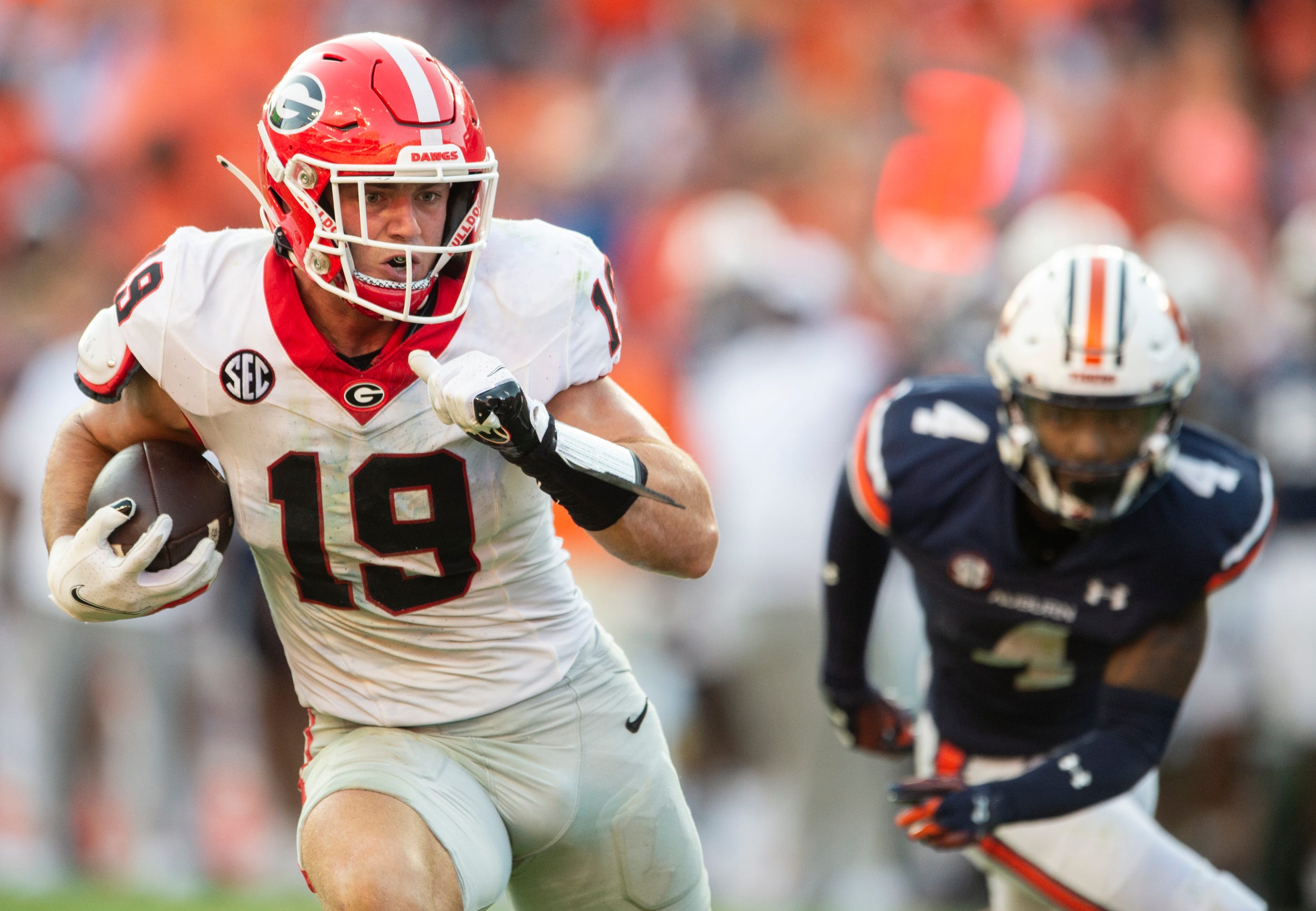 Penn State football overcame a slow start in Evanston Saturday and had a big second half to defeat Northwestern 41-13. The Nittany Lions took on some injuries in the game and will head into the bye week needing the rest. But that doesn't mean this week's slate of games won't be impactful for Penn State. We've got you covered with a complete rooting guide for the Week 6 slate of college football that could impact Penn State's push for the College Football Playoff.
Penn State football fans' rooting guide: College football Week 6
Last week, Penn State football got some help from a pair of ranked matchups when No. 19 Oregon State defeated No. 10 Oregon State, and No. 20 Ole Miss took down No. 13 LSU in a thriller. Penn State remained at No. 6 in the AP poll because No. 7 Washington struggled against Arizona with a 31-24 win.
This week features another solid 4 ranked matchups, and plenty of other games that will impact the Big Ten title game race. Here are the games we'll be keeping an eye on throughout the day of the Week 6 slate.
Nebraska (2-3) @ Illinois (2-3) FRI 8:00 pm ET FS1
Anytime you can watch two bad Big Ten teams battle it out on a Friday night, you just have to do it. These may be two of the worst teams in the Big Ten. Nebraska is coming off a 45-7 stomping at the hands of Michigan at home, while Illinois is entering off a 44-19 loss at Purdue. The Illini enter as a 3.5-point home favorite.
We continue to revisit this every week, but in the event of a three-way tie between Michigan, Ohio State, and Penn State, the tiebreaker is the team with the best winning percentage amongst the Big Ten West opponents on their respective schedules. An Illinois win not only helps in the tiebreaker scenario but also improves Penn State's overall strength of schedule.
No. 12 Oklahoma (5-0) vs No. 3 Texas (5-0) 12:00 pm ET ABC
This game is the premier game of the week slate and features two Playoff contenders and the frontrunners of the Big 12. Texas has been rolling this season and climbed all the way to No. 3 thanks to a big road win over Alabama. Oklahoma has had a slow grind to rise in the polls due to a lack of a quality win. This week, the Sooners will get their chance for a quality win in the annual Red River Rivalry.
Penn State fans should be rooting for Texas to lose because it will open up the opportunity to move into the top 5. While Oklahoma would improve to 6-0, the gap from 12 to 5 is too much of a gap to move up in one week. The spread for this game is around Texas -6, and this is the best opportunity for a top 5 team to lose during Week 6.
Maryland (5-0) @ No. 4 Ohio State (4-0) 12:00 pm ET FOX
This will be the first real test for Maryland after a relatively easy start to the year. Ohio State will be coming off a bye week after an emotional last-second win over Notre Dame in Week 4. The Buckeyes opened as an 18.5-point favorite, and many don't believe this one will be close.
This game is something to monitor but not necessarily massive for Penn State. Obviously, if Ohio State loses, the Nittany Lions could jump them in the AP rankings. Realistically fans should root for the Buckeyes to win and retain their high ranking for that trip to Columbus in 3 weeks. Winning or losing versus a top 4 team is much more beneficial for Penn State than not when looking at the College Football Playoff picture.
No. 23 LSU (3-2) @ No. 21 Missouri (5-0) 12:00 pm ET ESPN
This game is going under the radar a little amongst the ranked matchups after LSU's loss to Ole Miss last week. Missouri took care of Vanderbilt and will host one of their biggest home games as a ranked team for the first time since the early days of joining the SEC. Despite being on the road, LSU is around a touchdown favorite in Columbia.
This is another game that has minor implications on the College Football playoff but can't be completely turned off. LSU is most likely eliminated from the Playoff after picking up its second loss last weekend. Missouri isn't an immediate threat to make the Playoff, but losing to LSU would put it with no room for error the rest of the schedule. Pull for LSU to win this game and knock Missouri from the list of unbeatens.
No. 13 Washington State (4-0) @ UCLA (3-1) 3:00 pm ET PAC12
Washington State has slowly been creeping up the rankings this season, and rightfully so, with wins over Wisconsin and Oregon State. UCLA's only loss to date was a 14-7 loss at Utah. Both teams were off last week and should be fresh for this matchup. Despite the ranking, the Cougars enter this matchup as a 3.5-point underdog Saturday in Los Angeles.
Penn State fans should pull for UCLA in this matchup. Washington State has been moving up the rankings and is one of college football's remaining unbeaten teams. A win by Washington State in this game and it will be quietly establishing themselves as dark horse playoff contenders.
Purdue (2-3) @ Iowa (4-1) 3:30 pm ET Peacock
Iowa needed a punt return touchdown and fumble in the 4th quarter to escape against Michigan State on Saturday in what was an ugly football game. The game also saw starting quarterback Cade McNamara get hurt early in the game, and now an already awful offense will have to lean on a backup quarterback. Purdue looked incredible in a big 44-19 win over Illinois at home. The Boilermakers have played 4 out of 5 Power conference opponents to start the season. Their only game that wasn't a Power 5 team was against Fresno State, which is now ranked 24th in the nation. Iowa enters as a 2.5-point home favorite.
Like the Illinois game, Penn State fans need to be pulling for Iowa to win this one to help with potential tiebreakers and overall strength of schedule. The Hawkeyes are probably Penn State's 2nd best win on the young season behind West Virginia.
No. 11 Alabama (4-1) @ Texas A&M (4-1) 3:30 pm ET CBS
This game the last few years has had some thrilling finishes. One even included a win for Texas A&M two years ago on a game-winning field goal. A&M lost Conner Weigman for the season, but Max Johnson stepped in quite nicely for a 34-22 win over Arkansas last weekend. Alabama seems to be getting back into rhythm with a solid 40-17 win over Mississippi State on Saturday. The Crimson Tide enter as a 2.5-point favorite. In what is looking more and more like a wide-open SEC West, the winner of this game will be in the driver's seat as we head towards the back end of the season.
Penn State football fans should root for the Aggies in this one to pull off the upset at home. Alabama, despite its quarterback issues, is still a College Football Playoff contender. A loss to Texas A&M would most likely knock tne Tide out of contention. There aren't a ton of teams on Alabama's schedule that will have the athletes to knock it off, so if the second loss is going to happen, this would be it. Texas A&M still has one loss but isn't ranked and still has a lot to prove with a backup quarterback before receiving any real national recognition.
Syracuse (4-1) @ No. 14 North Carolina (4-0) 3:30 pm ET ESPN
Syracuse had a tough showing on Saturday in a 31-14 home loss to Clemson. North Carolina is coming off a bye but has moved up one spot in the rankings and sits with an unblemished 4-0 record. Syracuse is going through a tough 3-game stretch that features Clemson, at North Carolina, and at Florida State. The Tarheels enter this game as an 8.5-point favorite at home.
Penn State football fans should pull for the Orange to pull the road upset. Syracuse isn't a contender on the national stage, but North Carolina is a team that could make some noise if it keeps winning. The Tarheels are already ranked No. 14 in the nation and avoid Florida State on their conference schedule.
No. 20 Kentucky (5-0) @ No. 1 Georgia (5-0) 7:00 pm ET ESPN
Georgia survived a scare last week with a tight 27-20 win at Auburn. Kentucky ran wild in a 33-14 beatdown over Florida at home. This will be the toughest task to date for the Wildcats, who only have two Power 5 wins against Vanderbilt and Florida. Georgia looks vulnerable, but a win like last week should give confidence to its young quarterback Carson Beck. The Bulldogs enter as a 14.5-point favorite.
This game probably won't be particularly close, and the betting line approves that message. Obviously, a Kentucky upset over No.1 Georgia would be massive for Penn State football in the playoff picture. It would give an opportunity for the Nittany Lions to move up a spot in the AP poll during the bye week and give another playoff contender a loss. Taking down Georgia between the hedges is easier said than done, though.
No. 10 Notre Dame (5-1) @ No. 25 Louisville (5-0) 7:30 pm ET ABC
Notre Dame escaped against Duke last week with a late touchdown with under a minute to go for the 21-14 win. The Irish controlled for much of the game, but the Blue Devils got it going in the second half and almost pulled off the upset. Instead, Notre Dame got a quality win and found itself ranked in the top 10 once again. Louisville is quietly off to an undefeated start that has involved 3 one score wins. Notre Dame enters as a 6.5-point road favorite Saturday night.
Penn State fans once again should be pulling for Notre Dame to be upset. Louisville gets the benefit of playing at home and a chance at their biggest win of the season. A second loss by Notre Dame would most likely eliminate them from the College Football Playoff.
---
---
Thank you for reading Basic Blues Nation. Please follow us on Facebook and Twitter for the latest news and insights on your favorite Penn State athletics. For feedback, questions, concerns, or to apply for a writing position, please email us at [email protected] direct message us on our social media. Also, be sure to check out our new site shop. It's due to your support that we can become one of the market's fastest-growing Penn State sports outlets!