Quality in-game reps will benefit Drew Allar and Penn State football down the stretch
This fall, Drew Allar will benefit from his experience in 2022. See what the sophomore QB has to say about his freshman season.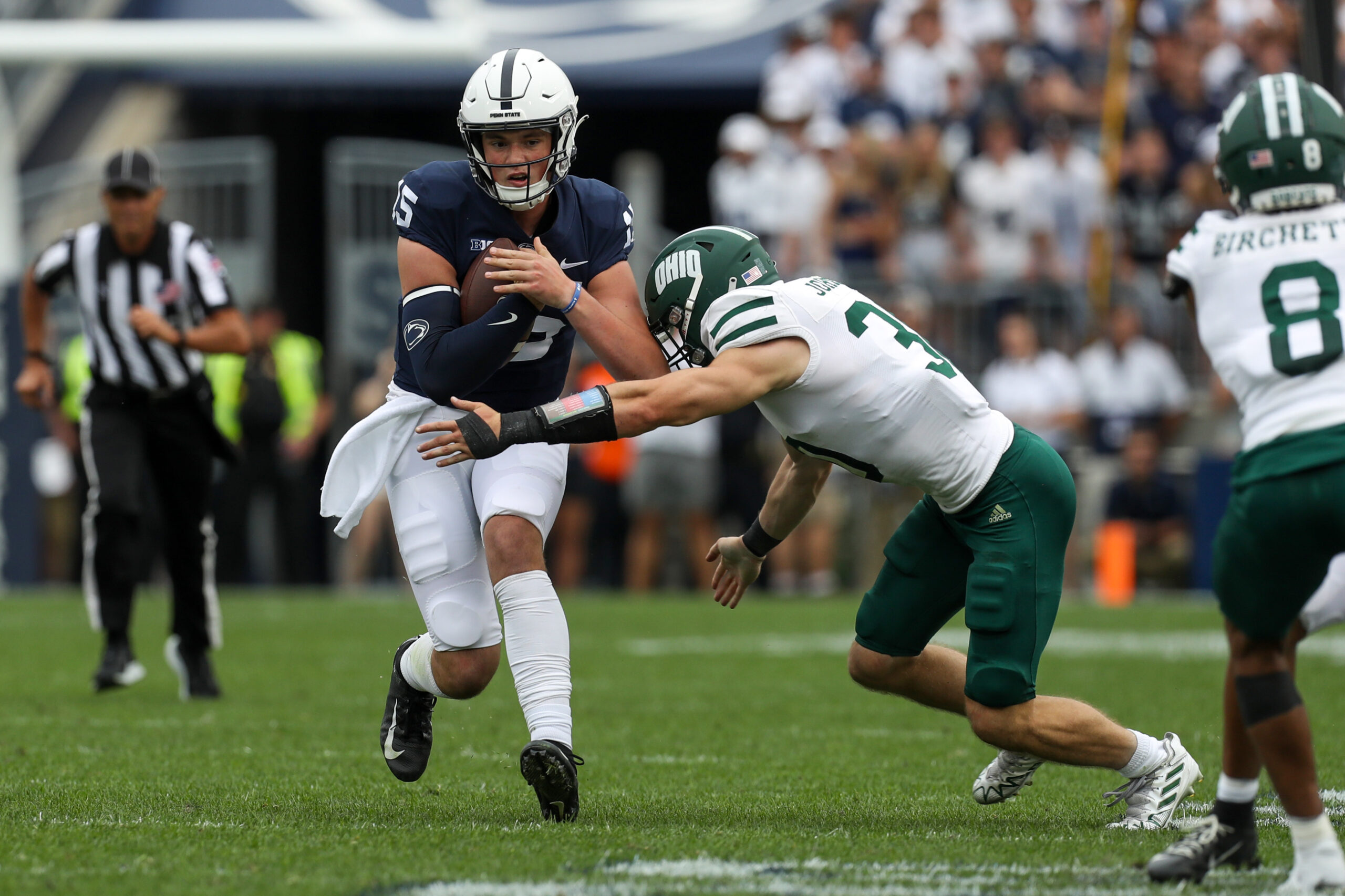 There's a lot of buzz surrounding Penn State football as the 2023 season approaches. The team is being touted as a possible Big Ten title contender, and there's even talk of a potential College Football Playoff appearance for the first time in program history. During a recent interview with Adam Breneman, sophomore quarterback Drew Allar shared how his in-game experience in 2022 has helped him prepare for his potential starting role this upcoming season, making for a smoother transition.
Drew Allar stepping into a new role with Penn State, and his in-game reps from 2022 should be paying off.
In 2022, Drew Allar served as the backup quarterback to the longstanding starter Sean Clifford, who served as QB for Penn State football from 2019-2022. Despite this, Allar had a significant number of opportunities to play throughout the season due to lopsided scores and more.
Allar participated in almost all of the Nittany Lions' matchups last season, including a devastating defeat at Michigan and the team's second-ever victory in the Rose Bowl on January 2nd of this year.
Drew Allar credits his experiences as a college quarterback for his growth and progress ahead of his sophomore season with the Nittany Lions. This frowth implies that Penn State football will benefit from his improved in-game mindset and more during the upcoming football season when he is expected to be named the starter for the Lions' Week 1 game against former rival, West Virginia.
"It was huge," new Penn State football quarterback Drew Allar said of his in-game experiences. "Because obviously, practice is one thing, going against your defense every day, but being in a live game situation where it's you win or lose, this is what you work for," said Allar. "And all your hard work over the summer and each week goes into that week. Just going out and being able to execute the game plan doing what the coaches are asking you to do. Definitely helped me a lot.
A steep learning curve is not something that Penn State football fans should be worried about with Drew Allar in 2023.
Learning the ins and outs of college football can be challenging, but with time and experience, the knowledge gained can greatly benefit a team like Penn State. James Franklin and his Nittany Lions, including Drew Allar, have undoubtedly gained valuable lessons that will pay off in the future.
"There was a couple of instances when I would go in; I missed an assignment," Allar continued. "And I made sure I would never miss those again just because you don't want to keep repeating the same mistakes. So I think it was very, very great for me to get in. I didn't expect to get into that many games, either. So it was definitely a great learning experience every game I got the opportunity to go into."
As Penn State football head coach James Franklin heads into his 10th season at the helm in State College, the starting quarterback position remains unnamed. However, former five-star recruit Drew Allar is widely anticipated to take over in due time. Fans and national media have been eagerly awaiting the Drew Allar era, which is expected to begin in just a few short months for a primetime matchup at Beaver Stadium against the Mountaineers.
---
---
Thank you for reading Basic Blues Nation. Please follow us on Facebook and Twitter for the latest news and insights on your favorite Penn State athletics. For feedback, questions, concerns, or to apply for a writing position, please email us at [email protected] or direct message us on our social media. It's due to your support that we can become one of the market's fastest-growing Penn State sports outlets!