PREVIEW: Penn State hockey returns to Pegula for home opener
Penn State hockey opens the 2023-24 home schedule this weekend with a two game series with American International College.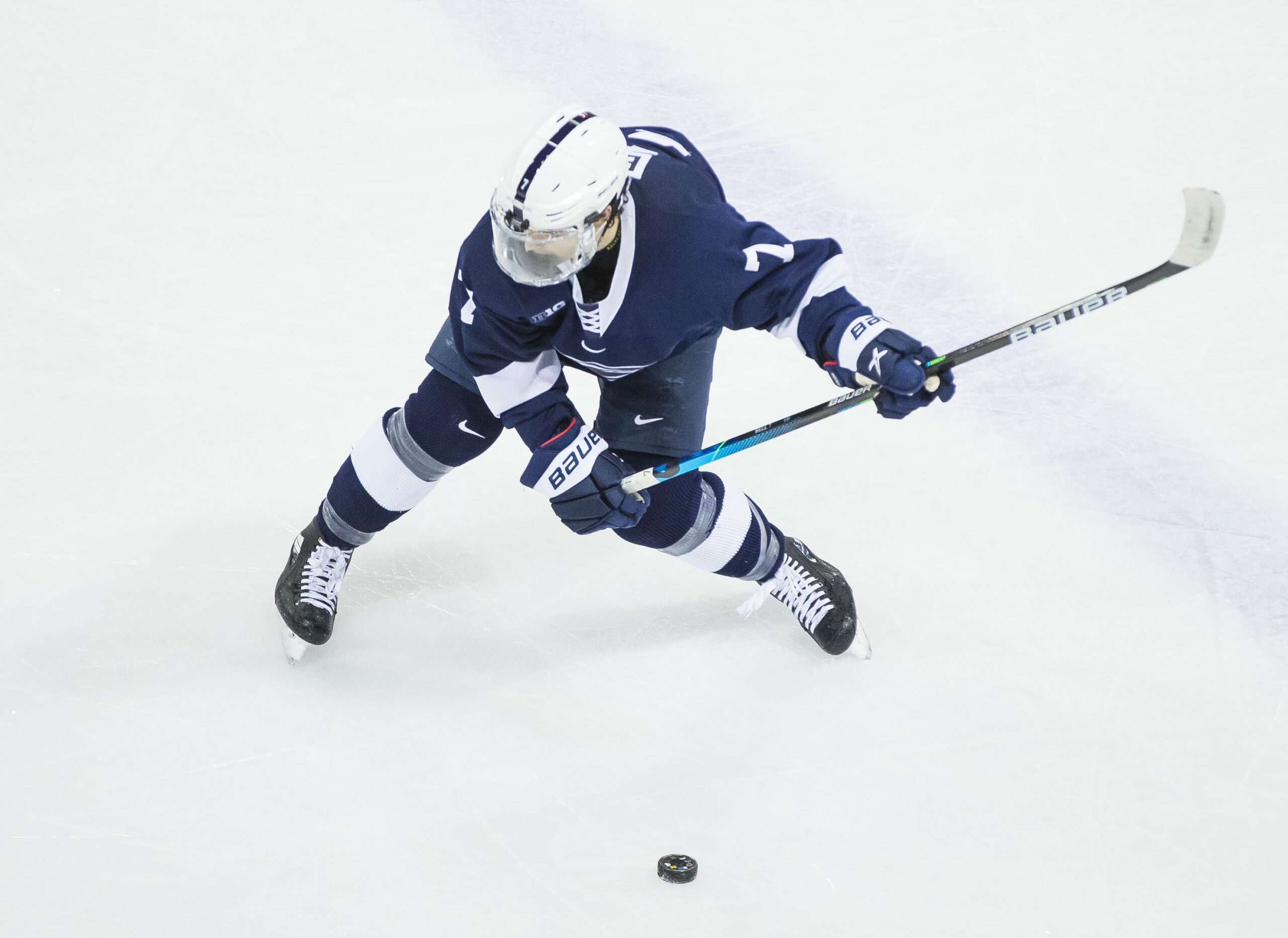 For the first time since February 25, 2023, the Penn State hockey team (3-0-0, 0-0-0 B1G) will take the ice at Pegula Ice Arena. The 237-day wait has undoubtedly been a long one for the Hockey Valley faithful after such a special season at Pegula last year. During the 2022-2023 season, the home crowd was able to see the Nittany Lions knock off a No. 1 ranked team for the first time ever and post the largest crowd in arena history. Out of the 22 games Penn State won last year, 13 of them came on home ice. The Nittany Lions will be looking for a similar performance on home ice this year, starting this weekend with a two-game series against American International College.
Team Overview: American International College Yellow Jackets (0-3-0, 0-0-0 AHA)
Series History: 4-2-0
Last played: October 20, 2017
The Yellow Jackets of American International College (AIC), a small private school in Springfield, Mass., make their return to Pegula for the first time in six seasons. The last time the Yellow Jackets came to Pegula, their program was in a very different spot. At that point, AIC had never had a winning season at the Division I level. The closest season was a 12-6-4 record back in 1998-1999, the Yellow Jackets' first as a DI program.
AIC came into Pegula in 2017 and shockingly split with then-No. 11 Penn State with a 3-2 OT win in the second game of the series. This served as a springboard to AIC's best season ever, posting a 15-20-4 record for the 2017-2018 campaign.
The Yellow Jackets continued to build off the momentum the next season, with their first winning season, conference title, and NCAA Tournament appearance. In their first-ever appearance in the tournament, they stunned No.1 overall St. Cloud State to advance to the Regional Final. 
That success was not a one-off for the Yellow Jackets. AIC hasn't had a losing record since 2017-2018 and has finished atop the Atlantic Hockey standings every year but one during that stretch. The program has won three conference tournaments, sending them to three NCAAs in the last five seasons where a tournament was held. 
Series Preview: Penn State hockey vs. AIC
This season, however, the Yellow Jackets have not gotten off to the start they would have liked. Their first matchup saw them take on in-state rival Massachusetts, which they dropped 5-3. They then met up with the defending national champions, Quinnipiac. The first game saw them take the Bobcats to overtime before falling 3-2. The second night wasn't a contest with Quinnipiac drubbing them 8-0. 
The Yellow Jackets have no NHL draft picks on the roster, but there's still talent that Penn State hockey should watch out for. The man for AIC, after being its second-leading scorer last season, is Jordan Biro. If that name sounds familiar, that is because his brother Brandon played with Penn State from 2016-2020 and is currently with the NHL's Buffalo Sabres. Jordan Biro posted 31 points in 38 games last season and is expected to be the main piece of the Yellow Jackets offense this season. 
AIC's starting goaltender, Alexandros Aslanidis, is no slouch either. Last season, he posted a 2.14 GAA and an 8-3-1 record. He is expected to split time with freshman goaltender Nills Wallstrom, so it is possible both make an appearance this series.
Prediction: Nittany Lions sweep the series
While AIC's run of success recently has been impressive, this series almost seems like it is coming full circle from its 2017 visit. That was the start of a six-year upswing for the Yellow Jackets. Now, with most of the pieces that made AIC special over that stretch gone, it feels like this is the start of a downswing for the program.
While there are a few bright spots, AIC doesn't have the talent to hang with the Nittany Lions for long. I see Penn State hockey winning 5-1 on Friday and 4-2 on Saturday. Puck drop is at 7:00 p.m. on Friday and has been changed to 5:00 p.m. on Saturday. 
---
---
Thank you for reading Basic Blues Nation. Please follow us on Facebook and Twitter for the latest news and insights on your favorite Penn State athletics. For feedback, questions, concerns, or to apply for a writing position, please email us at [email protected] or direct message us on our social media. Also, be sure to check out our new site shop. It's due to your support that we can become one of the market's fastest-growing Penn State sports outlets!