Rooting Guide: Which Week 5 games are most important for Penn State football?
Week 4 of college football was epic, but Week 5 has just as many games that could impact the Playoff hopes of Penn State Football. Which games should you keep an eye on for this weekend?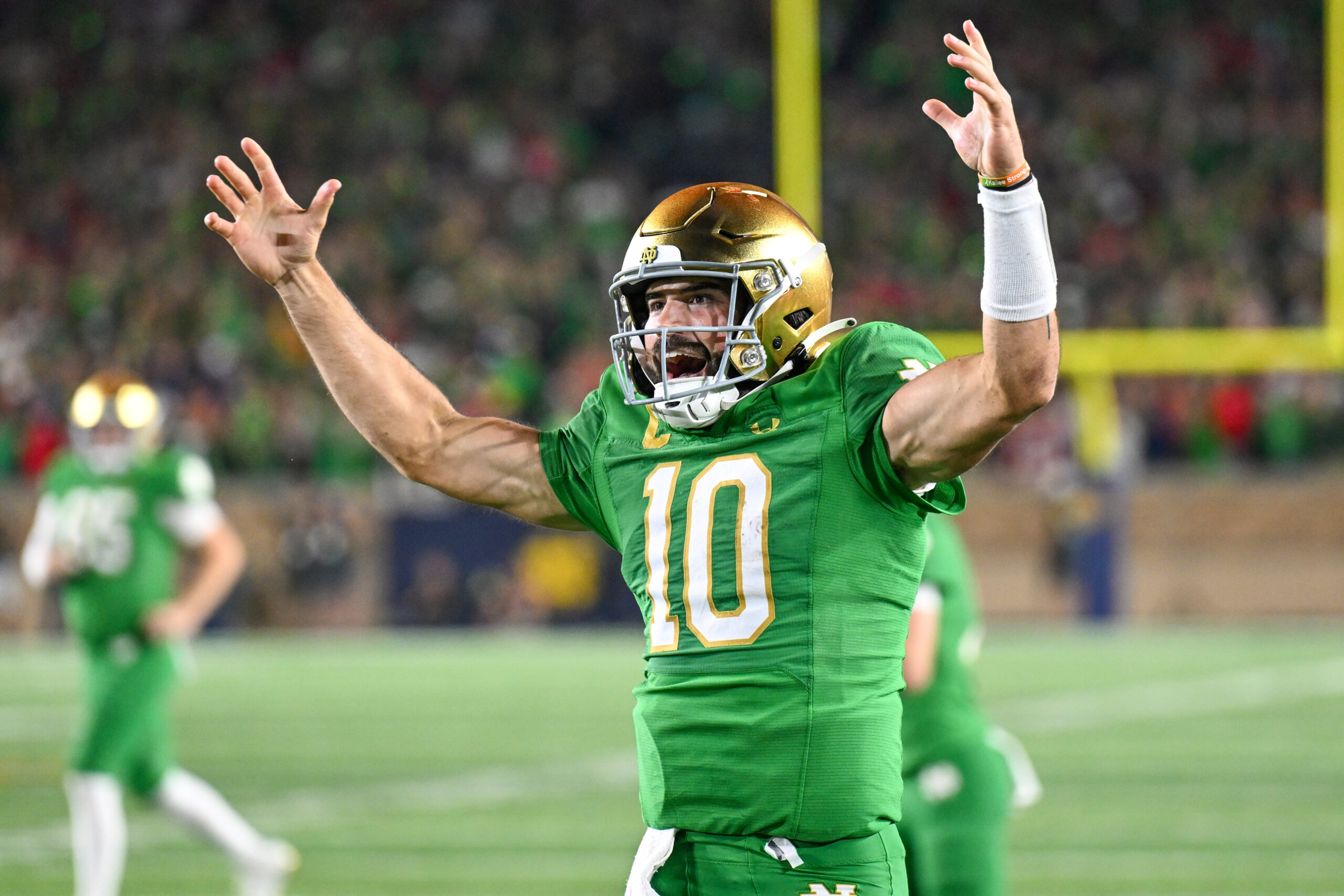 Penn State football had its most dominant performance of the season with a 31-0 win over Iowa in the annual White Out on Saturday. This week will be a much different atmosphere when the Nittany Lions travel to a calmer environment in Evanston against Northwestern. We've got you covered with a complete rooting guide for the Week 5 slate of college football that could impact Penn State's push for the College Football Playoff.
Penn State football fans' rooting guide: College football Week 5
Last week, Penn State football got some help when Arizona State played a close game with then No. 5 USC. The Trojans dropped 3 spots to No. 8, allowing the Nittany Lions to move up to No. 6 in the latest AP Poll. 
This week features a solid 4 ranked matchups with plenty of other games impacting the Big Ten title game race. Here are the games we'll be keeping an eye on throughout the day of the Week 5 slate.
No. 10 Utah (4-0) @ No. 19 Oregon State (3-1) FRI 9:00 pm ET FS1
The Week 5 slate kicks off with a massive game in Corvallis on Friday night, when Oregon State looks to rebound off its loss to Washington State by welcoming Utah to town. The Utes have quietly snuck into the top 10 this season, already taking down Florida, Baylor, and UCLA in the first 4 games. 
The defense has been particularly stout early for Utah, and that was evident in last week's 14-7 win over UCLA that featured a pick 6. Oregon State took its first loss of the season last week to Washington State 38-35 in the battle of the sole remaining PAC 12 teams.
The Beavers enter this matchup as a 3-point favorite, and that is who Penn State football fans should be pulling for. Utah is a top-10 team and Playoff contender until proven otherwise. By losing to Oregon State, although not an elimination, the Utes would not have any more room for error the rest of the season.
No. 8 USC (4-0) @ Colorado (3-1) 12:00 pm ET FOX
Deion Sanders and the Buffaloes had a humbling 42-6 loss to Oregon last week that knocked them from the rankings and slowed down the hype train a bit. Nobody expects Colorado to knock down Caleb Williams and USC this week. However, it will still be a game to monitor. While the Trojans enter as a 3-touchdown favorite, they showed some flaws last week in a less-than-stellar win over a bad Arizona State team.
Penn State football took advantage of USC struggling against Arizona State and jumped up to No. 6 this week, while the Trojans fell 3 spots from No. 5 to No. 8. There is no question that Lincoln Riley's squad is a Playoff contender, and an upset would be a major shakeup and benefit the Nittany Lions greatly. Penn State fans should be rooting for Prime this week to do the unthinkable and take down USC.
No. 24 Kansas (4-0) @ No. 3 Texas (4-0) 3:30 pm ET ABC
Who would have thought that Kansas and Texas would have been one of the premier games of the weekend? The Jayhawks have taken care of business and are off to a 4-0 start. The Longhorns enter this one as about a 17-point favorite and are coming off a dominant 38-6 win at Baylor last week. While Kansas is ranked, it has shown some flaws this year, like only beating a bad Nevada team by 7 in its only road game. That isn't to discount the solid wins against Illinois and BYU, who could be bowl teams this season.
Penn State football fans should root for the Jayhawks to pull off the upset this weekend, although a longshot. Texas is ranked No. 3 and one of the few teams directly ahead of Penn State. A loss would almost certainly catapult the Nittany Lions into the top 5.
Illinois (2-2) @ Purdue (1-3) 3:30 pm ET Peacock
This may seem like an odd matchup to have on the rooting guide, but this game may have implications for Penn State's Big Ten aspirations. There is a possibility that Ohio State, Michigan, and Penn State all finish 11-1 (8-1), losing in round-robin format to each other. This would force a three-way tie for 1st in the Big Ten East. In this scenario, the combined winning percentage of the teams' Big Ten West crossover opponents would determine who goes to the Big Ten Championship game. Truly one of the more intriguing storylines in college football.
That means Penn State football needs Illinois to win as many conference games as possible this season. The Illini have been shaky this season and didn't look great in a 23-17 win over FAU last week. Luckily, Purdue has also struggled, although it has played a tough schedule to start the season against Fresno State, Virginia Tech, Syracuse, and Wisconsin. This game is a pick 'em, according to the oddsmakers. Hopefully, Illinois gets its offense figured out this week against the Boilermakers.
No. 13 LSU (3-1) @ No. 20 Ole Miss (3-1) 6:00 pm ET ESPN
LSU has bounced back with three straight wins after the opening week loss to Florida State. Last week, the Tigers had to gut out a close win at home over Arkansas and now will make the tough trip to Oxford. Ole Miss is coming off a road loss to Alabama and will look to get back on track and get head coach Lane Kiffin that signature win he has been looking for. The loser of this game is eliminated from Playoff contention. The Rebels will also likely be knocked out of the SEC West race with a loss.
LSU is one of the few legitimate contenders in the SEC that could reach the Playoff, so a loss to Ole Miss here would benefit Penn State. While Ole Miss would still be in the conversation, it still has a road trip to No. 1 Georgia in November that will most likely provide another loss.
Michigan State (2-2) @ Iowa (3-1) 7:30 pm ET NBC
A week after coming off a disgusting performance in a 31-0 shutout to Penn State, Iowa returns home to face an even more battered Michigan State. Iowa enters this matchup as a 12.5-point favorite and will look to get back in the win column this week. Michigan State has lost back-to-back games at home to Washington and Maryland by a combined score of 72-16. 
Like Illinois, Penn State football fans need the Hawkeyes to handle business this week. Not only does it help them in a potential tiebreaker scenario, but it also helps improve the Nittany Lions' strength of schedule.
No. 11 Notre Dame (4-1) @ No. 17 Duke (4-0) 7:30 pm ET ABC
The Irish are coming off a last-second loss to Ohio State in Week 4 and now have to run the table to have a chance to make the College Football Playoff. Duke has been a surprise to start this season at 4-0, including a win over Clemson in Week 1. This will be the site of College GameDay and most likely the top matchup of the day. The Irish will enter Wallace Wade Stadium as a 6-point favorite.
Penn State football fans should root for Duke to pull off the upset because it will eliminate Notre Dame's Playoff chances. Duke will most likely move up in the rankings, but it still has tough road trips to Florida State, Louisville, and North Carolina. All 3 are potential slip-ups for the Blue Devils, and they most likely will lose at least 2 more games.
---
---
Thank you for reading Basic Blues Nation. Please follow us on Facebook and Twitter for the latest news and insights on your favorite Penn State athletics. For feedback, questions, concerns, or to apply for a writing position, please email us at [email protected] or direct message us on our social media. Also, be sure to check out our new site shop. It's due to your support that we can become one of the market's fastest-growing Penn State sports outlets!